WM X AVOCADO
05.19.23
Powered By

7 Eco-Friendly Self-Care Products to Level Up Your Mental Fitness
Feel-good products that you'll also feel good about using.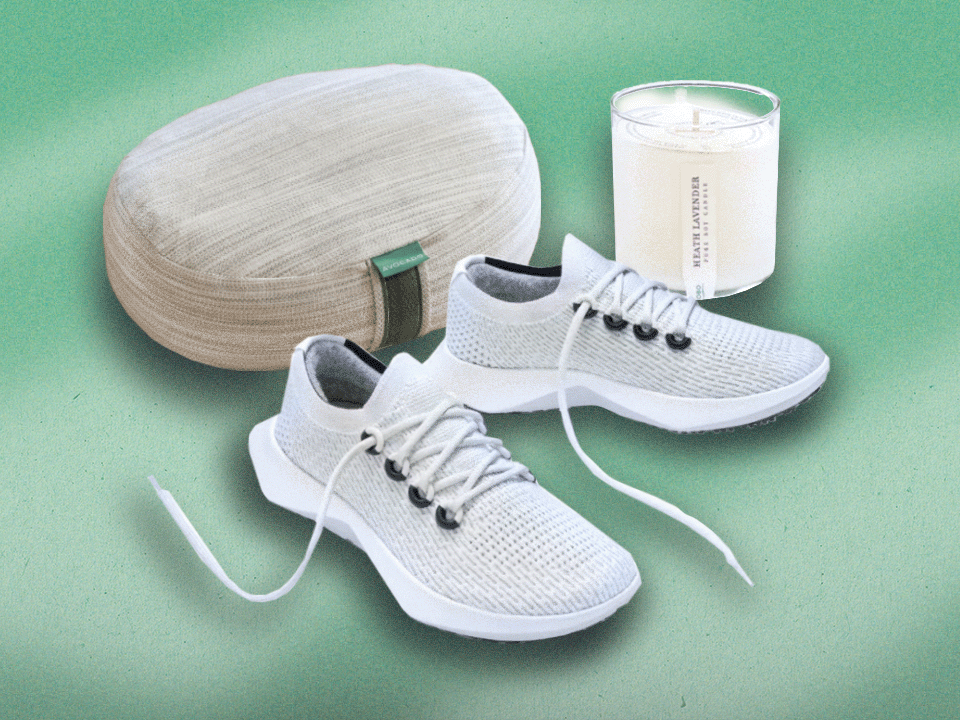 Avocado / Allbirds / Heath
Self-care isn't just bubble baths and green juice (though if those are your jam, by all means, you do you). When it comes to building a mental fitness routine, the key is filling it with tons of big and small ways to care for your mental health on a regular basis—like getting enough sleep, moving your body, journaling, staying connected to friends and family, and maybe even therapy and medication. Because everyone is different, what works for you might not be what works for your best friend or the rest of TikTok, and that's OK.
If you're looking to level up your mental fitness routine, check out these seven self-care products we picked to help you move your body, de-stress, rest, and recharge. Bonus? They're all eco-friendly, so you can feel good about helping the environment while you help your mind.
Sleep is pretty much the foundation of self-care, and a good mattress is (quite literally) the foundation for a restful night of sleep. "There is a very strong bi-directional relationship between the quality of your sleep and your overall mental health," explains Sarah Silverman, PsyD, sleep psychologist and behavioral sleep medicine specialist. "Evidence suggests that sleep problems may be both a cause and a consequence of mental health problems," she says. So while one fantastic night's rest isn't going to banish anxious thoughts forever, improving your sleep habits is kind of a no-brainer when it comes to looking after your mental health.
And your mattress plays a huge role in how restorative your sleep is. Dr. Silverman likes the Avocado Green Mattress for its quality materials and generous trial policy. These mattresses have been third-party tested and meet the standards set forth by the Global Organic Textile Standard (GOTS) and the Global Organic Latex Standard (GOLS). They're made from 100% GOTS-certified organic wool, 100% GOLS-certified organic latex and 100% GOTS-certified organic cotton—all of which are grown on and harvested on their own farms. They're also made without polyurethane foams and toxic fire retardants. So if not knowing exactly what you're sleeping on keeps you up at night, you can rest easy on this mattress. Plus, you get a one-year trial, which is a great amount of time to make sure this is the right bed for you (Dr. Silverman recommends at least a month to see if your new mattress is a good fit for your unique needs).
Sticking with the sleep theme for a moment, you also want to make sure your pillow is comfortable and keeping your body in alignment so you're not tossing and turning all night. Like the Green Mattresses, the Avocado Green Pillows are made from GOLS-certified organic latex and GOTS-certified organic kapok with a GOTS-certified organic quilted cotton cover. Dr. Silverman says pillows with breathable materials (like cotton) help your body to better regulate its temperature at night. Another major perk of this pillow is that it has an adjustable fill so you can play around with the size and shape to see what works best for you.
Journaling is a tried-and-true mental fitness tip for a reason: It's a great way to reflect, process, and just let it all out. And one of the best ways to make journaling a habit is to have a very cute notebook that you're excited to crack open every day. This Decomposition Ruled Spiral Notebook is made from 100% post-consumer recycled paper that can also be recycled when it's done. Plus, it comes in a variety of fun covers, and the lined paper makes it easy to write your thoughts down.
Yes, your mental fitness routine can absolutely include chilling out with a soothing, scented candle, and there are plenty of eco-friendly options. This Heath Lavender Plant the Box Candle is made with relaxing lavender essential oil and 100% soy wax made from domestically grown, environmentally sustainable soybeans. KOBO candles are also made without any dyes, phthalates, or oil-based petroleum products. But here's the best part: You can plant the biodegradable box it comes in to grow fresh lavender at home. (Have we mentioned that gardening is also a great mental fitness activity?)
You probably/definitely need to release some tension in your hips, shoulders, and pretty much your whole body after a long day. "I'm a huge fan of yoga before bed," says Dr. Silverman, especially yoga nidra, which is a practice where you hold certain yoga poses and focus on your breathing. "That has been shown to reduce muscle tension [and] allow your mind and body to produce more of that parasympathetic activation, which is the part of our nervous system that we want more of when we're trying to transition to sleep."
So whether you go with a virtual or IRL yoga class or just move through some intentional stretches, you're going to want some quality yoga pants. The Girlfriend Collective Black Compressive High-Rise Leggings have great reviews and come in sizes XXS to 6XL with three different inseam lengths. They're sustainable and made from 25 recycled water bottles, and when you're done with them, you can recycle them with Girlfriend Collective's ReGirlfriend upcycling program. Plus, the compression means they'll stay in place—even in Downward-Facing Dog.
If you've been anywhere near the internet in the last few years, you've probably heard about the "silly little mental health walk," a phrase used to describe the very relatable act of taking a walk for no other reason but to lift your mood. Adding accessories to your mental health walk can definitely make you a little more amped to get out there, and comfortable shoes are crucial. The All Birds Womens Tree Dasher 2 shoes are made with FSC-certified TENCEL upper and natural rubber outsole; an FSC (Forest Stewardship Council) certification means the products come from responsibly managed forests and is considered a "gold standard" of ethical production. Plus, the shoelaces are made from recycled plastic water bottles.
Even if you're someone who thinks that sitting quietly with your thoughts is the exact opposite of relaxation, it's worth giving meditation a try. You can find free guided meditations on YouTube, download a meditation app, or just practice taking a few minutes each day to focus on nothing but your breath and the present moment. To make this activity even more comfortable, the Avocado Organic Yoga Meditation Pillow gives you just enough height and support. Plus, it's made from organic and vegan materials, including a buckwheat fill and a GOTS-certified cotton cover.
Wondermind does not provide medical advice, diagnosis, or treatment. Any information published on this website or by this brand is not intended as a replacement for medical advice. Always consult a qualified health or mental health professional with any questions or concerns about your mental health.