Stories
02.22.23
Does Your Gender Identity Even Need a Label?
It's unlikely that one singular word will encompass who you are and were and will forever be.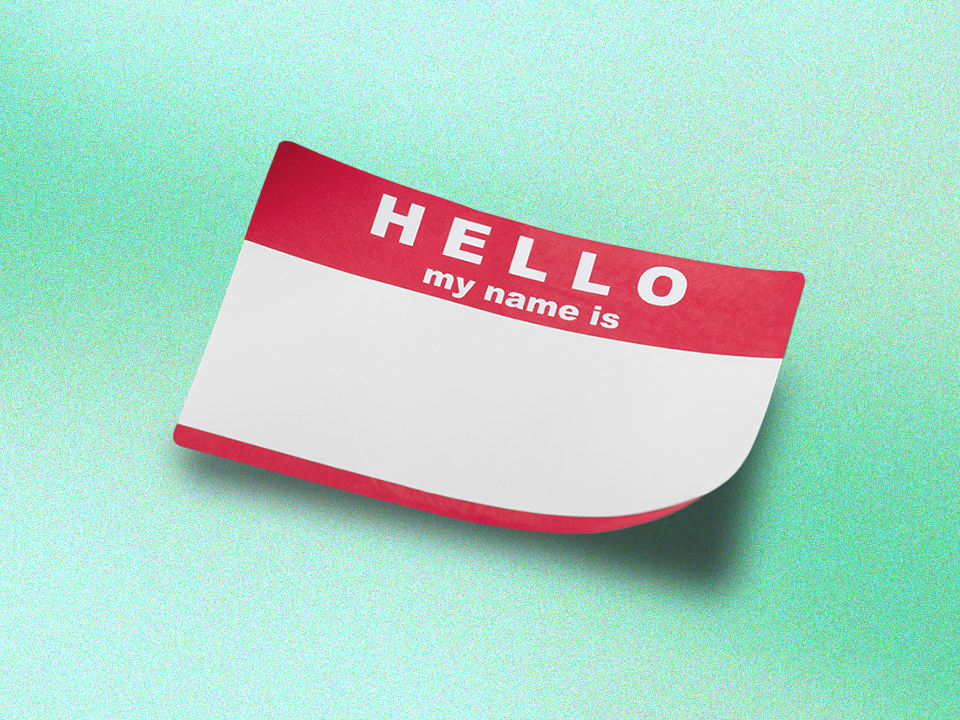 Shutterstock / Wondermind
This article was excerpted from the book Am I Trans Enough? How to Overcome Your Doubts and Find Your Authentic Self, by Alo Johnston, LMFT, published by Jessica Kingsley Publishers.

Many people's first foray into the social element of their gender is trying to find the term to present themselves with. If gender is a conference, then your label is the "Hello My Name Is…" sticker. Fortunately, gender is not a conference.
Maybe you started reading this asking yourself if you are trans, or nonbinary, or trans feminine nonbinary, or bigender, or a demi-boy, or genderfluid, or an old school butch, or something else entirely. (Here it is, here's the sentence that dates this very firmly in 2023.) Maybe you pore over obscure pages on the internet looking for more terminology to define what it is you are. There is nothing wrong with that search for the correct word, but I also think people have an expectation for labels that isn't always helpful.
Labels exist to add to your experience instead of constricting it. A lot of people assume once they find the label then they will find the path. The label will tell you what to do and how to move forward. Unfortunately, labels do not have that specific power. Labels can be incredibly beneficial. I think every queer and/or trans person has a memory of finding a term and realizing that this was something that existed, and had a community, and that they were not alone. If the first time you learned the word "asexual" you were flooded with a feeling of relief and thought, Oh, thank god, I'm not broken, there are other people like me, you will likely feel gratitude toward that word. You may feel freed by that word. Labels can bring people community and take them out of their isolation. Labels point to whole other worlds that you may not have had access to before, and with that they bring a lot of hope.
But then you may find once you actually start connecting with that community that people break their identities down into more and more precise terms. Lesbians have mascs and femmes, studs and butches, stems and bois, Chapstick lesbians and lipstick lesbians, stone butches and soft butches. This can be overwhelming when you first enter a community, and you might struggle to know how to even begin to refine your own label. Of course, it is not required to refine the term further, but many people find it can be grounding to have a more specific label, and others can find the exercise a way to bond with other community members.
What eventually ends up happening for many is that their self-identifiers become so long and unwieldy (e.g. identifying as a power bottom high femme, except when the other person is more femme than you, in which case, you're more of a switch with some heavy daddy energy) that they become tired of going into a monologue each time it comes up. At that point you may see a lot of people forego their labels entirely ("labels are for soup cans" was once a common refrain in sections of the queer community) or start to identify with more general labels, like queer. This tendency toward foregoing labels often occurs after someone has found their community and they feel safe. The labels never were meant to tell you who you are; they were simply meant to help you to explain who you are in different settings. You are probably much less likely to try to explain the daddy part of your sexuality to your grandmother and might just call yourself a lesbian around family. Then on a dating app, it is going to be a different story. Go wild. In each respective setting there are different needs being placed on these terms, and they are meant to convey different information in the conversation.
Gender labels are the same in that they do not define your actions; they are simply meant to explain and help you connect. But because the whole process of coming out as trans can feel so turbulent, people are desperate for any sense of structure. They want a map to guide them. Unknowingly they put all this pressure on the label to carry them through the unknown. But by doing that, sometimes you find a label that seems good enough, or at least better than what you had before, and when you try it on it feels constrictive.
Transition is a buffet and not a checklist. No part of this process is all or nothing. And labels do not necessitate actions, and actions do not necessitate certain labels. If you find out that you actually do want to go on hormones when you didn't think you did, that does not mean you have to stop identifying as nonbinary if you don't want to. And if it turns out that you identify with the label trans man, this doesn't suddenly mean you need to go on testosterone, grow a beard, have top surgery, post pictures of your top surgery on Instagram, have phalloplasty, and do all the "trans man things." This whole experience is a mix-and-match grab bag, and if you pick something up and it does not serve you, you can put it right back down. If your label starts to feel like an itchy, ill-fitting sweater, then take it off. It is meant to serve you; otherwise what is the point of it? As we have seen, labels cannot be provided from outside sources. There is no therapist or doctor who can provide your label, but there is also no Queen of the Queers who knows you better than you know yourself.
Sometimes the easiest place to start is by allowing yourself to just be "not cis" for a while. If you are looking for answers here, it is probably pretty likely that you are not cis. Try holding that for a while. What if you allowed yourself to be guided by what you wanted rather than a word? The word could come in time, or maybe it wouldn't; maybe you will decide you do not need one. Maybe you will try some words and abandon some words. Maybe in twenty years someone will ask you how you define your gender and you will just sigh, not because you do not know but because you cannot be bothered to try to articulate it. That is all great. Your journey through labels will evolve because your journey will take you to new places. In other words, of course, the words you use to describe the path will change as the scenery around you does too. It is unlikely that one singular word will encompass who you are and were and will forever be.
If starting with a label feels like a barrier, then start somewhere else. There is absolutely no shame in that and it may be exactly what you need in order to progress to better understanding and further action. If it feels worthwhile to hold a label that you are not 100 percent sure of gently while you explore further, then you get to do that and no one can take that away from you.
© 2023 Jessica Kingsley Publishers. Reprinted with permission. This article may not be reproduced for any other use without permission.
Wondermind does not provide medical advice, diagnosis, or treatment. Any information published on this website or by this brand is not intended as a replacement for medical advice. Always consult a qualified health or mental health professional with any questions or concerns about your mental health.