Pro Tips
09.19.22
How to Communicate Your Anger in an Effective Way
Getting mad is a natural, complicated (and naturally complicated) response.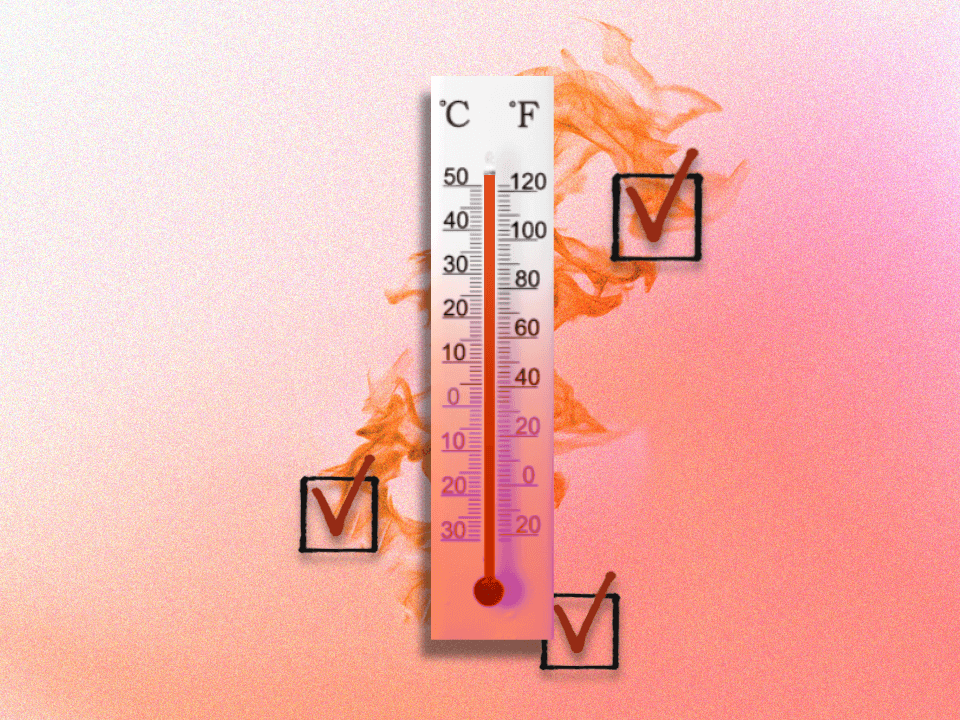 Shutterstock / Wondermind
Maybe your kids left their toys out or your roommate ate your leftovers again. Maybe you were passed over for a promotion, got stood up for a date, or were expected to act fine after the Supreme Court dismantled 50 years of reproductive rights in an instant. Getting angry is normal. And as tough as it may be to control sometimes, there are strategies that help you express anger in a healthier way.
It matters what you do with your rage.
Anger can serve many useful purposes, like motivating you to overcome obstacles and helping you to find creative solutions to a problem. And, believe it or not, people who are comfortable feeling anger during a conflict (compared to those who err on the side of happiness) have higher emotional intelligence, research suggests. So it's actually a healthy emotion that we all (rightly) feel from time to time, but if you're not expressing anger in an efficient way, that can be a problem, says counselor Sharonda "Nya B" Brown, LPC-S.
As someone who has struggled with communicating my anger my entire life, I know firsthand how challenging it can be. Anger was a red-hot flame that built up over time, eventually consuming me until all I could feel was rage. As a child, I felt ignored by my easily angered parents, who never seemed to listen to my point of view. As a teenager, I would lash out at friends by hitting or yelling. As an adult, I would vent about injustices in the world in a way that wasn't constructive for myself or any movement. When I became a mom, I would hold anger at my kids inside until it became too much, then lose my cool over the smallest things. Cut to me screaming at my kids for playing in the pantry.
Getting Big Mad doesn't just impact the people around you—it can affect you too. Anger and hostility are associated with coronary heart disease, research suggests. And when that anger isn't controlled and communicated in a healthy way, it can negatively impact someone's physical and mental health, which is why it's no surprise that anger has been associated with things like hypertension, depression, and anxiety, says clinical social worker Alisa Kamis-Brinda, LCSW, LADC. Besides the physical effects of unmanaged rage, it can also, of course, impact your relationships and make it difficult "to establish closeness and intimacy with loved ones," says Kamis-Brinda.
Here's why talking out our anger is so damn hard.
It's not your fault if you have no idea how to do anger the right way. Many of us weren't taught how to communicate our anger like emotionally mature adults, and we might've even picked up some not-great rage responses from the people around us (i.e. getting verbally or physically violent). Plus, it can be dangerous to show even a little bit of anger if you're a member of certain marginalized groups, which means you might hold everything in as a way to protect yourself. On top of all that, anger has such a negative reputation that when people feel it bubbling up, they might also feel shame, which never helps, says Nya B.
Communicating anger gets even trickier when other feelings are in the mix, which they almost always are. For example, making random mistakes can cause embarrassment, someone not listening can make us feel frustrated and disrespected, and losing freedoms can lead to fear, sadness, and feeling violated. All of these emotions (and the shame that they might cause) can be more difficult to feel and process than anger. And when someone's mind is muddled with tough emotions, thinking clearly and rationally doesn't usually go so well. Cue the anger-fueled freakout.
Nobody can control when little annoyances (or huge hurts) happen. But you can learn to control your reaction and respond in a way that promotes understanding and change—or at least a little more peace for you. Here's how you can practice communicating your rage in more effective and healthy ways.
1. Try to find the trigger.
Instead of shoving your anger down, try identifying and communicating the thought that triggered the anger. "Do not deny your feelings of anger," says Nya B. "Suppressed emotions do not go away; they only become more intense." Journaling your thoughts or decompressing after the triggering experience with a therapist or someone you trust can help with this, especially if you can't directly talk to the person you're angry with about it.
2. Pay attention to the way your body feels when you're mad.
If you've ever snapped at someone or acted impulsively without even realizing you were mad, then it might help to take stock of the way your body feels when you get angry. "When we are aware of our inner experiences, our thoughts, feelings, and physical sensations, we can often catch ourselves before we react in an unhelpful way," Kamis-Brinda says.
When I get super mad, my arms and hands start trembling, and I feel cold all over. I've also noticed my heart racing like it got a huge shot of adrenaline. Now that I know the way my body physically reacts to anger, I can start taking steps to cool down before trying to communicate with someone.
3. Take a break before you respond.
If something irks you, don't get impulsive and react right away. Try taking a break to calm down and to process what's going on in your mind before you figure out what you really want to say. To get some space from whatever ticked you off, try going on a walk to literally remove yourself from the situation. During your break, you might also want to try taking some deep breaths or writing out your feelings in a journal or do-not-send letters, which can be cathartic. "Getting it out helps decrease the intensity of the anger and allows your anger to be addressed," Nya B explains.
4. Write out a script before a confrontation.
If you're able to take a beat, consider writing down what you want to say to help you communicate your needs clearly. This is especially helpful if you've ever found yourself ruminating on what you wish you would've said or if you tend to get caught up in the heat of the moment and say things you later regret.
Prepping for a convo is a great way to get clear on your own feelings and what you want to talk about and why. So, try this: Write down exactly what you want to say (bullet points are fine too!) about what's bugging you and what your needs are. Then, see if you're saying it in an effective, direct manner or if you could work on your delivery a bit more.
5. Do equal talking and listening.
When we're mad, we may just spew without pausing to hear what the other person has to say, which the other person might interpret as rude (understandable) and ultimately lead to an unproductive one-sided talk. Communicating effectively involves talking and listening. This can feel like the last thing you want to do, but it's necessary. "A lot of anger can result from misunderstandings," says Kamis-Brinda. "If you find yourself not listening to another person, thinking about your comeback, or thinking about how stupid they are, notice this, and then refocus your attention on what they are saying, making an effort to understand where they are coming from."
Plus, people who practice active listening are sometimes perceived in a more positive light by the person doing the talking, research suggests. So if you want someone to hear what you have to say when you're angry, try listening to them too.
6. Use "I" statements.
If you're telling someone all of the things they did to piss you off, it shouldn't be a huge shock if they immediately go into defense mode. (A lose-lose situation for everyone involved.) Next time you're ticked off, practice using "I" statements, which "allow us to express how we feel and take responsibility for those feelings," Kamis-Brinda says. These statements also help you to avoid blaming others for how you feel and give you the space to ask for what you actually want or need.
Even if the problem really is their fault, using "I" statements can make them less defensive and help them see how their words or actions affected you. You aren't arguing over whether they meant to hurt you, but rather how their words or actions made you feel.
Try this: "I feel ________ (feeling) when ________ (situation) ________ because ________ (reason).
7. If the conversation can't be respectful, skip it.
Honestly, it's rarely worth getting into arguments with people who don't share a mutual respect or with people who make you feel scared or sad, Nya B says. So if you feel like you can't talk to the person who made you angry without it turning into something ugly, try another coping strategy to get your anger out. It might help to talk it out with someone you trust who will help you look at the situation from all sides. Or you might want to get out your journal and write what you wish you could say to them.
8. Get some professional guidance.
If your anger is intense, frequent, long-lasting, and often expressed in passive-aggressive or actually aggressive ways, try reaching out to an anger management treatment program or a cognitive behavioral therapist who can help you navigate these feelings. In my case, therapy and medication has finally helped me take control of my emotions and stay calm enough to communicate my feelings the way I want to. It might help you too.
Wondermind does not provide medical advice, diagnosis, or treatment. Any information published on this website or by this brand is not intended as a replacement for medical advice. Always consult a qualified health or mental health professional with any questions or concerns about your mental health.