Q&A
01.18.23
Michael Evans Behling Is Leaning Into Vulnerability
The 'All American' actor speaks to Wondermind about masking feelings and the importance of asking for help.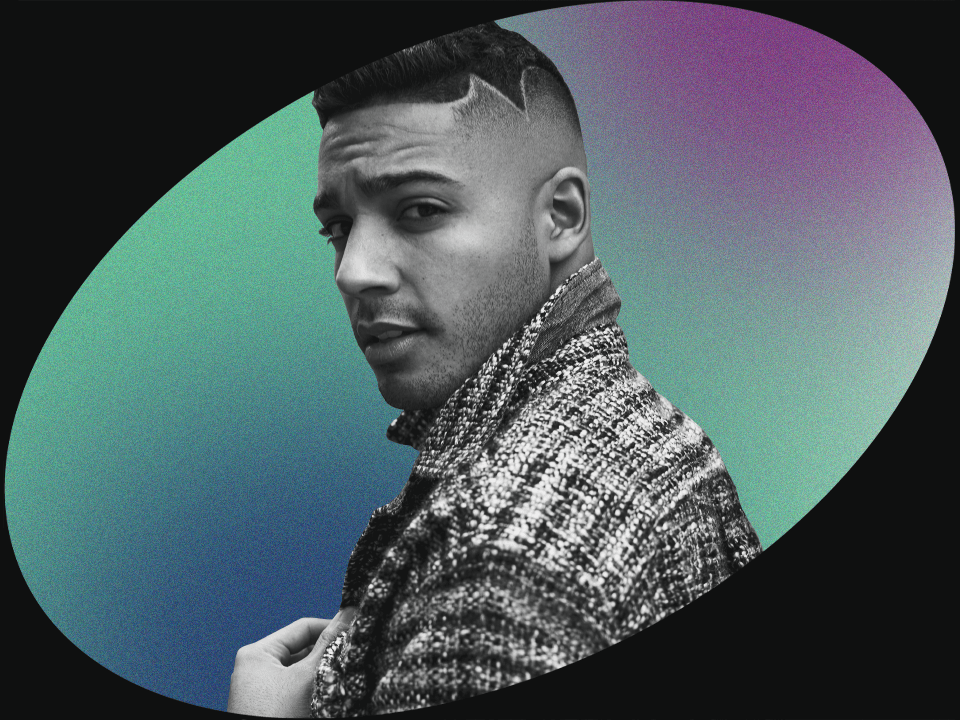 Season 5 of The CW's All American returns on Jan. 23, and fans of the teen drama will finally see how quarterback Jordan Baker (Michael Evans Behling) and Layla's (Greta Onieogou) relationship unfolds while he also juggles some potential family drama, as Behling has teased.
His character is definitely on a journey to becoming more mature, while offscreen, Behling opens up about how his own mindset has shifted as he's matured over the years. As a volunteer with the mental health organization Bring Change to Mind, Behling has worked with Los Angeles high school students to talk about caring for their mental health and how to deal with not being OK. Here, Behling speaks to Wondermind about the importance of reaching out for help, having a solid mental fitness routine, and healthy ways to protect his peace.
[Sign up here to never miss these candid conversations delivered straight to your inbox.]
WM: How are you doing lately?
Michael Evans Behling: I'm content. Life ebbs and flows; every day is different. Lately I've just been busy with work and am very fortunate to be busy with work. At the same time, it can be overwhelming.
WM: What's invigorating you right now?
MEB: The work that I'm doing on the show is definitely invigorating to me. I just got back from Indiana. I spent some time with my family in Indiana during [the holidays], and being able to see my family and friends was a beautiful reset. That was great for my mental. It was great to get out of LA and to reset and slow down from this fast-paced LA area that I Iive in.
WM: Do you mind sharing what your mental health journey has been like?
MEB: Growing up in the Midwest as a young man, we're taught to kind of conceal our emotions and feelings and mask them to a degree. … I guess the journey for me has always been to be the bigger person and to stand tall and stay strong, right? Since moving out here, it became kind of overwhelming, and I have learned to lean on others, go out and seek help or a therapist, find that support system, and to lean into the vulnerability. Growing up and being a 13-21-year-old when I was living in Indiana, that's not the "OK" or "right" thing to do.
Being out here and being more mature as a young man [means realizing] that it's OK to not be OK and that it's OK to lean on your brothers and your sisters and especially your therapists or trained professionals to help you out.
It's definitely been a roller coaster of feelings in my mental health journey, but I'm happy to say that I feel like I have it under control in a way. I've got the right tools; I've got the right people to help and continue to support me.
WM: What coping skills do you turn to?
MEB: My first initial [move] is to get out of the house and try to get out of my own head. I spend so much time on set that I usually don't have time to think about anything because you gotta do the job. But on the way home … if I haven't already worked out, that's [what I'll do and is] probably the biggest thing that kind of keeps me regular, if you will. Staying in the gym, keeping that heart rate up, and releasing endorphins keeps your body regular.
If I've already worked out but I'm still feeling a little bit cooped up in a sense and needing to release something, I'll go for another workout, I'll go for a walk around my neighborhood, I'll go for a jog, [or do something else to] take care of myself, like take a long hot shower, maybe put a face mask on, things like that.
I also love to write things down and journal about how my day was or what I want to accomplish tomorrow. Or instead of thinking about the negatives of what I didn't get to today, I incorporate that into what I want to achieve tomorrow. I think that's something we should all try to practice: Don't talk down to yourself. Hype yourself up.
And then just having fun [is important]. If I can, I go play Xbox with my friends back home or invite a friend over or go grab lunch. The key thing is to get out of your head and get out of the current space that you're in by being proactive and by taking action.
WM: What aspect of your mental health would you describe as a work in progress right now?
MEB: I've gotten a lot better at this, but setting boundaries and not allowing people to take advantage of what I like to offer as the person that I am. I feel as if I'm very caring, and I like to put other people's wants and needs before my own, and that can get me into trouble. It can make me feel overwhelmed and create a domino effect with my overall mental health. But what I've learned is to start saying no. I've learned to be selfish in a way because if you give too much of yourself to everybody, you have nothing left to give. If you've got nothing left to give, then you're not only hurting yourself, but you're also hurting the people around you, and you can't show up and be your best self.
WM: If you could give yourself a pep talk right now, what would you say?
MEB: Keep smiling and release those endorphins—even if it's a fake smile. I would say take a look at where you were five years ago or even two years ago and look how far you've come. Look at how much you've achieved, and know that there's more to achieve, and to keep going. You've come a long way since being an Uber driver and a cook to living in California to working on a long-standing series. Just continue to lean on others, trust your gut, trust your support system, trust the people that helped you get to where you are, and trust yourself. Know that if something arises, do what you've been doing, continue to strive for more, and you'll end up on the right path.
This interview has been edited and condensed for length and clarity.
Wondermind does not provide medical advice, diagnosis, or treatment. Any information published on this website or by this brand is not intended as a replacement for medical advice. Always consult a qualified health or mental health professional with any questions or concerns about your mental health.