Explainer
09.15.22
The Difference Between Obsessions and Compulsions
Plus, how to know if what you're experiencing falls into either category.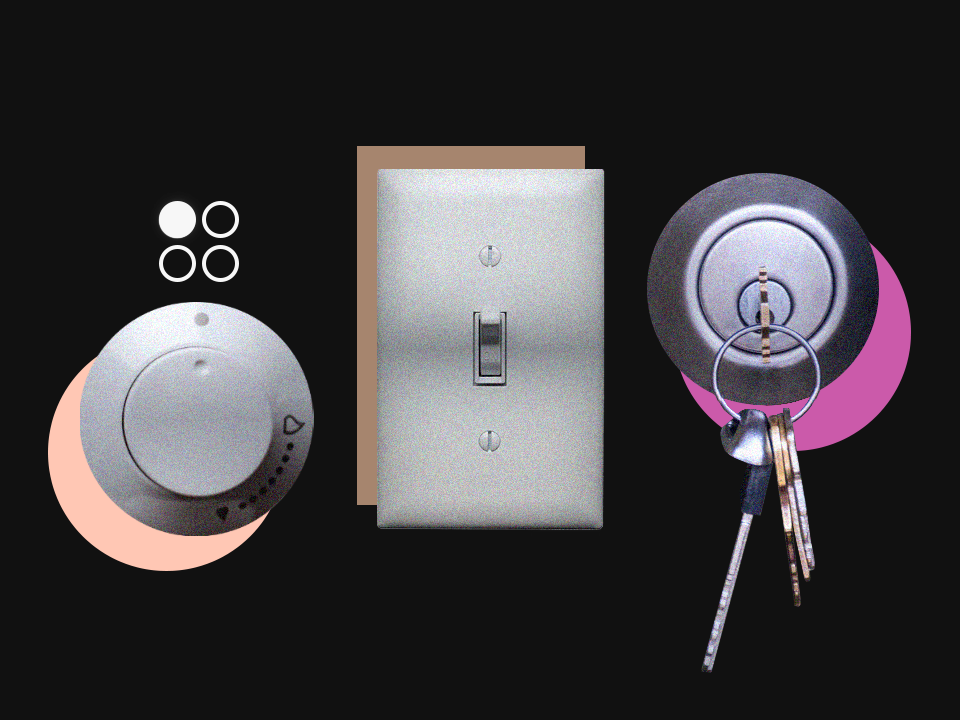 Shutterstock / Wondermind
You've probably heard these terms before, but do you know what counts as an obsession vs. a compulsion? No worries, we'll explain. We often associate being "obsessed" with things or people we love—like your favorite band, tacos, soccer, or knitting. And you might talk about being compelled to act whenever you feel super strongly about something. But the obsessions and compulsions that plague people in the grips of OCD are anything but enjoyable. As someone diagnosed with OCD, or obsessive-compulsive disorder, I know firsthand that the condition can be dreadful without appropriate treatment.
First, a quick primer on OCD for the unfamiliar: OCD is a chronic mental health condition that centers around uncontrollable thoughts (obsessions) and repetitive behaviors (compulsions) that someone feels like they have  to do in response to those intrusive thoughts. (You can read more about OCD here.) 
When most people think about what OCD "looks like" they're probably thinking about the compulsive behaviors rather than the intrusive obsession behind it, says Jenny Yip, PsyD, a clinical psychologist who specializes in the condition and lives with it herself. Because you can only see half the story of OCD, onlookers might wrongly assume it's "not a big deal" and that people with the condition can simply "get control" over it, she says. But while compulsions are the tip of the OCD iceberg, visible on the outside, obsessions are the immense glacial mass concealed inside the mind.
Here, we'll take a closer look at these two main facets of OCD (obsession vs. compulsion) so you can better understand this complicated condition.
Obsessions are intrusive thoughts that attack what you care about.
Unlike being ~so obsessed with soccer~ obsessions in OCD include disturbing thoughts, images, and fears. The content of obsessive thoughts can vary widely, but they're generally ego-dystonic, meaning they run totally counter to your actual values and sense of self, says OCD therapist Erin Nghe, LCSW. That's part of what makes them so distressing. For example, you might have intrusive thoughts that involve harming other people or taboo topics around sex or morality.
I had a slew of different obsessions during the worst of my OCD, but nearly all of them focused on harm coming to my family. One frequent obsession was the vivid image of leaving home with my baby and returning at the end of the day to find an intruder hiding inside, ready to jump out and hurt us. It's worth noting here that everyone has nonsensical, sometimes unpleasant intrusive thoughts—not just people with OCD. The passing image of a home invasion—or contamination by sickening pathogens, violence, or any other unpleasant thought—might pop into anyone's head on occasion. With OCD, these thoughts are persistent and, instead of passing through, they get stuck in the front of someone's mind and feel impossible to ignore, kind of like a persistent "bully" making demands, explains Katia Moritz, PhD, a licensed psychologist who specializes in treating this condition.
Once stuck, the scary, abhorrent, or disgusting thoughts, sensations, or images elicit extreme anxiety. As that extreme anxiety mounts, the urge to do something to release it builds. And that brings us to compulsions.
Compulsions are actions that offer temporary relief from the obsession.
An OCD compulsion is basically what someone with the disorder does in response to the obsession to temporarily relieve the anguish. For instance, one very young patient, around 4 years old, told Dr. Moritz that "his bones were telling him to do the compulsions" even though they didn't make sense to him, she recalls. Compulsions are not an enactment of the obsessive thought itself but more like a "safety behavior," Nghe explains. That sense of safety and false certainty that compulsions provide is short-lived, and before long, the terrible cycle repeats: the sticky and unwanted thought, the urge to do something, giving in and performing the compulsion, feeling temporary relief, the obsessive thought returning, and so on.
Like obsessions, what compulsions look like varies widely, from repetitive hand washing, to tapping and counting, to avoiding situations, to mentally counting to a specific number while blinking fast. Unlike obsessions that all happen in the mind, compulsions can be noticeable to others. In fact, people might even accommodate someone's OCD compulsions without meaning to. For instance, the parent of a kid with OCD around contamination might purchase hand soap in bulk or help with excessive sanitizing of surfaces. While it might seem supportive and caring to participate in these rituals—after all, who doesn't want someone they love to feel better when they're upset—accommodating someone's OCD can ultimately make it worse.
During the peak of my OCD, as I left my condo for the day, walking down two flights of stairs lugging my baby, diaper bag, and other essentials, my OCD would whisper, What if you forgot to lock your apartment door? As we approached the car to head out, the obsession would get louder. Picture the intruder lurking and pouncing when the two of you get home. He'll take her and it will be your fault. Go back. Go now.
The urge to go back and check the lock felt irresistible, so I would give in and do the compulsion my OCD demanded. I'd lug my baby and armsful of stuff back up two flights of stairs, set her car seat down, and begin to check the lock, not just once, and not just with my eyes. I jiggled the doorknob, tapping carefully five times to make sure it didn't open. I then unlocked and relocked the door, repeating each step until my OCD was temporarily satisfied. This happened several times per week and, often, I would do my rigorous ritual and head back down the stairs only to go through the entire ordeal again.
Like others with OCD, part of me knew that the whole thing was irrational. But having OCD makes it basically impossible to tolerate uncertainty. Nobody can be 100% sure that an intruder won't break into their home, but people generally accept the fraction of a percent chance of something bad happening without much thought. In people with OCD, that tiny bit of uncertainty feels massive, and doing the compulsion offers a false sense of temporary certainty.
Therapy and medication can help people manage obsessions and compulsions.
There is "no cookbook" that can possibly list all of the ingredients and manifestations of OCD nor is there "a one size fits all treatment," says Dr. Moritz. But while OCD is thought to be a lifelong condition, treatment can dial it way down. The most effective way to tackle it is with daily medication, a kind of psychotherapy called Exposure and Response Prevention (ERP), or a combination of both, according to the International OCD Foundation (IOCDF). Before starting ERP, a therapist specially trained to treat OCD will educate the client about obsessions and compulsions, and work with them to rank these thoughts and behaviors by severity.
The exposure part of ERP puts someone face-to-face with their obsessions, both in the therapist's office and as homework to do between sessions. For instance, if someone struggles with thoughts of illness from contamination, structured exposures might include touching raw eggs or walking through the house with dirty shoes.
The response prevention part comes in when the anxiety starts ballooning—successful ERP requires a commitment to not responding to an obsession with a compulsion. So, instead of, say, cleaning the floor three times over while counting mop strokes, someone might sit in the room with a dirty floor or avoid cleaning it for several hours, tolerating the dreadful anxiety.
It's hard work to face obsessions head-on without doing anything to assuage them, but it's worth it. Over time, the anxiety associated with obsessions drops, and the thoughts become less sticky. For me, daily medication helped muffle my OCD, and starting ERP a couple of years later dialed it down far enough so that it no longer prevents me from pursuing my best life. Along with other realizations, the structured exposures and response prevention helped me understand, Oh, I can choose to not painstakingly re-check the locks, and my child is fine. As someone progresses through this process, they can also do what Nghe calls "natural" exposure, which is basically asking yourself how you can "lean into" daily discomforts by taking healthy risks that align with your values and goals, even if they make you uncomfortable.
Around 70% of people can get relief with traditional outpatient ERP and/or medication, according to the IOCDF. While there are still barriers to treatment, like the cost and availability of ERP, access to evidence-based help is growing steadily.
The bottom line: If you're obsessed with '90s hip-hop or feel a compulsion to remove your makeup before bed even when you can barely keep your eyes open, but it doesn't come with distressing, life-hindering anxiety, then congratulations—you have great taste in music and your skin thanks you. But if reading this made you realize that you or someone in your life may be dealing with true distressing obsessions paired with tedious compulsions, take a moment to process. As excruciating as the cycle of thoughts and rituals may be, OCD doesn't need to control someone's life forever. There are more resources than ever before to connect with others and start breaking free of obsessions and compulsions.
Wondermind does not provide medical advice, diagnosis, or treatment. Any information published on this website or by this brand is not intended as a replacement for medical advice. Always consult a qualified health or mental health professional with any questions or concerns about your mental health.