Q&A
09.14.22
Phoebe Robinson Is Working on Not Having a Plan
The 'Everything's Trash' series creator and executive producer revealed her current therapy hack.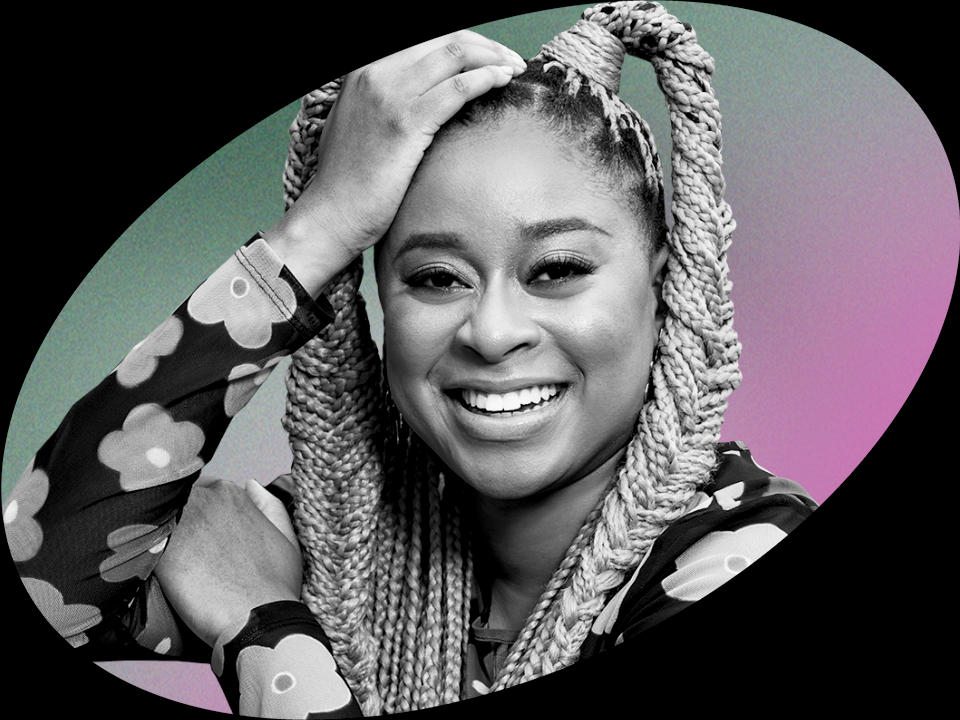 Photo Credit: Freeform/Jabari Jacobs
If you haven't tuned into Freeform's Everything's Trash, do yourself a favor and add it to your watchlist now. From the hilarious mind of Phoebe Robinson, the show explores a podcast host forced to grow up…quick. As the first season rolled out, Robinson sat down to chat about mental health and navigating her younger years. Here, she talked to us about the shame that finances can bring, the power of not having a plan, and the advice she'd give herself right now.
[This interview originally appeared in an August 2022 edition of the Wondermind Newsletter. Sign up here to never miss these candid conversations.]
WM: How are you feeling lately?
Phoebe Robinson: I'm doing OK. I mean, I'm definitely feeling burnt out because this show [Everything's Trash] is such a massive undertaking, but I'm very proud of it. It's my baby. So I'm hanging in there. I'm feeling good. I'm feeling tired. I'm also feeling pretty grateful people are receiving this show.
WM: What time periods stick out as really formative in your mental health journey?
PR: All industries are hard, but something like Hollywood can definitely be intimidating and tough. I started doing stand-up 14 years ago, so I was 23 going on 24. I don't wanna speak for everyone, but I think in your early twenties, you just don't have that much self-confidence all the way. You're sort of like a sponge; you sort of soak up everyone's opinions about you, and you second-guess yourself. I think stand-up really helped me have confidence, find my voice, and not be so intimidated to be in a room with a bunch of guys and feel like I don't belong or feel like I should apologize for showing up. I think that's been my journey, just getting more comfortable [in] my skin, gaining that confidence, and being kinder to myself.
Now I'm in a place where I'm trying to enjoy the process more as opposed to being like: If you're not perfect, you're fucking up.
WM: When you were younger, you spent nearly 10 years building financial stability. How did that financial grind impact your mental health at the time?
PR: It makes you go, I have to take every job. I can't say no to anything. Money becomes the thing you're thinking about all the time. Like before bed, I'd take out a sheet of paper, like OK, let me add up all the money I could make this month from these freelance gigs. If I pay off this [expense], and I pay my rent and my bills. … I felt like Russell Crowe in A Beautiful Mind, like writing on walls and shit all the time.
Not only is it the pressure and stress of that, but you also feel shame, like, Why am I in this situation? Why haven't I figured things out? It can really weigh on you and feel like [you're] doing something wrong. A lot of the journey was feeling the pressure and [like] you don't wanna tell anyone. So you feel like you're hiding from other people, and that just weighs on you after a while. Maybe failure is the wrong word, but you sort of feel like, Why don't I have my shit together when everyone else does?
WM: What aspect of your mental health would you describe as a work in progress right now?
PR: Learning how to rest. I'm always a person who likes to have a million plans—the one-year plan, three-year plan, five-year plan. So my show's out, I'm promoting it, then I'm going to take a vacation, which is something I don't really do. Then, when I come back to New York, it's not like I'm going back into a job right away. So there's a part of me that's like, Oh my god, I don't have the plan. So what's the plan? And my therapist is like, "Maybe it's good for you to not have a plan right now."
Renée Zellweger did this interview for Harper's Bazaar, and she was like, "Busyness is the enemy of creativity." For so long, I was busy because I had to financially survive New York. I'm not in that place where I have to take every single job now, so I'm like, What does it feel like to rest? What does it feel like to just check in with myself? That's where I'm at.
WM: What's the best advice you've ever heard that stuck with you through the years?
PR: When I first started working with my life coach, she was like, "You know, I just sensed this vibe from you that you feel like your work can't be great unless it's a huge struggle. You can work hard, but you don't have to work to the degree that you're working on every single thing in order for you to be proud of it and to feel like it's good."
That was great to hear because I think so often we feel like you have to give 110%. You have to leave it all on the floor, or what are you doing it for? And sort of just being like, well, not everything has to be a struggle. Like yes, putting on a TV show is hard, but you can go on set and have fun. And that's what I was doing. A lot of days, even if I was exhausted, I was like, this is really fun. We're making each other laugh. I don't have to be this tortured person. It was really good for her to just shake me a little bit and be like, "It doesn't always have to be hard. Struggle is not always necessary or required."
WM: If you were to talk to yourself like a friend, what advice would you give yourself right now?
PR: The advice that I would give myself would be worry less. I'm a worrier… and a warrior. Ah ha ha ha. That was trash! No, but I do tend to worry about: How's the show? How are people liking the show? Are we gonna get a second season? Does the cast feel proud of it? Did I let my showrunner down? Just all these things are racing through my mind.
I always wanna be like: Just worry less because it all works out in the end, you know? And you waste energy thinking that people are feeling a type of way about you that they might not. And just enjoy the moment more. I'm trying to learn how to do that.
This interview has been edited and condensed for length and clarity.
Wondermind does not provide medical advice, diagnosis, or treatment. Any information published on this website or by this brand is not intended as a replacement for medical advice. Always consult a qualified health or mental health professional with any questions or concerns about your mental health.