Stories
01.27.23
8 Hacks for Time Blindness From People With ADHD
How to get sh*t done and show up when it matters.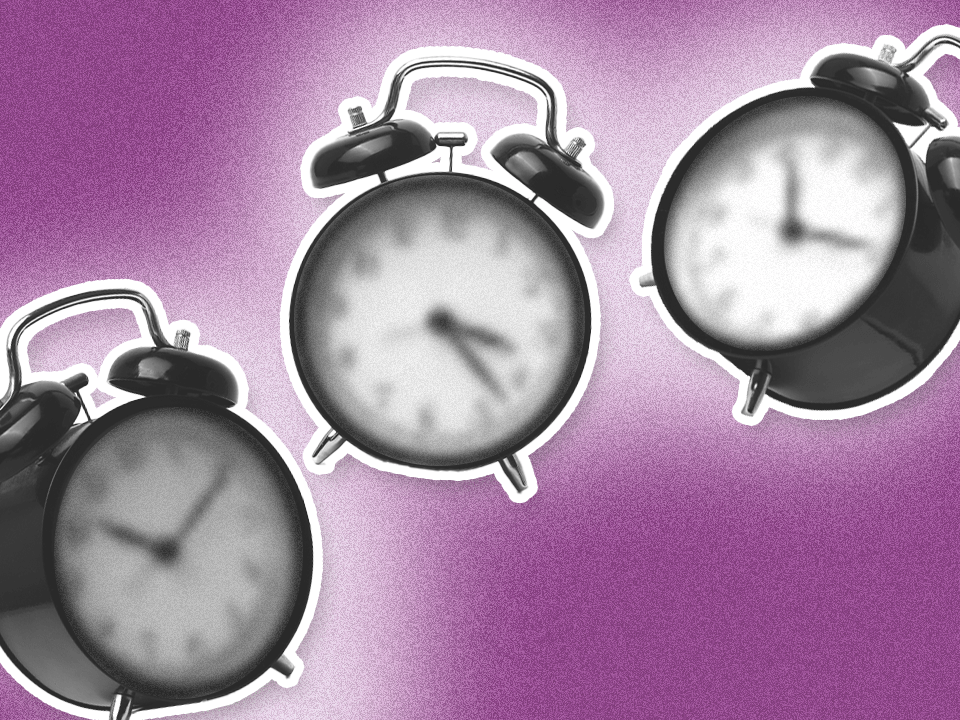 Shutterstock / Wondermind
My day begins like anyone else's: I wake up, brush my teeth, get dressed. But whether I rise to the chime of my first alarm or not, every morning ends in a mad dash to get out the door before I'm late to work. And once I'm there, I lose myself in my to-do list. I'll get halfway through my first project when I realize it's time for lunch. I'd say I lose track of time often, but how can you lose something you never had in the first place? This daily struggle is called time blindness.
Although everyone is late sometimes (or accidentally loses an hour to TikTok before bed), time blindness is a symptom many people with attention-deficit/hyperactivity disorder (ADHD) face every day, says licensed therapist and board-certified behavior analyst Laurie Singer, LMFT, who happens to have ADHD. "Time blindness can be extremely frustrating and create chaos in someone's life," Singer adds. That's partly because it can lead to issues like off-task behavior, lack of organizational skills, and trouble staying focused.
Technically, time blindness isn't listed as an official symptom of ADHD in the DSM-5-TR, the professional standard for classifying mental and neurodevelopmental disorders. But, according to a 2019 clinical review of research, those with ADHD can perceive time differently than neurotypical people, and that has a lot to do with how ADHD impacts the brain's executive functions, or the skills that support your working memory, self-control, focus, and time management.
So, why are those of us with ADHD like this? Researchers hypothesize that the internal clock our bodies use to keep track of time while we're doing other things relies on our working memory. So if that's not functioning like it's supposed to, it's harder for you to keep track of time. In fact, these brain differences can often make it feel like time is moving faster than it actually is, which may lead to underestimating how much time is passing, another more recent review suggests.
For me, time doesn't seem to pass unless I'm constantly checking my phone. When I see that it's 10:32 a.m., it pretty much stays 10:32 a.m. in my mind until I look at the clock again. Because I genuinely don't want to be late, I feel super anxious about work deadlines and social hangouts. I'm also prone to overcommitting myself because it's hard for me to estimate how long a task or event will take, leading to—you guessed it—more anxiety and stress.
If these issues sound familiar, here are some smart ways to manage time blindness from people with ADHD and the experts who treat it, so you can get sh*t done on a regular (or semi-regular) basis.
1. Hack your planner.
Singer was diagnosed with ADHD in her 50s, but she realized long before her diagnosis that planning activities and tasks using a paper planner made time management much easier to wrap her brain around. "I would work backward from the due date just like I was training for a race." She recommends that her clients with ADHD use a planner to plot out how they'll spend the hours or even minutes of their day. "Most individuals with ADHD, like myself, are visual learners," Singer adds.
So if you have a big project, try breaking it up into smaller pieces with their own individual due dates you can tackle one by one up to your deadline. You can also use a planner to divide your day into chunks of focused work that feel more manageable. "I would study for one hour, take a break, fold laundry, start preparing dinner, or go for a brisk walk. The results were amazing."
Finally, checking off tasks in a paper planner provides a sense of accomplishment, which might make the habit easier to sustain in the long run.
2. Try this ADHD-friendly timing method.
"Using the Pomodoro Technique works especially well for people working on their own," says therapist Crystal Britt, LCSW, who works with neurodiverse couples and has co-occurring symptoms of ADHD and autism spectrum disorder. The part of this technique that's specifically helpful for people struggling to stay focused includes working for 25 minutes on one task until a timer dings then taking a five-minute break. Once the break is up, go back to that same task, repeat this pattern, and enjoy a longer break every fourth round until you're done. By having you commit to brief periods of focusing, this method can keep you from getting distracted by anything you might rather be doing (like checking your phone, folding your laundry, etc.). It can also help shut down negative thoughts about how you manage your time or how long it might take you to do something. "This helps keep [ADHDers] engaged and takes away the pressure," she says.
3. Time your go-to tasks to get a sense of how long things actually take.
Because people with ADHD often underestimate how long it takes to get something done, doing a little time trial for tasks you do often (or the ones you always underestimate)—like showering and getting ready for the day, recurring work assignments, or even school drop-off and pick-up—can help, says Britt. Tracking how long it takes you to finish a thing can help you make time-saving adjustments where necessary, like showering at night to save time in the morning or checking your email toward the end of the day.
Even though the exact pace for each task could change, you'll have a better idea of the general amount of time you need to complete it. Practicing this one showed me that one of my weekly writing projects that I thought only took an hour actually took closer to three. Now, I keep a note in my phone of how long things typically take, like, "I need one hour to get my kids ready for school in the mornings and two hours to myself before bed." Now, when employers reach out to me for an assignment, I can tell how much time is actually in my schedule so I don't overcommit myself.
It can also help to give your schedule some padding to account for "operating at different speeds for different tasks on different days," says Jennifer Alumbaugh, who experiences time blindness and is autistic with ADHD. 
4. Get a real or virtual body double.
No, we're not suggesting you clone yourself. Body doubling basically means working on a task while another person who is present physically or virtually works alongside you or keeps you company while you work, says Britt. "Having a supportive presence available while you work on something that feels tedious is especially helpful when you struggle with ADHD and time blindness." While there hasn't been much research on how this can help those with ADHD, it's possible that it forces you to stick to a specific task for a set amount of time and holds you accountable to work on it, per this write-up from the Children and Adults with Attention-Deficit/Hyperactivity Disorder organization (CHADD).
Britt personally uses the TikTok account @work.buddies, which is a "virtual focus body double space," where a team of hosts provide a live co-working space and sense of community for those working from home. "Having a community of people who are all working with me at the same time helps admin work feel a little less cumbersome," she explains. Body doubling may also help curb loneliness, which some research suggests is more prevalent in people with ADHD. "Plus the playlists are great." Can't argue with that!
5. Strategically plan your time-warp activities.
Some tasks can cause people with ADHD to hyperfocus, which are "episodes of long-lasting, highly-focused attention," which adults with ADHD often report experiencing, suggests a small study from 2019. While that might sound kind of ideal for avoiding distractions, hyperfocus can cause ADHDers to experience even more time blindness, says licensed professional counselor Briana L. Severine, LPC. That's why activities that some ADHDers say lead to hyperfocus (like video games, painting, or watching TV) are sometimes called "time-warp activities."
Sometimes there's no way to avoid these, like if you hyperfocus while cleaning or responding to work emails. Still, knowing what tasks trigger your hyperfocus enables you to engage with them when you have no time-sensitive plans or deadlines, Severine adds.
6. Set alarms and use visual timers.
If you find yourself forgetting to eat or losing hours due to hyperfocus, try using timers to break up your day. Julianna Coughlin, who has ADHD and time blindness, says she plans every hour of her day and sets alarms for stopping a task, getting ready for the next one, and doing other important things (like, you know, eating).
For me, this looks like writing out an itinerary, like: Send emails from 10 to 11 a.m., take a coffee break from 11 to 11:15 a.m., prep for a Zoom call at 11:30 a.m., then take a lunch break from 12:30 to 1:30 p.m. Then, I'll set alarms to help me remember to switch tasks. That helps me make sure I don't accidentally spend three hours responding to emails or skip lunch.
You can also use this trick after working hours to plot out how long you have to put away laundry or curl up on the couch before bed.
If alarms aren't your thing, try a visual timer instead. Jesse Anderson, AKA @adhdjesse, says it's hard for him to "feel future time in a quantifiable way," which makes all his to-dos mix together in "one giant jumbled box on the calendar." But using a digital timer that changes color or even a physical hourglass helps him. "I may not feel the passing of time, but I can often notice the shrinking of a visual indicator," he says.
7. If you can't think about something right now, schedule a time to plan.
Sometimes, it's easy to fall into the trap of "I'll do it later" thinking and totally forget about what you need to get done. That's why Alumbaugh makes plans to plan. "For instance, I'll make an appointment in my calendar in two weeks to plan a task or event for two weeks beyond that," they say. It's actually a smart way to not forget about something, even if you don't have the time or energy to do it right then.
For example, say you need to do your taxes but you're in the middle of a big work project or just burnt out. Setting a date in your calendar to make a list of all the documents you need to gather can make the big project less daunting. After you make your list, set another date to actually gather those papers and another one to fill out the tax forms. Instead of putting it off again and again because it's too overwhelming, you're holding yourself accountable.
8. Speak to a professional.
For more personalized guidance on managing time blindness, you'll want to talk to a therapist who specializes in ADHD and executive functioning to help you reach important goals and feel less distressed, says Severine. "This person can get to know you and help you try out different strategies to improve." If you can make it work with your schedule and budget, it could be worth a shot!
Wondermind does not provide medical advice, diagnosis, or treatment. Any information published on this website or by this brand is not intended as a replacement for medical advice. Always consult a qualified health or mental health professional with any questions or concerns about your mental health.