Q&A
01.23.23
Yvonne Orji Is in Her "Deep Joy" Year
"Sometimes we have to pat ourselves on the back for our healing journey; little baby steps need to be rewarded as well."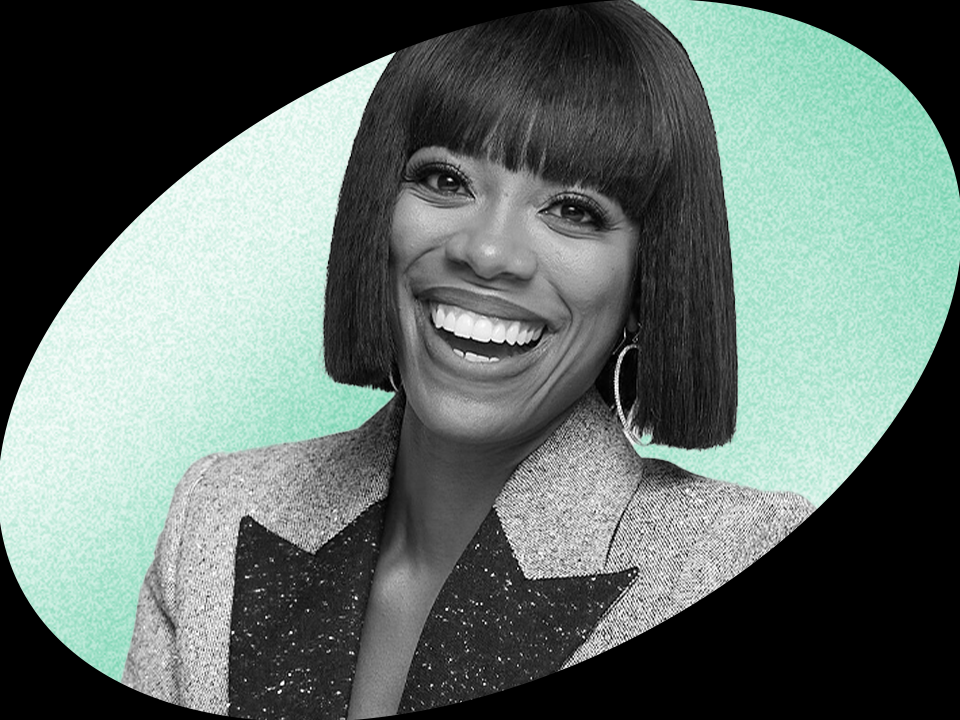 Photo Credit: Allen Cooley
On the heels of her A Whole Me HBO comedy special, Yvonne Orji caught up with Wondermind to dive into her special and where she's at on her mental health journey these days. For starters, "2023 is my year of deep joy," she tells us. That means leaning into what makes her happy, enjoying more of life, and basking in the peace her healing journey has helped her achieve. Here, Orji talks about overcoming perfectionism and burnout, trying a different approach to therapy, and celebrating little wins.
[Sign up here to never miss these candid conversations delivered straight to your inbox.]
WM: How are you doing lately?
Yvonne Orji: I've been doing great. You know when you're graduating from high school or college and have senioritis? I have adultitis right now. I'm ready to tap out from all my adulting duties 'cause vacation is upon us.
WM: You recently released a new comedy special that talked a lot about mental health and therapy, specifically eye movement desensitization and reprocessing therapy (EMDR). What has your experience with EMDR and therapy in general been like?
YO: It's been eye-opening and life-changing, honestly. I started talk therapy about three and a half, maybe four years ago. That was helpful, especially as my first inroads into mental health and therapy. It was good to have someone to talk to and have them show you or mirror back to you some of the thoughts and ideas you held onto and what's happening now versus what you believed. It was good to get the ball rolling and have me look at my life, some decisions, and some people in new ways. Then EMDR kind of ramped [it] up a notch and is really doing the excavation work, like the deep-rooted work of the healing. I welcome it.
WM: What's your favorite lesson or tip from therapy?
YO: One thing my EMDR therapist says all the time is: "It's OK to feel safe when you are safe." A lot of times, our past trauma presents itself anew in our current situations, making us feel like it's happening all over again. But it's not—you are safe, and it's OK to feel safe when you are safe, and you don't have to recreate those emotions 'cause it's not happening right now.
WM: What's one way you prioritize your mental health on a regular basis?
YO: Feeling and knowing when I'm either regressing or challenging a thought. Like, Hey, is this New You speaking? Are these the old thoughts and habits coming out? Then calling it what it is and honoring [that by thinking], Hey, you know what? I think I'm doing this because X, Y, and Z. When you start recognizing your patterns, you're able to not let them take over or give so much weight to them. Then it's like, OK, well, what can I do instead?
I had a situation just happen, and I read an email and got extremely upset. Then I paused, and I was like, Alright, you're upset just because this, that, and the third. You're going to do what you need to do anyway, but it's important for you to voice what is troubling you about this, and that's fine and valid. You need a moment to step away, and it's going to be fine. You don't have to be annoyed. You don't have to take that annoyance with you the whole day.
But it was just that process of me calling it out as opposed to throwing the whole baby out with the entire tub. I was able to really deduce what it was about this that was bothering me as opposed to being like, Everything is crazy!
Sometimes we have to pat ourselves on the back for our healing journey; little baby steps need to be rewarded as well. We don't do that enough. We're so big picture, but to get to the big picture, you need one stroke. I like honoring and celebrating my strokes.
WM: As a recovering perfectionist, what was the biggest help in overcoming that mindset?
YO: Growing up as a child of immigrants, perfectionism is ingrained in your bloodline, right? You gotta be the best; you gotta do the best. So you aim and strive for it, and it is doing damage to your enoughness, this feeling of, As is, I am good. As is, I am worthy.
Perfectionism basically says, "No, you're not because you're not good or worthy or capable unless it's 150%." Ugh, that just leads to burnout. It [also] leads to you feeling unfulfilled because even when you achieve the thing that you were striving so hard for, it still feels empty, or you don't even take the time to celebrate it. You're just like, I did it. I was always going to do it. Alright, what next?
Then it manifests itself as performative love because when you believe people like you or will love you more for what you do and how you do it, it's like, I gotta keep doing more of that so I can be liked. Honestly, it was wreaking havoc on my joy because, yes, I was getting success, but at what cost? I was burnt out; I was tired.
You have to intentionally see that there's an issue, desire to stop the bleeding, and figure out how to replace it because the reality is it's now part of your makeup—it's your sense memory. You have to learn to let go. You [have to think], How do I make 75% effort bring me as much joy as the 150% effort? No one notices the other 25% that's missing. It was just me. My 75% is actually somebody else's 130%, so I'm good.
WM: As we're entering a new year, how do you feel about where you are now compared to last year?
YO: I am in such a place of peace and contentment. Sometimes when you go through hard things, you feel like you will always be in it, or it's like, How do I get to the other side? And when you do [get to the other side], you realize it's like The Wizard of Oz, like objects in the mirror appear larger than they are. You heal from all of that.
I feel like [I'm in] this place of knowing who I am, and that's why I called the special A Whole Me. I feel like I am the me that I was always supposed to be but life got in the way. Now, I'm sitting in her more, enjoying her more, and loving her more.
This interview has been edited and condensed for length and clarity.
Wondermind does not provide medical advice, diagnosis, or treatment. Any information published on this website or by this brand is not intended as a replacement for medical advice. Always consult a qualified health or mental health professional with any questions or concerns about your mental health.