12.20.22
Ashley Mills on Her Late ADHD Diagnosis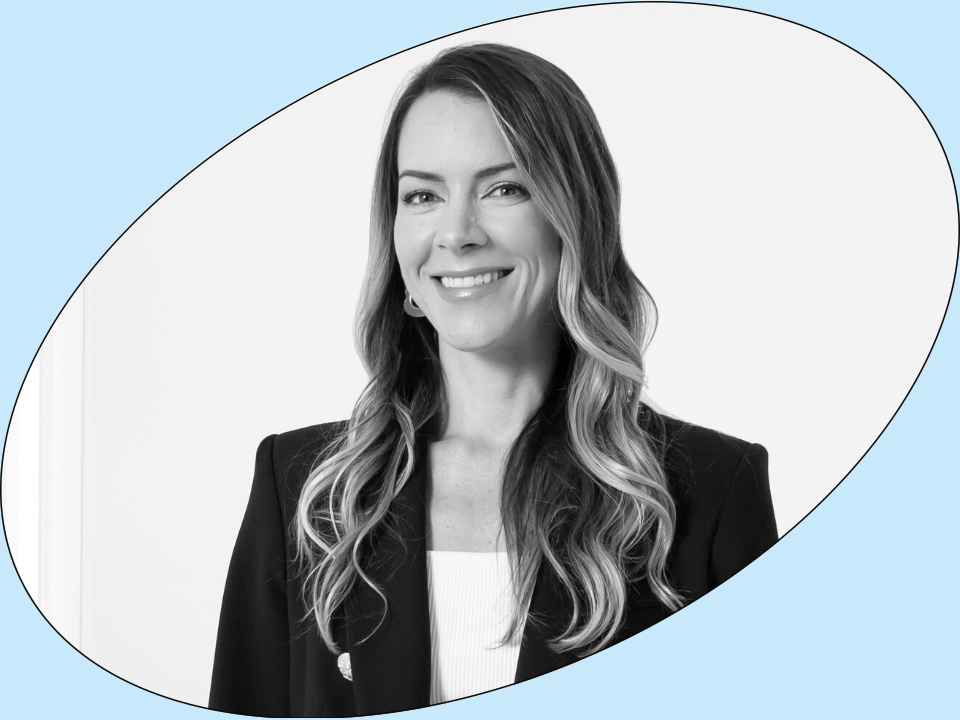 Picture Credit: Alec Kugler
Ashley Mills is the co-founder of obé Fitness, a digital fitness platform that makes fitness fun, accessible and immersive for everyone. In this conversation, she talks about her career switch from Hollywood talent agent to wellness entrepreneur and how she learned to adjust her management style as obé Fitness grew from a 12-person startup to a company that employs 80 people. She also talks about her recent ADHD diagnosis and why she wants her son, who has also been recently diagnosed with ADHD and dyslexia, to never lose his confidence.
Daniella Pierson: It's so nice to have you, Ashley. We just recently met. You were so lovely and so amazing. I actually knew exactly who you were because you are the co-founder and co-CEO of obé Fitness. I would love it if you could give yourself an introduction and really tell our listeners who you are, what you do, what obé Fitness is and anything else that you don't brag about, I'll brag about for you.
Ashley Mills: Absolutely. Well thank you so much for having me. I'm really honored to be here. The work that you guys are doing at Wondermind is so deeply needed. For those folks who are maybe not aware of obé: I am Ashley Mills, I'm a former Hollywood talent agent turned wellness entrepreneur and with my business partner who you mentioned, Mark, we started obé in 2018. So this is pre-COVID, before the growth in the digital fitness category. We were both huge lovers of immersive community-driven fitness experiences in New York and LA, both from small-town USA. We're sort of frustrated and it was weird for us—we would go home on holidays and see our friends that still lived in the towns that we grew up in and they didn't have access to these really powerful instructors and these really powerful experiences that really helps you make your way through life and the grind of the everyday.
And so what we loved about those classes is that we would get that feeling when you're really in the flow state and you aren't worried about anything, you aren't worried about anyone judging you, you can just be very present and you're doing the thing. We wanted to create a platform that would bring that feeling to a much wider audience. We also wanted to shift the culture around the way that we as a culture view our bodies. There's diet culture, obsession with fitness, comparison on social…all things that are as relevant now as they always have been and probably actually more so. We wanted to teach people that working out should make you feel whole, it should make you feel strong, it should make you feel connected to yourself. And it's not about the thinness and the sort of obsession with weight.
DP: I love all of that and I am such a big fan of obé. Could you walk anybody who hasn't used the product through what the experience is and what the company does?
AM: We are a digital fitness platform. We have live and on-demand classes that you can do from anywhere. We have 25 different modalities so it's everything from sculpt, Pilates, meditation, HIIT classes, dance classes. It's sort of like: you name it, we have it. Our production model is very agile so we're constantly evolving our content and introducing new class types. In addition to the classes we have progressive programs that you can follow and so if you were looking to get stronger and you have access to a gym, you could do our gym program where you would use the equipment that you would have at a gym. Or "Sculpt Burn Repeat" is a really great program that is focused on sculpt and Pilates and yoga and how you bring all of those things together. Sort of the core principle for us and what has been part of our thesis since day one is that it's about creating an entertainment experience during a fitness class. We want you to have a really really great time and that's what's going to keep you coming back. I have ADHD and I think that's part of how I've learned to create consistency in my life and my workouts. I have to enjoy doing it or I just won't do it. So we know that so many people struggle in that way, whether you have ADHD or not. That is a very real thing. Our biggest competition we say in our business is inertia. A lot of people know they need to exercise but it's really hard to do it. We've come up with this kind of hide-the-broccoli approach to fitness to give people a killer workout but have hopefully such a great time that you don't even realize that you're working out.
DP: All of that is amazing and anyone who hasn't tried obé Fitness should absolutely try it out but I want to talk about you, Ashley. You are the co-founder and co-CEO of this incredible business that has grown so much since its debut and really has a cult following. But you are also a mother and you had a previous life before being a founder. Would you mind walking us through what struggles you went through in building the incredible career that you have now? Because I think there are many people listening that want to have your job and I am betting that it was not just an easy rise to the top.
AM: Yeah. I grew up in small-town USA. I went to college in Texas and then after that I moved to LA because I wanted to work in entertainment. The reason I wanted to work in entertainment is that growing up, my mom was a single mom and we would watch Oprah together every day at three-o'clock. It was kind of like our ritual. At the time, that was the only way that I was getting meaningful news and information about what was going on in the world. So I was very inspired and felt kind of like this altruistic calling to get into media. Obviously media is not all altruism and Oprah. It would be very difficult to sell a show like Oprah's today. I started as an assistant at CAA. They do it a little differently at CAA where you go to the mail room as part of the trainee program and then I worked my way up. It's kind of like an apprenticeship model and they make sure that you really understand how the agency functions. So we would be up at 6 a.m. and we'd be at the office until 9 p.m. and we were driving packages around to all of these very famous people. It was a really great experience and I think I've always been a very hard worker. Even though I didn't necessarily know all of these people (I didn't have this fancy life before I got to LA), I think I had a really standout work ethic that was appreciated and helped me be good at my job. And then from there, I was promoted to an agent and I worked in the TV department. I was working primarily with personalities that we were building lifestyle businesses around. So we would sign someone who had a really interesting point of view and then we would build a lifestyle business around them, figuring out what the media platform was and then from there the book deal, the podcast, all of the license deals that would help to create a holistic brand. I did that for 10 years and it was an awesome 10 years.
Then there was a certain point where I'd had my first son (I have three kids). My first son was 7 and I was on a plane all the time. It was like: breakfast, lunch, dinner, drinks after…it was that kind of lifestyle job. And I just wasn't sure how I was going to manage that long-term. With my now business partner (who was like my work husband at CAA, our offices were right next to each other), we started really thinking about what we wanted to do next. As I mentioned, we both have this love of fitness and love of great experiences and we wanted to figure out how to create that on a bigger level for more people. We had represented a bunch of folks in the fitness category so we had working knowledge of it in terms of how to get something done. So we started in our agency off hours thinking about it, planning, making decks. I remember there was one evening when we were actually at Mark's house having lunch with both of our partners talking about it over many bottles of wine. It was this really great night. We decided we were going to do it and we had our respective partners there who were going to keep us accountable and we were making this decision. We decided to start raising money and made sure that our clients were taken care of so that we could move on and do this. We started a business like everyone starts a business—it's super scrappy, you don't have very much money, we did not raise the kind of VC rounds that you read about. We raised enough money to be able to get a studio together and a couple of people on the crew. But it was really us. We were the ones who were putting names on the board for shoutouts for people at home. We were the ones casting the instructors, doing all the training, figuring out who was going to do all the tech. That's a really big challenge I think for us in our business, the technology piece of it, because neither of us are our technical founders.
It scaled pretty dramatically during COVID when everyone needed our product so desperately. It was a really exciting time for us, not only because the growth was great but also we felt such a need to be of service. Because we were deemed essential by the New York Governor's Office, we were able to continue producing in a very very safe way. We started doing kids programming and meditation and seniors just to make sure that our members could provide this kind of content to the people in their lives and really serve them when people needed it the most. That was an incredible time. I will say that when your business scales it's night and day. The skill set that you need when you're first starting a business to raising a Series A and that post-Series A, where you've scaled your team and you have real operations people and real HR and all of those C-suite roles, the business and your job take on a very different dynamic. And I think that transition was tricky for me and I think this has a lot to do with my ADHD. I am the kind of person that needs to be really hands-on and in the weeds if I'm learning something and I get so engrossed and I'm so focused and so intense about it. I think that was hard for me because when you bring in people to do jobs, you're expected to trust them and let them do their jobs, whereas I wanted to know everything and ask every question and everyone's like, "Get away from me. Let me do my job."
There was a moment last year actually where the folks around me were like, "You're driving us crazy." I talked to my advisors and people in my life who were like, "Get a coach and figure out how to have a company that is this size," because that is not natural for me and that's been like a hard adjustment. At the same time I think it's really important to listen to feedback and to take it in and try and understand it. What feels right for you are the things that you should act on, but there was a lot of feedback that was just a critique of my personality. If you listen to everyone and if you take their feedback as gospel and it is personality traits (it's okay for people not to like you!) you can't let that seep in because then you lose your confidence and that's the most powerful thing that you have as a founder and as an entrepreneur.
DP: Yeah, for sure. It's very rare that founders take feedback and actually evolve in their working style. It sounded like because you are somebody that does not like to delegate, you were almost hamstringing the company in a way because you were the bottleneck to all of these different functions. That's something that is very common among founders.
How many team members does obé Fitness have now? What were the things that you heard that maybe hurt you the most that you decided to act on? What are the things that you didn't decide to act on because it was your personality and you didn't want to change?
AM: We were 80 people last year at this time and I think when COVID started we were 12. That is a dramatic difference and obviously the nature of a remote culture. Our production team and our talent team were coming into the office but everyone else was remote. I think that's been a really big learning around: How do you make relationships with people when you're not in the same place as them? I think when you're working in an in-person environment it's easy to have these connections when you're walking to the bathroom or you're getting lunch and you're able to connect with people on this casual but nice level. One of the things that I really struggled with was that as we got bigger and everything was remote and we were doing everything on video conference, I didn't have personal relationships with everyone. That's something that I've had to learn: How do you build relationships when your company has scaled, when you don't necessarily have the time or the ability to have deep relationships with every person? Figuring out how to connect. One of the pieces of feedback that I got was around my intensity. I am an intense person, I am a focused person with things that are novel, things that excite me, new projects. The thing that I learned through that was making sure that in the process I realize that there are humans around me who have feelings. While the work is really exciting and we're all excited to do the work together, I have to take care of that human piece of it as well.
I luckily have a co-founder who is very good at the human piece of it and the emotional stuff. We balance each other really nicely. On a personal level, I have to make sure that I go that extra mile and do the thing that isn't necessarily as natural for me. The other piece of it, which I think the feedback was well warranted, was really around trust. As I mentioned, I was used to doing all of the jobs and then all of a sudden you're not doing all of the jobs anymore and you have to trust people that they're going to do the job and also recognize that they're probably not going to do it the way that you would do it. There were a lot of situations where I was checking in and it was viewed as micromanaging and people were saying, "But do you not trust us or do you not trust me?" I really had to sit back and say, "Do I trust this person?" And those are hard conversations to have because sometimes the answer is no and that means that there is a change that has to come.
DP: I totally hear that. Everything you're saying is so relatable. Managing takes on a completely different role. What is the emotional experience for you of letting someone go? Because unfortunately in the startup world you're supposed to hire slow and fire fast and sometimes you hire fast and fire slow or hire fast and fire fast. It's unfortunate but especially with a VC-backed company you are accountable to the people who gave you the money to grow this business. It's so much bigger than just your baby. It's having to meet goals and thresholds and not always being able to say, "Maybe just give this person a few more months," because you need this job done. So how do you approach that process?
AM: It's such a hard thing to have to make those decisions. As a leader, if you are honest with the person about what the goals are, what it is that you need them to do, having regular check-ins and one-on-ones, I think that that's where the balance is. You want to be encouraging but also making sure that it is understood when KPIs are not being hit, when you're not sure that the things that need to be happening now to set you up for success later are in process, or if that person knows how to do that thing that you thought that they did when you hired them. The best thing that you can do is just be really honest and transparent but at the same time making sure that people don't feel cut off at the knees and they can't do anything. Because when people start to underperform, they become paralyzed and then they really can't get themselves out of it because they lose their confidence.
In the same way that confidence is the thing that you need the most as an entrepreneur, I think that the same goes for anyone who is running a team or on a team. It's a tricky balance. The day of is certainly the worst, when you know that you're going to have that conversation and you have to communicate that information. I always try to really think of the human element. Being as honest and helpful and clear about why the decision was made is really important. Obviously it sucks. It's hard always leaving those conversations because you know you just rocked someone's world. You really changed things up for them, maybe in a way that hopefully they were expecting because you've done enough of the early conversations. But even if you've had those conversations, sometimes people don't expect it.
DP: All the points you made are really helpful for anybody managing anyone or considering starting a business or who has a business—making very clear goals and making sure that people know that they are not hitting them so that it doesn't come as a surprise. That's definitely something that a good leader should be doing and it's hard because as a CEO you have maybe three to seven direct reports. Those direct reports are in charge of giving that feedback to the people who report to them. Sometimes it's hard because you as a CEO are firing somebody and maybe they are very shocked because they didn't get that feedback. It's not your fault but at the end of the day, it is your fault because you're the captain of the ship.
AM: Right. Everything's your fault when you're the CEO.
DP: It truly is. I like to take a lot of responsibility when we do end up parting ways with people. Even if I had nothing to do with hiring them or anything, it always is our company. We failed in some way because it wasn't the right fit. It's not just that person.
I'd love to talk about your dynamic with your co-founder. It seems like you guys are very close and almost like brother and sister and you've worked together forever. You are co-CEOs, which is not very normal in the startup world. I would love to hear the dynamic and how you both split responsibilities and how you navigate the co-CEO space.
AM: I remember when we decided that we were going to be co-CEOs. Folks, when we were raising money, were like, "What? Why are you doing that?" We had seen a couple of other co-CEOs do it really well so we were not worried about it. Also, we have this long-standing relationship. We had the benefit of working together for four years before we decided to do this and this move was very well-thought and planned for many many months. From the beginning we sort of held hands and were like, "This has to work and we've got to figure it out." I think our skill sets are (and I don't think that this is the case for probably most co-founders), our skill sets are dynamically opposed. They are so different from one another. It is a yin and yang situation and it works beautifully. I was telling you before that he is the emotional person who can really take care of people and they feel loved and they feel all of that stuff, he is so good at that. That is not a strength of mine. Where I am really good is being in the weeds, super tactical problem solving. How do we deal with this issue that is right in front of us in a way that's going to set us up to be successful later? Again, our skill sets are just so different. Because we have that benefit of working with each other for four years at CAA and then now at obé for five years, it's almost like twin speak. We can read each other's minds and we know who does what. It works and you just have to trust the process of working with us because there is something that's really special to our dynamic.
DP: I want to talk about your personal life because you told me something that was very beautiful at the party that we met at. It involved you knowing that your son needed help and wanting to go on that journey with him. I would love to hear about that because I think it would inspire so many people, whether they are mothers or fathers or not, just because of the journey that you decided to take and what it unlocked from you that's something that you could have unlocked in your childhood.
AM: My son Donovan is seven. We knew when he was four or five that he had some learning challenges. We didn't know the extent of it but we could tell something was up. So we consulted our pediatrician and we went through this whole process. What we were told was that he couldn't be formally diagnosed until he was seven (because of whatever milestones exist in kids with reading and writing, etc.) to actually go forward and have that diagnosis and have a plan. My husband, I think, saw a lot of himself in our son and we know that ADHD is genetic. We said, "Why don't we go through this diagnostic ourselves? Let's see what his genetic makeup may include." So we went through that process, which was pretty lengthy, and we both were diagnosed with ADHD. What was so wild about that experience was the way that I felt and the way that I internalized that. I did not expect to feel this way. My husband was diagnosed first and so he was talking a lot about it and I was like, "Yeah, cool, whatever." Then I was diagnosed and it was like at first things clicked and I was like, "Oh, that makes sense and that makes sense. And yeah I have a crappy working memory. And yeah sometimes I'm a little impulsive and I make decisions really quickly." Then it was like this overwhelming amount of grief. I was so bothered that my life could have been different if this didn't exist. Like I could have gone to an Ivy League school, I could have done this. I really went down that path and I remember talking to my mom about it and she was like, "When you were five and your brother was eight, the guidance counselor at school said that you both had ADHD and should be put on Ritalin." This was in the early nineties at a time when you really didn't medicate your kids. There was so much stigma around it. So my mom's telling me this and I'm like, "My life could have been different if I had been treated for this problem and so could my brother's." I don't think I shared this with you when we spoke but my life went well and I figured out ways of coping that were productive like thinking about wellness and working out and getting into sports and figuring out a way to make my life work for me. How to fit in as a neurodivergent brain and how to fit in this very neurotypical world—I was able to navigate that. But my brother was not. My brother started drinking and smoking pot at like 11 and the drugs progressively got worse and he ended up at 17 dying in a car accident. He and the driver were both drunk and high, hit a tree, he died on impact. When I think about the fact that (and obviously there is no direct correlation necessarily between ADHD in that accident), but when I think about the fact that he went down this drug path because he needed to cope with these feelings that he didn't know what to do with—that to me is just so devastating. If the stigma didn't exist, maybe the treatment would've been different and maybe he would've gotten the help he needed.
Throughout this process for my son I've thought a lot about that because I see my brother in him, when he smiles at me and the way that his eyes listen and the way that he laughs. But also the irritability and the way he gets so pissed about things. I see a lot of my brother and it's been such a journey getting here but I need to make sure that he doesn't lose his confidence because he is not neurotypical and he lives in this neurotypical world. I need to make sure that he has the skill sets and the abilities and the help to learn in the way that his brain is used to learning so that he is a productive member of society and knows that he is a strong capable boy who can problem solve and do all of the things that we have been able to do. Long story short, he's going to be great, we're gonna be great. He's dyslexic as well and he's a very very smart capable child and it's just a matter of figuring out the right tools for him so that he can not lose his confidence.
DP: Let me just say, first of all, I'm so sorry for your loss. I can definitely relate to the feelings of being the dumb kid in school. In reality, maybe if I was on Ritalin and Prozac and all of the medicines I'm on now, maybe I would've been the smartest kid in school like my identical twin sister was. But you never know. What your son is so lucky to have is parents like you because the reason why we started Wondermind and the reason why we do this podcast is because we want everybody to know that success does not look like the person who went to Harvard, who never had trouble studying, who was great at science and math and everything in between.
AM: I couldn't agree more. I remember in fourth grade I moved to Ohio and the school was great and it was far more advanced than the school that I'd come from. I was so so far behind, I remember there were three years where I had to go to a learning center. I remember being pulled out of class, no other kids were pulled out of my class. I was so embarrassed for so long about having to do that and to go there. The shame around that, I held on to for a long time.
DP: It's really inspiring to have someone like you on The Business of Feelings. I hope everybody who is listening is so inspired by Ashley's story because it truly is such a testament to: No matter what your background is, no matter what grades you got before high school, no matter what you've been diagnosed with, you can do anything. I bet your son looks at you and says, "Cool, my mom has this too and I'm gonna be a huge success just like my mom," you know?
AM: It feels good now that I know this about my son and my experience and even looking back at my brother's story. My son is lucky to have a parent who cares in this way and not just cares, because I think every parent cares about their children and they want the best for them, but has the tools and the resources and the ability to get the information they need to make life different. It's amazing.
DP: That lesson is extended to people who maybe aren't even parents, people who have a brother or sister or uncle or parents who are struggling with something. All a lot of people need is just acceptance and validity that they are going through what they're going through, no matter if it's ADHD, depression, OCD, etc. If you see anybody in your life that is going through something and is begging for help, sometimes the only thing they need is just somebody to give them a hug and say, "I believe that you have these struggles. I'm not going to call you lazy. I'm going to say I believe that your brain doesn't work the same way as other people. And that you aren't broken." My last question for you is: What is one thing that you do every single day for your mental fitness?
AM: Unsurprisingly, the thing that I do for my mental fitness every day is I move. Obviously this diagnosis for me is relatively new but for my entire life I have figured out how to move and not like in a "I need to do a fitness class" kind of way but my body just like intuitively knows that it needs to get up and run around and do jumping jacks and dance in the kitchen and do something. How my brain wakes up is through movement. That's what I do every single day without fail. It doesn't always look the same. Some days it is a real workout and I feel strong and sore and all those things. There are other days where it is dancing in the kitchen with my kids. If it's dancing in the kitchen with my kids, that's awesome. If it is a HIIT class, that is awesome. If it is stretching or doing a restorative yoga class (which I'm obsessed with, especially when I'm feeling very anxious), that's awesome too. There's a lot of energy in this body and the energy has to move so that I can be productive and I can be useful and I can show up for people in the way that I want.
DP: Well I am very jealous because my movement is literally walking to the door to get the coffee that I ordered from Dunkin' and going back to my computer. Maybe I need to get some movement in my life. I'm definitely going to re-sign up for obé. I'm so excited to revisit that because literally my doctor told me the other day, "You have to move for at least 30 minutes a day."
AM: I have a genetic heart defect. I have heart disease, which is very strange to say as a 38-year-old. But my cardiologist tells me the same thing. I'm like, "What can I do? What medication can I take?" He's like, "There's nothing that you can do other than the things that you know, which are you need to eat well, you need to sleep, you need to move, you need to not drink too much and you need to take care of your kids."
DP: Those are just honestly the rules of life, just do all of that and you'll be good no matter what you have. I love that. Well thank you so much, Ashley. I really appreciate your vulnerability. Where can our listeners find you and obé?
AM: I am @ashleydmills on Instagram. I would love to offer one month free for your listeners: I created a code for you guys, it's Wondermind. It's one month free and you can sign up at obéfitness.com.
DP: Awesome. Cool. Well everybody should definitely use that code and move. I know I'm going to be moving. Thank you again so much Ashley for this conversation.
AM: Thank you so much for having me Daniella.
Wondermind does not provide medical advice, diagnoses, or treatment. Any information published on this website orby this brand is not intended as a replacement for medical advice or a substitute for the advice of a professional, and you should not rely on it. Always consult a qualified health or mental health professional with any questions or concerns about your mental health