12.06.22
Ginny Wright on Vulnerability and Owning Mistakes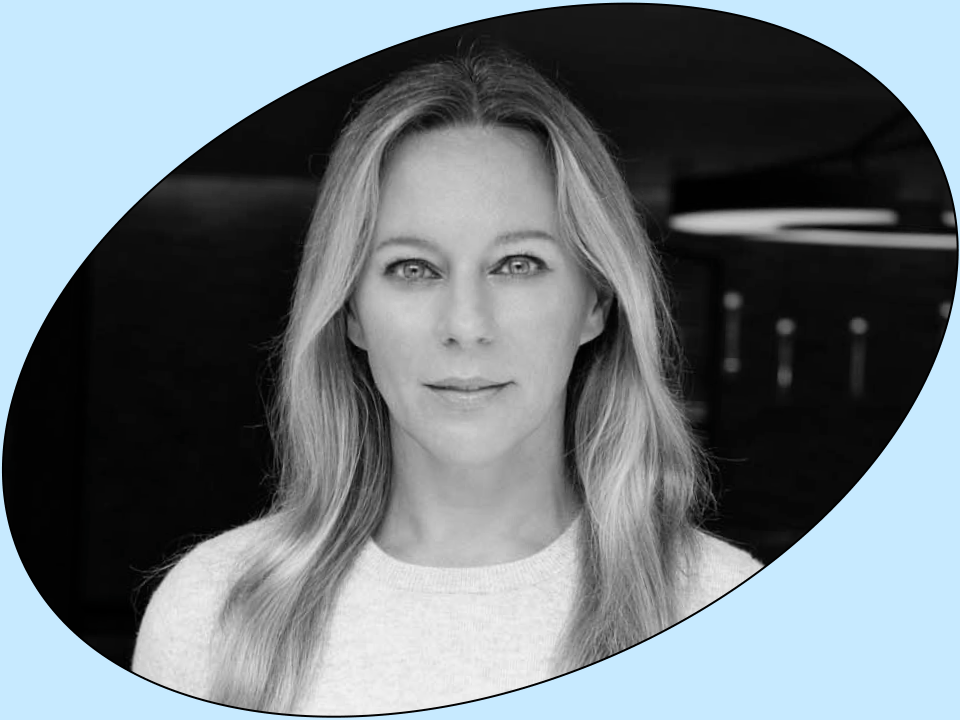 Photo Credit: Courtesy of Ginny Wright
Ginny Wright is the CEO of Audemars Piguet Americas; Audemars Piguet is the world's leading luxury watch brand. In this conversation, Ginny talks about her career trajectory from her early years as an aide on Capitol Hill, to her work at a PR firm, to her decision to attend business school in Paris, which helped her get her start in beauty and the luxury industry. She also talks about how therapy helped her after a career stumble, the power of surrounding yourself with people who cheer you on, and learning to own past mistakes.
Daniella Pierson: Ginny Wright, thank you so much for being on The Business of Feelings podcast. How are you doing and where are you calling from?
Ginny Wright: I'm doing well, thanks so much for asking. Right now I'm in between trips. I just left New York. I had to come to my second home for one day and then I'm flying out to Los Angeles for the next two or three days. Then I fly to Dubai for the next week. So I'm just gearing up for almost three weeks straight of travel.
DP: Oh my goodness! Well let's talk about your current position, which is so badass—you are the CEO of the Americas of the watch brand that everybody wants. Would you mind telling us a little bit about your current role and what the company does?
GW: I am the CEO of the Americas for Audemars Piguet (AP). It's a family-owned, luxury high end watch business that has been around for more than 148 years. And I have the amazing fortunate opportunity to be the CEO of the Americas, so the Western hemisphere. That's the reason I'm constantly traveling. We have 15 boutiques and houses (we can talk about that later) just in North America. We have multiple points of sales throughout Latin America as well as the Caribbean. I need to be out traveling, seeing my teams, meeting our amazing clients, people like yourself—dynamic, really interesting people. That's actually, I think, the biggest joy of my job.
We've also just had an exemplary year of growth over the past few years. And so we just want to make sure we stay connected as we've almost doubled the size of our employee base in the U.S. and even Latin America over the past three years. We want to make sure we keep that kind of AP family and AP spirit, connecting one-on-one, very familiar, less hierarchy. Everybody is treated the same. That's the reason why I'm on the road so much.
DP: You have been the CEO for the last two years. It's almost your two year anniversary. So you have been present during a lot of this growth and you probably have led a lot of this growth. How has it felt to come in and completely just grow this heritage brand to the point where you don't even have watches in stores because so many people want them? How did it feel in the last two years to come in and do so much change?
GW: I was really fortunate that the trajectory upwards had been happening for at least the past decade and really underneath the leadership of François Bennahmias, who actually was in my role as of 2013. He kind of really was a visionary in terms of recognizing the culture of the world, recognizing who the influencers and tastemakers were and kind of wove into that fabric of what that is and then really recognized where we needed to resonate. I really give credit to him and the teams that were before us that led us to this point. Where the transition and the transformation came was—we changed our entire business model and it was under his direction. We wanted to control our direct relationships with our clients. We wanted to know who we're putting watches on so we had that connection to help build the collections. What I've done is build an amazing team of leaders that help oversee this transition from wholesale to retail.
You have to create an amazing client experience and a customer experience so that even if you walk into one of our stores and we don't have the watch you want today or tomorrow, even for the next three months, you had an amazing experience when you came in. You talked to someone who was warm and welcoming. I think what really makes us different in the world of luxury is this sense of warmth and community. Even if you may not have a watch, maybe if you come to one of our events you feel that. It's taking those values and imparting that. We've opened five new points of sales over a time period of eight months and that's more than eight years combined together. So it's been significant growth in such a small time. But again, it's built upon a foundation that took years to build before I even arrived. So I'm just here to carry on that legacy and to sustain and build upon that, which is really hard when it's been a skyrocketing business over the course of the past 10 years.
DP: You actually came in and executed the vision that was kind of set and put more of your own vision in, something that I am so surprised about because the world of luxury watches really is a man's game. You walk into a meeting or you go to a dinner and all of the men are looking at each other's watches. I knew the first thing I wanted when I finally rewarded myself for six years of hard work was a watch because it really exemplifies the style. But then also it's kind of a power dynamic. What I was so surprised about—so many of your senior executives are women. Can you talk about that transition and if there even was a transition? Is it more of a man's game in other companies? Do you agree with my observance of the watch world or is that my just cynical view?
GW: There's a nugget of truth in everything that you're saying. I came from an industry, which was beauty and cosmetics, where probably 90-95% of your clients are women. The brand I came from (Kiehl's) luckily was more split, like 60/40 women, men. So I was used to that. But also there's just a lot of amazing women in the cosmetics industry and founders and leaders. I guess I lived in this kind of dream world for a while where men and women were equal. So coming into this role, the question I am asked the most and particularly by male colleagues or male journalists (actually women too) is, "How different is it?" I didn't really understand the difference but I think in the Americas there are much more women in leadership roles than elsewhere in the world. What is interesting is, at least for AP and I think it's really because of François and Madame Jasmine Audemars, we've had dynamic, amazing women at the helm of AP, either as the chairman of the board or some of the lead designers. There's six global CEOs that run the world and three of us are women. When I came into this role I had the fortune of building a really strong leadership team and just picking the best candidates and picking the best people, it happened to be that 50% of the leadership team were women. As we built out our retail network, more than 50% of our boutique directors are actually women as well. I think that when women now come to our boutiques they see people who look like them that can relate to them (not that men can't) but I think it gives a sense of reassurance.
To your second point, you're absolutely right but when you wear an Audemars Piguet watch, it's kind of like—if you know, you know. And men kind of know and then they probably see that watch on you and go, "She is someone who I probably shouldn't mess with because she's powerful, she's knowledgeable and she has some significant success." And usually they're probably asking, "Oh my god, how can I get that?" Probably there's some envy and some jealousy to it. That happens all the time. I was actually in the airport in Charles de Gaulle about a month ago and I had my watch on and a guy came up to me going, "Oh my gosh, how did you get that? Where did that come from?" That part is really fascinating. We're starting to see more and more women recognize it, honestly because of women like you. As women, we think about watches differently. The meaning is different and how we learn about it is completely different. It's not a one-size-fits-all approach. But you're absolutely correct and I think all the success that's come to you and you got that watch, it's a signifier of the effort and the time. Time is such a precious resource that you've put into that. It helps signify all the accomplishments, a minor little physical manifestation of some of the accomplishments you receive. Also, it's a nice signal to send in the boardroom of what you're about and who you are.
DP: Truthfully, it is so much more than just a small piece. Everybody at the store, at the boutique, everyone on the exec team that I've met has been so warm. It has not felt like you are entering a space where, "Oh, where is your husband or your father who can buy you this watch?" It's like, "You are the customer. I only care about you." And that is not the same way in other watch stores. I walked into a few watch stores before and they literally asked where my husband was or if I had a budget from my husband and it was so infuriating. So I just want people listening to know how astounding it is that three out of the six global CEOs are women at this company that is the leader in watches.
Let's go back to how we met and then also how much you have had to do with the trajectory of Wondermind without really even knowing it and without purposely doing it. We met because I became a client of AP and we were introduced—again, that is that warm feeling, the community, the inclusivity that you were talking about. Then you are kind enough to invite me to an event in LA and it was at this incredible chef's house. It was also hosted by someone named Serena Williams, who people listening might know. She is a face and an advocate for the brand and we essentially met at this party. I saw her across the room and I was just like, "Oh my god!" You are the reason why we met Serena Williams who ended up becoming, with Serena Ventures, our lead investor when we raised a $100 million post valuation. I became an LP in her fund, which means that I put my own money in to make up a small part of the $100 million+ fund that they have built. Their mission is to invest in entrepreneurs of color and people who don't usually get the money. She's just been such a mentor and a guiding light to me and it really was all because of you.
GW: Well I think it's because I love to bring interesting people together and we do that as a brand. You're right, I think it was like 30 women, really just cool women from different backgrounds, you mentioned some of them. It was also with Vanity Fair, so we also had the amazing Editor-in-Chief Radhika Jones there. It was also at Chef Dominique Crenn's house right? I think she is the only female chef in the Americas to get three Michelin stars. I mean she's just the most badass, rockstar woman but her food has such soul and such poetry. It's just an amazing part to be around her and take inspiration from her and then her amazing partner and wife Maria Bello. So it was at their beautiful home overlooking the Hollywood Hills.
That's what I think is so cool is that we bring these interesting people together but we do it in this really intimate, warm, kind of casual way that you can just go up and have a conversation with Serena. I'm a huge fan of Serena as well. She emits energy, greatness, warmth. She's so smart. But she is one of the funniest people I've ever met. I swear my stomach and my cheeks hurt from that night because I laughed so hard because I was between her and Bozoma Saint John and I was crying tears. I wanted you to come to that event and I knew you flew all the way from New York City to come to that event with us.
DP: Oh yeah. I will not even try to play it cool. I was like, "I'm going for this one dinner."
GW: I will tell you it's because you exemplify the women we want to bring into our brand and I wanted to make sure that you were introduced to her because I knew she had Serena Ventures but I don't think at the time I knew you were working on Wondermind. So after the fact when I talked to her and then I talked to you and you guys made that connection, I mean to me that's the ultimate gift. Because if you can bring people together who shine their energy and their positivity…I know that's probably really fluffy but I really believe in that. I believe in that positive thinking and helping women out and helping out people who maybe do not otherwise get a chance. I'm glad I played a very small part in just making this lovely connection happen.
DP: I want to get back to you because you talk about Serena as being this light and this dynamic woman and that is who you are. Truly, you have such a force and a presence when you are in a room. I want to talk about your mindset and how you've gotten to this place where you just truly can be in a room and command an incredible energy.
GW: My first job, I was a legislative aide on Capitol Hill directly out of college. I thought politics was going to be my future and that I really wanted to be a press secretary and that I was not going to be given the chance. I thought, Oh, we are so much more liberated as women in the mid to late nineties. Because I watched what my mom went through in the seventies and lo and behold I was still called "sugar," "sweetie," "honey," when I was sitting in the house judiciary conference room, so that was there. Then I actually picked up my bags and I moved to Atlanta, Georgia and I worked with almost an all-women public relations agency. I saw these amazing women doing really cool things and that's where I kind of got my chops. I worked my way up through PR. Then eventually I said, "This is not what I wanna do." And so I went to MBA school in Paris and it was a great school called ESSEC and then L'Oréal basically recruited me out of school. So I truly transformed my career of owning marketing, understanding the full business cycle, really understanding finance. L'Oréal was an amazing place to not only learn marketing and client-centric and looking at it that way but also to really learn numbers and understand your P&L. That was super hyper important. From there I think I was promoted within 10 to 11 months from my first job and then I went into my next job at Lancôme. Then I actually had a baby. And then I went to my next job as Head of Global Marketing for Ralph Lauren Fragrances and then had another baby. Luckily I worked for a company that saw motherhood and ambition not as two things that can't be together but that can be one and the same and the same person.
I know I worked my way up but what I learned along the way was that you can come down hard on people and think someone is not doing their job but I think what it comes down to and where I really had a massive mindset shift was recognizing people's intention. I don't think that most people come to work every day and say, "How am I gonna screw this up?" So I try to give myself grace and other people grace. I think that really trying to be true to yourself, acting with respect, acting with integrity and acting with kindness—those are like my three favorite words. If you show up every day with that intention, you're going to be pure to yourself and you're going to be respected by other people and they're not going to be in fear of you. They're going to be like, "I want to follow you." That's been my transition to leadership. It's also (and I think you actually have this in spades, Daniella) the ability to be vulnerable. I think it's the most courageous thing you can do. And I think that that's a big shift that's really happened. That's what a lot of women have brought to the executive and entrepreneurial world, that feeling of empathy, that feeling of the ability to listen and learn and act with kindness. That is really a big shift from probably where I started in the mid to late nineties where it was aggressive and hard and you failed. I have tried to embody that along the way. Was I perfect at the beginning? I was so far, I know there were times I was a terrible manager but I had to learn to lead differently. So I'm sure the people who worked for me 12 years ago were like, "That wasn't exactly how she was versus now." But you have to evolve and I was just trying to evolve for the better.
DP: I love that vulnerability because it really takes such a confident and just raw and real person to admit that they made a mistake. You said that you went to school in France. Did you know French? Was it a culture shock? What was your mindset when you went to another country to study and then when you went to L'Oréal?
GW: This business school, it had a track that was luxury that luckily LVMH and L'Oréal really believed in. And no, I didn't. Luckily our program was actually in English. It was a global program so it had to be in English and my French was not great. But I studied French before I left and while I was there. When I graduated, I wouldn't say I was fluent—I probably couldn't talk deeply about economics and politics but I could definitely order anything off the menu and go to a bank and feel comfortable in the grocery store and give directions. What I learned about going to a French business school and then working with a French company (it's a global company but there's a Frenchness) is that they're much more black or white, thesis or antithesis. So that ability to have confrontation to make something better and that it's probably never always going to be perfect was something that I did learn at L'Oréal. It was: strive for perfection but you may not always get there but do your best to make that happen. Try to be exceptional in everything that you do, from understanding what your budget is to if you're going to craft and create a new fragrance with Mr. Lauren, take that mindset. I really appreciated that because I became very comfortable with providing a different point of view. That's what I think really afforded me being in French business school and then working for a French company, to act a little bit differently. It's interesting though that the Americans, how we give feedback is much more like, "You're doing wonderful and great but if you were to work on…" and the French are more like, "Nope, this was wrong and this is it." And they're like, "But what about all the good stuff?" And Americans are always like, "Look at all your good stuff, but this could be better." So it's also recognizing, again, their intention and other people's intention when they're giving you feedback, where they're coming from culturally. You have to remember it's very different where other people come from in the world.
DP: Yes and that's so interesting. You were literally Emily in Paris before that show ever came out.
GW: It was and I had the most amazing girlfriends there. I met girlfriends from South Africa, from Germany, from China, from Korea. We all kind of bonded together and had the most fabulous life. We worked hard and we played hard for over a year and it was just an amazing fun time.
DP: That's incredible and I'm so jealous of that. It truly sounds like your diary was taken and Netflix created from it. When you started going up the ranks you said that you were promoted 11 months into working at L'Oréal in the fragrance department. What was your mindset? You said that while you were very quickly going through these incredible roles that you transitioned to, you said, "And then I had a baby and then I had another baby" How did you feel? Like, "I want to be a career-centric person and have a personal life." Did you think that it was possible to have both? How was your mindset on that and how has it maybe evolved?
GW: There's this work ethic driving me and I probably got it from my mother who at 74 is a personal trainer and owns her own gym and is like a total just ripped, shredded badass. I think that I inherited that from her. And my grandfather was a fighter pilot. I had my first job when I was like 10, 11 years old. I've been working my whole life so for me having a career was not even a question. I've always had this drive to be the best I could be, to gain more knowledge and to get ahead. I thought you could balance that when you have kids. And I did. I think one of the reasons why I could do it is that I have the most amazing husband who is a geopolitical analyst. He does a few other things but he's fortunate enough to work for himself and consult and work from home. And I don't think that it could have been possible without having a partner that can help support you because I'm on the road a lot and my kids miss me terribly. But because they have this amazing father at home and our fabulous dog, our family unit works. So I would say that I drop balls all the time, like did I forget to set up the play date on Friday? Absolutely. I forgot to set up the play date on Friday. Do I have to make that up to my daughter by probably doing a sleepover with her on Saturday night? Yes, that is my normal life and it's tough sometimes but it's highly rewarding. That fulfills me and if I didn't have this career, it would leave a hole in who I was. That's not the healthiest thing to wrap up in your identity. When I go on vacation sometimes I'm like, "I don't know if I'm tired," and somebody goes, "No you're not tired, this is what it feels like to relax." And I'm like, "I'm not used to that." So I try to balance that out and it's interesting how coming from the cosmetics world, we didn't talk about self-care when I first started. Then when we hit the pandemic self-care started. I think you really have to focus on taking care of yourself so that you can try to take care of others in your career. Because if you don't have yourself, not necessarily centered but just self-aware of what's happening with your own body, your own mind, it'll be really difficult to deliver on everything else in your life.
DP: That's so so true. I was actually being interviewed by a lovely woman for her podcast last night. She asked me, "What do I do to win the day every day?" And I thought about it and I was like, "Honestly, I feel like I lose the day most of the time because it's me being hard on myself." Like you said, dropping some balls. You can't always get everything done. So I'm wondering, someone like you, Ginny Wright, who just exudes authority and confidence and just perfection—when was the last time that you felt like a loser?
GW: Oh gosh. It's when I let people down and it happens probably once a week or twice a week. I don't know if I feel like a loser but I just don't like forgetting things and I don't like letting people down. But I'm self aware of this, which has taken years for me to learn and probably countless hours of therapy to understand how to forgive yourself and recognize you made a mistake. Why did you make that mistake? How did that happen? You can recognize the pattern of why you disappointed someone or why you feel like a failure. I also think I surround myself with a great support system. I have cheerleaders: my best girlfriends (I call them my greatest friends because I just have amazing great friends around me), my family and my mom. They're the people who are like, "You're not a loser. You are who you are and you're winning and you're doing it with integrity. Don't forget that." I just have to sit back a lot of times in the shower and say, "Man, I really effed that up today and I feel horrible about it." And then I'm like, "How am I going to rectify it and how am I going to forgive myself to move on so that that negativity and toxicity and all the cortisol that's flowing through my veins, that stress hormone, how do I get that icky gross toxic feeling out of me so I can be above the line and move on? I have to do that a lot. A lot.
DP: It sounds like you are very in tune with, "OK, this feeling is coming because this happened but I have to take it out." That is something that is really learned through a lot of reflection but also therapy. When did you start therapy? Was there a period of time where you felt really low and sad or did you get a therapist because you wanted to maintain your good trajectory?
GW: I had a stumbling block in my career. I left L'Oréal for about a year and a half or two years to work with a startup. The idea and the thought behind that company was going to be amazing and it didn't work out. Luckily L'Oréal had asked me to come back to work for them but I felt like a failure and I didn't probably work for the best person that matched our personalities. That was hard for me too because I don't have to be liked by everyone but I try to get along with everyone. It rocked me and then I kind of went back to other things that were rocking me. To be honest with you, my father was a narcissist to the nth degree, he's passed away and I didn't realize what a toll it put on me emotionally. I had a few months off before I started at L'Oréal because I had this non-compete time period. And I said, "You know what? I'm going to use this time to reset mentally." I found an amazing therapist who helped me deal with the issues that I have with my father and his narcissism, when I do run into that type of personality, how I can be susceptible to it or how I can live with it. That really helped take a burden off of me.
She also really taught me to forgive yourself. You effed up, figure it out. Own it but don't let that sit inside of you. She helped me with that and she also helped me with a higher self exercise to ground myself before I go into a big meeting or I don't feel like I'm at my best. I do it this way: I put my first finger and my thumb together, I think about what it feels like to the person I love and what that love feels like, then I put the next finger together and I think about the people who love me and what that feeling is like to love me and I put myself in my daughter or my son's shoes, then I think about the time where I spoke my truth. Doing those little three things together really is my little exercise to say, "OK, you are who you are. You're gonna be good and you're going to get through this and move on." That therapy lives with me. I've also sought executive coaches who have helped me transition that more into my professional career. You have to have mentors and you have to have these people that help guide you and see other ways of looking at things and remind you to be kind in all honesty.
DP: Thank you so much for taking us through that. Do you think that your father impacted this drive to be successful and to be the best you could be?
GW: This is what I share with my friends or my family. It's that through therapy, what I figured out was that my mom was an amazing person and my protector and my safety and I love her more than life itself. She luckily got remarried to my stepfather, who was an amazing man. I realized that part of the drive not only came from her. Part of the drive was my fear that I would ever have to go live with him full-time. So I strove to be that perfect child that made straight As, that never did anything harmful in high school and tried to be as good as possible. It was subconscious, this was totally my subconscious. This was not like front and center. Through therapy I really realized that I had to either be perfect but just be that great kid that was smart, best at everything that she did, so there was no fear or no threat of having to go live with him. My mom of course feels terrible for that. I'm like, "Don't. It helped make me the person I am today." But I also recognize not to put that burden on my children. It's tough but you now recognize it, you now know what it is. Therapy helps drive that self-awareness to recognize when you're down to yourself. You're like, "OK, a reminder of why you are the way you are." How can that help you change those patterns and get you to be in a more positive mindset?
DP: I'm wondering now that you've reflected on everything, how does it feel to be on the other side of all of that work and to really understand what happened to you and who you were and who you've become?
GW: I made so many mistakes in my life. I made so many. Like, "Oh my god why did I do that?" That happens. Those are becoming less and less frequent but they still do happen. Two weeks ago, I'm like, "Oh my god, why was I such a jackass?" But instead of walling that, it's owning up to it. That's how I stand on the other side. I know I'm going to make a mistake. I'm going to try not to do it but when I do it, own up to it. Take accountability, take responsibility. I think that that is the best way. I think that you just try to own up to the mistakes that you made and take accountability but feel good with that. That takes such strength, to admit that you've screwed something up and how you're going to see yourself out of it. Instead of being a weakness, you admit that you did that wrong.
DP: I totally agree with you. We were talking about mental health and what that means to you right now. So what does mental health mean to you on a daily or weekly basis? How has that evolved?
GW: I think when you have kids you want the best for them. I have an 11-year-old boy who has been diagnosed with ADHD and with anxiety and we're really open and upfront about it, like I'm here and I'm talking to you about it. We talk to his teachers about it and I have a therapist for him. Luckily I have the resources to help them. But it's recognizing where I've done my due diligence or have tried to be the best mom to recognize that he's gonna have to learn differently. I don't want people to think he is dumb or stupid or lazy or any of those things because his mind does not work the same way as everybody else. I probably had friends growing up that suffered through this but they were labeled something that they wouldn't be. I try to take that individual approach with everyone and just recognize that people are individuals and they're not always going to meet your expectations or what you think the expectations should be. Again, I think it goes back to being empathetic. It goes back to trying to understand people's intention and then trying to help them work through that. If you take that process even with your kids or your friends or anything, your life will be a lot happier in the end or more content in the end.
DP: Thank you so much, Ginny. It was an absolute pleasure to talk to you and be able to learn so much about you.
GW: Daniella, it's always a pleasure to spend time with you. Thank you.
Wondermind does not provide medical advice, diagnoses, or treatment. Any information published on this website orby this brand is not intended as a replacement for medical advice or a substitute for the advice of a professional, and you should not rely on it. Always consult a qualified health or mental health professional with any questions or concerns about your mental health