12.13.22
Lucy Guo on Her $400M Empire and Learning to Ignore Haters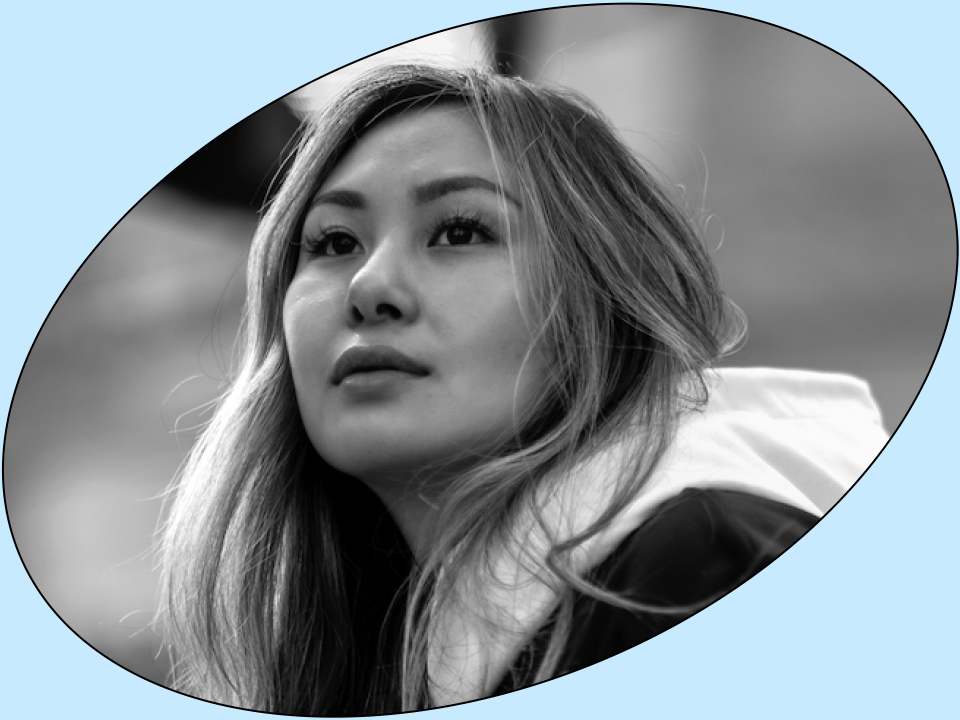 Photo Credit: Courtesy of Lucy Guo
At 28, Lucy Guo is one of the most successful women in tech—she co-founded the multi-million dollar company Scale AI, a venture capital fund firm, and a new Web3 platform for creators. Forbes' second "Richest Self-Made Woman Under 40" talks about her early years as a loner who created one of the first Twitter bots, embracing her energetic spirit and constant drive for new challenges, and how she eventually learned to ignore her haters.
Daniella Pierson: Hi Lucy. How are you doing today?
Lucy Guo: Doing well. I miss you but I'm sure we'll see each other soon.
DP: Yeah, you're coming to New York this week and you're usually based in Miami, correct?
LG: Well I might cancel New York, but correct for now.
DP: OK but you're usually based in Miami. Do you do a lot of traveling for work or are you basically always in the sunshine?
LG: I do a lot of traveling for work. I'm in between Miami, New York and LA pretty consistently.
DP: Wow. OK so let's talk about work. You are a very impressive woman. Everyone I know knows about you and what you've done and accomplished and so I would love for you to give a two second overview on who you are, what you do, what you've done. If you leave anything out, I will brag about it for you.
LG: OK let's see. I am an engineer designer by trade. I'm a founder also. I'm currently founding my second company. My first company, Scale AI, provided the best machine learning data to other companies and worked everywhere from NLP (natural language processing) to self-driving cars. Then I started a venture fund, Backend Capital. We did early stage investing and that became one of the best performing AngelList funds for the vintage year 2019. Now I am currently founding Passes, which is a Web3 creator economy platform where we want to help creators make more money and really own their fans and own their content. Just raised $8 million for that a few months ago and it's going well so far so excited about that. Other people know me as the Barry's Bootcamp addict. Some people really only know me for going 20 miles per hour on a treadmill and the key word is treadmill, I can't run that in real life.
DP: Holy shit, that is a lot of stuff that you've done and you are only 28 years old. How does it feel to have that kind of bio and be so young? Do you sit with that success and do you feel like you've earned it? Is there any imposter syndrome? How have the last few years felt for you with this dramatic change?
LG: I definitely think it's felt very surreal. I think success is always a mix of hard work and luck. Do I think I deserve it to the full degree that I have? There are obviously harder working people out there. I think I'm a pretty hard worker but there are harder working people. That's just a fact. I've been both very lucky in the sense of—I've had good ideas and I was born with a specific set of traits that make me have a higher chance at success. I was also told by a psychic that I was born under a lucky star and everything I touch turns to gold. I've actually been told this by three separate psychics who didn't know who I was or that I was about to have a call with them. So maybe it's just fate and the universe deciding this for me.
DP: Wow, that's crazy. I wanted you on this podcast because you are so humble. You are so grounded, so down to earth compared to what the headlines say. I don't want to embarrass you but you were on the Forbes' Richest Self-Made Women list with a net worth of over $400 million. Again, you give off this incredible relaxed and comfortable aura that you don't feel as if you're better than anybody when someone in your position definitely could. Then you also shared some stuff with me. Do you mind talking about your childhood and the early years of Scale AI and becoming an entrepreneur and what that process was like, not only in the business sense? What did you do to actually become this centimillionaire (which I now know is a word)? What were you feeling inside during that entire process?
LG: Honestly I think I've manifested my entire life. But I think this probably shows a working hard part: Growing up, I was never really the cool kid and I had parents who didn't fully believe in me. I was told I couldn't be an engineer amongst many other things. I was always very entrepreneurial growing up. I got sent to the principal's office for trying to make money selling Pokémon cards or colored pencils in school—turns out you can't do that. Then I learned how to make money on the internet. I remember playing Neopets and realizing that it was possible to cheat in the games and get Neopoints, rare pets, rare items, and sell them for real dollars. So I went to The Home Depot, got a Visa debit card, opened up a PayPal account with a Visa debit card and then started learning how to code to essentially make these bots that would buy rare items for me and I would take these and sell it on gaming forums for real dollars and then I could use the real dollars to spend on other things like eBay, PayPal. So that was a lot of fun. Then I just got into making other websites. Then I went to college and started going to hackathons. At hackathons, I realized that startups existed and there was more to tech than creating internet marketing tools and bots or games.
So I started making actual viable apps that could be startups if I pursued them after the hackathon. I got this reputation for creating a lot of winning projects. The projects won based off of design and engineering difficulty and product marketability. Really honestly, I just figured out the hack I was creating on an iOs app, make it pretty, and boom, you'd win. I just kept on doing that several times. Through that, I got the Thiel Fellowship because I had made a reputation for myself in this scene. I did the Thiel Fellowship and ended up, during the Thiel Fellowship, working at Quora and then Snap (Snapchat) where I became the first female product designer. There I worked on some really cool projects like localized stories (which is the most similar thing to Snap Maps I'd say now), Group Chat, etc. Then one day I decided I wanted start a company again. I met this Uber driver and this Uber driver was like, "You should look up Paige Craig, he's an angel investor in LA. He coined the term Silicon Beach." I was like, "That's dope." I go to my Twitter and look him up. He's already following me. I slide into his DMs. I'm like, "Hey, I'm thinking about leaving Snap and starting a company." At the same time I'm interviewing for Y Combinator and get in and this guy wants to put in a million dollars. I say no but then we go out and build a company. So that's where Scale AI first started, where essentially we were an API (Application Programming Interface) for humans. I knew it'd go viral because of the controversial tagline of it all and it did. Accel reached out and was like, "Hey, we want to offer you a series A." I was like, "Cool. That'd be great." We took it and then we ran with it. There was a lot of experimentation and pivoting during it.
DP: During the process of leaving Scale AI, what was your mindset and what were the emotions that you went through on a daily basis? How do you feel now looking back at those moments?
LG: I mean obviously I was sad because it was my baby, right? But I was definitely extremely unhappy for several months leading up to it. I remember I even chatted with our venture partner about it. So I think it's time and it felt very mutual timing wise.
DP: Got it. Now looking back, do you feel like it was hard but it led you to this point and so you appreciate the lessons you learned?
LG: I'm definitely super happy about it. I think I learned a lot of lessons that I'm taking now to my new company through the building phase. I'm so happy to be able to afford being able to work on consumer now; with enterprise, it's just easier to figure out and brute force your way to success. We did that but it's not the most fun thing in the world. And now I'm like,"OK. I have my success from that. I have money from investing." Now I'm comfortable and I can really go after something that I find enjoyable and fun.
DP: Before we go into that enjoyable and fun company that I'm so excited to talk about, you are somebody that even though we only spent a few days together at this Marie Claire trip, several times you would say, "OK, I'm bored." You told me you get bored very easily and it has to do with the activity you're doing or now you just said the company that you were at. What do you think fuels that kind of feeling? Is it that you get this high adrenaline when you are excited about something and then once that fades away, you want to move onto the next thing? Is that the serial entrepreneur in you?
LG: Yes and no because I'm really hoping that I don't get bored of this company. I've really made sure that there's tons of different products to build that I think are fun to build and that I get to work with my friends and I don't really get bored when I'm spending time with my friends as long as I'm constantly using my brain. The reason I couldn't retire was because I felt like even though I was having the time of my life experiencing the world—I love traveling. I love hiking, seeing beautiful views. I trained myself to skydive, scuba dive, and just did a bunch of things—I felt like my brain cells were dying. I was definitely not as good of an engineer or designer and wasn't thinking hard on product strategy. As long as there is a challenge in the way I will not be bored. And this is just more fun, I get to work directly with my friends.
DP: Got it. Tell us about your new company Passes and what it does.
LG: We're really tackling the creator economy. We want to be the best platform for creators to monetize with their superfans. We really want to give creators a chance to make more money but also really have ownership of their fans. We're Web3 based and we want to provide utility to NFTs themselves. So depending on what NFTs you own, it essentially unlocks access to a superfan club where you get unlockable posts and video content. The cool thing is that you have one-to-one intimacy with your favorite creators.
DP: That's amazing. How did you come up with this idea? Who is on your team right now and how long did it take you from concept to launch?
LG: I got this idea talking to a bunch of my friends and realizing how stressed they were all the time. A lot of friends of mine are like one violation away from being banned on their main platform forever because they had copyright music playing in the background of the video or they said a swear word on stream by accident. That's really stressful when a site like YouTube or Twitch is your main income source. So I wanted to integrate Web3 technologies because of that. Then I saw how much my friends were making on paid content platforms, whether it was Fanhouse, OnlyFans, Fanfix. I realized how broken all these platforms are. So I kind of combined these two concepts to create what I have today. It took about six months to go from idea to launch. Honestly, it should have only taken two months. At the four month mark, we threw out all the code and rewrote it from scratch. Who's on my team? I would say it's a lot of MIT and Carnegie Mellon people.
DP: That's awesome. You said that you get to work with your friends. Were they your friends first or are you referring to the creators who are on your platform?
LG: I'm referring to the creators on my platform because I'm really building a product for them.
DP: Got it, that's awesome. Yeah, I got to see you interact with many people who are probably creators at Art Basel. For somebody who looks you up, who maybe follows you on Instagram or Twitter, has seen the profiles on you and thinks, Wow, she has the perfect life, what would you say to those people in response to that?
LG: I would say that I am genuinely very very happy nowadays but a lot of it is that I don't really have insecurities. I do have a lot of online haters. I think I'm a polarizing personality, at least on the internet. In person I have very warm energy, like you said. But online I like saying controversial things. Controversial things are what get you more followers and likes or retweets, which is very necessary for my current company or at least understanding how it works. I would say if you really just are more zen and you don't care what anyone thinks about you and you just work towards your goals, you will be very happy in your life. Back when I was insecure, I didn't really have many friends and I think that was because my energy was very different versus now—I'm so, so happy all the time. No online hate comment can really get to me.
DP: That's awesome. When you said to me when we first met, "I'm just always so happy," I was a little envious because that is not always how I feel. Tell me about a time when you didn't feel happy and you felt like things were crashing down or you felt hurt in your entrepreneurial journey.
LG: When I first dropped out of the Thiel Fellowship, my parents were really upset at me. I always love pissing them off, like I did it to piss them off (I know, immature. I was an immature kid. I'm still a little immature). They cut me off from everything, they stopped talking to me. They were cutting me off of health insurance. That hurt because it was two years and the love felt very very conditional. It wasn't until I saw hints of success that they came back and they were like, "Oh, we're so proud of you." Nowadays I look at it and I think I hurt them by dropping out and trying to pursue something crazy because they believed that education was the path to success in life because education gave them everything they had in life. It was a sign of disrespect that they gave up everything for me to have a better life and I threw that away by throwing away my education.
DP: Do you think that had to do with their backgrounds as immigrants?
LG: For sure. They were immigrants. They didn't grow up with really anything. They actually were able to come to America because of some test where they tested high enough that they could study in America. So they came here and they made a better life for themselves.
DP: A lot of people including myself didn't have the most supportive parents in the beginning because your parents want what's best for you and you saying, "Hey, I'm going to be a one in a million person that does xyz" is very scary. How is your relationship with them now and how have other relationships in your life evolved with people who knew you before you were mega successful and who know you now?
LG: I think that my relationships with them now are definitely much better. I understand where they were coming from. We never talked about it but I've at least sold that story to myself in my head to forgive every single step of the path. I love them, they love me. And then with my friends, I have a lot of new friends, I have old friends. I keep a very small handful of people close to me. But I think because I'm so overly friendly, a lot of people think they're close to me when they're not. I'm worried about hurting people—there's going to be a time when they figure out like, "Oh, I'm not in Lucy's top five, even though I think I'm in Lucy's top five." Since becoming successful, I obviously think that more people want to be my friend and I know it. I'm still open to it but I definitely box people in categories and I don't think people will realize where they are boxed.
DP: When you say you put people in categories, how would you feel if you heard from someone that you are close to or not close to that they put you in a category? Would you be OK with that?
LG: I'd be OK with it because I believe that everyone should be more careful in who they let really close into their lives and they should set certain expectations. There are people where I'm like, I love them and I adore them but if they hurt me I'm not going to be surprised.
DP: That's unfortunate and I'm very surprised by your candor and your honesty saying, "Yeah, if I put you in a box, you can put me in a box." What would you say to 10-year-old Lucy who is selling things at school, hacking her way through the internet? What would you tell her if you had to say one piece of advice?
LG: I would honestly tell her, "Just stop caring so much about what other people think of you right now. It's OK that you don't have friends. This is actually good because you're more focused on educating yourself on things that are going to make your future so so wonderful." I do think that because of my childhood, I just had more time to be a nerd. If my parents let me do anything I wanted I think I would either be an athlete or have no brain cells left.
DP: I also did not have a lot of friends growing up but I was not making the world's first Twitter bot or building websites. It was basically like, you know, listening to Taylor Swift songs. So that's awesome and now you have so many friends and you're so bubbly and that's why it's hard for me to believe that. Because for me, since I didn't really have a lot of friends growing up, I'm very guarded. It seems like you're also guarded but in a way where you still present yourself as open and nice. What is something you do for yourself every single day that helps your mental health and your mental fitness?
LG: I do Barry's Bootcamp twice a day. It's just fun. It's like you go to a club and you're lifting weights. I literally will dance with weights on my shoulders.
DP: Oh my gosh. So you get this extreme high and so much hype. Do you ever get an extreme low then or do you usually stay pretty neutral?
LG: When I'm neutral, that's when I'm low. I'll just be like, "Ugh, I'm feeling so-so today." But no extreme lows. I used to get them in high school. I think it was more circumstantial though.
DP: If you could be saying anything to the people listening who idolize what you've done in the business world and how unconventional your path has been, what is one piece of advice that you would share about how they can do what you did?
LG: I think you should just be technical. It's really useful to learn a technical skill, whether it's coding or designing. Outside of that I would say, "Nothing is as much of a risk as it feels like." If you quit that job and you were doing well at that job, you could probably get that job back or find another job because of good reference checks. If you drop out of college, you can always go back to college. In fact, you might have learned enough that you could get a job instead of going back to college. I think that a lot of people feel like these very large decisions are larger risks than they actually are.
DP: Got it. So maybe just take the leap.
LG: Yeah. Take the leap.
DP: I love that. On that note, thank you so much Lucy for being on The Business of Feelings and sharing your success story and the feelings behind your astronomical rise to success. Thank you and I'm really happy to call you a friend.
LG: I love you too. Amazing. This was fun.
Wondermind does not provide medical advice, diagnoses, or treatment. Any information published on this website orby this brand is not intended as a replacement for medical advice or a substitute for the advice of a professional, and you should not rely on it. Always consult a qualified health or mental health professional with any questions or concerns about your mental health