Q&A
11.23.22
Akintoye Asalu Opens up About Panic Attacks, Anxiety, and Making Life Less Complicated
The TikTok star and rapper talked to Wondermind about his latest album, 'Anxiety & Circumstance.'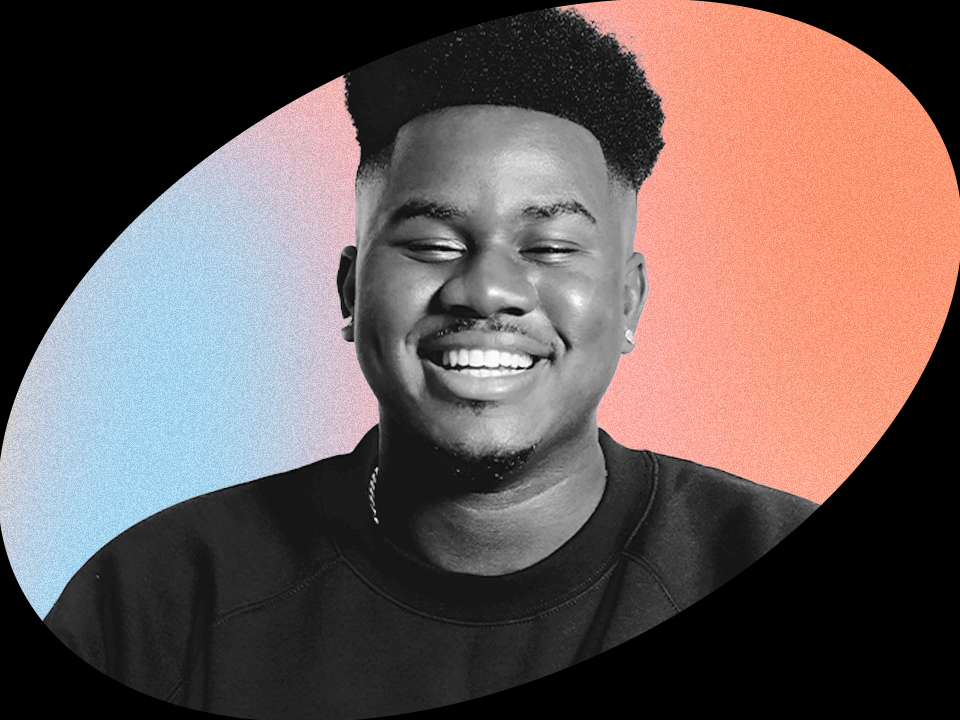 TikTok #FYP mainstay Akintoye Asalu has proven his lyrical chops with viral raps—like the one about having plans when you're broke that hit way too close to home. In September, the Toronto-based rapper released his latest album, Anxiety & Circumstance, and it's packed with messages that help amplify and destigmatize the topic of mental health.
"This album is one of my attempts at shifting the conversation around," he tells Wondermind. "Hopefully, people can look at me and what I got going on and be like, 'OK, this is a guy that I think is interesting, and he seems like he's doing OK for himself and is open about the fact that he deals with this thing.'" Here, Asalu talked through tracks like "Complicated" and "Bad Day Ballad" to share what his mental health journey has been like, from immigrating to Canada to the moment he realized life can be peaceful.
[This interview originally appeared in a September 2022 edition of the Wondermind Newsletter. Sign up here to never miss these candid conversations delivered straight to your inbox.] 
WM: Your new album is filled with messages about mental health. Can you share more about the album and the meaning behind the title?
Akintoye Asalu: I deal with very, very severe anxiety, and I have for years. Even figuring out that's what it was was a long process that took years and years—it wasn't until I was around 20 years old that I even found out. Even once I was told, I wasn't really understanding. And then figuring out how to accept that this is a part of my life has been a very strenuous process.
It's all rooted in anxiety. Some of the themes are broader and applied to just every anxiety and everybody's life, but most of it is very specific to the life that I'm living. I do feel like this album was very therapeutic for me. The idea was every verse I'm writing, I'm not necessarily writing it for somebody else to listen to. It almost felt like I was writing it for myself. It felt like I was documenting all the sorts of things I've come to terms with as far as realizing this is gonna be a part of my life, and processing why certain things feel the way they do, and holding myself accountable in certain aspects, and talking about how it affected my friendships and my family.
WM: What songs on the album stand out to you as ones that capture those feelings?
AA: Today, the second to last song is really hitting for me. It's called "Complicated," and it's spawned from a conversation I had with a musician friend of mine. He was saying life doesn't have to be that complicated. We were talking about panic attacks and how to manage them and just [a] general anxiety conversation, 'cause we've been through a similar experience. He was saying the way that he sort of made life bearable is by not allowing it to become complicated.
I often have to answer the question: "What's your story, and how did you get to where you're at?" I find myself sitting down and telling my story, but I do kind of leave out this part of the struggles that I went through over the course of my life and I kind of focus on the highlights of it.
I find that's almost a way that I try to make things not as complicated without knowing that's what I was doing. Whether or not that's healthy, that's a different question [laughs]. But yeah, "Complicated" is hitting for me right now just 'cause I'm starting to see it tangibly in everyday life even without knowing I've been trying to make things less complicated for myself. I just need to have better control over how I do that and be more intentional with how I make my life less complicated.
WM: You also have "Bad Day Ballad," which talks about going to therapy. Can you share a bit about your therapy journey?
AA: I was originally born in Nigeria. I moved to Canada in '09. I was right around 9 years old, about to turn 10, and I didn't really know that we were moving. It was kind of like, "Oh, guess what? We live here now." And I was like, "OK [laughs]." So I didn't really have anybody around—there were no older cousins. I'm the oldest sibling. There wasn't anybody I could go to for guidance on anything.
When you come from a chaotic place, such as Nigeria, and then you come here and things are just entirely different, navigating that process is very, very anxiety-inducing. And I made some horrible decisions and put myself in some traumatic situations. A whole lot of things went on over the course of my life.
I tried to keep it pushing 'cause I figured, Oh, it's life. Life is not gonna be easy. It is what it is. By the time I got to college, I remember sitting in exam rooms—and I didn't know what they were at the time—but I remember sitting in exam rooms and my vision would start going a little blurry and all of a sudden I can't breathe and I feel myself getting cold, but I'm also hot and I'm sweating and nauseous. It was at the point where the [supervisor] had to take me outside so I could go to the bathroom and throw up and come back and then they took me outside again so I could breathe and get some air.
I didn't know what it was. I was just like, Oh, I just get stressed out over exams; everybody gets stressed. I initially tried to go get counseling 'cause my school offered free counseling. Unfortunately, the counselor I got was not very good. They just had a pamphlet, and they were like, "You'll be alright. Here you go." So I was like, OK, that's fine. So I will be alright. I'll figure it out.
A couple more years went by, and it just got worse and worse and worse. It was to the point where it was the last week of my junior year of school, and I literally did not sleep for about six days straight. Just did not fall asleep. I was having constant panic attacks over the course of the week, and it was exhausting and destroying me.
So I decided at that point I needed to do something [laughs]. That is the worst it's ever been. I couldn't function. I literally couldn't live. Going outside, I felt like I was overstimulated—everything just felt like it set me off. I felt like I was always just tip-toeing the line, and I was on the brink of just having a meltdown. So I decided I'm gonna go back to counseling again and see what happens this time.
I got lucky. I actually got a great counselor, and he detailed what a panic disorder is and broke it down for me. And he really was a lifesaver 'cause I know without him, life would've been increasingly difficult.
I ended up taking a year off of school because I was like, Alright, I need to figure this out and recover and put myself in situations where I can heal and somewhat feel OK. The year I took off of school, things were actually going great. … Then COVID happened that year. It actually ended up being a good thing for me 'cause it felt like there was a little less stimulus, like the world was a little quieter. I didn't realize that was a thing [that affected me] until I was able to step away from the hustle and bustle of everything going on in school and at work. Once I was able to step away and just be by myself, I started to realize, Oh my goodness, it is possible to feel peaceful.
Over the course of COVID, I ended up going back for my last year of school, and it was online, and it was smooth. … Once I started to understand myself, it's almost like a new dimension of existence opened up in my brain. Now I'm able to identify my triggers. If I feel myself starting to spiral, I know how to catch myself. I'm just doing way better overall as far as being able to manage it.
WM: What are some of the coping skills or self-soothing skills that help you when you're starting to panic or when you're in the midst of a panic attack?
AA: The most important one for me is breathing. I'm an asthmatic, so chest tightness and uncomfortability breathing is very common for me. It's difficult to catch your breath when you literally have a hard time breathing. So breathing's been the most important one for me, making sure I got my inhaler on me, and making sure I'm monitoring how my breathing is—even when I'm not very anxious.
Another one is I physically lay down and spread myself out on the ground. I find that's the easiest way for me to ground myself. And also realizing that it's OK for me to entirely remove myself from [triggering situations] was a game-changer for me.
I still have days where as soon as I wake up, I'm off the wall, like it's a horrible day from the beginning. But I've learned that, for the most part, I'm able to catch it before it gets too terrible. If the self-soothing stuff doesn't work the way I want it to work, I'm also starting to get used to forgiving myself, because I'm very hard on myself. After going through a panic attack or an episode of whatever people may be dealing with, it's easy to beat yourself up about it and feel like you're broken and unfixable. I'm getting better at being able to look at myself and say, "You know what? That's OK. That's going to happen. That's a part of how this process works, and you're gonna be fine."
WM: What helped you make the decision to take a year off school?
AA: I realized that if I force myself to be in this position and do this thing that I'm not ready to do, the reward isn't going to be proper or feel tangible. If I forced myself to go back and finish that last year of school, maybe I could've gotten through it, but I would've been in pieces by the end of it. I started telling myself, "What good is it to have this end goal if you don't reach it in a healthy way?" If I make it to the end of school, yeah I have a degree, but I'm literally incapable of functioning. What's the point of the degree if I can't take it and do anything with it? If I can't even exist in the spaces where I want it to be useful?
I was tough 'cause having to explain that to family was not easy. My friends weren't that big of a deal—they understood. I'm lucky I have really good friends. It was a tough process, but I just had to tell myself over and over again to make the decision that's best for me. There is no rule that says you can't resume the things you wanted to do once you're in a better position.
WM: If you could give yourself a pep talk right now, what would you say?
AA: Well, I do have a little bit of anxiety about the album coming out tonight, I've been holding on to it for so many months, it feels like I'm sending my child off to like college. But I'd say everything's gonna be OK. And you work hard, and you've been working hard your whole life, especially the last few months and the last couple of years. There's no universe where the hard work doesn't turn into something good. You work. You know what you're doing. You know what you've done. You got your people with you. They know what you're doing. They know what you've done. There's no way this goes bad.
This interview has been edited and condensed for length and clarity.
Wondermind does not provide medical advice, diagnosis, or treatment. Any information published on this website or by this brand is not intended as a replacement for medical advice. Always consult a qualified health or mental health professional with any questions or concerns about your mental health.