Q&A
03.29.23
Ally Love Is Ready to Give Herself Flowers
"A reflection of what's happening around us is not always true to what's happening inside of us."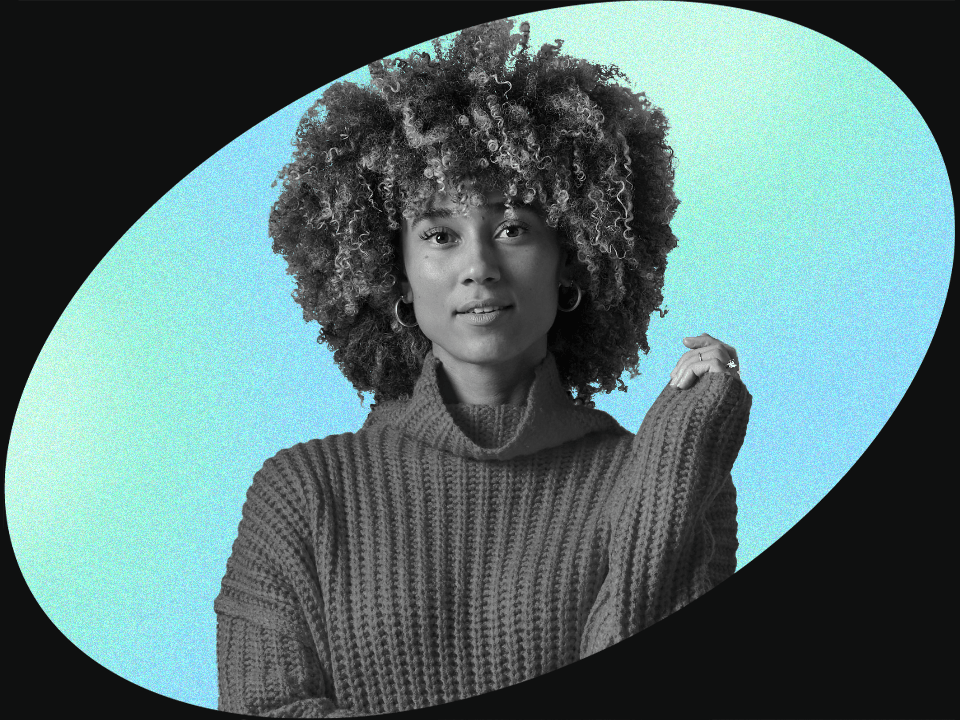 Photo Credit: Courtesy of Ally Love
It's safe to say the last few years have been an absolute whirlwind for Peloton's Ally Love, who also shines as the company's global lead of instructor strategic initiatives and just debuted as the host of Netflix's Dance 100 reality competition. Oh, and she's also an in-arena host for the Brooklyn Nets, a podcast host, and has several brand deals, just to name a few of the many hats she wears. Clearly, she can do anything she puts her mind to, and she never fails to greet her community with bounds of energy and positivity.
It might seem like she can "do it all" without issue, but the dynamic pro is candid about what juggling all these talents actually looks like for her. "I do think we can do all the things. Can I do all the things at once? Absolutely not," she tells Wondermind. "I find harmony in all the things that I'm doing. I make sure the energy I can offer or lend to each of those things in the respective time is fair." And that means making sacrifices, communicating with her team, and being honest about what she can realistically do without burning out.
Here, Love shares more about how she manages her mental health amid her busy life, the unique way she finds confidence, and how she's making time to give herself props.
[Sign up here to never miss these candid conversations delivered straight to your inbox.]
WM: How are you doing lately?
Ally Love: I would say swell is the appropriate term. I'm in a season of my life where I'm doing something that I've never done before. I am the host of a show on Netflix called Dance 100—I've never been the individual host of a show, so it's quite special. And on top of that, knowing that I've put in so much work, [because] most times I would just downplay it and just move on and not celebrate it. What I've been doing is sincerely taking the moment to take it all in, to be proud of myself, to have conversations about it, to really stand in the power that I often speak about. So for me, I think that that is swell.
WM: Your Peloton classes are so uplifting and empowering, and you show up confidently every time. When do you feel most confident?
AL: I think when I'm having a conversation in a safe space, whether it's with my husband, with my friends, or with my team. When you can articulate how you feel and what you are feeling and/or thinking, I think that in itself is empowering. So I feel my most confident when I'm able to express myself through conversation and when I'm having those conversations. It doesn't mean I want to talk all day—but, in reality, that's exactly what I do.
WM: What boosts your mood when you're having a tough day?
AL: I literally check in with myself, and [it can be just] a couple seconds. Today, I had a lot of press for the show. On the car ride over, there's traffic—now I'm late. Instead of focusing on my tardiness because of traffic, I decided this is a great moment for a check-in. I got quiet. I introspectively thought, How am I feeling right now? What bad could happen that would make me feel worse? And I started to lightly have that internal dialogue. Those short check-ins, they last 30 seconds—they're not that deep. I come back to the fact that I'm grateful, I'm breathing, and I'm present. I'll make it there when I make it there. I'm OK.
There have been times where I do the check-ins, and I'm like, You know what? I might need to cut my day short. I often don't cancel, but if I'm mentally unwell or mentally on the edge of feeling like I'm not supported or—most importantly—safe, then you know when it's time to check out. I might have to check out and make some alterations to my schedule. That has really helped me a lot in listening to myself. … Those check-in moments are important.
WM: You're someone who lives with anxiety. How does that show up for you?
AL: Anxiety is real. … I think it's a part of who I am. I recently read a book called No Bad Parts, and it [helped me] recognize that anxiety is a part of my narrative. It doesn't control my narrative, but it's a part of my narrative.
As an extrovert, sometimes an introvert, and a dynamic human being, I'm not just one thing, and I don't experience the same things every day. So I don't often know exactly what triggers it. But I've been doing a lot of work in terms of recognizing when I'm triggered [by] having that internal dialogue and taking a break.
I don't push myself to do anything that I don't need to do or that technically I've committed to. If I can alter it, I will alter it. What I've found that has been helpful in subsiding it or managing it in the moment is stating to the people that I'm around that I'm actually dealing with it. Although, that is super scary, right?
[I admit that] to my husband when we walk in an airport, which, my anxiety's on a 10 in an airport. It's just a trigger for me. I know that. When we're walking up to the gate and they're about to call, I get very anxious. So being able to lean on my partner and say, "I think I'm experiencing this. I just want you to know." And we have that communication and that open dialogue where he doesn't need to fix anything. There's nothing he can do about it because that actually can exacerbate a trigger. He's like, "Good to know. Let me know how to support you."
And making sure my friends or my coworkers are aware and we are all openly communicating about what we are dealing with at certain times has been very beneficial. When I name it and claim it externally, I can actually handle it a little bit better.
WM: What does your ideal mental health day look like?
AL: Can I have a beach and a lake on this day? Because I love that. I'm a city girl, I grew up in Miami, moved to New York—the big city has my name written all over it. When we travel, I love to go to a big city. But I didn't know the power of nature and how it would affect me. So on a perfect mental health day, I can be in nature by a lake and feed the turtles or watch the birds come in when it's about to be sunset. … That grounds me. I can hear my thoughts. I can love myself. I can really just be me. I think that's perfect.
WM: If you could talk to yourself like a friend, what would you say right now?
AL: I would be like, "Yes, queen, you did this. You keep going, sis. Your hair looks cute. Don't forget you are that girl." I'd say that to myself because I don't often give myself enough credit. I know it may look like I got all the credit in the world and this many people following me and this many people taking my classes and I have these great things going for me. But a reflection of what's happening around us is not always true to what's happening inside of us.
If I could be the friend that I need in this moment, I would give myself the flowers that I deserve because I don't give them to myself enough. It sounds selfish, but that's truly what self-love is. It's taking a moment to give myself those flowers and to let me know that I just did the dang thing. Sis, you got it.
This interview has been edited and condensed for length and clarity.
Wondermind does not provide medical advice, diagnosis, or treatment. Any information published on this website or by this brand is not intended as a replacement for medical advice. Always consult a qualified health or mental health professional with any questions or concerns about your mental health.