Pro Tips
11.14.22
9 Ways to Deal With Travel Anxiety During the Holidays
More holiday happy, less holiday stressy.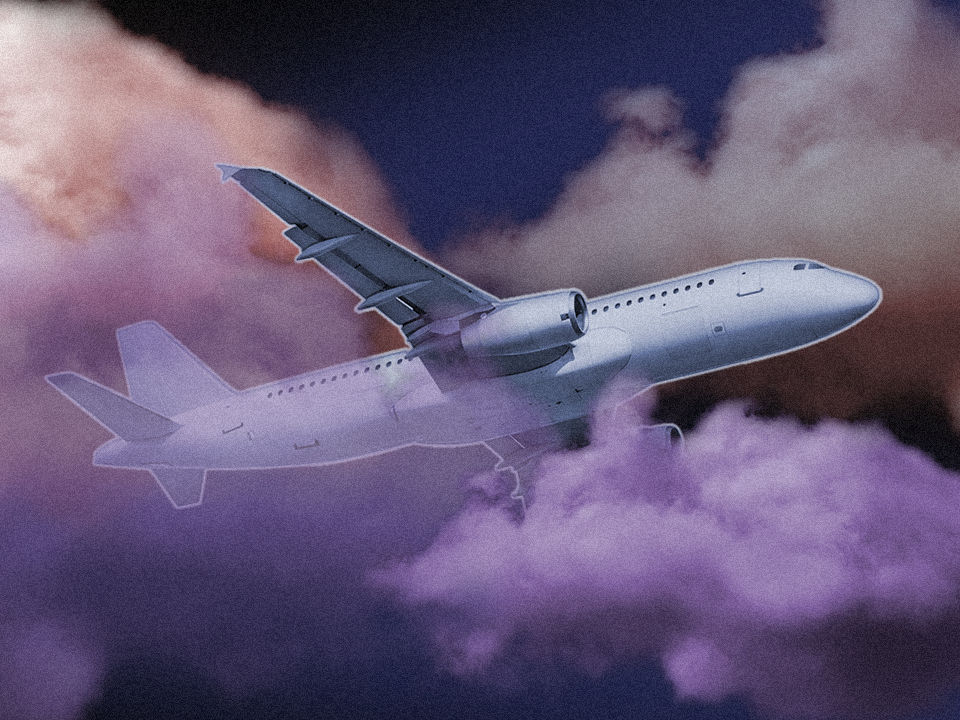 Shutterstock / Wondermind
If you're nervous while planning a trip, you feel super uneasy leading up to it, and/or you're on edge the entire travel day or even the whole trip (because new places are scary), you probably have some travel anxiety going on, says psychotherapist Brittney Chesworth, PhD, LCSW, who specializes in treating anxiety.
It's not a clinical diagnosis, but people with certain mental health conditions might be more likely to experience travel anxiety. For example, with agoraphobia, you have an intense, irrational fear of being in open or unfamiliar places, according to the American Psychological Association. Think: airports or train stations.
Plus, people with what the Diagnostic and Statistical Manual of Mental Disorders (DSM-5-TR) calls "specific phobia" could have a diagnosable fear of flying. And those with obsessive compulsive disorder (OCD) or generalized anxiety disorder can also be triggered by travel, says licensed clinical psychologist Helen Odessky, PsyD, author of Stop Anxiety from Stopping You.
Still, pretty much anyone with or without a diagnosis can have travel anxiety pop up from time to time, especially with the added pressure of seeing people and hauling gifts or food during the holidays. So, yeah, it makes sense if your travel anxiety might be through the freakin' roof at the moment.
If that's you, read on for really simple strategies to feel way more chill throughout the whole holiday travel process. You got this!
1. Stop Googling things beforehand.
Please stop compensating for travel anxiety by checking plane crash statistics or looking up the safety of different airlines. Even if those searches make you feel a little better in the moment (and they might not, JFYI), you're wasting energy worrying about details you can't actually control, says Dr. Odessky. Instead, focus that time and attention on things that you're responsible for as a passenger.
2. Make a list of what you can control—and what you can't.
Filtering your worries by what you can do something about and what you can't might put your brain at ease. Once you have a to-do list, work toward getting those things done, suggests Dr. Chesworth. That could be planning activities for when you arrive, booking rides to and from the airport, scheduling doggie daycare, or packing extra face masks.
Then, make another list of things freaking you out that you absolutely have no power over, Dr. Chesworth says. There's no use getting sucked into thought spirals since there's so little you can do to plan for missing a connection or a random traffic jam on the highway, she says.
3. Leave early (within reason).
If you think getting on the road earlier will lessen your anxiety, especially when accounting for busy holiday crowds (fun!), then do that, says Dr. Chesworth. Just try not to make a habit of leaving way before you realistically need to. Giving yourself three hours to drive 45 min, for example, just makes your life harder overall, she explains.
4. Pack distractions.
Bored anxious minds tend to wander toward worry, says Dr. Odessky. So bringing something to entertain you is key, especially if you're a passenger, she notes. Download shows to watch, save a fascinating podcast to listen to, have a chill playlist ready, or keep Sudoku on standby. Whatever works! Being on your phone, having a conversation, or doing anything else that distracts you is also a good tool for combating panic attacks, Dr. Odessky adds. That's because focusing your attention away from physical sensations that can come up with panic—like chest pain, dizziness, and heart palpitations—makes an attack feel less inevitable.
5. Focus on breathing.
When you're particularly anxious, breathwork is a great way to get out of your head, but it can be hard to remember a breathing exercise's specific numbers and patterns when you're in panic mode. That's why Dr. Odessky suggests just paying attention to breathing in and out in full breaths. You can imagine the air traveling through your nose all the way to your belly button as you breathe in and back out as you exhale. If you feel an actual panic attack coming on, make sure you're breathing in and out through your nose to avoid hyperventilating, she says.
6. Describe your surroundings.
Another way to get into the moment and out of your doom spiral is ~mindfully~ taking a look around you, says Dr. Odessky. Maybe you think to yourself, "I'm in an airport sitting on a plastic green chair, and there's a patterned carpet and a long Starbucks line in front of me." Describe what's happening here and now instead of thinking about the past or the future, she explains.
7. Think about how you overcame hard shit in the past.
Turns out, worrying about bad weather doesn't actually control bad weather, but reflecting on times when you dealt with similar travel issues or just tough situations in general can help boost your confidence, says Dr. Chesworth. When was the last time you problem solved? When have you been resilient before? Your Thanksgiving turkey being a little late to the fam gathering is nothing compared to that time you made it home with a flat tire.
8. Play out a worst-case scenario.
It's really hard to focus on logic when you're caught up in anxiety or panic. Once you're calm, ask yourself why you're worried, what the worst-case scenario is, and how you might deal, says Dr. Chesworth. If you're freaking out because the pilot just announced that your flight home for Hanukkah is landing later than expected, think through what could happen: Yeah, your aunt who's picking you up is going to be waiting a long time. But you can text her when you land. What are the chances she'll stay annoyed? (You'll just apologize and let her win dreidel!) FWIW, talking through your fears can help if your travel anxiety continues after you've arrived too.
9. Try therapy for extra support.
If you're experiencing anxiety to the point where you feel out of control while thinking about traveling, when you plan a trip, or when you're actually going somewhere, a mental health pro can teach you how to accept uncertainty and manage your fears, says Dr. Chesworth.
When she works with clients with travel anxiety, Dr. Chesworth uses cognitive behavioral therapy (CBT) to challenge clients' "what if" thoughts. She also leads people through an "exposure hierarchy," where they face uncomfortable or fearful situations little by little, like driving to an unfamiliar place to find parking or purposely leaving something out of their carry-on. "They learn through experience that it's really not as bad as they think it's going to be if it was the worst-case scenario," Dr. Chesworth explains.
FYI, Dr. Odessky says medication isn't the best long-term solution for travel anxiety because of how often you might need to take it. But if you feel like you may benefit from it, especially if you don't have time to see a therapist for more support, anti-anxiety meds could be an option to ease your anxious mind too. It's up to you and your doc.
Wondermind does not provide medical advice, diagnosis, or treatment. Any information published on this website or by this brand is not intended as a replacement for medical advice. Always consult a qualified health or mental health professional with any questions or concerns about your mental health.