WM x Aerie
10.10.22
Powered By

Aly Raisman Gives Great Therapy Advice
"What's really helped me is recognizing that it might not just be one specific therapist that's going to help me feel better."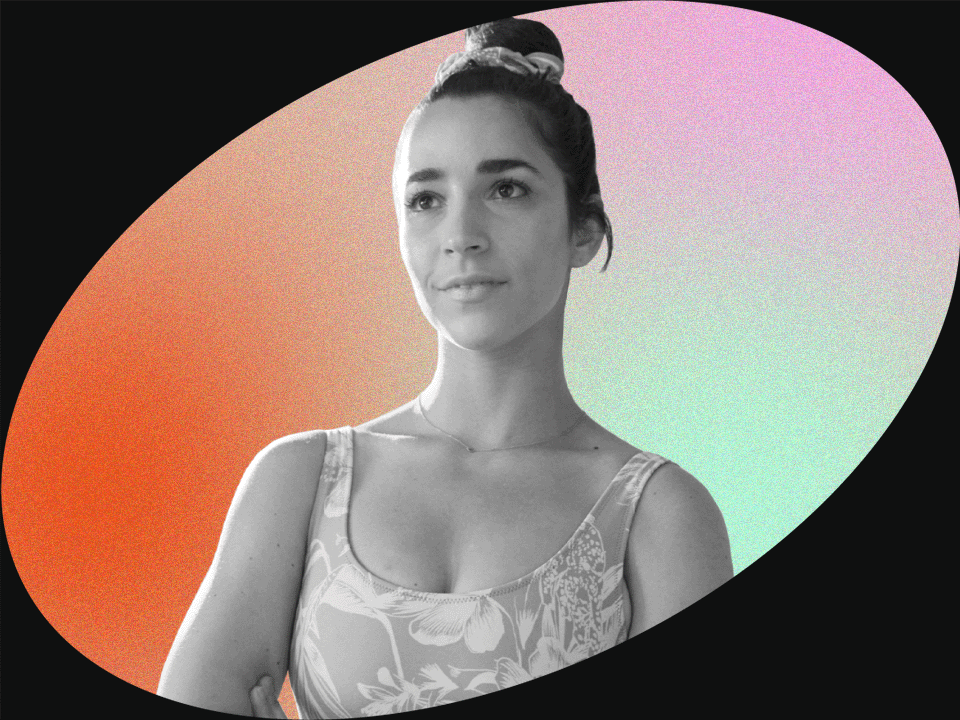 Photo Credit: Andrew Buda
Three-time gold medalist Aly Raisman first captivated us with her incredible floor routines, grit, and grace whenever we watched her compete. And she riveted us again—this time with her vulnerability and bravery—when she courageously shared her story as a survivor of sexual abuse.
Inspired by an army of survivors, Raisman continues to advocate for systematic changes within the sport of gymnastics and the eradication of sexual abuse. Now retired from gymnastics, Raisman is passionate about normalizing the conversation around mental health and encouraging positive body image with partners such as Aerie.
Here, we spoke with Raisman about her dedication to her mental health, why it was important for her to try out different therapists, and how she decompresses after a particularly challenging session.
WM: How are you doing lately?
Aly Raisman: I am doing a lot of reflecting and trying to kind of recharge and take a lot of time for myself lately. I think I've noticed when I'm more aware of how I'm feeling. It's kind of more of an up-and-down journey, but it makes me more hopeful that I'm on a journey of really working on myself and really figuring out who I am outside of gymnastics—outside of if you Googled me and you deleted everything that people see publicly, you know, who would I be? So it's been fun being able to figure out that side of myself and being able to spend more time with my family and friends.
WM: What has your mental health journey been like—over the course of your life and more recently?
AR: I would say, for probably as long as I can remember, I've experienced a lot of anxiety. I can remember, honestly, even as a young child having anxiety. Even though it's more talked about in our world, there's still such a huge stigma around it. And I know so many people are struggling in silence. Even for myself, even though I'm grateful to have a good support system, it still can be really hard to sort of identify or speak up about what I'm experiencing. But I think over the last many years, I've really tried to be honest with people about what I've experienced, what I'm personally going through. I've been doing therapy for many years, and I think therapy can be so impactful and so helpful. I'm kind of in the stage right now where it feels like I'm digging deep into things [and] it's almost getting worse before it gets better. So that's sort of a very up-and-down journey, but I'm really just trying to remember that it's important for me to just stick with it, be patient, communicate with my therapist, my friends, and family. So I'm just kind of taking it day by day.
I think what's really helped me is recognizing that it might not just be one specific therapist that's going to help me feel better. It's an everyday journey, and some days I might need a little bit more quiet time. Other times I might need a little bit more fun or just reading a little bit more. I love gardening, writing in my journal. So I just try to take it day by day and just do what I feel I need right now. And of course I'm still traveling and working and doing calls. So obviously I can't always write in my journal if I'm feeling stressed, but I try to take that time for myself each day.
WM: You mentioned that, in therapy, it sometimes feels like things are getting worse before they get better. Did you feel like you had to dive deeper into certain things to really heal from them?
AR: I think that for so long I felt a lot of anxiety that I almost didn't really recognize that it wasn't healthy for me to feel like that. And I think it almost became—in my own mind and my own world—more normalized. I think it's those days where I feel better and I feel more present that I actually realize how unhealthy [it was,] the way I was feeling so anxious.
You know, I feel anxious in my body and sometimes it is hard to sleep. I've worked with a bunch of different therapists and some of them have really helped me and others haven't been as helpful. I think it's taken me a really long time to find a therapist that really is working through some of the harder things I've been through.
I saw something recently that said, "If you don't pick a day to rest your body, your body will pick it for you." That really resonates with me. I also think about, at least in my experience with trauma, it's like when you try to push something in the water and it just comes right back up. For years and years I was trying to push things down, and I kind of didn't realize that my world was starting to get smaller and smaller, because I was trying to do things that didn't give me anxiety, but then it would be maybe leaving the house a little bit less or not doing this or not doing that, and trying not to push myself too much when I felt stressed. And then I think before I realized it, I was like, "Wow, my world is getting much smaller."
Going to therapy is not easy. And I think each session is different. Every day I feel differently, but I try to just communicate with my therapist. Sometimes my therapist will give me homework for the following week and I'll communicate and say, "That's way too much for me to do this week. What if we did a little bit less of this, or we did that maybe once in the week, instead of every single day?" I really try to communicate how I'm feeling because at the end of the day, I wanna be able to show up. I don't want to dread therapy, because then I feel like I won't end up going. I've learned to communicate with my therapist and just be honest. And the therapist I have now is great, but you know, she really pushes me a lot, which I think is actually more than other therapists have. And I think that's why I really like her and I enjoy seeing her.
WM: We use the term "mental fitness" to talk about working on your mental health—in big and small ways. What does that look like for you, outside of going to therapy?
AR: What's really helped me is just listening to what feels right for me and not being afraid to say, "This therapist isn't right for me. I wanna go to someone else." If someone's [reading this] and they don't feel that their therapist is helping them—or they feel like they've seen them for a few years and they really enjoyed being with them, but they wanna change—I would say listen to that, and you know you better than anybody else.
You know, therapy is certainly not one size fits all. There's so many different types of therapy out there. For me, on the days when I do have therapy, depending on the day, I either try to make sure that that evening I'm just kind of hanging out with my dog, Mylo, or maybe I'm reading a book, I'm gonna take a bath, I'm gonna relax. Or if it's warm out, go for a nice walk outside, garden. Or sometimes I'll make sure I hang out with my friends and just sort of take my mind off of it—depending on what I need or how the session was. So I really am mindful about what I'm actually doing on the days that I do have therapy, whether I wanna just write in my journal, or reflect, or I just need a break and I wanna laugh with my friends and not think about it and have some space from it.
I also walk a lot, which really helps me. I've found honestly that doing Pilates workouts or yoga really helps me a lot more than doing cardio. So I'm doing more of that. But I find that walking a lot is very helpful for me. I also will take my dog Mylo to the dog park. I spend a lot of time with him. He's actually sleeping next to me right now.
I love spending time with Mylo. I set up dog play dates with some of my neighbors and my friends. And that's always really enjoyable. I love gardening. I've been getting into cooking. Sometimes when I'm just home and hanging out around the house, I'll put on some relaxing music. I really try to incorporate a lot of different things to make me feel more relaxed and calm.
I also have been reading a lot lately, and I love reading. I found that, to be honest, the less I personally watch TV, the better that I feel. I sleep much better. So I'm also trying to be more mindful of the time that I'm spending on the screen and just trying to be on social media less and just spending more time with my family and my friends. I also feel like I'm getting more introverted as I get older.
WM: What was your mindset like when you were competing, when so many people were watching you and you were expected to perform? What emotions came up for you then, and do you still feel those emotions now?
AR: I definitely feel those elevated emotions just from you asking the question. I think competing at the Olympics or being on the national team was incredibly high pressure. It was very competitive and I felt [like I was] always trying to prove myself and always trying to push myself past my limit.
I think in the back of my mind I always worried, What if I was sick the day of the Olympics? What if I got injured? I think pushing those fears aside is hard, because the reality is if I did get injured, it's really hard for that opportunity to come back around. And there's so many years of preparation and work that goes into it, but I really just tried to prepare myself. I worked harder than I ever thought was possible. And I really just wanted to look back and know that I did everything I possibly could, and I could look back with no regrets.
When I look back now, I definitely pushed myself way past what was healthy, but that was a choice that I felt I wanted to do. I think at the time I was just so obsessed with making that team and I was such a perfectionist and I really wanted it. I loved gymnastics from the moment that I started it. I remember just always looking forward to going to the gym.
And, of course, as it got more intense and as I got older, I obviously didn't love it every single day, because it was all-consuming with my life. But I just tried to prepare myself so that the day of the competition, when I felt really nervous—and I do definitely feel those nerves—I just reminded myself that I've done it so many times before. I just tried to remind myself just to do a normal routine—no more, no less than I usually do. And just try to block everything out.
There's so many cameras in our faces, there's thousands and thousands of people in the arena. So it's very different being in a gym by myself versus being in a massive Olympic arena with cameras in my face and all the pressure of people watching. In our country, we were expected to win, and people watch expecting us to win. I think that I definitely felt that if we didn't win, it wouldn't be the same support, and that's hard to navigate as an 18-year-old and a 22-year-old. It's so much pressure.
I think that it's definitely changing in our society, slowly, where I think that there's been less emphasis on winning. There's still way too much pressure on athletes. But I think that people that watch the Olympics—and hopefully the media—are starting to realize that we're all human, we feel that pressure, and this expectation that the US athletes should win everything is just not healthy and it's not right. Because even making it that far is amazing. I wish that the media would celebrate whether someone's first place or whether they compete and they're 45th place.
We're slowly starting to see a little bit more of that support, but when I was competing, it felt very much like if we didn't win we wouldn't be invited onto the different award shows or we wouldn't be invited onto different media shows.
You know, some athletes certainly still feel that pressure, but I'm hoping over time it will get a lot better and totally change. But I think we move slowly. And at least I definitely felt that pressure and I still feel it when you ask me about it. Like, I still feel in my body, it's an immense amount of pressure. That being said, I still am so grateful that I got to experience the Olympics, and luckily we did win. So we did get to be celebrated and we got to do a lot of really amazing things, which is so fun. And getting to share that with my teammates was amazing. It was a lifelong dream. So it was an amazing experience, but it definitely was very, very, very stressful.
WM: What's your approach to business? What makes you feel like you are building the Aly Raisman empire?
AR: In my quiet moments, when I'm home, I try to really reflect and think about things that I'm passionate about. [I'm'] trying to have partnerships that are really meaningful to me and things that I really incorporate into my everyday life. And I try to be vulnerable and real. I have learned a lot of different things over the years and I feel very grateful for all the people that I've met along the way and all the things that I've learned. So I feel very lucky that I'm able to chat with people who are also passionate about the things I'm passionate about, and chat with people who have other passions that now make me passionate because I'm learning something new from them.
I am very, very grateful I've had a relationship with Aerie for about five years, which I feel so lucky to be able to be partnered with such wonderful people and such a wonderful brand. They've personally helped me on my mental health journey—just reminding me to embrace who I am, and they want me to just be who I am. They're never trying to change me. They're always supportive of me, and that just means so much. Even when you go in the Aerie dressing rooms, there's like a ton of sticky notes covering the mirror. And it's just such an amazing reminder for me personally, just to be kind to myself, be mindful of the way that I'm talking to myself.
Someone else gave me really great advice years ago. They said, "Your career will be built off of saying no." And that's something I think that myself and my team have really thought a lot about. You know, there's a lot of opportunities that come my way, but I'd say we decline a lot of them because it might not fit into my values or it might be promoting something that I would never use.
WM: Now that you've retired from gymnastics, how would you characterize your new role and what you're focusing on lately? How might you describe yourself on LinkedIn?
AR: It's an interesting question. I've actually never been asked that question before. I think that I would probably describe myself as multiple different things. What I feel so grateful for is that I'm able to do a lot of different projects at a time that I'm really passionate about. So I feel really lucky to be able to learn new things and to be able to connect with so many different people, but I definitely would consider myself a business person.
Lately I've also been really passionate about financial literacy and learning about that. I think a lot of people—and this was definitely me several years ago—don't really understand a lot about their own finances. I wish that financial literacy was taught in school. I wish it was easier for people to understand. The system is set up to be so exclusive and complicated. So I'm really passionate about learning more so that I can figure out a way to hopefully use my platform to help make it really easy and accessible for other people to understand their own finances. Because I wish everyone in the world had financial freedom.
Wondermind does not provide medical advice, diagnosis, or treatment. Any information published on this website or by this brand is not intended as a replacement for medical advice. Always consult a qualified health or mental health professional with any questions or concerns about your mental health.