WM x Lincoln
11.30.22
Powered By
Here's How Aromatherapy Can Impact Your Mood
Experts tell us what scents we should sniff for ultimate self-care.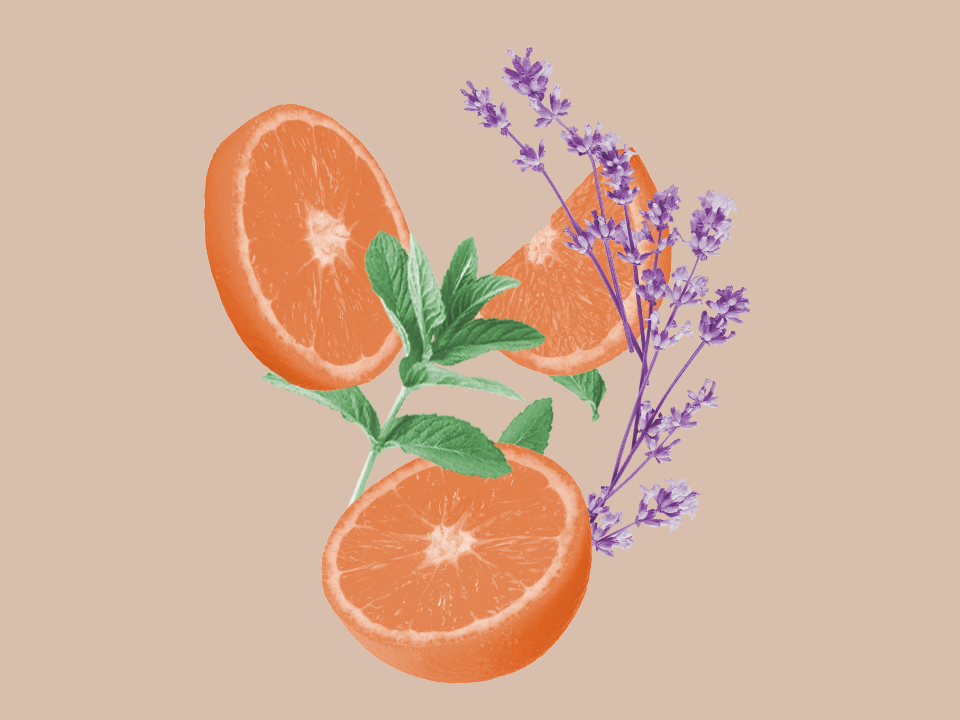 Shutterstock / Wondermind
Mental fitness means working on your mental health in both big and small ways. So that can include everything from therapy and medication to deep breathing exercises and morning mantras. While the big stuff is super helpful, sometimes those simple, low-impact actions are exactly what you need to improve your mood. So it's no surprise that lots of people swear by aromatherapy for mental health.
Aromatherapy refers to using essential oils from plants—think: lavender, mint, lemon—for a variety of therapeutic purposes. Here's the thing: If you're banking on aromatherapy on its own to completely transform your emotional wellbeing, you're likely to be disappointed, as it's not a substitute for mental health treatment. That said, it can be a really great complement to whatever other mental fitness tactics you generally rely on, says Nina Polyné, PsyD, licensed clinical psychologist and Wondermind Advisory Committee member. "I think it's such a great supportive tool for people to have in their toolbox when figuring out what works and what doesn't."
Research on aromatherapy for mental health benefits is limited but promising. There are studies that suggest certain scents may help ease anxiety and pain and improve mood and sleep, but we don't know much about what scents exactly, and in what quantity, are needed to produce results. So, while aromatherapy may not be able to replace your actual therapy appointments, there are plenty of expert-backed ways to use scents to give your mood, energy, and focus a boost.
So, how does aromatherapy work?
Aromatherapy can have an impact on your mood thanks to the way your sense of smell works. "When you smell something, it travels to the olfactory nerve, which is directly linked to your brain," Dr. Polyné says. "It influences the amygdala, known as the emotional center of the brain." Basically, when you take a whiff of something, it goes straight to your brain. Research also suggests that essential oils could reach the brain through the bloodstream via the part of the lungs where blood and oxygen are exchanged during the regular process of breathing.
All of this helps explain how smelling something—especially a scent we associate with good memories—can impact our brain and potentially our moods, says Marilisa Morea, PsyD, clinical psychologist and owner and director of Monarch Therapy and Wellness Center in Thornhill, Ontario. "Finding a calming or pleasing scent can automatically help regulate a person's mood. It can also help bring us to a happy place."
Aromatherapy has been used for so long that certain scents have been strongly associated with certain outcomes, but it often comes down to personal preference too. The power of placebo may also be at play here. "If you just believe something works, then it tends to work," Dr. Morea says. "For example, if you are a strong believer that when you wear your partner's shirt with their cologne on it, it helps you feel calm, then that is going to have a placebo effect whether it works or not."
All of this is to say that putting some essential oil in a diffuser, lighting a candle, or rubbing a scent on your wrists might be able to transform your mood with very little risk or downside if it doesn't actually work. (Though Dr. Polyné notes it's important to test anything on your skin in a small spot first to make sure you're not allergic to it.)
3 well-known scent associations to know:
Considering using aromatherapy as part of your mental health routine? These are some common scent associations worth exploring:
Lavender: Comforting, soothing, relaxing. It may help alleviate anxious thoughts that can keep you up at night, Dr. Polyné adds.
Orange, lemon, and other citrus scents: Energizing, mood-boosting. "These help us to ignite a sense of excitement and boost the mood," Dr. Polyné says.
Peppermint: Clarity, mental focus, mood-boosting. "This is also a good scent to start with in the morning," says Renee Solomon, PsyD, clinical psychologist and CEO of Forward Recovery. She specifically recommends it to patients when they are feeling sluggish.
Here's how to incorporate aromatherapy into your self-care routine.
We asked the experts for their go-to suggestions for using aromatherapy to impact your mood. Here are some easy ways to add it to your day.
Spritz a cistrusy room spray in the morning.
"If you're the kind of person that has a hard time getting up in the morning, keep some kind of citrusy scent in a bottle on your nightstand and spray it to evoke a sense of energy before you get out of bed," Dr. Polyné recommends.
Use lavender before bed.
"It is suggested to either diffuse it or put two drops under your nose and on your chest at night," Dr. Solomon says. You can also turn to the ol' room spray trick and use a lavender room or pillow spray at night to help you set some relaxing vibes, Dr. Polyné says. Some other options Dr. Morea recommends: Get lavender-scented bedtime lotion, a bath bomb, or a facial mask.
Carry around a roller or hand cream that relaxes you.
Dr. Morea recommends keeping a roller of essential oil with you at all times so you can roll it on your wrists or behind your ears when you're feeling anxious or stressed. "If you have a necklace with a bead on it, put it on that and you can inhale that, or dab it on your clothes," she adds. You can do the same thing with scented hand cream if you prefer.
Keep a relaxing or calming scent at your desk.
If you don't want to put it on your skin, Dr. Polyné recommends keeping a little bottle of oil at your desk and just opening it up and taking a whiff whenever you need to take a break. "If you tend to hold your breath while checking your emails, then after answering each email, take your aromatherapy out and take a deep breath and try to bring yourself back to the present," she suggests. Sometimes we all need a nice little reminder to breathe.
Light a candle when you're journaling.
"Oftentimes, I suggest if someone is depressed or experiencing a low mood, to light a candle or put on a diffuser when journaling," Dr. Morea says. "It can help activate your senses and help loosen things up emotionally and mentally for you." When you have a candle on, dim the lights for some extra relaxation, Dr. Polyné says. You can also make this part of your nighttime routine. "You don't want bright lights right before bed, so an hour before you go to bed, turn the lights off and light a few candles," she suggests.
Carry around any scent that reminds you of a good memory of someone you love.
Anything that sparks a good memory or positive feelings for you personally can also be used as aromatherapy. For example, Dr. Polyné says that if someone tells her that hiking is an activity that relaxes them, she will suggest cedar essential oil to evoke that memory. Or maybe you went on vacation to Jamaica and it was the most relaxed you've ever been, and coconut immediately reminds you of that totally blissful time. The cologne or perfume of someone you love may instantly calm you, as well, Dr. Morea adds. Anything that reminds you of a place of peace that you want to bring yourself back to can give you an instant sense of calm.
Like most mental health practices, you want to adapt your aromatherapy to what works best for you—so if that's peppermint or lavender, great; if it's your significant other's cologne or bath soap, you do you. At the end of the day, it's all about finding the scents that bring a smile to your face and turn your stress levels down a notch.
Wondermind does not provide medical advice, diagnosis, or treatment. Any information published on this website or by this brand is not intended as a replacement for medical advice. Always consult a qualified health or mental health professional with any questions or concerns about your mental health.