Pro Tips
02.08.23
14 Mental Health Resources for the Black Community
If you are in need of support, this list can help.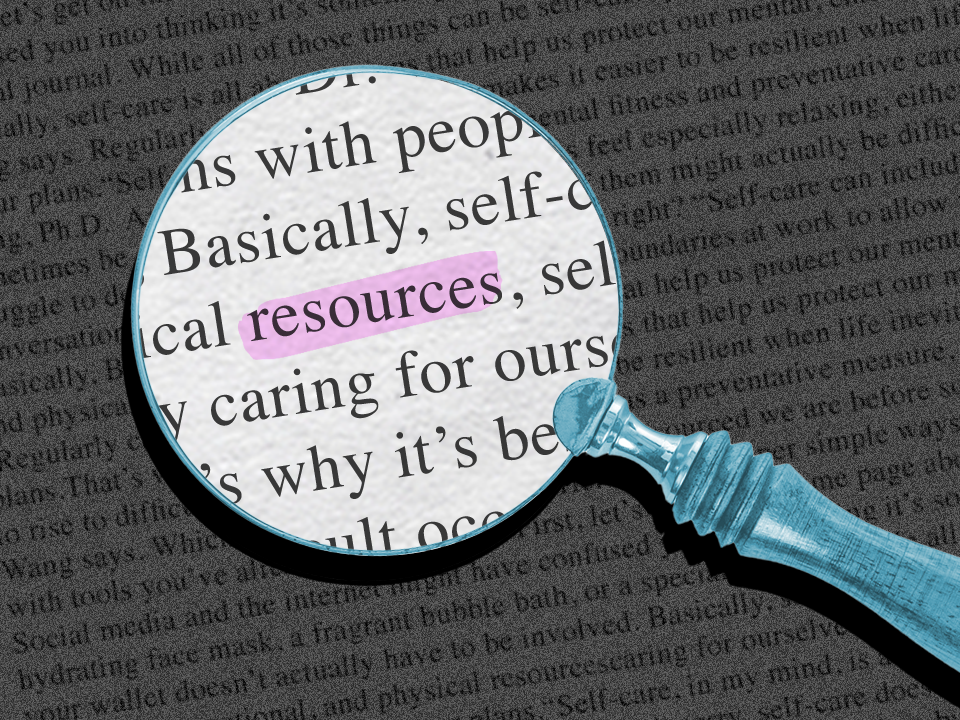 Shutterstock / Wondermind
Life can be tough. From family pressures to job woes to relationship struggles, there are so many things that can wreak havoc on your mental health—and the Black community can be especially vulnerable. "If you are a Black descendent of the trans-Atlantic slave trade, you have trauma passed down through your bloodline," says licensed clinical social worker Tashia P. Chambers, LCSW. And even if you're not, there are various forms and degrees of systemic racism impacting the Black community in the present day, she adds.
Another unfortunate factor: The stigma around seeking mental health help within the Black community has become one of the "biggest barriers to our healing," says Chambers. That, along with a lack of access to culturally competent and responsive care and resources, can make getting the care you need really difficult.
And while it's not up to you to take on the systems that created these mental health obstacles, there are groups out there that can help if you need an assist. Here, we've put together a list of valuable resources that members of the Black community can turn to for support in managing their well-being.
So whether you need help finding a mental health practitioner, funds to pay for care, or educational tools you can use to boost your mental fitness, we hope this is a solid place to start.
1. Alkeme
Founded by former NFL player Ryan Mundy, this digital platform uses a combination of free and low-cost resources (including guided meditations, therapy modules, live therapy discussions, and short-term support) to center Black users and empower them with strategies to help better their well-being.
2. Boris Lawrence Henson Foundation
This nonprofit (founded by actress Taraji P. Henson and named after her father) offers up to five free sessions of mental health support from licensed pros (applications are currently closed, but check back!). Plus, you'll find a directory of mental health providers and programs near you serving the Black community.
3. Black Emotional and Mental Health Collective (BEAM)
Finding a therapist you mesh with can be draining. Add in securing one who is culturally competent and the pool gets even smaller for Black people, especially considering that only 5% of psychologists in the U.S. are Black, according to a 2019 report from the American Psychological Association. The BEAM online directory of Black therapists can help! You'll also find Black yoga teachers, doulas, mediators, and support groups serving the Black community.
4. Black Female Therapists
Check out this community's free directory of therapists that you can filter by location, specialty, payment flexibility (who doesn't love a sliding scale?!), and more. If you're looking for more of a community, sign up and pay for their daily text affirmations and recordings of live weekly classes.
5. BlackLine
This organization consists of volunteers that act as an anonymous and confidential listening ear to provide immediate crisis counseling for Black, Black LGBTQ+, Brown, Native, and Muslim community members who have experienced trauma at the hands of police, law enforcement, and vigilantes.
6. Black Men Heal
This nonprofit offers a three-prong approach to mental health care for those living in Pennsylvania, New Jersey, Delaware, New York City, Maryland, Washington D.C., Virginia, and Georgia: group and individual therapy (they can cover up to eight free sessions at $100 each), education, and resources.
7. DRK Beauty Healing
This organization has a directory of 130 licensed mental health pros ready to work with Black, Latinx, Indigenous, South Asian, East Asian women and non-binary people of color. Many of those mental health pros offer free and subsidized talk therapy for potential clients (just follow the steps at the bottom of this page). 
8. InnoPsych, Inc.
Offering a comprehensive national database of therapists of color, this platform lets users filter results based on location, type of service, ethnicity, insurance, and specialized areas of mental health care.
9. The Loveland Foundation
This organization provides vouchers to women and girls for up to 12 sessions of therapy from mental health pros listed in directories like Therapy for Black Girls, National Queer & Trans Therapists of Color Network, Talkspace, and Open Path Collective. If you qualify, fill out this form to get started.
10. The Mental Health Fund by the National Queer & Trans Therapists of Color Network
For queer and trans BIPOC looking to shore up their mental health through therapy, this health fund subsidizes up to eight sessions with a psychotherapist. One hitch: There's an application process—and it opens on March 1, 2023.
11. Therapy for Black Girls
This space, founded by psychologist Joy Harden Bradford, PhD, has a super helpful directory of culturally responsive mental health practitioners ready to work with Black women and girls. Just enter your address, your health insurance (if you have it), and what you'd like help with.
12. Therapy for Black Men
With a growing directory of more than 500 therapists, this digital platform aims to make therapy more accessible for Black men through culturally competent care.
13. The Steve Fund
In a world where text messaging is the go-to form of communication for the youth, this organization uses texts (Simply text "STEVE" to 741741) as a way to offer people of color 24/7 access to trained crisis counselors. Multicultural mental health experts are also on hand for colleges and nonprofits via on-campus and on-site programs and services.
14. Rest for Resistance
This organization provides self-care workshops, like meditation, breathwork, and stretching, as well as emotional support to LGBTQ+ people of color.
Wondermind does not provide medical advice, diagnosis, or treatment. Any information published on this website or by this brand is not intended as a replacement for medical advice. Always consult a qualified health or mental health professional with any questions or concerns about your mental health.