Q&A
09.12.23
Bobby Berk's Best Advice for Creating a Chaos-Free Space
The star talks about his new book and the intersection of design and mental health.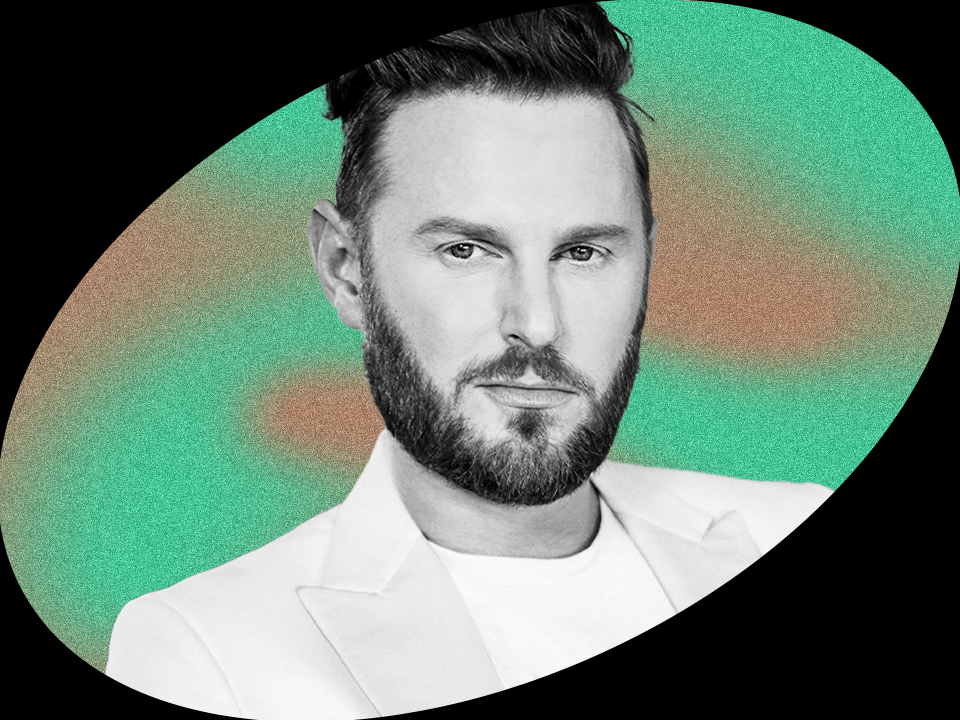 Photo Credit: Max Montgomery/Courtesy of Bobby Berk
PSA: Design expert and Emmy-nominated TV host Bobby Berk is about to make your dreams come true. If you've ever marathoned Berk's impressive home makeovers and begged the universe to give you that talent, you're going to love his new book, Right at Home: How Good Design is Good for the Mind. Packed with advice on how to make your home both beautiful and functional, this interior design guide will show you what to do with all those unorganized home inspo posts you've saved. And, as the book's title implies, it's filled with advice for creating a space that positively impacts your mental health. We love to see it. 
If that sounds impossible because your current living situation sucks or you don't have much cash flow to make a noticeable difference, Berk assures us he's been there too and has you covered. Longtime fans know that mental and physical well-being are the pillars of Berk's design philosophy. In Right at Home, Berk opens up about leaving his parents' place at 15 and struggling to find his footing and a secure, consistent housing situation. When he was eventually able to find a spot, he was overcome with peace, and it clicked: "Your home needs to be a safe space for your mind," he writes. So, he made an effort to have this book include tips that everyone can use, no matter how much space or money you have.
Here, Berk sits down for a quick mental health check-in and shares his favorite way to spruce up a home on a budget, the easiest mental fitness exercise you can do, and what his ideal mental health day looks like.
[Sign up here to never miss these candid conversations delivered straight to your inbox.]
WM: Sometimes investing in home design can seem sort of frivolous, especially if you don't have much money. What helped you prioritize your spaces when you were starting out?
Bobby Berk: One of the main things I'm trying to do is democratize design for people. I want you to realize that you don't have to have a lot of money. In fact, sometimes you don't have to have any money to do things to your home. Having a nice home that functions doesn't mean it has to be an expensive home. It doesn't mean you have to be rich. It doesn't mean you have to hire a designer to do this.
There were times in my life when I was super poor, and I was barely able to pay the rent. In fact, sometimes I was not able to pay the rent, but I was lucky enough to have good landlords at the time. But I would get together with my other poor friends and also with some of our not poor friends—who were our favorite to bring into this group—and we would do this house stuff swap. Instead of a Tupperware party, we wouldn't bring over new stuff. We would bring over old stuff from our house that we were just kind of bored with and the stuff from a room that we wanted to freshen up. We would bring it all over and we would all do a swap meet. … That cost no money, and it was fun too.
WM: What part of your home do you tend to retreat to when you need to chill or need a little self-care?
BB: I love my living room. It has a lot of really great sunshine. That being said, I have a lot of great mood lighting in it for at night when you need to bring the lights down. Bringing the lights down actually makes your body automatically start producing melatonin because it realizes, Oh, it's getting dark. It's time to start going to sleep. If we sit in these brightly lit rooms, your body doesn't start to get that natural cycle.
WM: What's one of your favorite ways to make a home feel aligned with a healthy mindset?
BB: One of the big things I want to teach people in this book is thinking about what they surround themselves with. That doesn't have to just be decor, but it could be chaos. Chaos around you creates chaos in your mind. So if you don't keep a tidy home, you really open yourself up to having a lot more chaos on your mind. For example, making your bed in the morning. We don't think of making our bed as a huge accomplishment. Like, "Oh, look at me! Look what I can do." But when you set a goal and you accomplish that goal—no matter how small—you get this little subconscious check in your brain. Like, Oop! Check that off. Oop! I accomplished something. Oop! I got some endorphins going because I accomplished something I told myself I was gonna do. Then, by the time you get to work, your mind is in that natural mindset of accomplishment.
Where, in turn, if you're walking out the door and you realize, Wait, I did not make the bed, you have this little subconscious check of failure. Oh, it's this early in the day and I'm already not accomplishing things that I wanted to accomplish. And you might have that same mindset at work. Just simply making your bed can lead to a more successful career.
It's the same with your laundry. We all have that chair in our bedroom that becomes the catch-all. You know how you take the shirt off and you're like, Hmm, it's not quite clean enough to go back in the drawer, but it is also not dirty enough to go in the laundry. And you're like, I'm probably gonna wear it this week, so I'm just gonna lay it on this chair. Before you know it, there's 20 of those shirts laying on that chair.
So you tell yourself, OK, I'm gonna take care of that. I'm gonna take care of that. Well, when you go to bed that night and you didn't, you go to bed with a subconscious little check of failure. Then the first thing you're confronted with in the morning when you wake up is that pile of laundry that you did not accomplish the day before. Those little subconscious failures in your mind and in your home really do affect other aspects of your life. … It can affect your relationships, your job performance, and all kinds of things.
WM: What does your perfect mental health day look like?
BB: I usually like to start my day with a nice, long walk. We live right at Griffith Park in LA, so I like to be out in nature and walk with my dog and then spend time with my spouse and do a little reading, watch a little TV. But also, getting in some design stuff. I love being inspired everywhere I go, so I often love going to walk around neighborhoods. That's where I find some of my biggest inspiration. Even back in the day when I first moved to New York, my favorite mental health activity was just walking around the city.
WM: What message would you like to leave readers with?
BB: When it comes to everything, just be true to yourself. That applies to work and home design too. They always say, "Be you. Nobody else can be you." It's true. If you're really true to yourself, everything else will follow.
This interview has been edited and condensed for length and clarity.
Wondermind does not provide medical advice, diagnosis, or treatment. Any information published on this website or by this brand is not intended as a replacement for medical advice. Always consult a qualified health or mental health professional with any questions or concerns about your mental health.