Pro Tips
04.14.23
Can Decluttering Really Make You Happier?
Scam or legit self-care?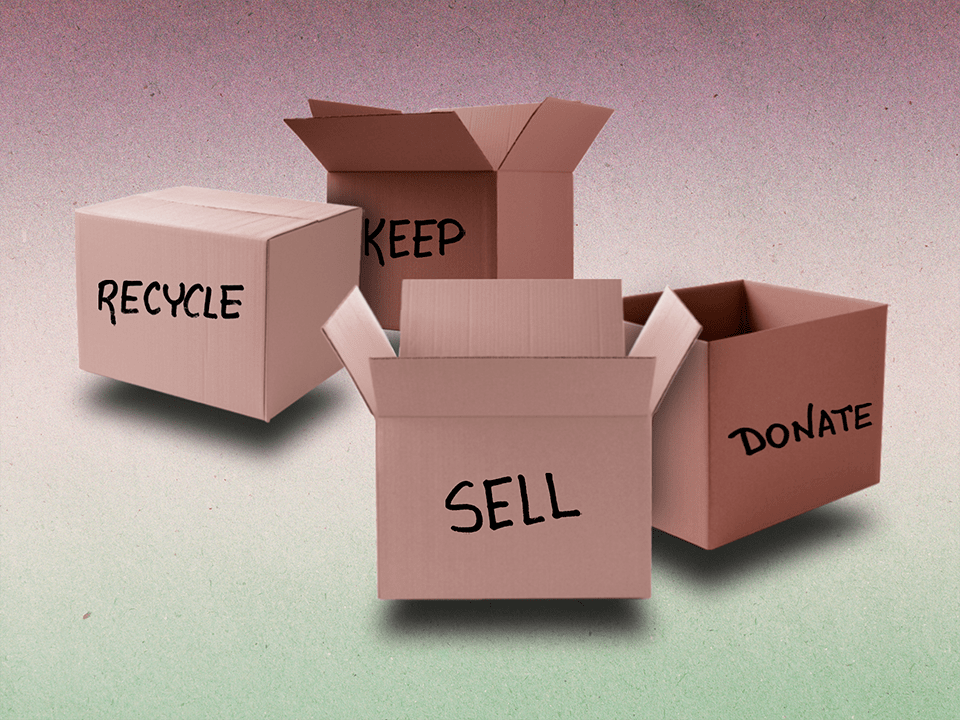 Shutterstock / Wondermind
If you've been online in the past decade, chances are, you've stumbled across a lofty claim or 12 about the alleged benefits of decluttering. From interrogating your closet with Marie Kondo ("Does this spark joy?!?!? Does it?!) to Pinterest organizational porn on how to declutter your home, cleaning for your mental health has long been an inescapable tip in the self-care canon. But is tidying up as life-changing or magical as the hype would lead you to believe?
Researchers have actually investigated whether decluttering can benefit your mental health from a lot of different angles, and the answer is a resounding…maybe! "The mental health benefits vary depending on each individual's situation," says clinical psychologist Dawn Potter, PsyD. For example, those who find a clean, organized space incredibly satisfying and restorative might benefit more than those who aren't bothered by mess, says Dr. Potter. Makes sense!
But even if the process of going through your things is really not your jam, getting it done can still have mental fitness perks. A 2022 study on emotions and motives related to decluttering found that participants had one of three attitudes about the deed: enthusiastic, disengaged, or challenged. While those who were hyped up about organizing found the decluttering process easier and more enjoyable, all three groups still experienced relatively high positive emotions after they finished.
And maybe that's because clutter can chip away at your sense of happiness and well-being even if it doesn't really bother you on a daily basis. If you've ever avoided having people over because of your closet explosion or ordered takeout instead of cooking because your oven doubles as storage, you get it.
More hype-affirming research: One study from the early aughts found that women who described their homes as cluttered were more likely to feel depressed and stressed than women who didn't. And a survey of people with mild to severe clutter issues suggested that the negative effects of messiness can take away from the participants' overall quality of life.
Research aside, putting stuff in its place can give you a sense of control in a world where you spend a lot of time and mental energy on things that are uncertain and unpredictable, says Dr. Potter. Preach.
Why decluttering can feel so damn hard.
While the benefits of a clear space are sorta obvious, actually achieving that ~look~ isn't as simple as a before and after pic. "Ideally, you'll wind up happier at the end of it, but you can't ignore the fact that addressing the clutter itself is often a very personal and emotional process," says Mary Houston, LCSW, cofounder of The Cove, a telehealth practice that serves adults in North Carolina.
Your emotional experience of decluttering depends on the two kinds of stuff clunking up your bedroom chair, closet, and the abyss under your bed: functional clutter and emotional clutter. Emotional clutter is less about how much stuff you have or how it's organized and more about what your stuff represents and how it makes you feel. Those sentimental items you struggle to part with or untouched supplies for all those pandemic hobbies you swear you'll get around to one day, yeah, that's all emotional mess. Because clearing out this kind of clutter requires confronting old goals and past versions of yourself, accepting yourself as you are, and unpacking your relationship to your possessions, it can feel pretty treacherous.
You're probably more familiar with functional clutter. That's stuff that interferes with your day-to-day activities and responsibilities, like a messy desk or closet that might as well be hiding the entrance to Narnia, and it comes with its own set of struggles. Unlike the emotional landmine that is emotional clutter, functional clutter requires a practical and organizational approach that can seem daunting in its own way.
Of course, it's very possible that your emotional clutter gets in the way of how you function in your space (pretty sure there was a whole TLC show about that…). but categorizing your chaos as emotional or functional can change the way you approach finding a place for it or getting it out of your space, says Houston.
The other thing that can get in the way of an effortless, made-for-Netflix decluttering experience is your motivation. That 2022 study also found that enthusiastic declutterers were more likely to report they did it because they enjoyed it or because they wanted to do it. Meanwhile, those who struggled with decluttering were more likely to say they decluttered because they felt they "should" or "had to."
That's not to say that external motivation to organize is never useful. "Sometimes decluttering helps because it makes the people in our lives happy. It might make fewer fights about the dishwasher and benefit our relationships," says Dr. Potter.
How can I make the process easier?
Getting through the challenges and frustrations of decluttering to reach the mental health benefits on the other side isn't easy, but Houston and Dr. Potter have some tips to make it suck a little less.
1. Mentally prepare for the type of clutter you're dealing with.
If you go into this process knowing that it's going to be really hard to sort through your childhood stuffed animals and that box of knickknacks your grandma bequeathed unto you, you'll be more equipped to take it on than if you jumped in blindly. Use that emotional clutter awareness to put some self-care breaks or coping strategies in place from the start.
It can also help to remind yourself that "you're clearing space to make room for the person you are now," says Houston. "That's an exciting thing. You'll have room to ask, What do I want to focus on now? How do I want to grow next?"
2. Reflect on your motivation.
Houston recommends getting curious about your motivation for decluttering in the first place. Is it coming from your own desires, values, or goals, or are there outside pressures and messages at play? "Sometimes when you pull back, it turns out, hey, maybe you don't want to be this neat and tidy person—you just internalized a lot of messages that clutter meant you were lazy when in fact, you're perfectly fine with clutter. Or you might realize, no, I actually do need a tidy space because it helps me feel more in control and relaxed."
"You can explore this through journaling or in therapy, but you can also just notice what's coming up for you as you think about and embark on decluttering," says Houston.
3. Choose your first task mindfully.
Spring cleaning fever can make us feel like we have to get all of our shit together immediately—and that's a recipe for overwhelm. If you're dreading getting started, Dr. Potter recommends doing either the smallest, easiest task first or the one that would make the biggest difference. That way, you can either ease yourself in or get a quicker sense of gratification from the work.
A single room, a single closet, a single drawer—all of these are acceptable starting points (and ending points, TBH). "Just because you can't do it [all] now doesn't mean you'll never be able to do it," says Houston.
4. Watch the negative self-talk.
"There's this cultural narrative that having clutter or being messy means something about you as a person," says Houston. So if you feel like a more-is-more lifestyle means you're lazy, dirty, or incapable, interacting with your own clutter can bring up a lot of guilt, shame, and judgment.
Dr. Potter suggests offering yourself some self-compassion. The goal is to shift your thoughts away from, I should do this because I'm lazy to I am going to feel better after I do this. "You might still choose to clean up because maybe it will feel good," she says. But, also, maybe you just skip it for the time being!
5. Tap a buddy.
They won't necessarily help with the decluttering itself, but their presence can make a big difference. Having someone to hang out with can keep you out of your head (hi, negative self-talk) and make the whole experience less daunting and lonely.
"It can feel really vulnerable to reach out to somebody and be like, 'Hey, like I've really been struggling with this and I could use a buddy,'" says Houston. "But it can also be really fun. Like, order dinner, put on a TV show, and just hang out as you sort through your stuff."
6. Honor your possessions.
To say goodbye to your belongings, Marie Kondo famously recommends expressing gratitude for how they've served you. But there are other ways to ease a tough parting, like selling your stuff and donating the money to a charity you find meaningful, or stitching all those sentimental T-shirts into a quilt instead of tossing them entirely.
"You can find ways to keep things so you can enjoy that emotional significance as opposed to keeping them in a way that produces clutter," says Dr. Potter.
The bottom line: Clutter can, directly and indirectly, impact your mood and overall mental health, but the relationship isn't as straightforward or universal as the internet might have you believe. Despite its challenges, though, you might just find it worth it.
Wondermind does not provide medical advice, diagnosis, or treatment. Any information published on this website or by this brand is not intended as a replacement for medical advice. Always consult a qualified health or mental health professional with any questions or concerns about your mental health.