Explainer
12.26.22
We're Not Talking About Anxiety Poops, but We Should Be
The code of silence stops today.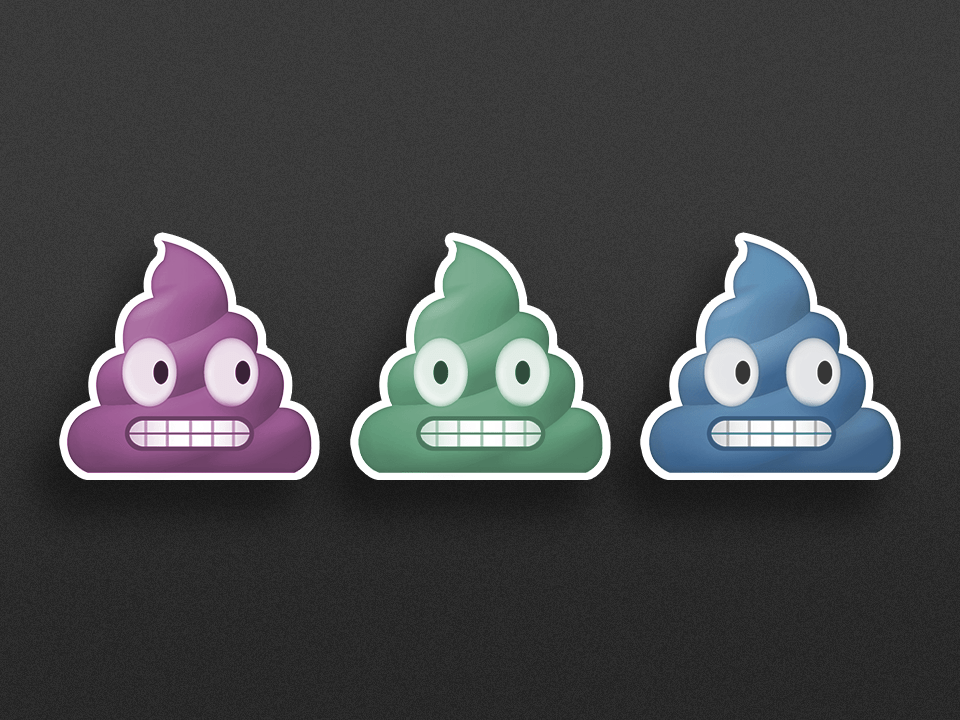 If you're reading this, you've been there: You walked into your boss's office to ask for a raise or dialed your bestie to hash things out after a fight or walked into your first Hinge date—and suddenly you need to shit, like right now. Anxiety poops, or diarrhea caused by anxiety, are, in fact, a very real (and horribly inconvenient) thing, and you don't have to have a gastrointestinal or anxiety disorder to experience the horror that is feeling like you're going to poop your pants in The Olive Garden.
While validation alone is nice, there are a few things we should all know about why anxiety poops happen and what you can do to literally keep your shit together.
So, why can anxiety cause diarrhea?
So, yes, anxiety can cause diarrhea. You've probably heard the term "mind-body connection," which sums up about a million different ways our brain and the other parts of our body communicate with each other. Part of that network of chit-chat is the brain-gut connection, which David J. Levinthal, MD, PhD, director of UPMC's Neurogastroenterology and Motility Center, describes as a two-way highway through which our brain and digestive system are constantly talking. It's a pretty complex system, but the gist is that our brain, spinal cord, and about a bajillion nerves in our gut send signals to each other.
When you're super stressed or anxious, your brain triggers the release of stress hormones and neurochemicals in a fight-or-flight response. That impacts your body in a bunch of different ways. One of the least convenient: The sudden urge to poop. This happens when those messengers tell the muscles in your digestive system to start squeezing, sending you on a mad dash to the bathroom, Dr. Levinthal explains.
If you're thinking, Hm, seems like stopping to go to the bathroom is a pretty ineffective way to fight or flee, that makes sense. But it's possible that it's your body's way of literally clearing out unnecessary crap so you can focus on the crisis (or awkward break-up convo) ahead, explains psychiatrist Traci Jenelle Speed, MD, PhD, assistant professor of psychiatry and behavioral sciences at Johns Hopkins University.
Annoying news: A lot of the time, people who are generally more anxious are also more likely to be struck by anxiety poops, says Dr. Levinthal. It all ties back to that gut-brain connection. Say you're bugging before a big work presentation and your brain responds to the threat by telling your innards to get moving. If you start to panic about your churning stomach, your body's stress response ramps up even more, making it harder to ignore the swirly-whirlies in your gut. A vicious cycle indeed.
What's more annoying is that worrying about having anxiety poops makes it more likely that you will get them, says Dr. Speed. Over time, it's possible to condition your body to equate feelings of anxiety with pooping pronto. You might also notice that the gotta-go feeling is extra intense if you have a lot of food or caffeine in your system, explains Robert Stephen Bulat, MD, PhD, clinical director of neurogastroenterology at Johns Hopkins. When a meal (or java) hits your stomach, it sends signals—known as the gastrocolic reflex—to your brain and colon letting them know it's a good time to, um, free up some space.
How to avoid anxiety poops when it's really just not a good time for this shit.
Obviously, no one ever wants their bowels to go rogue. Luckily, there are a few things you can do to stop anxiety poops (or the thought of them) from messing up important moments in your life.
Maybe hold off on coffee and food.
If you're approaching a big moment, whether it's something you're excited about or absolutely dreading, don't eat a big meal or down a double-shot latte within an hour of the thing, suggest Dr. Bulat and Dr. Levinthal. This way, you don't have to worry about that gastrocolic reflex cramping (like actually) your style.
If you can, take a preemptive poop.
One way to guarantee the floodgates stay closed is by being proactive. Get thee to the toilet 20 minutes or so before showtime, Dr. Levinthal says. If you're able to, ahem, clear things out in advance, any urges you feel in the moment will be less intense.
BE NICE TO YOURSELF.
It's easy to beat yourself up when it feels like your body is betraying you, but before you really go down the rabbit hole, remind yourself that this is a completely normal physiological response to stress that happens to loads of different people, says Dr. Speed. "It can help to take a moment to acknowledge, Hey, I must be really stressed about or invested in this," Dr. Levinthal suggests. "It really reflects that gut-brain connection and the fact that anxiety is not just a mental state but a body state, too."
Try some quick breathwork.
When your inner alarm is going off, some intentional breathwork can be super helpful. "We can actually help regulate our nervous system and reset in just one or two minutes," says Dr. Speed. "Slow, deep diaphragmatic breathing, in which you put your hand on your stomach and focus on the feeling of your stomach expanding and contracting, can help slow your heart rate, lower cortisol levels, and reduce stress to re-establish some balance." Find somewhere quiet (yes, a bathroom stall works), set a timer for a minute or two, and breathe it out. A calmer mind means a calmer stomach.
Just don't wait until you're already in the thick of it to try breathwork for the first time, says Dr. Speed. You'll get the most payoff if you add it to your daily routine and practice when you're calm.
Get some help from a pro.
If poops-gone-wild and/or anxiety happen a lot, it's time to see a professional, like a therapist, psychiatrist, or gastroenterologist. They can arm you with coping skills to call on when things get stressy and look into whether underlying health issues might be contributing to your unexpected toilet time or out-of-control worries, says Dr. Speed.
When both anxiety and gut issues are involved, it's important to check for conditions like inflammatory bowel disease and celiac disease, notes Dr. Bulat, so leave your shame at the door and speak up if you want to cross unruly bowels off your list of things to worry about.
Wondermind does not provide medical advice, diagnosis, or treatment. Any information published on this website or by this brand is not intended as a replacement for medical advice. Always consult a qualified health or mental health professional with any questions or concerns about your mental health.