Q&A
09.16.22
Cody Rigsby Says Therapy Is Just Like Working Out 
"The more you go, the stronger you feel."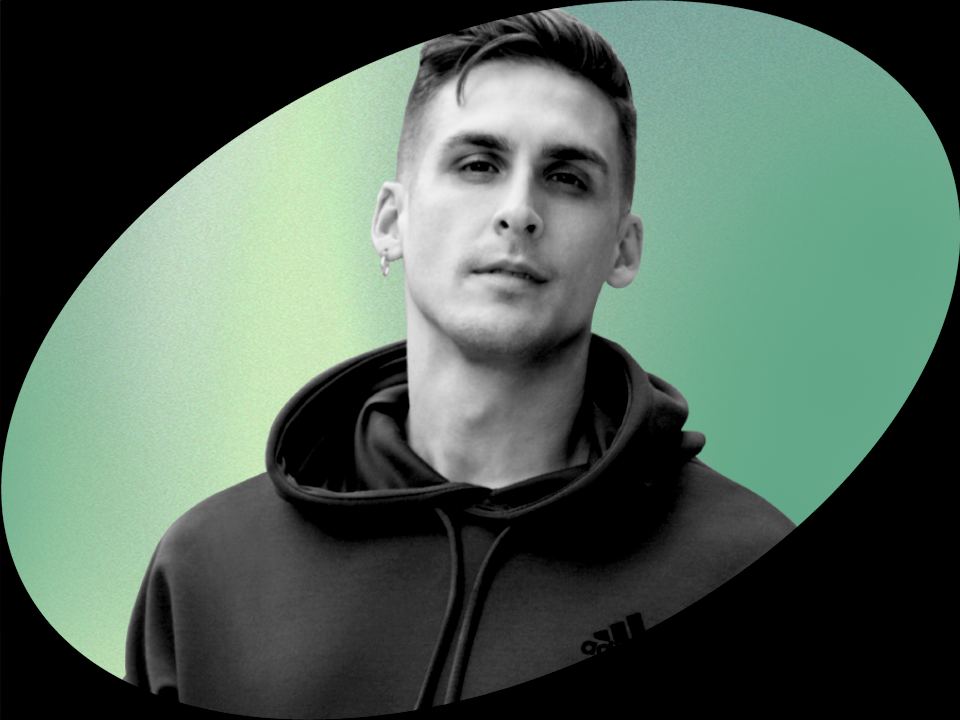 Photo Credit: Courtesy of Peloton
Peloton instructor and hype man extraordinaire Cody Rigsby knows that therapy doesn't have to be the only tool in his mental health toolbox. It's the day-to-day tidbits of self-care and reflection outside of therapy that also matter. And sticking with small, consistent mental fitness habits has helped him make sustainable changes to his mental health. Slow and steady, you know? Here, Rigsby opened up about all of this, getting vulnerable, and reconnecting with himself.
[This interview originally appeared in a June 2022 edition of the Wondermind Newsletter. Sign up here to never miss these candid conversations.]
WM: How are you doing lately?
Cody Rigsby: Frankly, not amazing, but I'm doing my best. I think a big thing that I'm recognizing right now, especially as I think about my mental health and things I'm talking to my therapist about, is that my life has really shifted over the past year-and-a-half to two years with Peloton, with success, with notoriety, fame, whatever you want to call it. I'm starting to recognize that I've lost a little bit of myself through success and fame, and I've lost a little bit of the prioritization of my self-nourishment.
WM: What do you do to connect with yourself again and find that nourishment?
CR: You've caught me in a really interesting time where I've really been thinking about this stuff this week and talking about it with my therapist. I think I'm figuring that out. But for me, I know that it's about creating time and space within my day—every day—that I can kind of look inward, reflect, process, confront myself, and get to know myself a little bit more. I think it's really important that that becomes habitual. I feel like it can be easy in crises or when we're shaken up to be on top of it. But when life gets good or we get busy, it becomes really challenging to sustain those practices.
For me, it's a matter of re-centering myself and finding time in my day to make sure that I'm at least meditating and not letting [myself deprioritize] scheduled therapist appointments. Also, just connecting with my people—my friends, my colleagues—in a way that feels nourishing and soulful but also as a place to vent or talk.
WM: At what point in your life did you start therapy?
CR: I started therapy about six years ago when I was going through a breakup. In that breakup, I was kind of confronted with some of my flaws, things that I did that weren't loving or were disrespectful to my partner at the moment. It was a place where I wanted to confront that and be better.
I quickly learned that it was about a relationship with myself, with loving myself, and really processing traumas that I never confronted. I think in therapy it all kind of goes back to our childhood or our parents. And so I think there was a lot to process there, and I'm still doing a lot of work—a lot of work.
I talk about my mom in my rides a lot. I absolutely love her, but I think there was a time when I just felt that I was the adult in the situation. I feel like, for a lot of my life, I've been taking care of my mom at times when I wasn't ready. Now I'm in a place where I'm ready and can provide for her. I think in the past that responsibility was put on me, and I think there was a lot of resentment.
Knowing that my mom was getting older, I didn't want that resentment. I wanted a better connection. I wanted to love deeper, to fully show up for someone that I love. So it meant really diving into that relationship, diving into the resentment, diving into anything that happened in my younger life, letting it go, and then just accepting. Instead of fighting this idea that I'm a caregiver and I have to take care of my mom, I accept it and do it from the most compassionate place that I can.
WM: Do you have any advice for people who are hesitant to start therapy and dive into self-reflection?
CR: Oof [laughs]. If we don't go into that space, we're never going to change, and we're never going to find relief, or let go of that pain or that trauma or the things that are bothering us or our bad habits. We gotta take a really good look at ourselves.
That doesn't mean that you have to dive into the deep end. You need to experience therapy in increments that you feel comfortable with. And it's just like working out: The more you go, the stronger you feel. I can't expect someone who's never taken a cycling class to take a 45-minute HIIT ride that's gonna be super challenging. They've gotta start with a 20-minute beginner ride and start to know the bike, the lay of the land, how classes work. And then you build yourself up to those more challenging things, and you feel stronger and more ready to confront the really scary stuff.
WM: You've said that your XOXO, Cody cycling and live advice series almost feels like group therapy. Can you talk about that more?
CR: I'm pretty open and honest and vulnerable with my storytelling, even though it might come off as funny. But vulnerability also doesn't always have to be so deep. Vulnerability can be just showing who you are, all the parts of you, the light parts as well.
I want to just keep showing up and share my story in hopes that people don't feel they're alone in their fight or in their journey. And all I can do is continue to share my experiences, and I hopefully have a lot of life left to live and I can share those experiences as they come and when I'm ready.
WM: Working on yourself mentally isn't always fun, but is there anything in your mental health journey that you find enjoyable?
CR: I feel like when we talk about mental health, it always kind of has this dark cloud. Or it has to be so deep and so serious 'cause we are really looking at ourselves—and sometimes we don't like to look at ourselves. Our mental health is also rooted in taking care of ourselves. You know, you go to therapy, you dive into deep things, but where are you carving out the time to take care of yourself? And I think there's a lot of joy in those places. Maybe it's travel, maybe it's working out.
It's so funny, I literally just journaled a little bit about this, this week. I was like, "What does self-care look like for me?" And one of them was giving myself enough time in the day to pick out a cute outfit and do my hair and feel cute. That is self-care to me, and it has such an impact on the way that I show up the rest of the day. It makes me feel confident and powerful when I step out, and it makes me feel like I'm taking care of myself.
This interview has been edited and condensed for length and clarity.
Wondermind does not provide medical advice, diagnosis, or treatment. Any information published on this website or by this brand is not intended as a replacement for medical advice. Always consult a qualified health or mental health professional with any questions or concerns about your mental health.