Explainer
06.28.23
What It's Really Like to Live With Dissociative Identity Disorder
Having several different personalities can be very frustrating.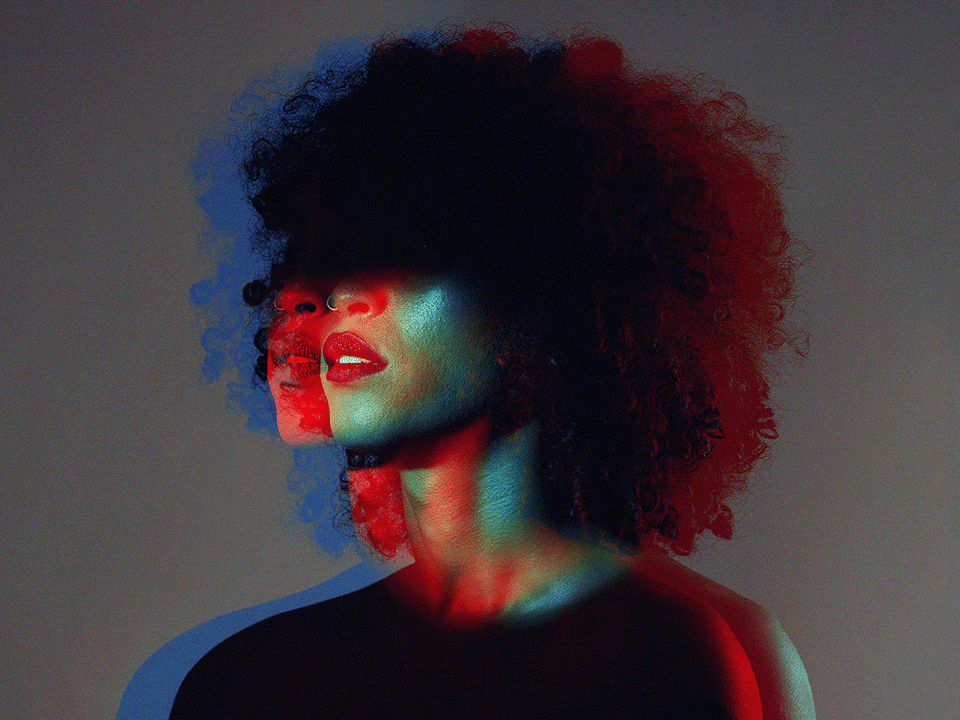 Shutterstock / Wondermind
Back in 2017, Jordan Peele's Get Out premiered and was instantly celebrated for its fresh take on the psychological horror genre. I remember watching the movie in the theater, feeling an eerie familiarity when Daniel Kaluuya's character gets sent to the "Sunken Place" (a trance-like, otherworld state victims are trapped in when their bodies are taken over by the hosts) after being hypnotized by his girlfriend's mother. That feeling of your consciousness being sent away against your will while you have to watch another being or personality take over was a feeling I knew all too well as someone who was diagnosed with dissociative identity disorder (DID) 16 years ago.
DID, a mental health condition marked by multiple distinct personalities and recurring lapses in memory, is found in roughly 1.5% of the U.S. population, according to a small 2006 study highlighted in the Diagnostic and Statistical Manual of Mental Disorders (DSM-5-TR). And the condition is shrouded in stigma and misconceptions. For instance, the way DID is often shown in the media can be pretty harmful (looking at you, Split), which just stokes more fear among people who don't understand the diagnosis and think of us as violent, creepy, or evil. Predictably, that can lead to anyone with DID feeling ashamed, alienated, and scared to speak up and share what it's really like to live with the disorder.
The stigma around this condition certainly contributed to my low self-esteem growing up. But after nearly two decades in therapy and longing to connect with people who know what it's like to live with this diagnosis, I'm finally shedding some of the shame and getting comfortable talking about my experience.
Because DID continues to be so misunderstood and because it can be hard for others to share their stories, here's what you should know about the condition, its symptoms, and what it can feel like to live with this diagnosis. Hopefully, with a little more education, we can all learn to talk about this condition from a place of compassion and patience, instead of fear.
So, what exactly is dissociative identity disorder?
Formerly known as multiple personality disorder, DID is "a mental health condition in which a person has two or more distinct identities or personalities, each with its own pattern of thinking and behaving," explains Becky Spelman, DPsych, registered psychologist and founder of Private Therapy Clinic. Some cultures might compare these distinct personalities to being possessed by spirits or demons, notes the DSM-5-TR, but the DID diagnostic criteria notes that this "disturbance is not a normal part of a broadly accepted cultural or religious practice." Plus, symptoms of this condition aren't explained by substance misuse or any other conditions, like having seizures, the DSM-5-TR adds. 
To meet a diagnosis, someone also has to experience distress and trouble in their daily functioning along with dissociative amnesia, which is when you can't remember certain parts of your life. And this isn't just forgetting if you turned your stove off or why you disliked that one person in high school. Dissociative amnesia means you might not remember a specific event (or a particular part of some life event), period of time, or part of your identity, and you might not even realize that you have these memory gaps.
Other dissociative identity disorder symptoms include depersonalization, which is feeling like you're not in control of your actions and like you're watching yourself from outside of your body, Dr. Spelman says. There's also the potential to hear voices, have multiple overlapping thought streams, and "feel like you're more than one person through a series of personality shifts that can be incredibly rapid and subtle," she adds.
I started to experience symptoms around the age of 12. I've always struggled with long-term memory, but I realized the extent of how bad it was when I noticed that I had little to no memory of big chunks of my childhood before the age of 8, which still rings true to this day. Knowing that I can't remember parts of my childhood has always been a source of pain for me, especially when I'm around friends who can freely and easily recall fun kid adventures or stories with their loved ones.
When it comes to those personality flickers, they tend to show up in the types of music I listen to, the changes in my sense of smell and taste, and the types of food I eat. Like, one minute I could be eating a burger while watching TV, and a few minutes later—with no memory of what happened since I started eating—I could be throwing the burger in the trash because I suddenly hate them.
And, to this day, there are many times when I talk to people who aren't there, but I don't talk to them as myself, Stephanie. Instead, it's like my true self is unable to do anything but watch as this other entity takes over my thoughts and actions. These "episodes" I experience are often sporadic and last anywhere from 2 to 20 minutes at a time for me, and they tend to happen more frequently whenever I feel bouts of anxiety or deep depression. Sometimes I don't immediately see that I've been "out of it" for a while.
As you might've guessed, it's easy to feel frustrated about how my mind works and the loss of control. Dr. Spelman adds that these different personalities can make people with DID feel hopeless, irritated, depressed, or anxious.
What causes dissociative identity disorder?
This disorder is often associated with a history of severe trauma, like physical, sexual, or emotional abuse, Dr. Spelman notes. The DSM-5-TR also says that experiencing multiple painful childhood medical surgeries, dysfunctional family dynamics, and war or terrorism can also be linked to this condition, and the disorder and its symptoms can show up when you're a kid or later in life. In a nutshell, DID could be seen as the brain's way of processing trauma by forcing the person to distance or detach themselves from said trauma at any given moment, Dr. Spelman adds.
Through years of therapy, I've been able to somewhat pinpoint that the majority of my trauma happened between the ages of 8 and 16. But because I suffer huge gaps in my long-term memory, I might not be the most reliable narrator here.
What does dissociative identity disorder treatment and diagnosis look like?
To make a DID diagnosis, a doctor will basically start ruling out other cultural and physiological causes and mental health conditions that could contribute to whatever DID symptoms someone has. That can look like ensuring memory loss isn't due to a physical head injury and making sure depersonalization isn't a result of meditative practices from some cultures, says the National Alliance on Mental Illness (NAMI).
Treatment for DID will vary from person to person depending on the severity of their symptoms. But the goal is usually to work through past trauma and help the person bring these different identities together so they can integrate their memories and personalities and work together with shared goals, Dr. Spelman says. The most common ways to treat DID include therapeutic modalities like cognitive behavioral therapy and dialectical behavioral therapy, she says. And medications (think: antidepressant and anti-anxiety prescriptions) might also be recommended depending on the person's symptoms.
Coming from a West African background, it was difficult to advocate for myself once I noticed my symptoms, and I had to sneak around to go to therapy. My community's reluctance to talk about mental health meant it took years for me to get a diagnosis, but once I started going to therapy, it made a significant difference in my life.
I've been in therapy for 15 years now, and it's safe to say I'm a fan. Being able to talk to a therapist helps me feel safe and process painful memories, which helps me understand why I have this condition. While I can't force myself to get rid of this diagnosis, therapy has given me the tools to manage my condition and all the complicated emotions that can come along with it.
Therapy also gave me the courage to be open about my condition. I was initially worried about how people might react to hearing that I live with this disorder, but I'm happy to say that I was met with floods of support and stories from others who also share this diagnosis. It felt empowering to finally have the language to talk about my mental health and share my experiences with other people, and I hope that as we continue to destigmatize mental health, these less common conditions aren't left out of the conversation.
Wondermind does not provide medical advice, diagnosis, or treatment. Any information published on this website or by this brand is not intended as a replacement for medical advice. Always consult a qualified health or mental health professional with any questions or concerns about your mental health.