Stories
03.01.23
13 Therapists Share Why They Go to Therapy 
Mental health pros have things they need help processing too!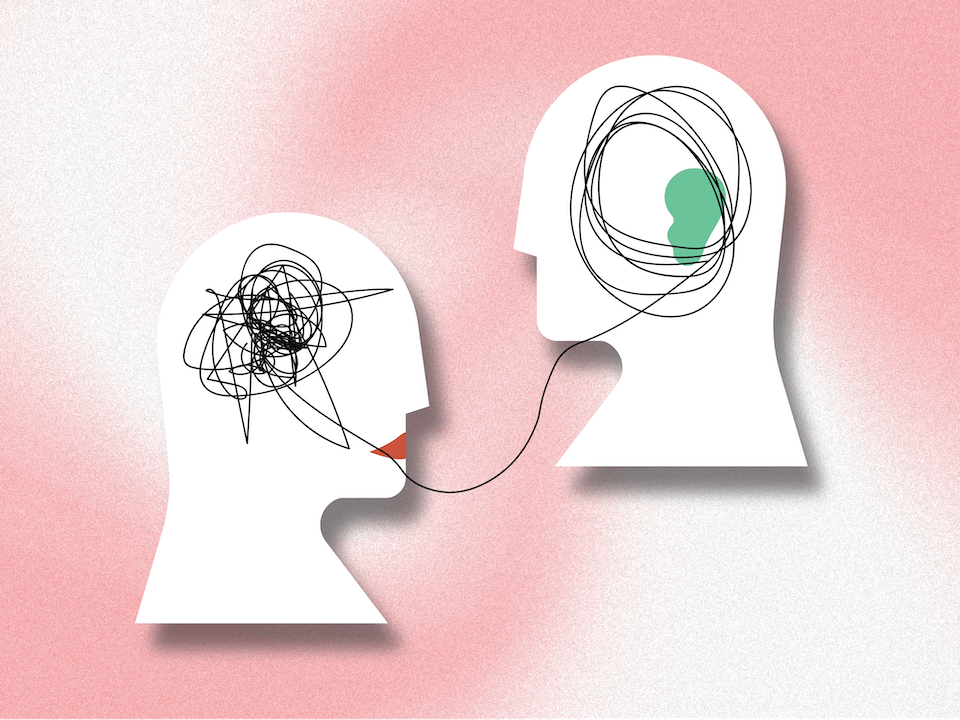 Shutterstock / Wondermind
When you have the moolah and time to go, there are so many good reasons to try talk therapy. You can learn to actually (finally!) speak to yourself kindly, handle mental health symptoms, communicate your feelings—the benefits come in big-time bulk. I mean, even therapists have therapists.
If it seems a little weird to you that therapists are also often in therapy, it shouldn't. After all, therapists are beautiful imperfect humans like the rest of us—just with specialized mental health training. Obviously we know they're fans of mental health care, but we wanted to know why, specifically, they go to therapy and what they get out of the experience.
For instance, licensed clinical psychologist Ryan Howes, PhD, points out that it's definitely a privilege to make therapy a consistent part of your routine, but he sees a therapist to better himself for his own sake and for the sake of his clients. "They deserve and pay for the best version of me, and therapy helps me work toward that," he says.
While, yes, being in top mental shape to assist clients with their emotional situations is a huge reason therapists see a therapist, it's not the only one. Here, mental health pros like Dr. Howes share the biggest things they get out of meeting with a professional. You know, just in case you were wondering.
1. I can focus on myself.
"As a child of immigrants and an eldest daughter, I have always been the fixer, savior, problem-solver, translator, and more. Therapy was the first time in my life in which there was space for me to be vulnerable instead of strong. To receive care instead of give it. To set down my armor that had protected me and my immigrant family my entire life and just exist without being in service of anyone else. When I am in therapy—which I frequently am because it is crucial for me to be an effective psychologist—I am much more gentle, compassionate, and loving towards myself, and that allows me to overflow those very things to my family, my community, and my clients." —Jenny Wang, PhD, licensed psychologist
2. It makes me a better therapist.
"I've been in therapy since the mid-'90s and plan to be in some form of therapy as long as I work as a psychologist. I believe my clients deserve that. As a therapist, the primary tool I bring into the room is myself. When a client talks about a situation in their life, I have dozens of potential responses I can give. The one I choose depends on my education, my professional experience, and my own personal gut reaction. But if my client has a problem with a bad boss, I don't want my own bad boss stories to taint my response. When a client wants to talk about family issues, I don't want my own family issues to drive my response. I want to be able to identify and manage every bias I may have.
So I go to therapy to understand myself better, to know why I feel and behave the way I do, and to identify any blindspots I could be bringing to my work as a therapist. For example, I lost a parent early in my life and that has understandably made an impact on me as an adult. When I work with a new client who also lost a parent, it can be tempting for me to assume that we had the same experience and coped with it in the same way with similar results, which is probably not true. Through regular, in-depth therapy, I can better distinguish my baggage from my clients' baggage and pay attention to their experience instead of assuming we have the same hurts, history, and outcomes." —Ryan Howes, PhD, licensed clinical psychologist
3. It's gotten me through the loss of loved ones.
"When my mom's cancer came back, it was worse and felt like another blow to the chest. Had I not been in therapy, I don't see how I could have handled that because, at the same time, my grandmother, who I was also very close with, got diagnosed with cancer. And she died three months before my mom. That's why I say therapy was life-saving for me because even being a therapist, you think you've got the tools and you can help yourself, but that's not necessarily the case. It's a whole other ball game when you're on the other side of the table.
That said, there is a tendency to believe that therapy is only an outlet for when 'the going gets tough.' On the contrary, my therapist has been accessible to me unconditionally. I have attended therapy not only when times were tough, but also to check in when things seem to be going well. It's best to already be in somewhat of a routine with someone as the waves come rushing in." —Jasmine Cobb, LCSW, licensed grief therapist
4. I have room to be my full self.
"Therapy has offered me space to be a human with many needs, flaws, family issues, triumphs, insecurities, fantasies, mistakes, joys, and everything in between. It's frustratingly and thankfully the only place that I can fully be myself, and because [my therapist] has known me for so long, I feel known. And when you feel known and seen, valued and heard, there's freedom that you can access that's unlike any other type of feeling or relationship.
I believe that healing, growth, and intimacy with yourself and others is rooted in freedom: safe access to be your whole self and the ability to grow and change throughout your life. The freedom to not be perfect, the freedom to change your mind, the freedom to not know everything, the freedom to be vulnerable, etc. and to still be worthy and valuable as a person." —Ayanna Abrams, PsyD, licensed clinical psychologist
5. I can see how my work impacts me.
"Being a psychologist to numerous people can take a toll on me, so I find it useful to see a therapist of my own to not only unpack my personal life but also unpack the impact of my professional role on my mental health. In therapy, it's not the clients that I mention but rather how taking care of others can impact my ability to take care of myself. When I give so much of myself to others and connect with their experiences, am I allowing for spaces where I am a person and not a therapist whose job it is to take care of someone else?
I've found it most useful to have a designated space in my busy week where it's about me—where I get to be a human. A time where I don't have to hold anyone else's emotions and, oftentimes, traumatic experiences. It's a time where I can express my own personal and professional confusion and frustrations and try to make sense of things. It's nice to put my therapist hat aside and be myself unfiltered." —Naeema Akter, PsyD, licensed clinical psychologist
6. I've learned more about myself.
"Whether it was Eye Movement Desensitization and Reprocessing to tend to my trauma wounds or a generalist for talk therapy, [seeing a mental health professional] has helped inform me of what I may need in different seasons of my life. It may not surprise many folks, but insecurities, which plague many people, also affect clinicians as well. I have found therapy to be one of the most rewarding experiences. It has helped me gain more insight about my inner workings as well as build a relationship with myself, which has gone neglected in the past." —Luis Merced, LMHC, licensed therapist
7. It's a space to get through hard times.
"Having a consistent and trustworthy place each week dedicated to working through the thoughts and feelings that can feel overwhelming has always helped me cope and feel not alone in my experience during challenging times. During a stressful time, big transition, relationship loss, etc. is when my old thought patterns and conditionings are most likely to rise up, so having support to increase awareness of this and practice skills to respond effectively has been vital to help keep me moving forward." —Robert Yeilding, PsyD, licensed clinical psychologist
8. I've learned that it's OK to not have it all together.
"It took me a long while to realize that a good chunk of my time in therapy was spent being a therapist in therapy instead of just being a client. I also, understandably, feared the stigma that comes with being a therapist in therapy, as it's often assumed that mental health professionals need to have it all together. Earlier in my career, I often found myself thinking, What if the therapist thinks I'm a terrible therapist because I've shared this with them? What if it's too much? This kept me out of therapy for a time and kept me very censored when I went back.
I'm fortunate that now I work with an amazing therapist who has encouraged me to use my time in therapy to be the fullest, most authentic version of myself. She has been an incredible model of vulnerability, authenticity, and transparency, and being her client has absolutely made me a better therapist. Having a space that is judgment-free, open, warm, and kind—regardless of if I'm a therapist or not—has been, and will likely continue to be, helpful beyond words." —Jessica Sprengle, LPC, licensed therapist
9. I get to unpack everything. (Seriously, everything.)
"The last few years have been a particularly interesting time for mental health professionals. There has been a lot of transition: Telehealth—which was once rare—is now very much a part of our lives, COVID happened, and we're learning to live and work through the same life experiences our clients may be going through. To say the least, it has brought up a myriad of feelings.
As caretakers, it is very easy to forget that we are also having our own experience. Having a therapist helps me to recenter my own humanity. Navigating SO MUCH—living through social injustices, political unrest, new wars, multi-child parenting, career growth, working from home—honestly has all been a lot easier with outside support. I don't know where I would be without [my therapist]." —Aja Evans, LMHC, financial therapist
10. It helps me get unstuck.
"The most helpful part of being in therapy for me has been having someone that is unbiased witnessing me in my vulnerability and providing the space and guidance to heal and move through the parts of life where I can feel extra stuck. Therapy is sometimes about celebrating the wins, which feels great, but for me, it's more often about embodying my feelings." —Sahar Martinez, PsyD, LMFT, licensed therapist
11. I'm learning to be kinder to myself.
"I started with my first therapist in college, and I've continued it ever since. It's been a consistent part of my life before [and after I became] a mental health professional. It gives me a perspective that's different from my own, my family's, my friends'—someone who's not emotionally immersed in what I'm going through. So I find that third-party perspective to be really, really helpful and allow me to see what I'm going through with a different lens, which gives me a more creative mindset when thinking about different possibilities and solutions for moving forward.
I'm able to help others with looking at their lives and analyzing it with logic. But in my own life, I'm immersed in those emotions so I can't apply the same strategies that I would, let's say, with clients. In my own life, I'm not a psychologist, I'm a human being, so it's critical for me to have someone that helps me with that part just as I do for my clients.
And it also helps me to walk the talk. I tell my clients to do a lot of things that I do as well. So if I weren't willing to do it, I don't think I'd feel comfortable telling others to try certain things, like self-compassion. It is probably the hardest thing and the hardest exercise I've ever had to do. I would not know that if I weren't actually working on my own self-compassion." —Carolyn Rubenstein, PhD, licensed psychologist
12. I can deal with my personal life outside of work.
"Therapy at its core is a resource. We think that we only go to therapy when we're in crisis, but we can go to therapy when things are going well, when we want things to go better, and beyond. And I think it's extremely important for therapists who oftentimes hold a lot of the weight of our clients to make sure we have opportunities to deal with our own personal lives and experiences." —Lawrence Jackson, PhD, LMFT, licensed therapist
13. My emotions feel less intimidating.
"Therapy serves as reassurance: I can come into this space with my big feelings and that person is still intact, I am still intact, nothing bad happened, and we're going to talk and think together again the following session. That makes feelings a lot less scary. You need to feel safe enough to be able to put it all out on the table to examine it, and that's what this relationship has offered." —Eliza Jaquez, LMFT, licensed therapist
These quotes have been edited and condensed for length and clarity.
Wondermind does not provide medical advice, diagnosis, or treatment. Any information published on this website or by this brand is not intended as a replacement for medical advice. Always consult a qualified health or mental health professional with any questions or concerns about your mental health.