Q&A
04.03.23
Drew Afualo Is Therapy's #1 Fan
Since blowing up on TikTok, Afualo has embraced taking care of her mental health in a new way.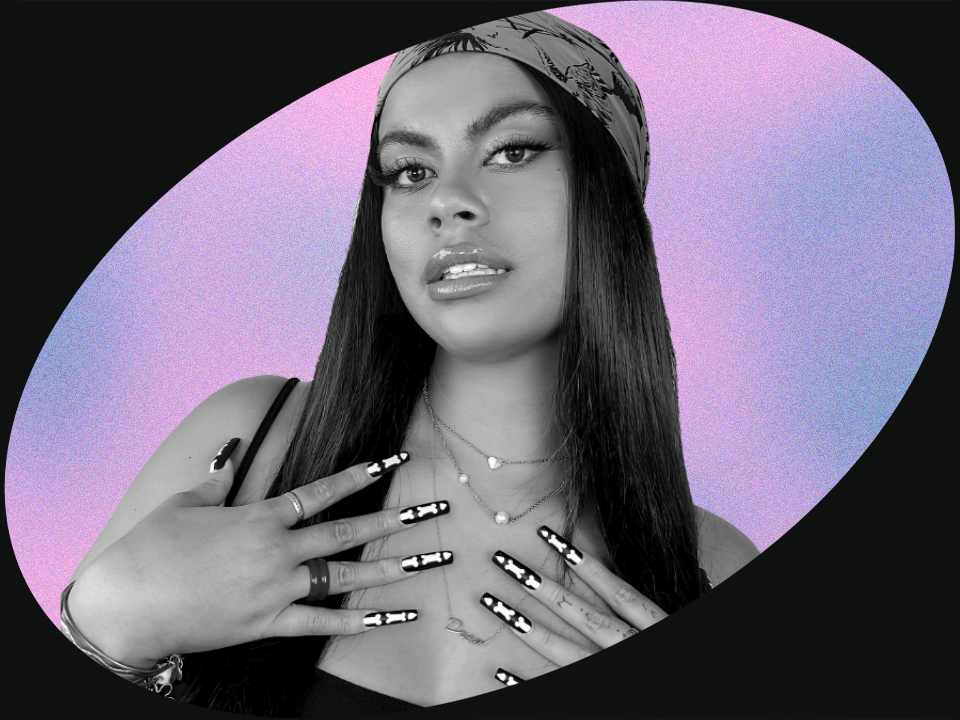 Photo Credit: Angella Choe
Drew Afualo is basically the TikTok version of Batman…if Batman was solely focused on taking down misogynistic, bigoted dudes. You see, if Afualo comes across a video of you spouting off nonsense that amounts to claims about women not deserving respect or using the phrase "alpha male" to justify your bad behavior, she minces no words and punctuates her truth bombs with her familiar chuckle. Her critics have accused her of being a bully, but really, she's just not one to be quiet when trolls target women and people from marginalized backgrounds.
"I guess the tea about that is everyone can relate to dealing with a terrible man at one point or another. Literally everyone has a story. That's a them problem," she laughs.
The subtext behind these digital takedowns often surrounds a central theme: that everyone is deserving of love, happiness, and joy. "To see someone like myself being so bold and open about what I believe and how I feel we should be treated, how I feel we should react to oppression or misogyny or discrimination, I think it encourages them," she tells Wondermind. "I'm not a terrible person because I feel like I deserve better. I'm not an awful person because I want to stand up for myself. I'm not an awful person because I don't want to be nice to people who are awful. It makes them feel validated in their emotions and their life experience."
As her platform of eight million and counting continues to grow (even landing her a book deal in the process, mind you), Afualo checked in with Wondermind to talk about how she learned to take care of her mental health since blowing up on TikTok, being therapy's biggest fan, and the emotional toll of crappy jobs.
[Sign up here to never miss these candid conversations delivered straight to your inbox.]
WM: How are you doing lately?
Drew Afualo: I'm good. I'm exhausted in a good way, though. It's a real champagne problem to be tired for the reasons that I'm tired. So other than that, wonderful.
WM: How has creating this whole community on TikTok impacted your mental health?
DA: I think it's given me a more acute sense of my impact and what I have the ability to do, and how important it is that I'm acutely aware of what I do. It can make me more nervous and anxious when it comes to my own mental health, but it's never a bad thing to expand your mind and be more acutely aware of things that could be impactful to certain people.
I've gone to therapy since I got the platform, which is a great thing. I love therapy; therapy has changed my life. I encourage everyone to go every single time I get a chance. If therapy has one fan, it's me. And if it doesn't, I'm dead. It's just life-altering. I love my therapist to death. It's so corny, but with all the power comes a lot of responsibility. It's something that I need to balance and be aware of, but I also need to take care of myself and understand that I'm human and I make mistakes.
WM: What's one way you've benefited from therapy?
DA: One of the greatest things therapy has given me was a greater understanding of myself and my boundaries, because I feel like my interpretation of the world and how it perceives me is far different than how I perceive myself sometimes. Therapy has really bridged that gap for me and allowed me to understand that just because people see me one way doesn't necessarily mean that's who I am entirely. … Therapy has given me such peace of mind [by] being able to connect those two things and understand that it's not a bad thing, and it's not necessarily anyone's fault. It's just human nature to perceive what we see.
WM: As someone who is into affirmations, which ones are you working on right now?
DA: I have some that I tell myself every day. I tell myself that I am worthy. I am a good person. I am worthy of all the success that I've achieved. I deserve all of the things that I have now, I deserve to be happy, and I deserve to be loved.
WM: How did you get into affirmations?
DA: I did a lot of reading over the pandemic. I read a lot of self-help books, a lot of books that help you reframe your mindset and help you come to terms with what matters and what's important and why putting yourself first is not inherently a selfish act—it's almost required. To be happy and successful, you need to prioritize yourself at some point.
So I read a lot of stuff like that because the job I had before went down in flames. It really spun me out about who I was, what I was going to do in this world, what my next goal was, what my path really was, and all that stuff. I feel like that really pushed me to search for it, so I read a lot of books that helped me.
Talking to yourself or telling yourself nice things feels weird in the beginning, but then you have to ask yourself, Why is it so bad for me to say nice things to myself? Why does that make me feel icky?
WM: Terrible jobs can mess you up for so long.
DA: Oh my God. It was a year and a half plus, probably. I was so messed up from that job, mentally. I don't know if you could tell, but I've been a pretty confident person my whole life. This is something I'm unpacking in therapy, but one thing I held a lot of my worth and value in was my accomplishments. School and work were something that I used as a vehicle to feel good about myself, like my worthiness depends solely on whether or not I'm doing well financially, professionally, and all of that stuff. That's what I cared about the most before I started working on myself.
My last job [felt] so mentally abusive towards me that it really challenged my work ethic and my ability to survive in a high-stress environment or a very competitive, hostile work environment. I'd never experienced that before. I'd never felt so unsure of myself. I've always been very confident in my ability to work hard and do well, and that was the first job that made me feel like I was not a good worker, like I was not smart, like I was not good at my job. I had never felt like that before, so it really shifted my mindset. It really made me feel bad about myself in a lot of ways. When the one thing you use to feel confident is shattered, you really have nowhere else to go at that point.
Thank God it happened, though. I felt like it needed to be broken down entirely because I'm a Virgo, so I will not deviate from a plan if I don't have another plan and a plan after that—I will not leave the path. I kept telling myself, "I'm going to leave. I'm going to leave. This is bad for me. I'm going to leave." But I never left. I had many opportunities, but I never did.
The universe was like, "Well, if you're not going to leave, then I'm going to kick you off." And, boy, did they. The universe really Spartan-kicked me off that path. They were like, "You won't leave? I'm going to make you leave." I firmly believe that's what happened because I had to tear it down to the studs in order to rebuild it so I wasn't holding all my worth and value in my accomplishments and that kind of stuff. Oh man, that job did a number on me, but I'm grateful for it now.
WM: What do you think your confidence and identity are based in now?
DA: Solely in me and my happiness. If I'm happy with what I'm doing, if I'm happy with where I am in life, if I'm happy in general, I feel like [that] is the driving force of my confidence now. I wouldn't necessarily say [that] is the best thing, but I would say that it's much better than something that is out of my control.
[I'm] letting go of what I can't control and focusing on what I can, which is how much I take care of myself, how much I talk to myself and positively reaffirm myself, how much I love myself. Those are things I can control and should be paying attention to at all times. [My confidence is] much more rooted in that now than anything, which I'm very grateful for 'cause the other way is not sustainable in any way, shape, or form.
WM: Are there any stigmas or misconceptions about mental health that you hope to dismantle?
DA: I'm not someone who ever looked down on therapy, but I did at one point think there wasn't enough going on with me to qualify me for going to therapy, which I think is a stigma we put on ourselves. That's probably just like, Oh, well, my feelings aren't valid enough to qualify going to therapy, so I don't need to go to therapy. … I think a lot of times people are like, Well, I'm not nearly deserving enough to go, which I don't think is fair to put yourself in that [mindset], because I think literally everybody can benefit from going to therapy at some point or another.
And talking about your mental health to other people is a good thing—it's not a bad thing. That's a stigma too, to hide it or to not want to talk about it or to think, Oh, I'll get to it at another time. Oh, I'll deal with that later, which is what I did at my last job. It was beating me into the ground mentally, if I'm being honest, and I ignored it for a long time because I was like, well, I'm still working, right? I'm still functioning to some extent.
But if you're always waiting, there's never going to be a good time, so you should do it now. As soon as you want to go, you should go if you can because you're just as important as everybody else. Your mental health is just as important and just as valid as everybody else's.
This interview has been edited and condensed for length and clarity.
Wondermind does not provide medical advice, diagnosis, or treatment. Any information published on this website or by this brand is not intended as a replacement for medical advice. Always consult a qualified health or mental health professional with any questions or concerns about your mental health.