Pro Tips
11.04.22
Just Some Really Smart Ways to Make Work Less Stressy
Because, apparently, it doesn't have to be this hard. Apparently!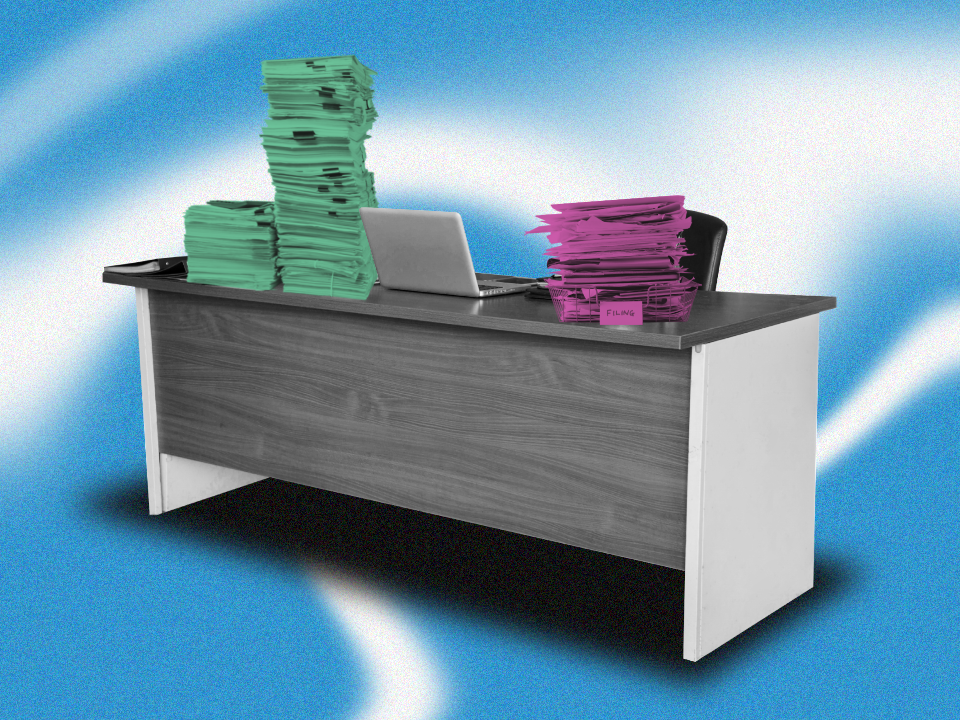 Shutterstock / Wondermind
Ben Franklin famously said that there are only two things certain in life: death and taxes. Well, I'd like to add a third thing to that list, and that is feeling stressed as f*ck at work. I'm not the only one Googling "how to deal with stress at work." According to the American Institute of Stress, 83 percent of U.S. workers have some sort of work stress, and 25 percent say their job is the biggest stressor in their life. Are?! We?! Surprised?!
While workplace drama, self-sabotage (see TIkTok holes), and overwhelm are major sources of stress for most of us, there are also some bigger systemic factors making our work lives hellish. For example, licensed psychologist Lisette Sanchez, PhD, founder of Calathea Wellness, says that many of her clients are very worried about their job security right now, given the current economic downturn that's prompting cutbacks and layoffs at companies nationwide. Toxic work environments are also known sources of workplace stress—and a racist, sexist, or otherwise abusive office culture is not something you can just manifest away. 
That said, there are a lot of things in your control that can help you manage work stress in your day-to-day to help you stay calmer and more confident during your 9-to-5. Here's what the experts recommend.
1. "Time chunk" your day to cut down on multitasking overwhelm.
Bouncing back and forth between tasks is another workplace calm-killer, says Minaa B., LMSW, licensed therapist, social worker, writer, and founder of Minaa B. Consulting, which helps companies support their employees' mental well-being "If we overexpose ourselves to different tasks at once, we start to overstimulate the brain and decrease the brain's mental efficiency." 
To avoid all of that, both experts recommend blocking out time on your calendar to do specific tasks. Minaa B. is a fan of a method called "time chunking," where you group similar tasks together to complete in a set block of time. For example, you might spend a half-hour at the start of your day just going through your inbox, then immediately move into working on a quick, timely task that was assigned to you via email. Then you can move on with the rest of your day, rather than bouncing back and forth between answering a few emails, then doing some work, then back to emails again.
2. Schedule breaks.
Take regular breathers throughout the day for the sake of you and your mood. "I really encourage people to give themselves a break between completing work assignments … so that you are not overstimulating and overworking your brain," says Minaa B.
An easy way to do that is the Pomodoro Technique, says Dr. Sanchez. This is a classic productivity strategy where you work in 25-minute blocks (called "pomodoros") followed by five-minute breaks. Every four "pomodoros" you complete, you get to take a longer 15- to 20-minute break. You can set a manual timer for yourself or use this free online timer to keep yourself on track of both your work and your rest periods.
3. But use those breaks wisely.
When you're on a break, you should actually be giving your brain a rest, says Minaa B, rather than depleting yourself further by scrolling IG or TikTok. "[Social media is] still stimulating your brain, it's not resting your brain, and it's not enhancing you," she says. "Doing something that maintains and sustains your well-being is more important than doing something that's gonna give you a really quick dopamine rush, just for you to crash after 10 minutes of scrolling."
Instead, she recommends making a "playlist" (whether that's just a doc with links or a "favorites" list on YouTube) that's preloaded with your favorite short stretches, meditations, and yoga flows so that when your break starts, you already have something mentally soothing ready to go without wasting time searching for that random Yoga With Adriene video you love.
4. Mute unnecessary distractions.
Another source of stressful brain overload? Constant distractions from things like email notifications, Slack messages, and other work apps. These are (sadly) necessary forms of work communication, but you don't have to be plugged into them constantly. When you're working on important tasks, Minaa B. recommends muting notifications and putting your devices on Do Not Disturb to preserve your focus. "It's not like you're neglecting your Slack or emails," she says, but rather eliminating distractions for a period to help you accomplish what needs to get done.
5. ~Ground yourself~ with a breathing exercise.
Dr. Sanchez says one of the biggest drivers of workplace stress among her clients is drama or conflict with coworkers. "We're social creatures, so anytime we have a challenging social dynamic, it creates additional stresses for us," she says. The resulting tension might make you start second-guessing emails you send, feel more defensive when you receive feedback, or just feel like you're struggling at work, she says.
When that happens, Dr. Sanchez recommends bringing your stressed-out self back to earth by getting back into your body. She's a fan of diaphragmatic breathing, aka belly breathing, where you fill up your belly with air like a balloon as you inhale and then release it slowly. That said, any grounding activity that you can knock out in five minutes and get back to work is perfect, she says. "That way it brings you back into the moment so that you can think more clearly about how to address the situation at hand." 
6. Optimize your to-do list to stay organized
If just thinking about your to-do list makes you spiral, Dr. Sanchez suggests trying the "Eisenhower Box" to help you better prioritize what needs to happen now. The productivity tool has you sort your current tasks and projects into a box with four squares. One square holds all the tasks that are urgent and important (aka stuff you will do ASAP). The next square contains tasks that are important but not urgent, meaning things you can schedule for later. Next is the urgent-but-not-important box, where tasks you can delegate to others go. Finally, put all of the leftover stuff you don't actually need to do in the not-important-and-not-urgent box (the best box).
"It's very direct and shows you where to put things to help you organize and be more productive," says Dr. Sanchez. If you can, do a grounding exercise (like #5 or #7) so you're in a calmer, clearer state of mind that supports planning and organizing before you start sorting.
7. Tap out your anxieties.
Butterfly tapping (or the butterfly hug) is a self-soothing technique that can help you feel more relaxed, says Minaa B. It's often used in therapy, but it's safe to do on your own when you need to chill. 
Cross your arms and place your hands over your chest, with your fingers just under the collarbone. (Your hands should sort of look like butterfly wings.) Then breathe slowly and start tapping your hands against your chest, alternating between the right and the left. Pay attention to the thoughts that cross your mind and what you feel in your body without judging them. After a few minutes, you should feel a little calmer and more collected.
8. Create a brag sheet.
Maybe you're new to your job and feeling pressure to prove yourself. Or perhaps a micromanaging boss has you doubting your skills and worth. If that sounds like you, take this hot confidence-boosting tip from Dr. Sanchez. If you crushed a presentation, got a compliment from your boss about something you wrote, closed a deal or sale that was important to your company—or anything else positive at work—write it down and refer to those successes when you're feeling self-doubt. This helps you refocus on something positive, reinforced by tangible facts, says Dr. Sanchez.
9. Establish clear zones of "work" if you WFH.
For folks who WFH or whose offices use a hybrid model, maintaining work boundaries can also be a stressful struggle, says Minaa B. Part of that is because, for a lot of people, there's no separation between work life and home life when you're in the same space all day.
You might think you've got this WFH or hybrid work thing down pat after a few years of pandemic life. But Minna B. says it's very important to maintain clear parameters of what spaces are meant for work in your home. If you decide that the kitchen table is your workspace, for example, then make a point to never work in your bed. That way, "if I come into my bedroom, then it doesn't feel like it is affiliated with work," she says.
10. Let your worries go.
If you're feeling big anxious energy or just have a lot of worries taking up your brain space (It me! All of the time!), you might like this visualization exercise recommended by Dr. Sanchez. "Imagine that you're sitting by a stream under a tree, and the leaves are falling into the stream. Visualize your worries are actually written on all of these leaves," she says. You can then imagine that these leaves, filled with all of your worries, are just floating away on the water. This exercise is called "leaves on a stream," and it's a staple of certain kinds of therapy to reduce a person's stress about a situation by helping them separate themselves from it, she says. Love that for us!
11. Assert your boundaries and needs.
The amount of stuff on your work to-do list is, obviously, a big source of stress, says Minaa B. "Sometimes people feel like the hours to complete their work are not sufficient with the workload being given to them, so they feel like they have to work more hours," she says. It doesn't help that many people put a lot of pressure on themselves to perform well, adds Dr. Sanchez.
She encourages people to speak up when they're feeling stressed or overwhelmed at work and ask for additional support or accommodations, rather than just buckling down and dealing with additional projects or tasks.
"Sometimes we're so anxious that we don't realize that one of the biggest ways we can try to calm our anxiety is by actually speaking up," she says. The instant you're starting to feel overwhelmed, "vocalize yourself in the workplace and say, 'Is there room for an extension? Is there room to be flexible?'" Asking for help and support isn't a sign of weakness; it's a sign that you know what your limits are.
Wondermind does not provide medical advice, diagnosis, or treatment. Any information published on this website or by this brand is not intended as a replacement for medical advice. Always consult a qualified health or mental health professional with any questions or concerns about your mental health.