Q&A
03.08.23
Elisa Donovan's 'Clueless' Reunion Was a Full-Circle Mental Health Moment
The 'Clueless' actor opens up about eating disorder recovery, grief, and more.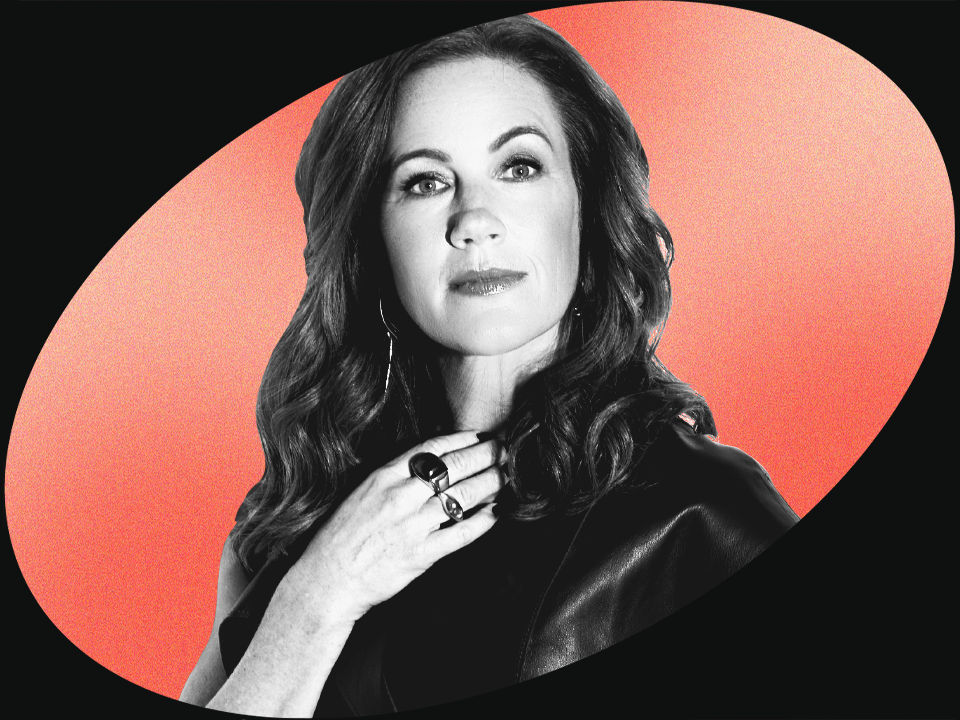 Photo Credit: Storm Santos
If you're a football or Rihanna fan, you probably saw the nostalgia-inducing Clueless Super Bowl commercial that's been gracing our screens ever since. Featuring Alicia Silverstone as Cher and Elisa Donovan as Amber in the familiar high school debate scene, the ad probably inspired thousands of movie rewatches.
Not to sound too cliché, but filming the commercial was a true full-circle moment for Donovan, who once struggled with her mental health while making the original movie. This time, though, she returned to the character as a healthier, more resilient person.
After the promo made waves around the country, Wondermind checked in with the actor and author. Here, Donovan dives into how the movie inspired her to reach out for help, how staying present helped her grieve, and where her mind is at these days.
[Sign up here to never miss these candid conversations delivered straight to your inbox.]
WM: What was it like stepping back into your Clueless role, since the movie holds so many great memories but you also struggled with your mental health and an eating disorder while filming it?
Elisa Donovan: That character in that film was such a defining part of my life for the reasons you mentioned and because it was really the start of my film career, and it's so embedded in who I am because people have such a strong association with that film. It was really easy to step back into the character. I was really looking forward to it because I am a grown-up now, and I am in such a happier, healthier, more complete place, [and] I allowed myself to have a lot of compassion for my former younger self that was really struggling with so many things. It felt very full circle to me and was a beautiful gift to revisit this thing that started so much in my life and revisit it as a healthy grown-up.
WM: Clueless is such a nostalgic comfort rewatch for so many people. What are your go-to comfort movies or shows?
ED: This is going to be embarrassing, including for my daughter, but I watch the Harry Potter movies. They really give me this sense of warm hope. I like things that aren't just happy and fluffy—that doesn't necessarily comfort me or make me feel good because there's something that's a little bit one-dimensional about those kinds of films and TV shows. Harry Potter is about [how] we all have darkness and light. We all struggle. We're asked to step up to the plate, and we can answer that call or not; it really is a daily, consistent, moment-by-moment decision. I just love them so much. I wish they would make more.
WM: In your book, you open up about wanting to get help for anorexia because you were scared of losing work when you were younger. You recognized that maybe that wasn't the best motivation, but what helped you through recovery in the long run?
ED: It's not a long-term solution to have the motivation that, Oh, I'm afraid I'm going to lose my job, but it was the thing that prompted me to actually get help. Then there is this negotiation period of, Well, I don't really want to get that much help. I don't want to change what I'm doing. I don't want to change my body. I don't want to have to look at why I do these things in the first place. So while it really helped me kickstart things, it was a year or so before I committed fully. There was a lot of backward and forward movement.
The thing that really made me commit fully—it still has to do with Clueless. We had a moment where there was a test screening of the film right before it came out. It was the first time that I had seen it, and it was a test audience full of people who have never seen the film and the target audience. I sat in the back row with Alicia and Donald [Faison] and Paul [Rudd] and Justin Walker. We watched the film together, and I realized, Oh, all I get is to be the skinniest. That's all I get. I don't get a bigger career. I don't get a bigger part.
We walked out of the screening … and someone said to me, "Geez, Eddie, you're like a bone." They would call me Eddie, and it was the first time that I heard that and it did not sound like a compliment. It was a massive moment for me where I [thought], What are my values? What do I actually want? What happened to my creativity? What happened to my goals? What happened to my voice?
From that moment forward, it wasn't a walk in the park, but that was really the start of me remembering who I am, what I want, and where my value lies.
WM: Some people differ on whether it's possible to fully recover from an eating disorder. Would you consider yourself as someone who is in recovery, and what does that look like for you?
ED: I know people have very strong feelings one way or the other and [think] that you never say you're "recovered" because that somehow means you've solved this malady. I say I have been in recovery for 28 years, and to me, I don't struggle with it. I truly don't. I say that because I want to encourage people and give people hope that it is possible. Now, this is 28 years in. Five years in, 10 years in, I don't know that I could have said this, but it certainly gets progressively easier. [It gets easier] only because I continue to do the work and continue to look at myself and check myself and my behaviors and truly focus on what matters, which is not the exterior. It just isn't—and I'm a person who loves clothing and likes wearing makeup. I like caring about my appearance, but I am 100% clear about how much that matters. It is not the most important thing. Our spirits and our voices are far more important than the exterior that everyone—certainly our culture—really wants to focus on.
WM: Your book also talks about grieving your father who passed soon after being diagnosed with cancer. What surprised or helped you most throughout that grieving process?
ED: There are similarities that we all experience when going through any kind of grief, but it's a very specific experience for every individual. For me, I was very shocked by how much it affected me. That sounds silly, but I think I always felt like I'm so independent and have created this life for myself, and I've made my dad proud. You know, for so much of my career, I was always wanting my father to be proud of me. That really, really hit me when he passed away. I went, Wait a second. There are all these other things that I still want to do that I want him to see and know. I realized how much I just wanted a different relationship with him than I actually had.
Those stages of grief that people speak about were very true for me, but it's a kind of elastic thing. It's not like you can say, "A month for this, another month for this." It's really like a rubber band. The things that helped me the most were to be present and to deal with the pain because I think we spend so much time trying to avoid it. … But the truth is, there's no way around it. You have to go through it.
I think that's true with anything challenging in life. We, culturally, have a real resistance to difficult things. We don't really want to talk about them; we don't want to look at them. That's doing ourselves a real disservice because it's part of what it is to be human, to experience all the facets of things. And it means that we care. It means that we've loved and we've been loved, and that's so important.
WM: It seems like the '90s and 2000s were a jam-packed period of time for you when it comes to mental health. How is your mental health these days?
ED: When I think about these sayings that people have, like "youth is wasted on the young," I don't feel that way. I just feel as though I wish I was more present at that time. Not that I was completely checked out, but I was just struggling and trying to take care of myself, [and] I made a lot of weird decisions that I wouldn't make today.
It's nice to be in this really solid place today, and it feels great. I feel like there isn't really anything that can shake that. You go through things that are really challenging and devastating, like my dad passing away, my TV series ending, and ending the relationship with the person I thought I was going to marry. All the things that made my life make sense, all the things that made me feel like I'm successful and a well-rounded person, all those things were stripped away. I feel like that process of rebuilding … the foundation is so much more solid. I don't have a fear of many things. I really don't.
WM: Do you have any final words of wisdom?
ED: It sounds so simple, but to anyone who is struggling, I would say lean into the struggle and don't be afraid of it. Allow yourself to lean on people. That ability to be intimate with other human beings that you trust and really allow yourself to be vulnerable—it's the way to go.
This interview has been edited and condensed for length and clarity.
Wondermind does not provide medical advice, diagnosis, or treatment. Any information published on this website or by this brand is not intended as a replacement for medical advice. Always consult a qualified health or mental health professional with any questions or concerns about your mental health.