Pro Tips
10.21.22
Am I Allowed to Tell My Partner to Go to Therapy?
Permission (sort of) granted.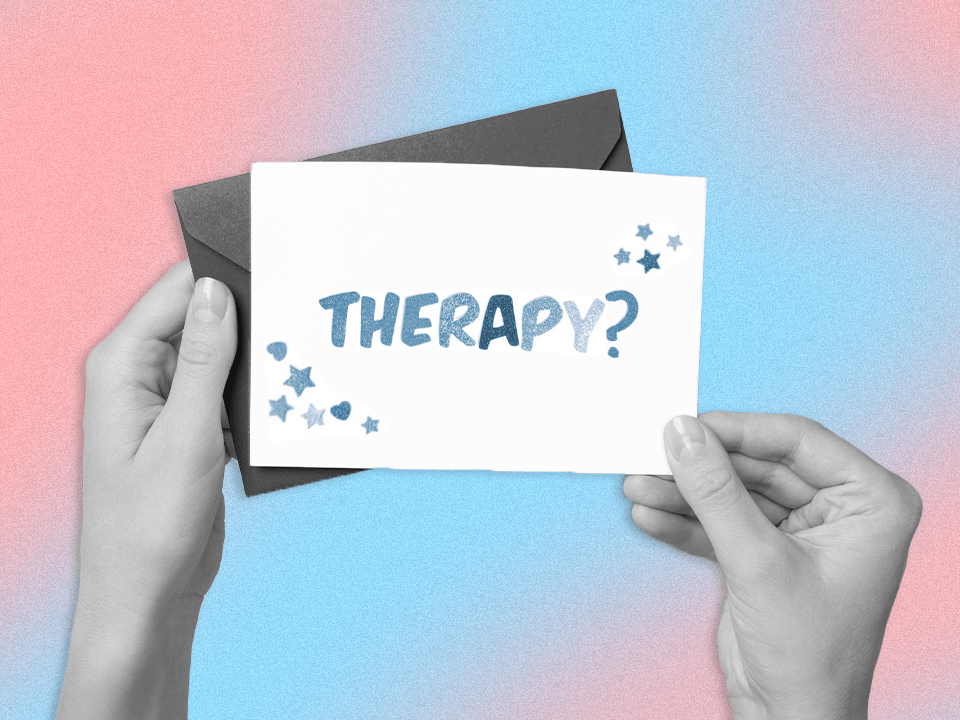 If your partner has been down on themselves lately, won't stop venting about work stress, or keeps doing or saying things that make you feel shitty, it's real normal to think, Hey, maybe therapy is the answer here? And while convincing someone to go to therapy is tricky territory, telling a person you care about that a mental health professional could help them is totally fine, says psychologist Justin Puder, PhD.
The catch is that doing so requires a lot of freaking nuance. That's because, as their partner, you're one of their biggest allies and supporters. So for you to say, "Hey, maybe you need some therapy?" a suggestion that, unfortunately, is still loaded with a lot of stigma, it can bring up some tough feelings for them, says researcher Ijeoma Opara, PhD, LMSW, MPH, and assistant professor at Yale University's department of social and behavioral sciences. "It can be a sensitive topic that sometimes seems like an insult because of the way mental health issues are viewed in our society," says Dr. Opara. "[That] creates so many barriers to seeking and receiving care."
So, with all of that in mind, here's exactly what to say if you want to suggest your partner go to therapy, how to say it, and how to navigate whatever comes next.
How to bring up therapy without being a jerk
No matter how your partner is acting, you never want to say anything like "You're crazy! You need a therapist!" or "You're a broken person that clearly needs therapy," says therapist Jeff Guenther, LPC.
Besides being mean and judgmental, this shame-y language can hurt your partner's feelings, make them feel attacked, and trigger defensiveness. And while it can be hard to hold back during a fight, telling them that they need professional mental health help mid-argument is likely to backfire, says Guenther.
Your goal here is to bring up the idea of seeking therapy during a moment when the two of you are feeling close and connected, he adds. Maybe you're driving back from an event together or you're eating dinner at home or just hanging someplace that feels safe. Whatever the location, Dr. Puder suggests naming the concerning behavior coming from your partner and reminding them that their wellbeing is important to you. That could sound like, "I've noticed you have lower energy and are avoiding things you normally enjoyed doing. I care about you and know that you could feel better, and I want that for you."
From there, if you've been to therapy, you can share how that process made your life better, says Dr. Puder. That helps normalize therapy as something beneficial rather than somewhere you need to go to be fixed. If you haven't been to therapy, maybe you mention a friend's experience or just say that you've been hearing a lot about how useful it is. "You want to offer the possibility of therapy as a way to help them work through issues you see them struggling with so they can feel more at peace with themselves," says Guenther.
You can also ask them if it would be helpful for you to start looking for therapists who accept their insurance, are within their budget, or specialize in the areas they want to work on (or all of the above). Just be willing to dig in if they take you up on it.
How to suggest therapy if your relationship is suffering
When your partner's general vibe or actions have made your relationship feel off, it's important to make the therapy convo about the two of you—not just them. "People never want to feel like they are the problem in a relationship," says Dr. Opara. And, the truth is, relationship issues usually aren't just one person's fault. Thus, "both parties should reflect on how they may have contributed to any issues arising," adds Dr. Opara.
Couples therapy is a great option for working through that stuff, says Dr. Opara. You can bring up the idea of couples therapy by saying something like, "We need to work together because I feel disconnected from you when you do ______. I think the best way for us to grow together is by talking with a professional," says Dr. Puder.
You can also bring up the idea of seeing therapists separately. If your partner has never been to therapy, that can make it feel a lot less scary and intimidating, says Dr. Opara.
"By both of you engaging in therapy, whether it be couples or individual therapy, it allows you to focus more on being healthier people and strengthening your relationship so that you can enjoy it," adds Dr. Opara.
What to do when they're not super into the idea
If you came at them from a non-judgmental place and they're still responding with, "meh," ask them why they don't want to go and "be compassionate and understanding of their reasons," Guenther says. From there, "do your best to explain why it could be a positive experience."
Obviously, those who know, know that therapy can be a super beneficial experience. But when someone demands you go right now, it can feel jarring and make you feel on guard. So keep in mind that it could take months for your partner to get on board with going to therapy.
In the meantime, you can continue to gently, kindly (but also directly) nudge them toward finding a counselor. Just remember that they might need more time than you'd prefer.
What you should know before making therapy an ultimatum
Most people who seek therapy on their own spend years thinking about it before actually booking a session, says Guenther. And that's a good thing since therapy requires clients to be in it for themselves and willing to do the work to change based on their therapist's feedback, says Dr. Opara. If they're only in it to appease you, that's not helpful for anyone.
So, "if you can avoid it, don't use therapy as an ultimatum," Guenther says. In his experience, that just leads someone to resent the process and their partner for making them go through it. Plus, if you're at the point where you're willing to walk if they don't go to counseling, it's possible you're already past the point of no return.
Ultimately, if you're threatening to end the relationship unless your partner gets mental health help, consider whether this relationship is really one you need to be in. "You can end a relationship if it is not meeting your needs for any reason," says Guenther.
One last thing to keep in mind here is that therapy might not be the answer to your relationship struggles, says Dr. Opara. "You can be both emotionally and mentally healthy but just not be a good fit," she says.
What to do once they start seeing a therapist
Once that mental health ~journey~ begins, it's gotta be their own. If they found a therapist and booked an individual appointment, you might be tempted to ask for insights on how it's going or whether they've had any life-altering epiphanies, but be respectful of their privacy. "Some folks love to process how therapy went after each session, some people feel better keeping things private so they don't feel pressure to prove that they're 'improving,'" says Guenther. Still, you can leave the door open for updates by saying, "It is your therapy journey, but if you want to share parts of that with me, I'm here to listen," says Dr. Puder. Overall, just try to appreciate that they're doing something that can improve their relationship with themself and with you.
Wondermind does not provide medical advice, diagnosis, or treatment. Any information published on this website or by this brand is not intended as a replacement for medical advice. Always consult a qualified health or mental health professional with any questions or concerns about your mental health.