Pro Tips
03.27.23
6 Ways to Deal With Social Anxiety When It Strikes
No more panic at this disco.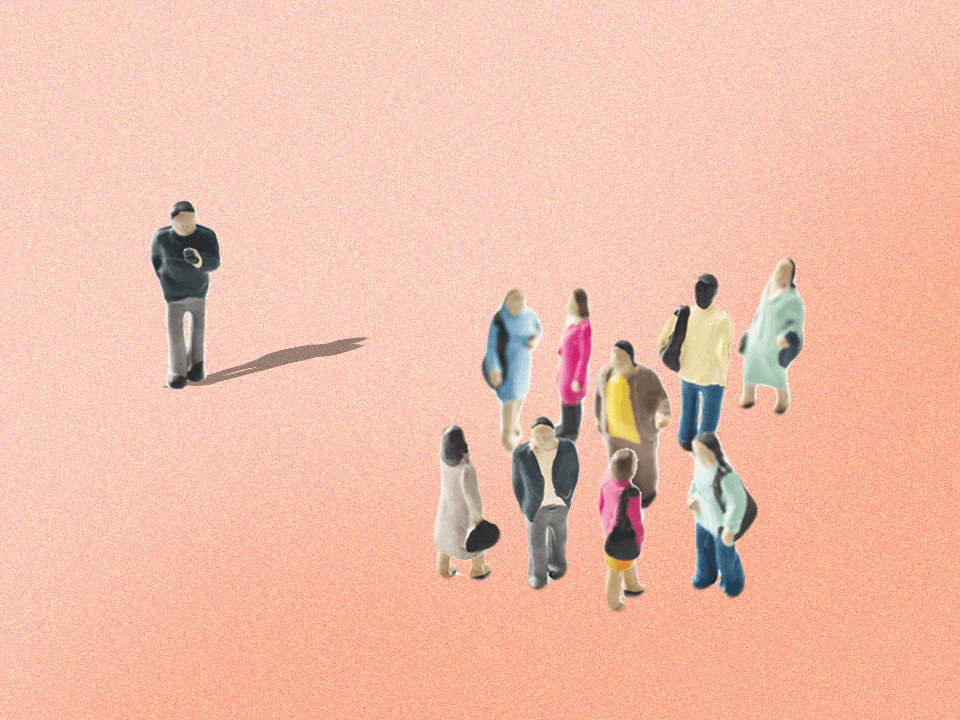 Shutterstock / Wondermind
If the words "social anxiety" make you shudder, you probably know those familiar unsettling sensations that creep up when you're just trying to be a normal person. One moment, you're making small talk at the office, but seconds later your face is hot, your heart is pounding, and that inner critic in your head is analyzing every word out of your mouth or what your hands and face are doing—or literally all of that. Cue you Googling: How to deal with social anxiety.
Sure, it's normal to have some initial butterflies before a first date, while presenting a big work proposal, or going to a party where you don't know anyone. That's just your mind's way of saying, Hey, something important is going down. But "social anxiety is the fear of being judged negatively, rejected, or embarrassed in front of others," says clinical psychologist Katie Fracalanza, PhD, a clinical associate professor at Stanford University.
Though lots of people can experience this fear from time to time, social anxiety becomes social anxiety disorder (also known as social phobia) when you actively avoid the things that trigger it, like meeting new people, attending events, or speaking up at work. And when you can't see yourself out of those situations, the stress becomes overwhelming and all-consuming, making it super hard to function normally in relationships, go after your career goals, or just live your life, according to the Diagnostic and Statistical Manual of Mental Disorders (DSM-5-TR). If that's consistently been a thing for you for at least six months, you could have social anxiety disorder, per the DSM-5-TR. (JFYI, social anxiety can also be a symptom of mental health conditions like panic disorder and body dysmorphic disorder.)
Of course, not everyone who deals with social anxiety meets the criteria for a mental health condition. So whether your social anxiety is legit ruining your life or just making you sweaty and nervous around people way more often than you'd like, it's a frustrating thing to manage. But it is manageable. The first step is acknowledging that you are not the only person who feels like an alien in social settings. Social anxiety disorder is an extremely common mental health issue affecting roughly 7% of U.S. adults every year, per the DSM-5-TR—and that's only counting the people who meet the diagnostic criteria. Our guess is that loads more people deal with social anxiety on any given Saturday.
Like most forms of anxiety, Dr. Fracalanza says, researchers believe that both genetics and environment play a role in social anxiety. So maybe you have a personal or family history of other anxiety issues or maybe you had some nasty experiences (like bullying) growing up that influenced how you show up around other people. Or maybe you've got some combo of both.
Regardless of the cause, you've probably noticed that social anxiety can make it harder to function anytime you feel like attention is focused on you, explains psychiatrist Nina Vasan, MD, a clinical assistant professor of psychiatry at Stanford University School of Medicine and chief medical officer at Real. Social anxiety can manifest emotionally, physically, and behaviorally. Of course, this can look different for everyone, but you might experience everything from a fast heartbeat and trouble catching your breath to worrying about embarrassing or humiliating yourself. You might even have social anxiety after a social interaction, like overanalyzing everything you said or did and picking apart all the ways you feel like you sucked. (Hangxiety havers probably understand that last symptom all too well.) 
The maybe? good? news? is that even if you get the sense that your feels are written all over your face, it's often hard to tell when someone's experiencing social anxiety. "Some people may appear to be fearful around others, looking down often, slouching, and not talking much," Dr. Fracalanza adds. "Others may look like the life of the party—trying really hard to be perfect socially to ensure they are not rejected." Yeah, it's a mixed bag.
Logically, you may know that there's no rational threat or real reason for you to feel so anxious in these circumstances but still feel you can't do much to overcome it, says Dr. Fracalanza. But that's definitely not the case. Here, we asked experts how you can soothe the social anxiety beast when it creeps up, so you can have some damn fun already. Behold.
1. Do the things that feel scary.
Small experimental encounters in which you challenge yourself to do the opposite of what your social anxiety is telling you to do is a big part of the way therapists treat clients with social anxiety, says Dr. Fracalanza. You can try this yourself by writing up a hierarchy of social situations that give you anxiety from least to most scary, and then attempt to do them, working from the bottom of the list to the top.
Maybe you start by asking a friend to go with you to an event where you don't know anyone else. "This will help you engage with someone you're comfortable with in a context that might otherwise cause anxiety," says Dr. Vasan.
This can also take the form of arriving to work meetings or social events early so you can meet people one-on-one as they arrive, which can reduce the anxiety of walking into a large room full of people already gathered. Ultimately this type of exposure to your feared situation shows you that "your anxiety can only go so high, and then it comes down," says Angela Neal-Barnett, PhD, director of Kent State University's program for research on anxiety disorders among African Americans and author of Soothe Your Nerves.
2. Fact-check your anxious thoughts before you go out.
The mean things your social anxiety tells you about yourself usually aren't true. They're also typically centered on how likely it is that you'll be rejected or criticized, which isn't ideal when you're just trying to meet some new friends or get through your weekly work meeting.
As these thoughts pop up, try reframing them as guesses rather than 100% truths, Dr. Fracalanza suggests. One way to do this is by questioning whether there's any evidence of those fears or ideas being real. "Getting factual is a great way to combat socially anxious thinking," she says.
So when thoughts like, Everyone at this party is going to think I'm so awkward and weird, pop up in your brain, ask yourself, What proof do I have that this is actually going to happen? You can also ask, What evidence do I have that this won't happen?
You'll probably find that there's no way of knowing what people will think of you and that most of your friends actually think you're pretty awesome, so why would this group of humans think otherwise?
3. Take a timeout to breathe.
When you're feeling overwhelmed, hitting pause to do a little diaphragmatic breathing can help bring your emotions back to baseline, says Dr. Vasan. "[This] creates a strong physical sensation that helps those having physical manifestations of anxiety," says Dr. Vasan. Plus research in the journal Frontiers in Psychology suggests this type of breathing might help healthy adults focus, improve their mood, and lower their levels of the stress hormone cortisol. All of which are super helpful when you have to hold a conversation or get your ideas across in a clear way.
As soon as you feel your anxiety meter rising, like before you head to work on presentation day or even in the middle of an event, stop and take a few deep breaths to help you de-escalate, says Dr. Vasan. If you're at home, the ideal way to do this is to lay face up with your knees bent and your head supported on the floor. Put one hand on your upper chest and the other just below your rib cage before breathing in slowly through your nose to inflate your belly and exhaling through pursed lips. Do a few rounds of this until you feel more grounded.
Obviously, lying on the ground in the middle of a party is not the move. But if you head outside or pop into a bathroom stall, you can get the same benefits by doing this exercise sitting or standing. Plus, just the act of taking a break can help you feel less frazzled.
4. Get hyped up on yourself.
As we've established, the rude things social anxiety tells you about yourself are almost never true. And while acknowledging that is a great first step, counteracting mean thoughts with positive ones, aka affirmations, can support your self-esteem and self-confidence even more.
So the next time you're about to do something that you know will trigger your social anxiety, designate time to pep talk the shit out of yourself. Whether it's making a doctor's appointment over the phone (ugh) or meeting your best friend's other friends, remind yourself out loud or internally that you're freaking awesome. Or, more specifically, Dr. Vasan suggests:
I am different and unique, and that's OK.
I am safe in the company of others.
People like me, want to meet me, and want me in their lives.
I am worthy of respect, friendship, and love.
Dr. Vasan is also a fan of the "I am" app, which she says has a large database of various affirmations that pop up in your notifications as a reminder of how cool you are.
5. Check in with yourself post-event.
Maybe this doesn't come as a surprise, but people with social anxiety also tend to have a very harsh critic living rent-free in their brains. "With you being so hard on yourself, it's no wonder you assume others will also be very judgmental of you," says Dr. Fracalanza.
So getting into the habit of having a gentler, more constructive conversation with yourself after a triggering event occurs can teach you to speak to yourself in a more positive way. Instead of thinking, Wow, I can't believe I couldn't remember the word cryptocurrency AND I turned red when it happened. Why am I so awkward?! You could ask yourself what went well and what might be helpful to remember for next time. It might also help to remind yourself that perfection doesn't exist, and the things that you think made you look stupid could actually be endearing and make people like you more.
This takes some practice, so be patient with yourself as you begin this self-compassion journey.
6. Consider trying therapy—if you're not already doing that.
What makes social anxiety such an issue is not just that it can be persistent and debilitating, but "if left untreated, social anxiety disorder can contribute to low self-esteem, negative self-talk, isolation, and poor social skills," explains Dr. Vasan. Translation: Getting help for social anxiety now can help future you live their best life.
And while breathing exercises, positive self-talk, and observing those negative thoughts can be super helpful for managing your symptoms, working with a therapist to get to the root of the issue might help you overcome it all together and prevent other mental health issues from popping up too. So, if you can make it work with your time and budget, it's worth giving it a shot.
Wondermind does not provide medical advice, diagnosis, or treatment. Any information published on this website or by this brand is not intended as a replacement for medical advice. Always consult a qualified health or mental health professional with any questions or concerns about your mental health.