Pro Tips
01.30.23
6 Ways to Help Someone With Anxiety
Keep this in your back pocket.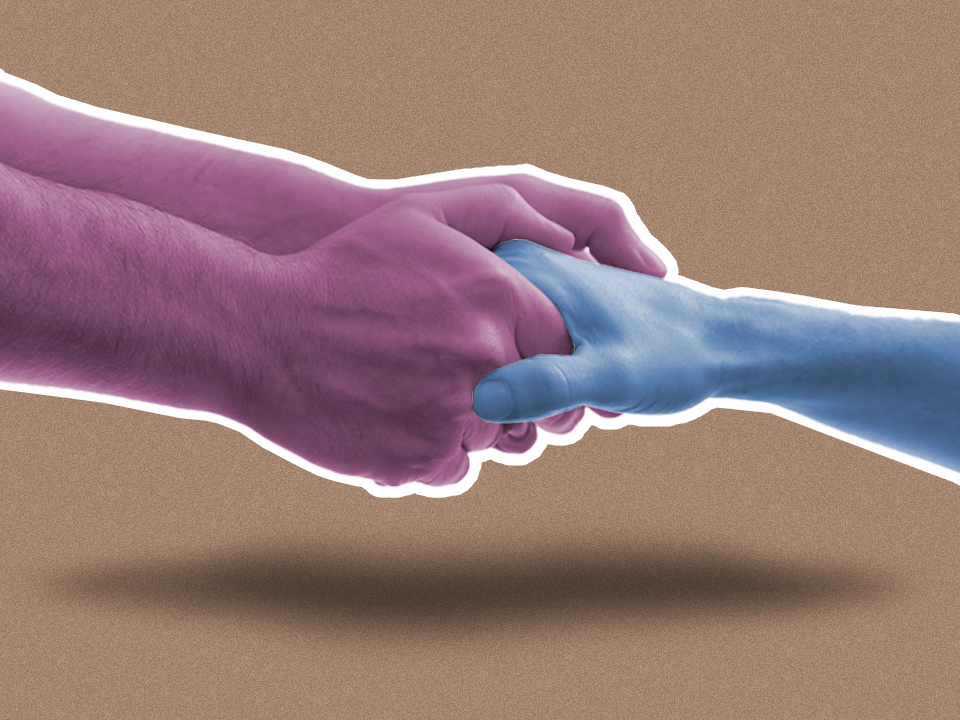 Shutterstock / Wondermind
Has anyone with anxiety ever confided in you about their thought spirals and you couldn't understand why they were so distressed? Maybe you've struggled to find the right (or, at the very least, not awful) thing to say when someone comes to you in a panicked state. As someone with anxiety, I've been slapped with dismissive responses like, "Stop being so sensitive!" when I open up about my own anxious thoughts. As much as I wish people would just get it, I know it can be tricky to figure out how to help someone with anxiety if you've never experienced it before.
Honestly, there are a lot of dos and don'ts when it comes to talking about anxiety with someone you know, and that's because what you say has the potential to make them feel more anxious, misunderstood, or like they never want to share these feelings with anyone else ever again. (Trust me, I've felt like just bottling up my emotions for the foreseeable future after particularly rough convos about my anxiety.) So if you've never faced anxiety, you're totally forgiven for not knowing where to begin. (But, also, what's that like?!)
Before you can help anyone with anxiety, you gotta know it's a complicated beast. Anxious thoughts are all about the what-ifs in life. They have the tendency to spiral out of control, which can really mess with someone's ability to function, pulling their time and energy away from other tasks they need to focus on and hindering their ability to interact with others, says psychologist Danielle Forshee, PsyD. Plus, anxiety isn't just dealing with worrisome thoughts. It's also living with symptoms that include feeling on edge, having trouble concentrating, dealing with headaches and other rogue pains, sleep issues, and more, according to the National Institute of Mental Health.
Now that you've got the basics, let's talk about how to really be there for someone who deals with anxiety—without ever using the phrases "calm down" or "just relax."
1. Practice reflective listening.
If you're with someone who's mid-anxiety spiral, start by just listening. You might be tempted to offer some words of wisdom or encouragement, but the best thing you can do in this moment is simply showing that you hear them. One way to do this is to reflect their words back to them by paraphrasing what they're saying as well as the meaning and emotions you hear in their voice, says psychotherapist Jack Worthy, LMHC.
So if a friend says, "I'm anxious about going to this party where I only know two people. If they leave my side, I won't be able to make small talk with anyone else, and people will think I'm weird. I should just stay home," you can first summarize what they said and check if you're understanding correctly, suggests psychologist Nina Polyné, PsyD. Then, you can validate them and reflect back with something like, "I hear you. Getting out of your comfort zone and putting yourself out there can be scary, because you don't know how people might respond or if they're open to meeting new people."
When you practice reflective listening, you're signaling, "I'm here. I understand. It matters to me," says Worthy. That can help you steer clear of ramping up their anxiety or dismissing and diminishing their anxious thoughts.
TBH, when I go to someone with a problem, I usually just want them to hear me out and empathize—not give me a list of things I need to do to avoid feeling anxious. It's natural to want to offer solutions or be the rescuer, but giving your two cents when you weren't asked tends to make people feel judged and incompetent on top of the fear they're already dealing with, Worthy affirms. So instead of focusing on a fix to the issue, turn your attention to how this anxious person feels.
2. Work through catastrophizing with them.
Anxiety often comes from thinking about the worst-case scenario, AKA catastrophizing. For example, someone might jump to conclusions after getting a suddenly formal email from their boss; they might worry they're getting fired and spiral about how they'll never find another job and will have to move in with their parents. Yeah, that's catastrophizing.
If you notice someone going down that road, first, ask for permission to help. "If they say no, respect their space, and share that the door is always open should they change their mind," Dr. Polyné suggests. If they're open to help, encourage them to focus on their breath and avoid fueling their anxiety by adding to their "what-ifs," Dr. Polyné says. You can also ask them questions like, "Where did you find that information?" or "What would you say to a friend in a similar situation?"
Another question you can ask them is, "Can you think of another time when you worried this intensely about something?" Dr. Forshee says. Most likely the answer will be yes if they've been dealing with anxiety for a while, she adds. "From there, focus on getting them to reflect on how they managed to get through [the bout of catastrophizing] back then—because they did get through it," she says. Maybe in that instance their worst fear didn't come true, but it still was a horrible situation. Thinking back on times like that can remind us that our anxious assumptions aren't always right, and no amount of worrying will actually change the outcome. Plus, they'll be reminded that they did, in fact, survive—even if it sucked pretty bad.
3. Try to calm and redirect their energy.
It's so hard for someone experiencing anxiety to stay grounded and stop focusing on things beyond their control, but that's a big part of managing anxiety, Worthy says. To help them practice calming their energy, take a few deep, long breaths with them and talk about where in the body they might be feeling some tension, Dr. Polyné says.
If taking deep breaths is too difficult, then distraction can be used as an alternate method, Dr. Polyné adds. Suggest something they could do to take their mind off the situation, like taking the dog for a walk, cleaning their space, watching a funny TikTok, or going to the park and seeing how many people are wearing cool 'fits as a grounding exercise.
It might not be a long-term fix, but the distraction can be super helpful for the time being, until you can help point them toward ongoing support (which we'll get to in a bit).
4. Avoid toxic positivity.
There have been times when I've wanted to claw my eyes out when someone responds to my anxious thoughts with something like, "Focus on what's going well in your life!" Or, "Don't worry, everything will work out, and everything happens for a reason." To be frank, this kind of toxic positivity, or dismissing negative emotions and staying positive even though life is going to shit, is very rarely helpful.
Our feelings don't turn off just because someone tells us to look at the bright side. Also, telling an anxious person to focus on the positives in life is so unhelpful because we're already struggling to see things in neutral terms as is. Ultimately, these phrases are dismissive, come off as preachy (yes, I already know my panicking spirals aren't helpful, and, no, saying everything will be alright doesn't always help me control them), and do absolutely nothing to empower an anxious person or help them practice coping skills, Dr. Forshee says.
5. Encourage them to take baby steps.
Fear of uncertainty shows up in many ways for people with anxiety, Dr. Polyné says. And when it comes to thinking about the future and all the what-ifs that can come with it, that's a recipe for anxious feels and potentially feeling stuck in where you're at in life, Worthy adds.
So if you notice a friend with anxiety spiraling because they don't know WTH the future might hold, work with them to figure out what their ideal scenario would be and what the smallest possible unit of meaningful improvement would be. You can do this by creating a SMART goal with them, Dr. Polyné says (that means a goal that's specific, measurable, achievable, realistic, and timely). That can help them focus on the present moment, consider what they can do to actively gain control, and feel more confident in their plan.
6. Help them find extra support.
Now that you have a solid starting point for helping someone with anxiety, you also want to encourage them to reach out to a professional for extra support. As much as you might want to help your pal all the time, getting too involved in how they work through anxious thoughts on a regular basis can hinder their coping skills when you really want them to become self-supportive, Worthy says. Plus, putting so much pressure on yourself to be the supporter means you risk burning out if you're not careful, Dr. Polyné adds.
To check if they are open to therapy, Dr. Polyné suggests asking open-ended questions like, "It sounds like your anxiety has been overwhelming. What do you think your life would look like without these thoughts that consume you?" If they respond with goals they'd like to achieve, you can ask, "How do you think therapy might be helpful toward this goal?" These kinds of questions are non-judgemental and will hopefully help motivate them to take that first step toward getting extra help.
If they don't know how to get started on finding a pro who is accessible when it comes to location, cost, and availability, tell them you're willing to help them figure it out and encourage them to start with their primary care doctor (if they have one) or explore an online therapy directory that's tailored to their unique needs or background, like this Asians for Mental Health one.
If they totally shut down when you bring up the idea of therapy, accept that they might not be ready to work on their anxiety in a more formal setting, Dr. Polyné adds. From there, you can decide how much you want to be involved in helping them manage their anxiety so you can also take care of yourself at the same time.
Additional reporting by Shannon Barbour.
Wondermind does not provide medical advice, diagnosis, or treatment. Any information published on this website or by this brand is not intended as a replacement for medical advice. Always consult a qualified health or mental health professional with any questions or concerns about your mental health.