Explainer
02.10.23
Can Someone Please Explain Inner Child Work?
If you don't *get* it, we got you.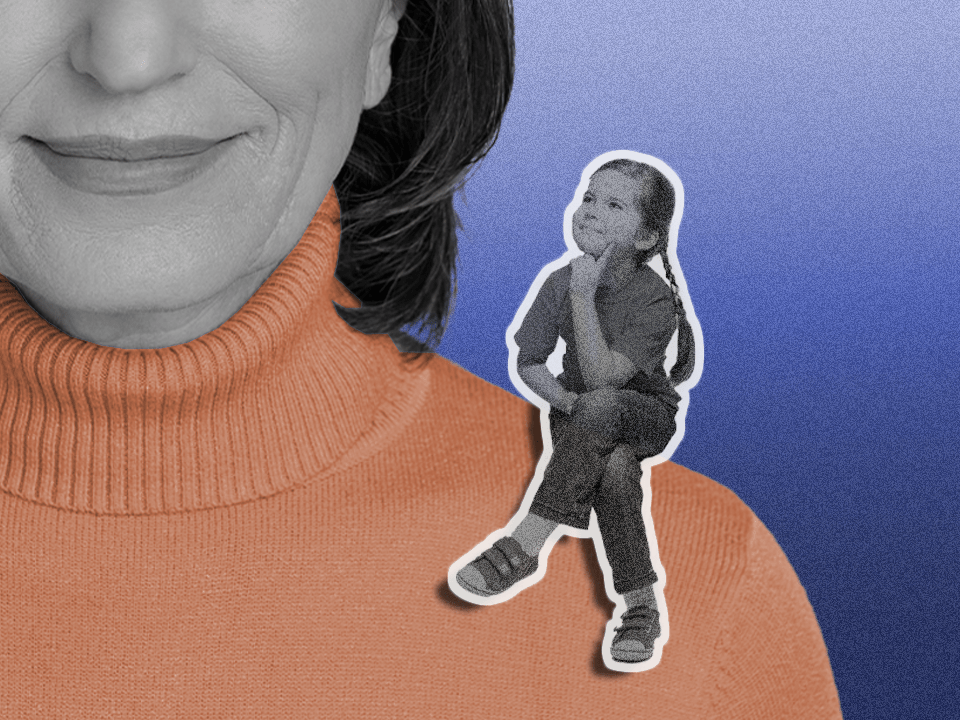 Shutterstock / Wondermind
If you can't make it through a day without seeing a post about your "inner child" on social media—welcome to the year 2023. With #innerchild on TikTok reaching a whopping 1.8 billion views (and climbing), the concept of "working" with your "inner child" is blowing up for helping people understand how their childhood impacts their adult lives and working through any past trauma...but what does doing inner child work even mean anyway? 
In theory, everybody has an inner child, or the past version (or versions) of ourselves as a kid. If you had some rough experiences growing up or complex trauma, like experiencing abuse or neglect, listening to and working with your inner child in a therapeutic setting can help you learn and grow from those tough times, says psychotherapist and complex trauma specialist Gillian O'Shea Brown, PhD, LCSW.

So, basically, "listening" to your inner child means revisiting difficult early memories or childhood experiences and understanding how you felt back then—and how that impacts how you feel and act today. By tapping into your inner child, you can pave the way for healing and behavioral and emotional change, Dr. O'Shea Brown says.
Despite the popularity of the phrase, "inner child work" isn't a clinical term or type of treatment. Still, many mental health professionals attribute the idea of the inner child to Swiss psychologist Carl Jung who may have come up with the concept as early as the 1940s. Later, in the 1980s, psychologist Richard C. Schwartz, PhD, developed the Internal Family Systems Model of psychotherapy, which suggests that people have different "parts" within themselves that have specific "roles," according to the Internal Family Systems Institute. Then, in the 1990s, John Bradshaw, a counselor and philosopher, published Homecoming: Reclaiming and Healing Your Inner Child, which popularized the idea of the "wounded inner child" and suggested that you can nurture and heal that part of yourself.
Who could use inner child work?
Anyone can try inner child work, but it's most helpful for people who had difficult childhood experiences that still impact them today. "Inner child work is aimed at repair. Without the need for repair, there isn't much need for the work," says therapist and trauma specialist Ruth Gatt, PhD.

Inner child work can also help if you feel any shame, notice painful relationship patterns, or engage in risky or numbing behaviors that could be related to trauma earlier in life, Dr. O'Shea Brown adds. For instance, maybe when you were a child, your parents were emotionally neglectful and didn't give you affirmations that you needed to feel "good enough" or even safe, says Dr. Gatt. This can translate in adulthood to being self-critical (yet successful) in work, while also feeling unstable and emotionally reactive in intimate relationships. So, instead of simply getting frustrated at your emotional responses, beating yourself up over it, and continuing to carry on in the way that you've adapted to, inner child work helps you accept the fact that you went through this trauma and understand that this is why you may react in certain ways today, while allowing yourself grace and offering compassion for the difficulties you've faced. From there, you might learn that you are capable of healing past hurt and moving forward in new ways.
Looking back on past experiences has been crucial for Alexandra Spergel, 29, a yoga teacher and survivor of childhood sexual trauma who worked with her therapist to try inner child work to help process her past experiences. "I recall in a session once telling [my therapist] how I wish I could go to younger Alexandra and give her a hug because she was really amazing. She survived so much; she was brave and powerful." After that comment, Spergel's therapist helped her understand and create a relationship with her younger self. She also learned to identify how her past trauma might be influencing her current behaviors and struggles, like being in difficult relationships and feeling like she had to constantly defend or protect herself, even when it wasn't really necessary.

"The strongest effect I had from doing this work was being able to recognize when 'inner child Alexandra' or 'adult Alexandra' was reacting or responding to a situation in my life," she says. "Once I gained that awareness, I was able to soothe my younger self and be the adult in the situation, establishing protection and safety so that the little girl in me could soften."
So how do I do inner child work?
Remember, inner child work doesn't actually refer to one specific type of treatment, but it's something that can show up in many different therapy settings. For instance, you might work with your therapist on addressing the times you were harmed as a kid, analyzing those experiences, pinpointing when the wounds occurred, and then considering how that pain is stored and how it shows up in your life now, Dr. Gatt says. You're making room for your present-day adult strength that's helped you to cope with these wounds, while still leaving space and compassion for that inner child who has been through so much, Dr. Gatt says.
Inner child work often shows up in trauma-informed therapeutic modalities, like trauma-focused cognitive behavioral therapy (TF-CBT) and eye movement desensitization and reprocessing (EMDR). With EMDR, you can revisit traumatic memories and compassionately witness them from a place of safety, Dr. O'Shea Brown explains. "Any kind of trauma-informed modality really touches upon having one foot in the present and one foot in the past, as you look back at your earlier self through loving eyes," Dr. O'Shea Brown says—and inner child work is certainly one way to do this.
EMDR coupled with inner child work was a "saving grace" for Lacey Miranda, 34, a bridal hairstylist who has an anxiety disorder and panic attacks stemming from childhood trauma.
During her EMDR sessions, Miranda revisited traumatic memories and changed the outcome. "This actually made me see my inner child as a friend or a spirit that was with me through any panic attack," Miranda says. Writing exercises like writing a letter from the perspective of her adult self to her inner child also helped reduce her symptoms, she adds.
If inner child work is something that sounds interesting or helpful to you, your best bet is to work with a trauma-informed mental health professional so you can safely navigate anything that comes up, like dissociation, difficult flashbacks, thoughts of harming yourself, or suicidal ideation, says Dr. O'Shea Brown. And when you're digging into such vulnerable and painful emotions, you want to make sure this pro is someone who makes you feel heard, seen, respected, and safe, Dr. Gatt says.
There's no one-size-fits-all approach to inner child work, and the concept of peeking into your past is actually pretty common in therapy. For instance, when a client is explaining a present-day emotion or struggle, Dr. Gatt often asks them, "How old do you feel right now?" to identify how their current feelings might be linked to past events. From there, the client can look at the trauma they experienced at that age, notice how similar or different it is to their experiences right now, and create a bridge between past and present, Dr. Gatt adds. This can help them to understand how what they experienced as a child affects the way they act, respond, and feel today.
Building that bridge between past and present helped Spergel successfully identify when she was acting out of past hurt or trauma rather than acting as the emotionally mature adult she really wanted to be. "Working with my inner child helped me see the separateness of the stages in my life and learn that those things happened, but they're not happening [now]," she says. "Understanding my inner child led me to stand more presently in my adult self, and find confidence in my ability to live the life I deserve."
Wondermind does not provide medical advice, diagnosis, or treatment. Any information published on this website or by this brand is not intended as a replacement for medical advice. Always consult a qualified health or mental health professional with any questions or concerns about your mental health.