Q&A
11.28.22
Jessamyn Stanley Is Feeling All the Feels
The yoga teacher spoke to Wondermind about trying therapy and calming her mind.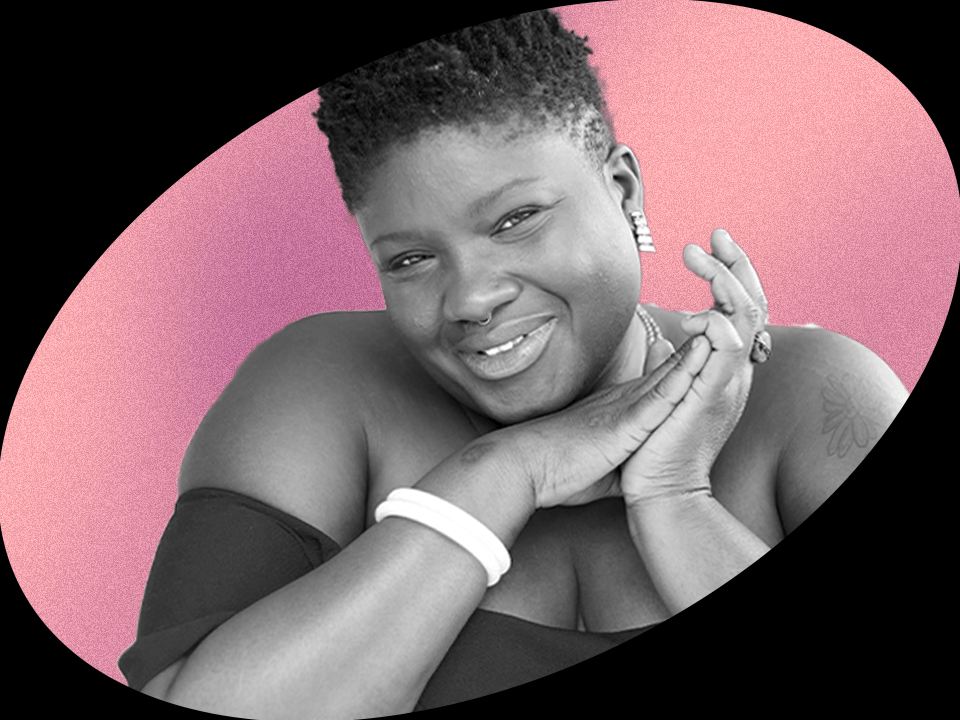 Photo Credit: Jade Wilson
For Jessamyn Stanley, fostering connections with her yoga and The Underbelly wellness communities was always the goal. And recently, she found more people who have been transformative in her mental health journey: her therapist and peers who are helping break down mental health stigma among Black people.
"I'm really grateful to be in a community of people who are lifting up the experience of being complex," she says. After a year of flexing her vulnerability muscles, here's what the author has to tell Wondermind about giving therapy another try and embracing sucky feelings, plus her on-point message for you.
[Sign up here to never miss these candid conversations delivered straight to your inbox.]
WM: How are you doing lately?
Jessamyn Stanley: I am feeling every feeling a human being can feel, and I feel grateful to be able to do so, frankly. Something that helps me a lot is remembering that there are cycles to life and that what goes up must come down and that it is a privilege to experience the full breadth of human emotions and not just one or two of them. I'm able to reach that place today—not every day—but in this exact moment, I'm happy to be feeling all the feels. The negative feelings are often a blessing in disguise for, at the very least, being able to appreciate the good moments.
WM: You're passionate about breaking down stereotypes of what yoga teachers look like and what plus-size people can do. What has your career taught you about self-image?
JM: That I should always look within myself for the answers. I've always felt like yoga and social media are at odds with one another because yoga asks you to look within yourself, and social media asks you to look outside of yourself. Just by nature of my existence, I break the stereotypes of what a yoga practitioner looks like. When you think of a yoga practitioner—certainly in America—the idea is a thin, white, wealthy, heterosexual person, not a fat, Black, queer person. When going into a space and working in an industry where I don't see a lot of visibility and representation of people who look like me, it's imperative that I turn within myself for the answers and not look to the structures that I'm dismantling to be my means of self-observation.
WM: Do you mind sharing your experience with therapy and what encouraged you to go?
JM: I had tried therapy a couple of times in my 20s—never with positive experiences. Last year, I was going through a huge change in which one of my partners and I decided to move out of our 2,000-square-foot house and into a 56-square-foot RV. There were so many changes happening in my life at that time, and a friend suggested a therapist to me. Truly out of desperation, I went to therapy. I was very apprehensive. I've never been the type of person to willingly be vulnerable with someone that I don't know very well. But the practice of being received by another human being and having them be a safe space has become extremely sacred and imperative in my mental health journey. 
Being able to show up somewhere and have accountability has felt really powerful for me. And I really can't say enough about Therapy For Black Girls, which is how I found my current therapist. For Black people, it is still taboo to talk about mental health and to take it seriously, so being in community with people who don't feel that way has been transformative.
WM: Aside from therapy, what's something you regularly do for your mental health?
JM: My biggest thing recently has been journaling, and it's journaling in a [slightly different way]. [I do this when] I have a question that's running in my mind, and I just cannot let the question go. I write out the question and then write out every single thought that is running through my mind until I'm able to [process it] clearly. That's where so much of my anxiety comes from: the same thoughts running over and over again. So [it helps] if I can make them physical and see them as, Oh, these are just thoughts. It's not that big of a deal. It's not going to end the world. … In the dark moments—especially when there's no one to talk to—that feels helpful.
I have so many practices that have been instrumental in my mental health over the years: Yoga postures, meditation, breathwork, and using cannabis are the ways that I'm able to maintain [my mental health]. But journaling is really the thing that—especially in lieu of therapy—that makes a difference.
WM: What stigma or misconception about mental health do you hope becomes obsolete soon?
JM: The idea of mental health only being something that some people need to think about. Or [the idea] that you have a mental health "problem" or anything that [suggests] mental health isn't a struggle for every single human being every day. It's just a part of the deal of showing up on this planet, [and] we don't need to demonize mental illness. We don't need to stigmatize what [it means] to live with yourself. Because we live in this right-or-wrong, good-and-bad society, we think that having any kind of intense emotional experience is a bad thing and not just the normal part of the human experience—which it is.
There are more conversations about mental health now, and there's more awareness of how all human beings go through stuff every single day. That's a positive [thing] and something we can grow from.
WM: If you could talk to yourself like a friend, what would you say?
JM: Calm down. It's not that big a deal—there's nothing that's going on that is that big of a deal. I also hope that everyone who is reading this knows they're loved and that their life is important and that even the bad things are gifts and there's opportunity in the struggle.
This interview has been edited and condensed for length and clarity.
Wondermind does not provide medical advice, diagnosis, or treatment. Any information published on this website or by this brand is not intended as a replacement for medical advice. Always consult a qualified health or mental health professional with any questions or concerns about your mental health.