Q&A
09.16.22
What Jimmie Allen Wants You to Know About Bipolar Disorder 
"I'm normal, we're all different, and we all go through things. Mine just happens to be mental illness."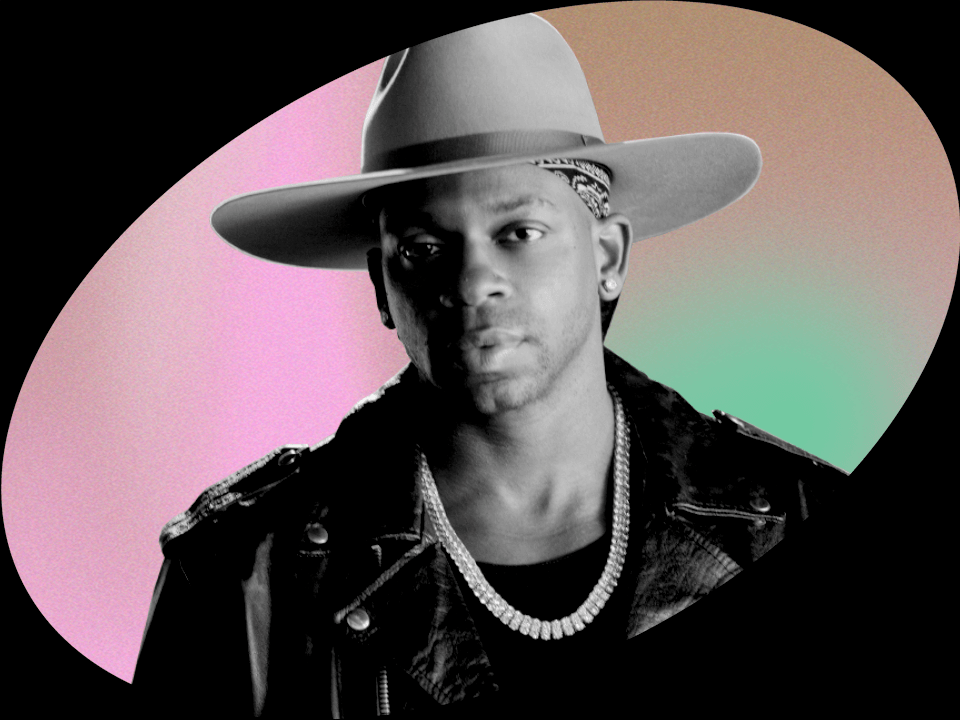 Photo Credit: Chris Beyrooty
Jimmie Allen knows firsthand what it's like to overcome mental health struggles after being diagnosed with bipolar disorder at 13 years old. One of the things that's made the biggest difference for him is learning to take breaks to do the things he loves when he's feeling most overwhelmed. Case in point: He actually took Wondermind's call at the bowling alley, a place he goes often for some much-needed Jimmie time. Ahead of his most recent album, Tulip Drive, released June 24, Allen spoke to us about the things that bring him joy, what his late father taught him about taking care of himself, and his advice for living with bipolar disorder.
[This interview originally appeared in a May 2022 edition of the Wondermind Newsletter. Sign up here to never miss these candid conversations.]
WM: What does mental fitness typically look like for you?
Jimmie Allen: For me, mental fitness is definitely music, playing shows, [and] bowling, which I'm actually doing right now [laughs].
One thing my dad taught me when he was alive was, "You got to take care of yourself. You know how you are with your bipolar disorder—you gotta do things that make you feel comfortable." And the crazy thing is that I do a lot of interviews from my fishing boat, the bowling alley, the gym, 'cause I like to kind of keep doing things, you know? So for me, it's all the activities I love, whether it's sports-related or just hanging with friends and family.
WM: On tough mental health days, or on days when you feel like you're "constantly fighting" yourself, like you say in "Untitled Song," how do you cope?
JA: That's something I'm still trying to figure out right now. It kind of just depends on the day. Sometimes I need to be around people. Sometimes I just need to shut off. And a lot of times I'll fly to Delaware [where I was born] and go fishing by myself, or sometimes I come bowling by myself. I had a weird day today, so I was like, "You know what? I'm going bowling!"
When my dad was alive, he was the one person I could always call and talk to. He always knew what to say, where to take me to help me get through a situation. Sometimes there are things I try that just don't work, but I'm the type of person, I keep trying until it does.
WM: Do you find sitting with your feelings or getting up and doing something is more helpful?
JA: Well, it depends. I feel like as long as sitting with your feelings is healthy and you're not a danger to yourself or anyone else, that's fine. I feel like sitting in your feelings too long is a bad thing. You definitely want to sit in your feelings, but, also, I think it helps to talk to people sometimes.
WM: Are there any songs on Tulip Drive that allude to your mental health?
JA: We have a song called "settle on back" about when I'm having issues and when I feel like the entertainment business gets to be too much. It's about me going back to Delaware, fishing, and doing things that me and my dad used to do together that bring me back and level me out.
WM: When you write a song and things start feeling a bit heavy, how do you decompress?
JA: For me, the song is [actually] where I go when I do get deep in my feelings. So for me, that's kind of what I do on purpose. Being a songwriter, [self-reflection] is kind of my territory.
WM: What has your experience been with the stigma around bipolar disorder?
JA: People still don't understand what it is, really. But what I do is I don't really focus on the negative. I just try to educate everyone. I don't go into any situation thinking people know what mental illnesses are or how they operate or how they deal with them. I just always educate and just throw information out there before people ask.
WM: How has your relationship with bipolar disorder evolved since you were diagnosed as a kid?
JA: Well, it was definitely shocking when I was little. I knew I was different, I knew my brain operated differently. I didn't think or feel the same way a lot of people did. I knew I changed a lot. It was shocking, but over the years, my family's done a really good job at reminding me that I'm normal, we're all different, and we all go through things. Mine just happens to be mental illness.
WM: What's your favorite piece of mental health advice?
JA: I like to share advice that I've been given. I think one of the top [things] is that it's OK to not be OK. You know, be in your feelings for a little bit. Then don't stay there because just wallowing in sorrow is a dangerous place.
WM: What advice do you have for anyone who was recently diagnosed with bipolar disorder?
JA: I would say talk to somebody you trust about how you feel. I feel like when you first find out, it's good to not hold your feelings in. Try to do as much research as you can about the situation, and then really focus on things you really, really love.
This interview has been edited and condensed for length and clarity.
Wondermind does not provide medical advice, diagnosis, or treatment. Any information published on this website or by this brand is not intended as a replacement for medical advice. Always consult a qualified health or mental health professional with any questions or concerns about your mental health.