Pro Tips
12.16.22
How to Deal With Being Laid Off
Consider this your emotional support severance package.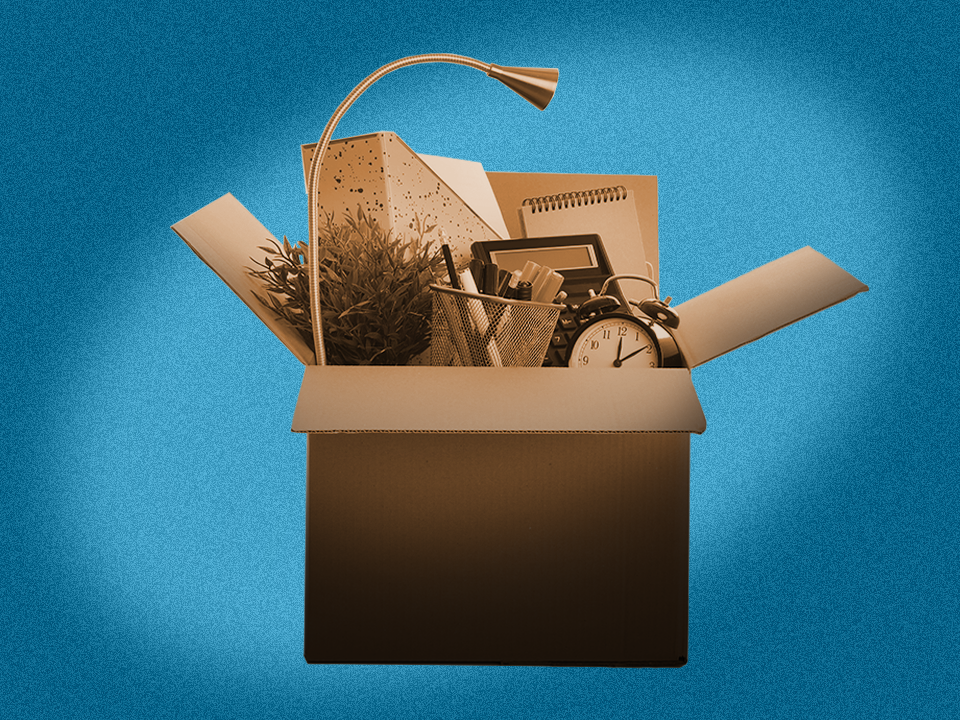 Let's be real: Getting laid off isn't something people enjoy. Despite all the lessons that come with it, it can really suck. It's hard not to take it personally too, especially if the boss' bestie is still sitting at their desk and hasn't met a deadline since they discovered mouse jigglers.
"The feeling of being laid off, which can cause us to feel like we somehow failed, is different than the reality of why we were laid off," says psychologist Jenny Wang, PhD. TBH, the reason you got let go probably has more to do with the company's finances than you as a person, she adds. Maybe you were working on a project that ended or there was a major company restructuring—all things that can trigger layoffs, psychologist Miriam Kirmayer, PhD, adds.
When Casey Gueren, Wondermind's head of content, was laid off from her first job post-college, she was understandably devastated, ashamed, and freaking out about what to do without much of a savings account to fall back on. On top of that, it was her dream job, and it took a couple of months to emotionally recover and find another full-time position. Navigating an early-career layoff wasn't easy, but now Gueren looks back on it as a learning experience that gave her perspective, empathy, and advice for anyone else who happens to get That Call from HR.
Since layoffs are an unfortunate reality in many industries, we asked the Wondermind advisory committee for their tips on dealing with the emotional aftermath of a sudden job loss. If you've recently been laid off, here are some tips from therapists about how to cope with what comes next.
1. First, let yourself feel all your feelings.
While the stress and anxiety that comes from not knowing when you'll get another paycheck is incredibly real, try to give yourself a true beat to sit with your emotions before shifting into job-seeking mode. This beat can be a day or a week (or more, depending on your financial situation), but the point is to check in with yourself, rather than immediately applying to every job you come across even if you don't really want it. Instead, try to lean into self-care, catch up on sleep, and feel those feels, psychologist Nina Polyné, PsyD, recommends. That can look like crying, venting, or journaling about how effed up this is.
"The best advice I got was from a former coworker who told me to spend the next day crying and moping in bed, and then update my resume so we could start sending it around to everyone we know," Gueren says. So if you're looking for permission to just be sad/mad/whatever for a bit, by all means, take a moment.
2. And know that you're not alone.
Even if you weren't part of a mass layoff, know that you're not the only one going through this and that, sadly, so many people get laid off each year. In November 2022, 127,000 people in the U.S. were laid off or discharged (another way to say an employer broke off the working relationship), according to the U.S. Bureau of Labor Statistics. It's hard not to take this personally or feel rejected, abandoned, or dismissed, Dr. Polyné acknowledges. But hear this: You're not a failure and you don't need to feel embarrassed about this. It happens, and it blows, but you'll get through this eventually.
3. Try stepping away from social media for a sec.
If you can, disconnect for a bit after the layoff, Dr. Polyné suggests. Honestly, you're probably pretty salty (as you should be) and might end up being too real on main. Seeing other people doing cool things at or outside of work might make you feel even worse about your new reality. And let's not even discuss how awful it feels when the company posts your job on hiring sites one week later! Even if there is a "cultural expectation" to go on a mini goodbye tour or pretend everything is fine, "you deserve the space to be with your own feelings first," Dr. Polyné says. "There is no timeline [for getting over a layoff], although the internet might try and convince us otherwise."
4. And don't feel like you have to leave a nice parting note if you don't want to.
You've seen the "I got laid off" posts that talk about how great someone's former employer was—minus the whole layoff thing. That might be a good look for the employee, showing they have "forgiveness, understanding, and admiration" for their bosses and coworkers, and be an easy way to announce they're open to work, says psychologist Ryan Howes, PhD. But it's also OK if that feels fake or forced for you. "You're not horrible for not having anything nice to say. You're a human being who feels hurt and possibly betrayed," he adds. Just keep it moving!
5. But don't pretend the layoff didn't happen.
Taking some time to digest WTF just happened is important, but be careful that you're not hiding it from your loved ones out of self-protection, Dr. Polyné warns. Not being upfront can foster shame, making you feel even worse. So when you're up to it, talk to someone you trust.
6. Remember who TF you are.
You probably spend most of your life at your job and might even love it, so it can be easy to make work your identity. Because of that, a layoff may make you feel like you don't know who you are or what to do without that gig. "When I left the office that day, I felt stunned, devastated, and embarrassed," Gueren says. "As a recent graduate who had just landed her dream job only to lose it less than two years later, I felt like I just lost some crucial part of my identity. When I didn't set my alarm that night or walk to the subway the next morning, I felt like a failure."
Still, "no job can or should be your whole identity," Dr. Wang says. Because if you spend a ton of time working, that means you're probably not prioritizing hobbies or other relationships and goals. That can lead to you thinking things like, "I only have value when I am working, which is a really exhausting narrative to live by," Dr. Wang adds. Remember that you have a life outside of work that has tons of room for things that'll fulfill you.
That might look like listing what brings you joy outside of work and spending time with people who bring out the best in you to remind yourself that you have other passions and people you care about. You can also think of things you enjoyed when you were younger. "We forget that things that bring enjoyment also provide a sense of identity, like working on a puzzle or practicing an instrument even if it is not outwardly 'productive,'" Dr. Wang says, adding, "Identity narratives are reinforced through the actions we take and reactions that we have." So, if you want to think of yourself as someone who enjoys things outside of work, go do those things! Identity is also linked to the company you keep, so join an organization, volunteer program, or service project that speaks to you.
7. Stick with (some semblance of) a routine.
A sudden loss in routine can make you feel like you're an aimless Sim. Continuing to get up at 7 a.m. might seem like a bit much, but maintaining a consistent routine can help you navigate this time of uncertainty, says psychologist and professor Thomas Vance, PhD. You don't have to go sit in a coworking space for eight hours a day, but maybe you can add some structure to your day by scheduling two hours to meet up with a friend, an hour to update your resume here, an hour to learn a new skill there. You get the idea.
8. Check negative self-talk.
Being super critical of yourself can and likely will show up during these challenges, Dr. Kirmayer acknowledges. When you notice those harsh thoughts, think about if you'd ever say that to a friend. The answer, of course, is probably not. So try to treat yourself with the same kindness, she adds.
To keep this job loss from bruising your confidence, look for evidence of the negative thoughts, which often prey on our insecurities, Dr. Wang suggests. For instance, if you're thinking you were the weakest link on your team, think about if you were ever actually called in to talk about your performance. Then reframe that thought to something like, I know the value I bring to the room for being who I am authentically, and I made my best effort to provide beneficial contributions, Dr. Polyné adds.
You might also want to fill up a digital folder of encouraging feedback you've received over the years, Dr. Kirmayer adds. It'll help with your job hunt and confidence.
9. Make this break an intentional one.
When you're not applying to jobs, you can take advantage of this extra time by exploring your interests and thinking about your next career move by writing down—without judgment!—whatever ideas spontaneously pop into your mind. Interested in comedy writing? Sign up for a class! It doesn't matter if you were in tech last month!
Also, allow yourself to find joy in things even if, overall, you're disappointed by the circumstances. Are you grateful for the extra time with your kids or pets? Have you found that mid-day workouts are actually your favorite thing ever? Consider how you might keep these moments of joy in whatever your next move might be. "We evolve and change throughout life—you might be surprised about what lights you up now," Dr. Polyné says.
10. Dust off your resume for obvious and non-obvious reasons.
Though you probs didn't explicitly write, "made my life a living hell in 2021" as a bullet point of experience, reading through your resume will remind you of everything you've learned and grown from, Dr. Howes says. "This little 'I can do hard things' reminder might just give you the boost you need to step with confidence into your new job search and interviews."
11. Do a values inventory.
There are so many ways you can flip the script on a layoff, like how this very rude and sudden "no" from your workplace can just stand for a "new opportunity," Dr. Wang notes. But another way to look at it is how the company basically just showed you the mismatch you two have when it comes to your goals, values, and future in that workplace, Dr. Wang adds. Use this as an opportunity to pursue something that aligns with the values that are most important to you, like more work-life balance, employer-matched 401Ks, growth opportunities, or new tech devices.
If your last job was your dream job and you want to find something similar, which is what happened to Gueren, then double down on that! "There was definitely some element of, I'll show them! behind every application I sent out," she admits.
12. Think about what success could look like for you.
When you reflect on your values, think about what a win and progress might mean to you. Is it financial stability? Yearly promotions? Constantly learning? Being there for your kids after school? Changing the world? Success can take so many different forms, and it's important to figure out what matters most to you and if you're facing any "external pressure to pursue a particular path," Dr. Kirmayer says.
There's no set way to move ahead or succeed at anything in life, so if you decide to switch gears and take a lateral or more junior move, remember that can still get you a step closer to a more fulfilling life, she adds.
13. Be open to all sorts of connections.
Your post-layoff instinct might be to reach out to as many recruiters as possible, but don't overlook the other connections that'll be crucial for making it through this time. Friends, family, acquaintances, former coworkers, and mentors all play a role in our personal and professional development, Dr. Kirmayer says. These relationships can help us process the emotional rollercoaster that follows a layoff, she adds.
For Gueren, the most helpful thing after getting laid off was hearing from her colleagues who offered "words of encouragement, job leads, and networking opportunities," plus a reminder that this sadly happens all the time and wasn't personal. "It taught me the power of relationship building, because ultimately that's what helped me bounce back so quickly and grow my career from that point on," she adds.
These connections can also encourage you to explore your passions, values, and strengths, which might lead you to a better opportunity in the end.
14. Accept the challenge.
Post-layoff job searches are tough because the pressure is suddenly on to find a new way to pay the bills—fast. "It's a 'have to,' and it's easy to resent things we have to do," Dr. Howes notes. "But in most other circumstances, people will say they enjoy a good challenge. … The challenge provides the thrill and gets our heart pumping."
You've overcome so many obstacles at your last job, so what if you reframed this WTF-do-I-do-next stage (your comeback, if you will) as your next work assignment to knock out? Remind yourself that you usually enjoy accomplishing something hard and that a layoff is just a significant challenge," Dr. Howes says. Boiling down the layoff to this basic level can help you move forward even when you're scared or overwhelmed, he adds.
Then, you can run with this clear go-ahead and fully invest in yourself and other opportunities. Tackle it like a project that involves multiple tasks that range in difficulty. You can start by updating the easiest section of your resume today (yup, expanding the margins counts) or setting up a coffee date with a recruiter, Dr. Wang says. When you're feeling more confident, you can level up to writing personalized cover letters even if you really don't see the point of them. Remember: "Action brings traction and gets us moving even when we are feeling defeated from being laid off," Dr. Wang says.
Wondermind does not provide medical advice, diagnosis, or treatment. Any information published on this website or by this brand is not intended as a replacement for medical advice. Always consult a qualified health or mental health professional with any questions or concerns about your mental health.