Pro Tips
12.19.22
How to Deal With All of Your Inflation Anxiety
The best things in life are free—just like this advice.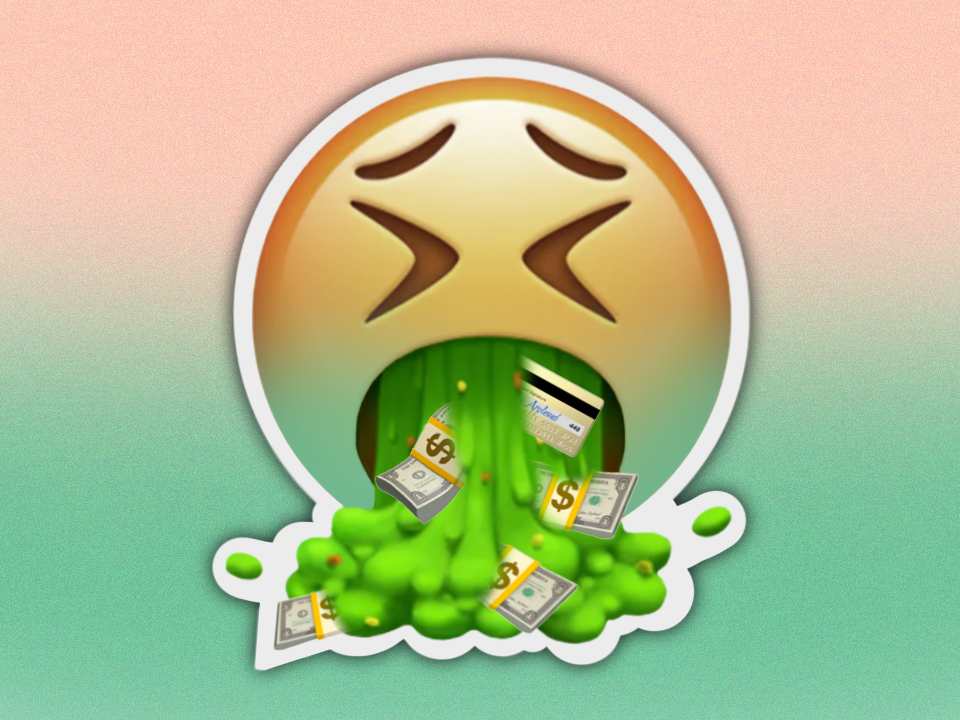 Shutterstock / Wondermind
You don't have to be into crypto or have an investment portfolio to know that the economy is kinda weird right now. With words like "inflation" and "recession" floating around and $10 cartons of eggs becoming a thing, looming or existing money stress is pretty much impossible to ignore. And if you're feeling strung out about it, you're certainly not alone—even if you're able to pay the bills right now.
A recent survey suggests that 83 percent of adults in the U.S. are stressed about inflation.
"For most people, financial stability is a part of our overall feeling of security, so when that stability is threatened, we feel less safe," explains clinical psychologist Ryan Howes, PhD. "Money certainly isn't the most important thing in life, but the absence of money makes many other areas of life much more difficult. If money is uncertain, then we worry more about our ability to take care of our health, or our loved ones, or the self-care [that protects] our mental health."
So let's just take a sec to acknowledge that you're allowed to be overwhelmed by that. Whether you're staying afloat or not sure how you're going to pay your utilities next month, you are 1000% entitled to whatever stress, anxiety, or overwhelm the current ominous economic vibe is bringing up for you.
"Whenever there is a downturn in the economy, emotions spike," says clinical psychologist and certified financial therapist, Traci Williams, PsyD. "Your survival depends on your ability to afford the things you need to live, and at times like this, it's easy to become anxious over things you cannot control, like how long the downturn lasts, whether you will keep your job, or how much you can splurge on the things you usually enjoy. It can create very real stress and uncertainty." And that's on top of whatever guilt or shame you're feeling about your financial situation.
And while validating whatever feelings come up is helpful, anyone who says you can "self-care" your way out of money stress is seriously disturbed. "When individuals suffering as the result of systemic problems are told they just need to engage in more 'self-care,' it's deeply unjust, invalidating, and maddening because the leaders in our society are not taking accountability for resolving the systemic issues that are at the root of our suffering," says psychologist Anjali Alimchandani, PhD.
WTF are you supposed to do, then? When dark, scary economic clouds loom, taking care of ourselves in meaningful ways might just be our greatest act of resistance against the financial chaos. Here's how.
1. Stop scrolling.
You already know the constant news-checking isn't doing you any good, so please for the love of Lizzo, just turn that shit off. "Tuning out the constant stream of updates about the economy can really help," says Dr. Williams. "Consuming distressing news is emotionally upsetting—plus, in reality, not much changes on a day-to-day basis." Permission to live under a rock for a minute, granted.
2. Keep doing the things that make you feel good.
Though emotional regulation techniques like deep breathing, meditation, and exercise won't magically lower the cost of living, they can help you stay grounded, think more clearly, and problem-solve issues within your control, says Dr. Alimchandani. Keep doing whatever works for you—and consider finally trying those YouTube meditations your friend sent you if you've got nada.
Oh, and while you're at it, keep treating yourself to that latte that keeps you feeling warm and fuzzy despite the shitstorm out there. "That one small bright spot in your morning is nothing compared to the massive increase in rent, gas, utilities, and groceries over the past couple of years," says Dr. Howes. "Let's stop shaming people for wanting a relatively insignificant indulgence that makes a tough life more bearable."
3. Lean on your people.
If you're bottling up your worries or feeling ashamed right now, let it flow. "Anxiety, in general, loves to take us into isolation because a vulnerable, isolated mind is where it thrives," says Dr. Howes. "Therefore, I believe one of the main antidotes to anxiety is community and relationships, where we find support, strength, and compassion."
Yep, this means it's time to talk about your feelings. "Reach out to trusted friends or family members and share your difficulties," suggests Dr. Alimchandani. "Allowing yourself to be vulnerable and asking for help and connection is one of the primary ways we can support ourselves."
Don't stop there, either. Whether you need help with your resume, could use a ride somewhere, or want some advice on budgeting, chances are there's someone on your team who can (and would love to) lend a hand, Dr. Howes says.
4. Pay it forward.
Another surefire way to feel more connected to others and enjoy the sense of safety that comes along with that is being the helping hand. "When you're able to give to others and feel the joy involved in that interaction, you might not feel as bad asking for help," says Dr. Howes. "We're all in this together, and that togetherness is a great buffer for financial stress." Volunteer at a local park clean-up, trade time doing fixer-upper tasks at friends' and family's homes, or donate to a local thrift store or food bank if you can.
5. Flex your financial knowledge.
Sure, inflation sounds pretty bad—but if that's all you really know about it, do some research. "Just knowing that inflation has a purpose, can be controlled, doesn't typically last, and is under the watchful eye of experts can help ease your nerves," Dr. Williams says.
From there, you might feel empowered to learn about budgeting or other personal finance actions that can help you gain a greater sense of agency over your well-being, suggests Dr. Alimchandani.
6. Do the simple financial stuff.
If you don't have a savings account, now's a good time to open one. "Even if you have very little to contribute, just having somewhere to easily deposit money helps," says Dr. Howes. Every dollar saved is something. Dr. Williams recommends stashing your cash in a high-yield savings account (HYSA, for short), which will have a higher interest rate (which means more return on your deposits) than the average savings account.
From there, choose which debts to chip away at right now, and focus on high-interest ones (think credit cards!), says Dr. Williams. "These rates increase with inflation, and your balances can seriously balloon if you don't get on top of them," she explains.
And, finally, take 15 minutes to review your monthly bills, credit card balances, and bank statements for any subscriptions or recurring charges you might be able to axe. These are all simple ways to feel a little better about your spending—and save some cash.
7. Take political action.
It's easy (and understandable) to feel powerless, but doing something to speak up when shit hits the fan can help you feel more hopeful. "Financial stress is often associated with the helplessness we feel about the shifting sands of the nation's economy, and many feel empowered by speaking up to leadership," says Dr. Howes. Join a political action group, contact your congressperson, or find another way to make your voice heard.
Wondermind does not provide medical advice, diagnosis, or treatment. Any information published on this website or by this brand is not intended as a replacement for medical advice. Always consult a qualified health or mental health professional with any questions or concerns about your mental health.