Explainer
09.14.22
Let's Talk About Peripartum Depression
Think postpartum depression but...earlier.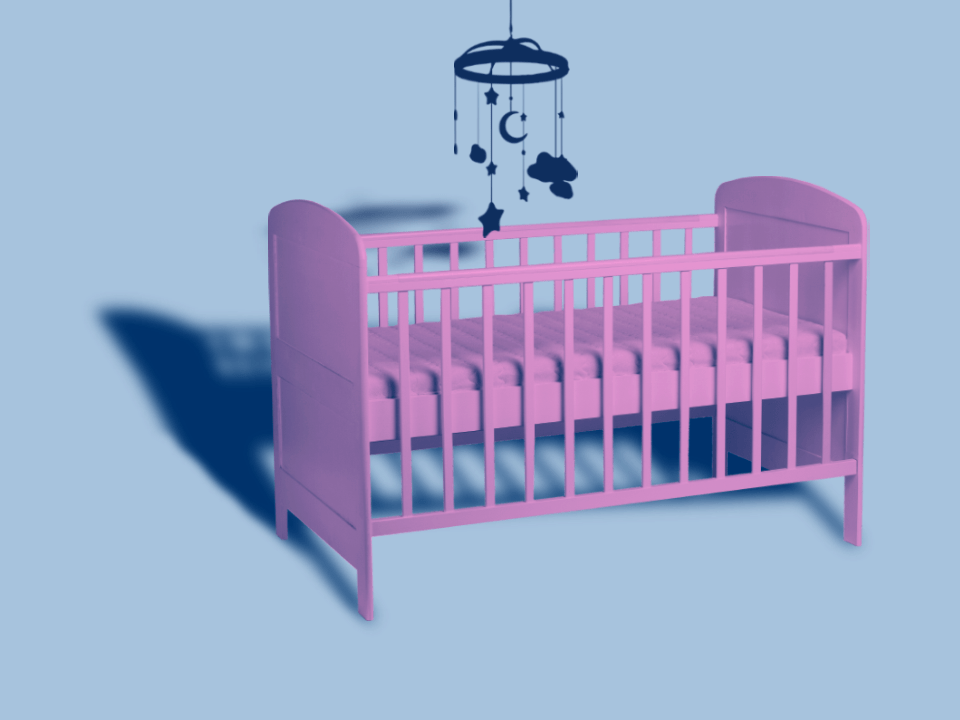 Shutterstock / Wondermind
When I was diagnosed with postpartum depression after the birth of my first child, it was 2008 and the condition wasn't exactly a hot topic of conversation at the new baby classes I attended, within my wider circle of mom friends, or even in the media. But, still, I knew what it was. I'd been through the questionnaire with my midwife as part of my postpartum checks (and the result was pretty conclusive). Plus I had a history of depression, so none of my symptoms were actually new to me. It was a case of finally admitting that it was more than just sleep deprivation or the "baby blues," and that I needed some help if I was going to show up for my son every day. 
Things were a little different two years later when I was pregnant with my daughter. My depression symptoms—anxiety, overwhelming sadness, and an inability to sleep—were back, but I didn't have my baby in my arms yet. I was only a few weeks into my pregnancy, so it couldn't possibly be postpartum depression. That came after the birth, right?
So, what is peripartum depression?
It turns out that postpartum depression is pretty off-base as a name for a serious mental health condition that can actually strike at any point before the baby is born. And the medical community finally decided to acknowledge that in recent years—hence the name change. In 2013, the DSM-5 (the Diagnostic and Statistical Manual of Mental Disorders, Fifth Edition) officially recognized the fact that depression associated with having a baby often begins during pregnancy.
Today, you'll probably hear these words used interchangeably: postpartum depression (PPD), peripartum depression, perinatal depression, and major depressive disorder with peripartum onset. The DSM-5 calls it a subtype of depression that occurs during pregnancy or in the first four weeks after delivery, but people are actually at risk for developing depression up to several months following delivery, per the American Psychiatric Association (APA). 
"Peripartum depression is a more accurate descriptor of what we see clinically: Women can start experiencing symptoms of depression at any point during pregnancy or the postpartum period," says board-certified psychiatrist and neurologist Elisabeth Netherton, MD, who is the regional medical director with Mindpath Health and specializes in maternal mental health issues and psychiatric treatment before, during, and after the birth of a baby.
More and more people are aware of postpartum depression, Dr. Netherton adds, but we might need to do a better job of talking about symptoms that start during the actual pregnancy.
What are the symptoms of peripartum depression?
So, how do you know if what you're experiencing actually meets the criteria for peripartum depression? This is a super common question because most pregnant people or new parents are drowning in unsolicited opinions and advice that can often make it sound like constant exhaustion, overwhelm, and crying are just kind of par for the course. But that's not really the case. 
According to the APA, symptoms of peripartum depression can include things like depressed mood, loss of interest in things you used to enjoy, changes in sleep or appetite, crying for no apparent reason, feeling really anxious or detached from the baby, feeling like you're worthless or a bad parent, fear of harming yourself or the baby, and thoughts of death or suicide. 
While it's a good idea to keep an eye out for these symptoms, you shouldn't feel pressure to self-diagnose before you seek out help, says Dr. Netherton. "We are highly trained in working with mothers and assessing them for symptoms of depression (among many other things), as well as telling the difference between concerning symptoms and what may be more routine difficulties adjusting to having a new baby," she explains. 
"Women are often culturally taught to minimize their symptoms, or wonder if they're really suffering 'enough' to warrant seeking care for themselves," Dr. Netherton says. "Rather than trying to find a one-size-fits-all benchmark for whether to seek guidance, I would say that if you're wondering whether your symptoms meet criteria, that is in and of itself enough of a reason to see someone." So if you have any doubts or concerns, it's always a good idea to get a professional opinion from a psychiatrist or therapist who is trained in caring for pregnant and postpartum mothers, or from your ob-gyn or midwife. 
What are the risk factors for peripartum depression?
Peripartum depression is probably more common than you think. According to the DSM-5, about 9% of people will experience a major depressive episode while pregnant, and about 7% will experience it in the first year after they give birth. And while peripartum depression doesn't discriminate. certain things may put someone at a higher risk for peripartum depression, says Thalia Robakis, MD, PhD, associate clinical professor at Icahn School of Medicine at Mount Sinai, New York, who specializes in perinatal mood disorders.
Some of those risk factors include: age (younger parents are at a higher risk), a history of depression or other mental health conditions, relationship issues, experiencing poverty or other major stressors, and a family history of peripartum depression, explains Dr. Robakis.
Social support (or lack thereof) is another huge factor, says Dr. Netherton. And support from a partner is particularly crucial. One study found that mothers who have a good deal of social support, in general, but none from their partner showed significant risk for postpartum depression.
Having these factors don't mean you're doomed to experience depression during or after your pregnancy, but knowing your risk might help you beef up some protective factors too. For instance, you could try to make your mental health just as much of a priority as your physical health during pregnancy—and beyond. Sleep habits, in particular, are super important, says Dr. Robakis. Aim for at least five hours of consecutive, uninterrupted sleep each night, and when baby is born, get someone to help you feed the baby overnight if you can. It's also not a bad idea to check in with a mental health provider before or during your pregnancy if you think you could develop peripartum depression. After having peripartum depression with my first two pregnancies, I made sure I got plenty of rest, relied on my social support system more than ever (both practically and emotionally), and scheduled regular sessions with my counselor—things I know from experience help keep my mental health in good shape. 
How can you get help for peripartum depression?
If you think you have any symptoms of peripartum depression, reach out for help. And it's important to know that you don't have to be "sure" you meet the criteria for depression to speak with someone about it, says Dr. Netherton. 
"The best people to see are mental health care providers with a focus on reproductive mental health—this can be an MD, PhD, PsyD, or LCSW," says Dr. Robakis. If you've never seen anyone for mental health care before and are having trouble locating someone, your ob-gyn, midwife, or doula may be able to help out with a recommendation.
Postpartum Support International is one great resource that maintains an online database of providers and offers both local and online support groups, adds Dr. Netherton. There's also the National Maternal Mental Health Hotline (1-833-9-HELP4MOMS), which offers a free, confidential hotline for pregnant and new moms 24/7 in English and Spanish.
"There is no one best place for help with perinatal mental health," Dr. Netherton points out. "What is important is that your provider is comfortable working with pregnant and postpartum moms and maintains a nonjudgmental space for you to seek support." So if you can't afford or access a licensed mental health provider, maybe you can find a local support group or community health center that provides you with a safe space to vent and ask for help. And don't be afraid to talk to other new parents you know to see if something worked for them (just because their experience looks incredibly easy and carefree on social media doesn't mean it actually is). 
Treatment for peripartum depression may look different from person to person since it'll take into account your unique symptoms, circumstance, and medical history. "Some moms might do well with therapy as an additional support and some moms might benefit from starting medication in addition to therapy," says Dr. Netherton.
And yes, taking mental health medications while pregnant or breastfeeding is recommended for some people, and there are many options that are safe and effective to use during this period. So while it's normal to have some apprehension about anything you're putting into your body while pregnant or breastfeeding, chatting with your doctor can help put your concerns at ease and find the right option for you.
It's also important to highlight that depression isn't the only peripartum mental health concern. "Anxiety disorders are also very common among pregnant or postpartum moms, as are symptoms of obsessive-compulsive disorder, post-traumatic stress disorder, and other mood disorders," says Dr. Netherton. "A trained clinician can help guide you to the right diagnosis and treatment for each."  

The bottom line: It's great that we're finally starting to recognize that the "baby blues" might actually be a serious (and treatable!) mental health condition. But it's just as important to recognize that these symptoms often start well before your due date. If you have a hunch that you might be experiencing peripartum depression, check in with a health care provider sooner rather than later for support.
Wondermind does not provide medical advice, diagnosis, or treatment. Any information published on this website or by this brand is not intended as a replacement for medical advice. Always consult a qualified health or mental health professional with any questions or concerns about your mental health.