Explainer
03.17.23
Traveling While Plus-Size Can Be Emotionally Draining. Here's My Advice
IDK who needs to hear this, but you deserve to see the world too.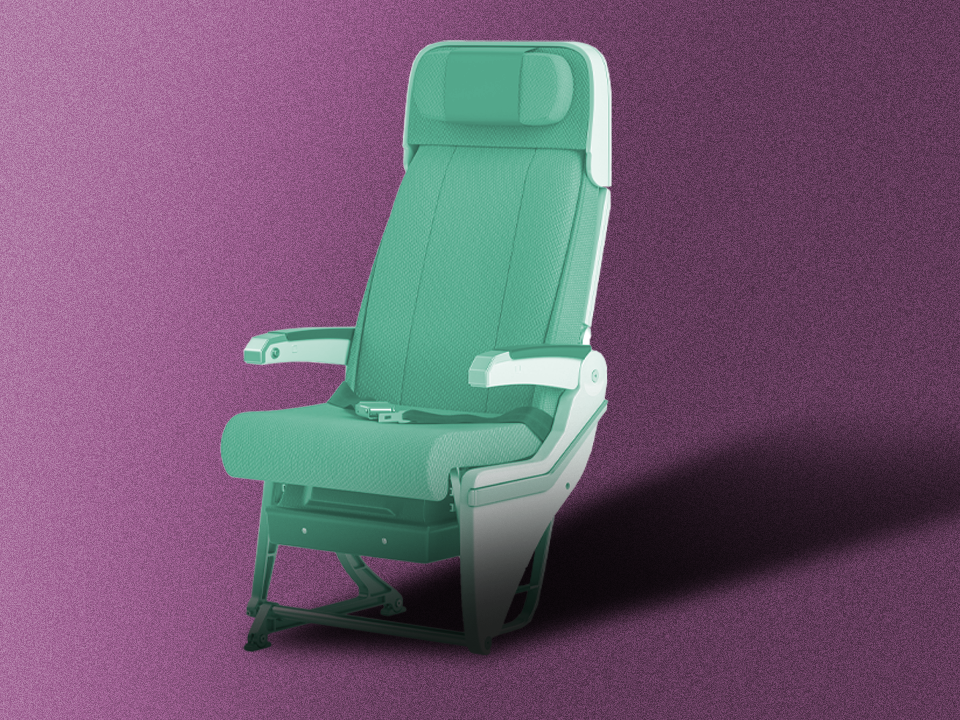 Shutterstock / Wondermind
Anyone who's taken a plane, bus, or just a long road trip knows the process of getting from one place to another is like entering a unique circle of hell. And when you're a plus-size person who loves to travel, like me, you might even brace yourself for, like, five extra levels of misery.
My love for seeing the world began as a teenager. For me, that extreme form of escapism was a coping mechanism of sorts to ditch bullying, depression, low self-confidence, and the everyday struggles of living in a body that seemed outside the norm (people stare way too much, lemme just tell you). I wanted to escape to other countries to meet new people, learn about their standards of beauty, and try to reinvent myself and develop confidence. All of which I definitely did.
But, even two decades later, it still doesn't come without a struggle. Though I've had once-in-a-lifetime experiences all over the world as a content creator, I'm reminded of my size no matter where I go. I've had to sit uncomfortably upright for hours, thanks to increasingly small seats. I've been heckled. I've been photographed and gawked at by locals.
It's not that my size is actually a problem (fatphobia is, TYVM) or that I don't love my body, but the way I'm made to feel for what I look like honestly does hurt. If I'm not prepared, it can be an emotionally draining experience that ruins a whole trip.
In addition to the fact that our fatphobic society tells us that we deserve these stressors because we don't lose weight, traveling as a plus-size person can spark major anxiety, fear, embarrassment, and sadness—and you're not crazy if you dread it.
There is a vulnerability in choosing to show up in the world in the way you truly want, but you have to remember that you deserve to see the world, visit family, and take work trips without feeling less than. All bodies should be allowed to take up space and enjoy themselves. I mean, we are not saving up for months just to feel miserable! We deserve joy, rest, fun, and confidence too. With that in mind here are the best ways to enjoy your time away from home based on everything I've learned.
1. Do the things you'd normally avoid.
Because many plus-size people are scrutinized and mocked fairly often, it's only natural that going to an unfamiliar place can heighten our fear of encountering more of that harassment. But embracing time outside of your comfort zone might make your trip a more enriching experience—and maybe even boost how you feel in your body.
I'd be lying if I said the thought of wearing a two-piece never scared the absolute daylights out of me, but I've always wanted to wear one with confidence. During one of my first tropical getaways, I decided to ditch all the negative associations I had with my body and commit to being OK with feeling uncomfortable in an effort to build up my self-esteem. I bought a teeny triangular string bikini and walked around my villa in it. Seeing my body adorned in something people with smaller bodies typically wear without the same critiques helped me achieve a level of confidence I had never experienced before. Plus, being far from home actually made it a little bit easier—I'd never have to see those strangers ever again!
2. Remember it's OK if travel looks different for you.
You might've come across people who have very strong opinions on the best ways to venture out. Take carry-on-only culture pushers, for example. Sure, living out of a tiny suitcase is cute in theory, but it isn't very realistic for people who can't hoist their baggage in the air or whose clothes take up more space. So, if you need to check a bag and pack some extra clothes in your carry-on (a fail-safe for lost luggage in locations with limited shopping options), you're not an anti-minimalist monster! Trust me.
Also, if you need to split trips into shorter flights or train times because you can't fit into those tiny AF bathrooms onboard, don't let anyone tell you that purposefully booking multiple stops is a wild idea. It's way more important to have access to an accessible stall in a terminal than to attempt to hold it mid-voyage.
It's easier said than done, but try not to be too hard on yourself if your trips don't line up with whatever non-inclusive wanderlust content you've consumed over the years—you have nothing to feel ashamed or weird about.
3. Make flexibility a priority.
There's nothing more annoying than planning your itinerary only to find out that there may be certain weight restrictions or activities that limit your ability to participate—or just your ability to have a good time.
I once had to miss a ride on the gorgeous Bali swings because of the weight limits they had, which was incredibly annoying and could've been embarrassing if I had shown up and been turned away in front of people.
Whether you're journeying solo or in a group, create backup plans if you suspect you might run into an accessibility issue (or set aside time to look into that before you book an experience). If you're with a crew that really wants to do an activity that you'll have to sit out, see if you can find something else to do that you couldn't otherwise fit into the itinerary. Then, you can go enjoy some precious alone time instead of focusing on the FOMO, shame, or embarrassment you might otherwise end up feeling.
4. Check your seats.
One of the more harrowing aspects of traveling as a plus-size person is, of course, the seat sizes. Even if you're not plus-size, you've probably witnessed or heard of the dehumanizing ways some people talk about sitting next to someone who is bigger or might need a seatbelt extender on a flight. Unfortunately, if you don't have the luxury of buying a first class ticket or extra seats, you'll want to do some research about the most size-inclusive airlines before you book a trip.
When I was younger and a lot less experienced, I would book the cheapest flight on the cheapest airline and that would be that—or so I thought. About six hours into a very uncomfortable 18-hour economy flight to Bali, I was on the brink of tears because of the huge seat width differences between airlines. Now, you cannot catch me spontaneously booking with a company that I haven't already vetted (thank you, SeatGuru), and this has done wonders to curb my stress levels on departure day.
The same tip goes for booking tables at restaurants you've never been to before. If you need a chair without armrests or a table instead of a claustrophobic booth, call ahead or make a note of your needs when making reservations.
5. Manage seat awkwardness with self-compassion.
Even if you do a ton of research on seats, things happen. You might find yourself in the dreaded situation of noticing your limbs begin to touch the limbs of the other passengers seated next to you. That awkward feeling penetrates deeply, and you might stiffen or try to shrink your body or even apologize on your body's behalf in response.
Blaming and shaming your body for (just the possibility of) making other people feel uncomfortable happens. But this only contributes to the cycle of self-hate, shame, and fear that society's fatphobic views already inflict on us. While you could apologize to your seat neighbor about the lack of space (Airlines! Why are you like this?!), you never need to apologize for being bigger. Your body is not an error to be fixed.
6. Dust off your trusty coping skills.
While flying to Prague in 2015, I tried to discreetly ask a flight attendant for a seatbelt extender, only for them to shout across the cabin, "DO WE HAVE ANY EXTENDED SEAT BELTS FOR A LARGE PASSENGER??" The entirety of the cabin's passengers turned toward me, and it was one of the most humiliating experiences of my life. From then on, I vowed to buy and take my own extended seat belts on flights with me to avoid anything like that ever happening again.
And while that can be an easy fix, I'm not suggesting that you buy your own extender out of fear of humiliation. We shouldn't have to. I wish more people understood that, as plus-size adventurers, we're already in an emotionally vulnerable position. We can feel othered or become the target of someone's ire or ignorance at any moment.
I've found the best way to navigate the moments when people refuse to see me as a human with feelings is by reaching out to people I trust. Whether they're family and friends or people in the travel community, shooting them a text or DM for some advice or reassurance really helps.
And if I can't reach anyone at the time, I put on a mindfulness podcast to center myself and relieve some stress. Another solid stress reliever: Let all your feelings out in your Notes app then delete it to help you let go.
7. Stand up for yourself in whatever way feels safe.
Last year, while on my way back to the U.K. from Greece, I had to remove my jacket to walk through the body scan machine. That alone can be stressful for globetrotters who are insecure about certain body parts. At the time, I only had a spaghetti strap camisole underneath, and after passing through, I noticed three security guards looking at the stretch marks on my arms and laughing. I've come to love and embrace my stretch marks, but the experience was still humiliating and made me feel othered.
As much as I wanted to say something, I decided getting into an argument with airport security wasn't going to protect my peace. Instead, I immediately documented the experience and emailed a complaint to the airport. A rep later sent me an apology, and I felt empowered and proud that I advocated for myself even though I knew there was a chance I wouldn't be taken seriously.
You're bound to come face-to-face with people who don't think the same way or have never seen anyone quite like you. That's the beauty of visiting other cultures—and also one of the scariest bits. When you're faced with people who don't treat you like a human being, it can be hard to navigate those situations, especially if you're venturing solo or there's a language barrier (or! both!). This is all to say that it's OK if you don't feel comfortable standing up for yourself in the moment or at all—just try not to internalize whatever crap just happened.
Wondermind does not provide medical advice, diagnosis, or treatment. Any information published on this website or by this brand is not intended as a replacement for medical advice. Always consult a qualified health or mental health professional with any questions or concerns about your mental health.