Explainer
10.24.22
Should Your Therapist Help You Lose Weight?
Here's why it's such a tricky (and potentially dangerous) topic to cover in therapy.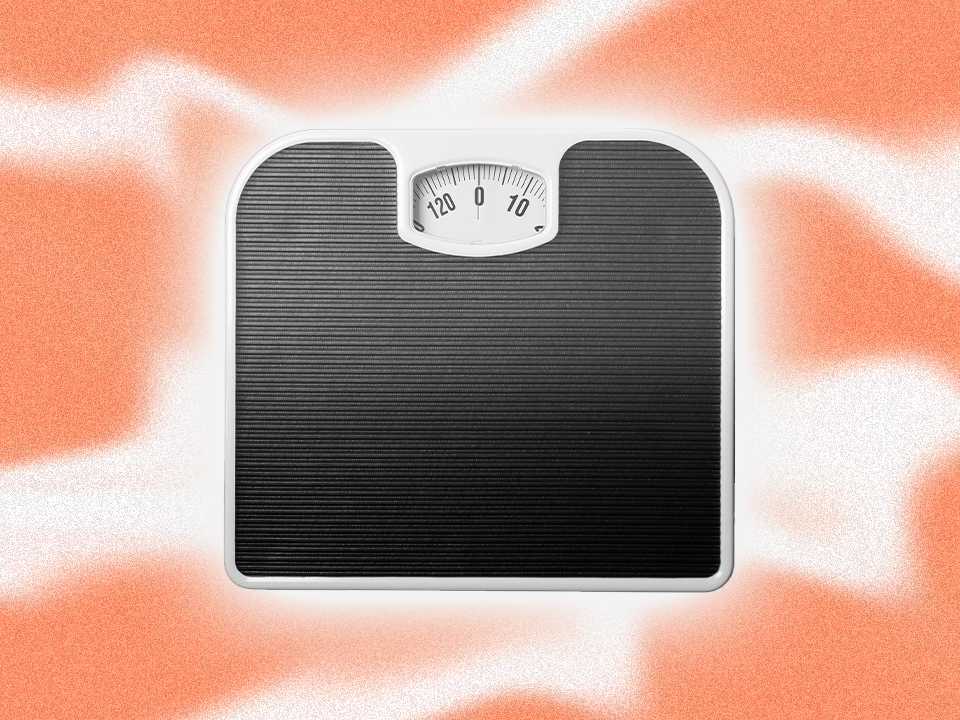 You've probably heard this before: "Losing weight is all mental." Whether it came from an ad for a "psychology-based" weight loss app, a '90s diet book, or a *lifestyle* TikToker, the message that mental health is the key to making your body smaller is everywhere.
So when licensed professional counselor candidate Natalie Siegel, MS, used Twitter to call out therapists and psychologists who help clients lose weight (as well as the fat phobia allegedly displayed by some of her grad school professors), some people were—understandably—confused. "Therapists: It is both unethical AND out of our scope of practice to help clients lose weight or encourage weight loss." Siegel tweeted. 
Thousands of likes and hundreds of retweets later, many mental health pros were all, "Preach!" But others didn't see a problem with getting involved in their clients' weight loss goals if they were overweight, had binge-eating disorder, or just wanted to lose weight for any reason.
So, yes, this is quite complicated. But if you're looking to find a therapist to help you lose weight (or if the one you're working with has suggested that you lose weight—that's 100% inappropriate BTW), here's some more background on the debate and what it means for you.
Many psychologists and therapists think that losing weight (or trying to) is bad for mental health.
First off, the theory that people in bigger bodies are at higher risk for all of the physical health issues is pretty flawed. And while people have literally written entire books on that exact subject, the TL;DR is that scientific studies correlating higher body weight to higher risk of early death are often based in weight bias and don't account for confounding factors like access to health care or poverty. 
Plus, when it comes to mental health, a study of more than 3,000 U.S. adults suggests that trying to lose weight over and over and having internalized weight stigma (feeling shitty about yourself because of your weight) are associated with depressive symptoms. 
Weight loss (or just the pursuit of it) might make you feel like others accept you more or your body image has improved, but for some it can actually have a pretty negative impact on mental health in the long term, notes clinical psychologist Alexis Conason, PsyD. "Intentionally focusing on weight loss increases the risk of eating disorders, disordered eating, body image concerns, and a host of other mental health complications," Dr. Conason says. "Those are the most basic reasons why I don't think therapists should be working with clients on weight loss," adds the eating disorder specialist and author of The Diet-Free Revolution. 
Therapy for weight loss is an ethical gray area.
Because therapists and psychologists get their licenses from different organizations, and each organization has their own codes of ethics or rules for how they should work, there are no universal guidelines mental health pros have to follow when it comes to this subject. Though most of these orgs have similar ethical standards, none of them explicitly state whether therapists can support or encourage their clients to lose weight.
However, the American Psychological Association's code of ethics, for example, kicks off with the principle of ~beneficence and nonmaleficence~,  which is a fancy way of saying psychologists must strive to help their clients and do no harm.  And, because of the connection between dieting and mental health issues, for some therapists, "encouraging people to lose weight goes against this principle," Dr. Conason says.
What a therapist's actual job entails is also determined by each licensing entity (as well as state regulations). But, broadly speaking, most psychologists and therapists are qualified to diagnose and treat mental health issues. Obviously, that doesn't include suggesting that you lose weight or giving calorie goals or exercise routines. "I'm not a dietician or nutritionist, so I can't talk about foods that might be 'helpful' or perceived to be 'harmful' in reaching one's health goals," says clinical psychologist Erika Dawkins, PsyD. 
But some mental health professionals would argue that if a client wants to lose weight, the therapist should encourage them. "I hear therapists saying that it's our job to meet clients where they are," Dr. Conason says. "So if we don't help them with weight loss when they ask us to, we're pushing our own agenda on them." But, she adds, an ethical therapist would never help you work toward any and every goal or give out step-by-step advice. (That's kind of their whole vibe, ya know.)
There's also a possibility that a therapist's own bias against people in bigger bodies can come into play when a client asks for help losing weight (therapists are people after all). For example, if a mental health professional is making judgments about a client's health or life based on their size, they might flag a smaller client who's seeking weight loss help as having an eating disorder. But when someone larger does the same, they may think that goal is perfectly healthy, says Dr. Conason. And that's a big deal since eating disorders are often overlooked or undiagnosed in those at higher weights. This is just one reason why it's crucial for therapists to work from a weight-inclusive perspective and not make judgment calls about your health or treat you differently based solely on your current size, she adds.
Also worth noting: The idea that mental health issues are inherently behind someone's larger body size is also very messed up. It doesn't account for the fact that bodies just…look different.
All of that said, therapists should never make people feel like they're wrong for wanting to be smaller, Dr. Conason says. Instead, a therapist should validate your feelings and "recognize that the desire to lose weight is very normal and expected because our culture is heavily invested in believing we need to shrink our bodies in order to be valued and feel loved," she says. However, a therapist can validate that goal without agreeing that weight loss is the answer or helping them achieve it, she says.
That said, sorting through your relationship with food and exercise isn't off-limits in therapy.
It is possible that addressing certain behaviors in therapy, like consistently using food to numb emotions or avoiding exercise because of traumatic past experiences, could lead to weight loss, says Dr. Dawkins. But that's very different from making weight loss a primary goal of therapy—they're not helping you heal your relationship with food and your body just so you can be smaller.
"As a clinical psychologist, I can note adaptive and maladaptive [aka more harmful than helpful] relational patterns around food," Dr. Dawkins says. For example, a therapist might help you figure out why you turn to food in response to certain emotions and how food serves as a coping mechanism. And, if these things are unhealthy coping mechanisms, therapy could focus on how to improve that relationship with food. Finding additional coping mechanisms, lessening guilt and shame around eating, and letting go of black-and-white thinking around food are all things that you might work on in therapy.
Figuring out why you want to lose weight is also on the table.
Ultimately, the best way for therapists to help clients who worry about their weight is to help them work toward a healthy relationship with food and their bodies. That's because the desire to lose weight typically stems from negative body image, so instead of supporting or encouraging weight loss, a therapist's role is to investigate where those feelings come from. "It's really important for people to understand what it is about their body that is uncomfortable," Dr. Dawkins says. "What kind of messaging have you received about your body? Is it the space that it takes up, the way it looks in clothes, or how other people react to the space it fills? What does one believe now about themselves as a result of how they feel about their body?"
After that, a therapist might give a client direction and homework to help them relearn how to view themselves, Dr. Dawkins says. "This may include actively looking at the uncomfortable bits [of their body], or touching them, or talking to those parts—acknowledging what they're doing and capable of," she adds.
The bottom line about therapy and weight loss:
If you've been considering talking to a therapist about your weight, remember that weight management falls outside the scope of their expertise as a mental health professional. That said, talking to a therapist about why you want to lose weight and questioning where that desire is really coming from could actually bring you a lot of clarity.
But beware, not every therapist works from a weight-inclusive perspective. It's possible they have their own agendas and beliefs, and those biases can sneakily work their way into a therapist's practice. So it's really important that, if you can, you find someone who knows about how all these different factors can influence your self-image and their practice.
If your therapist goes beyond the boundaries laid out here or makes you think you should lose weight, they're overstepping in a major way. If this happens to you, speak up if you feel comfortable doing so. And if you no longer trust or feel safe talking to this therapist, consider finding a new one who works from a weight-inclusive perspective and understands all the nuances of weight loss and mental health.
Wondermind does not provide medical advice, diagnosis, or treatment. Any information published on this website or by this brand is not intended as a replacement for medical advice. Always consult a qualified health or mental health professional with any questions or concerns about your mental health.