05.03.23
Powered by
Step 2 | Motivation: How We Keep It Up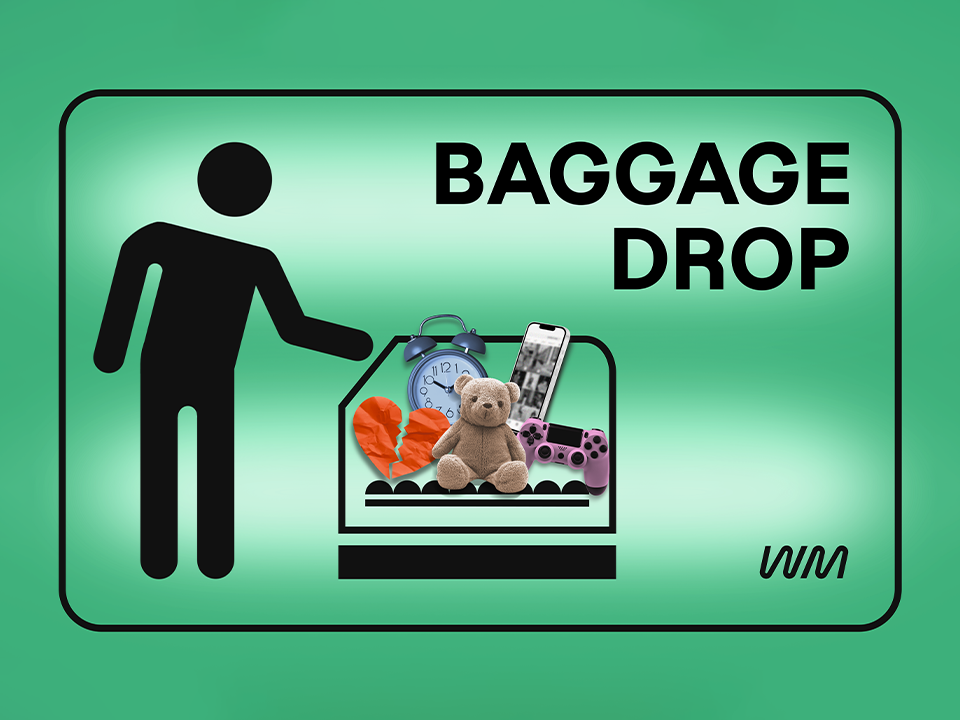 Licensed clinical psychologist, consultant, and clinical assistant professor at NYU Langone Health specializing in trauma, PTSD, anxiety, depression, substance use, and adult ADHD
---
Week one of Wondermind's Baggage Drop continues with host Dr. Stern as she teaches how to tackle the all-too-persistent feeling of self-doubt. We can handle roadblocks or times of struggle by remembering that discomfort is temporary. Dr. Stern also guides us through an exercise on overwhelm—creating smaller, more manageable, goals as stepping stones to overcome mental roadblocks, and stay on your aligned path.

Download the How to Make a Change and Actually Stick to It worksheet!

Learn more about Dr. Stern
Try Dr. Stern's  "Productivity Powerkit" workbook

As a performance brand for over 70 years, the ASICS philosophy mixes human-centric science with charitable partnerships, and the belief that mind and body are linked…so working on both fuels your power to uplift yourself, and other people. Nothing's more powerful than mental health. So after this podcast's mental boost, learn how ASICS can bring that ethos to your life by heading to asics.com. ASICS—sound mind, sound body.
---
(BAGGAGE DROP THEME BEGINS)
JESSICA STERN, PHD, HOST: Hello! I'm Dr. Jessica Stern, and in case you missed it, this is Baggage Drop. This show was designed to help you let go of whatever's weighing your mind down, so that way you can reach higher heights when it comes to your mental health. This is episode two of Wondermind's Baggage Drop.
Welcome back to Baggage Drop! If you're new to us, great! Welcome! You can totally start from right here, but you may get more out of this podcast if you listen to the previous episode, where we explored what's working and not working in your life. Feel free to circle back to that, or just simply keep listening.

(MUSIC BEGINS)

OK, Baggage Droppers, let's revisit that question we asked in episode one to help you find your north star: "What's working in my life and what's not working in my life?" Now for a little check-in. How did thinking about this question go over the last couple days? Let's zone in: what's working and what's not working when it comes to your goals?
Are there external forces keeping you from moving forward? Could there also be internal thoughts keeping you from accomplishing your goals?
I'm thinking of one in particular one of the toughest motivational leeches: that frustrating, knows-exactly-what-to-say-to-hurt-the-most condition of self doubt.

(SOUND EFFECT: MOVIE SCREAM)

Now don't be scared, we can look at the seeds of self doubt from a couple different angles: I like to categorize these as "Obstacles" and "Strengths."
(MUSIC BEGINS)

As mentioned before, there are sometimes legitimate, external obstacles in our lives that are out of our control and keep us from reaching our goals. Wondermind Producer Pia Glenn hit the streets of LA to learn what some of those might be.

PIA GLENN, PRODUCER: We're talking about wellness, and health and healthy habits. Is there a new healthy habit you're starting?

[VOICE CLIP 1]: Just to eat healthier, I guess.

PIA: And then what gets in the way?

[VOICE CLIP 1]: I really like mac and cheese.

PIA: Yes. Mac and cheese.

[VOICE CLIP 2]: Hot Cheetos.

PIA: Hot Cheetos. Those damn Cheetos!

[VOICE CLIP 3]: Oh, it's probably just being self-motivated, isn't it, which is I think the hardest thing building up a good habit. So yeah.

[VOICE CLIP 4]: I'm just being mindful of what I eat and trying to pick, like, whole organic foods when available.

PIA: Maybe shopping differently, different places?

[VOICE CLIP 4]: Yeah.

PIA: And then what is something that gets in the way?

[VOICE CLIP 4]: Oh, alcohol.

PIA: Hey now. OK… Yeah, partying?

[VOICE CLIP 4]: Oh, I think just not even that, just the nightly or semi-nightly glass of wine.

[VOICE CLIP 5]: It's quite new to me, gym sort of thing. So I'm learning that. Again like yoga, trying, I'm not very flexible, so I'm working on that. Yeah, it's quite early in it but yeah, I guess that's a healthy habit that I'm trying to work on.

[VOICE CLIP 6]: Uh…Go to the gym more often.

PIA: More often than you do now? So how often do you go now?

[VOICE CLIP 6]: Probably three days a week, four days a week.

PIA: That's a lot. So what time do you usually wake up?

[VOICE CLIP 6]: Uh. 7:00, 7:30.

PIA: You go to the gym first thing?

[VOICE CLIP 6]: It's either then or after work, yeah.

PIA: After work is tough.

[VOICE CLIP 6]: After work is very tough, especially when work can end at 8:30, 9:00.

PIA: Whoo. What do you do?

[VOICE CLIP 6]: Financial consulting.

PIA: Oh, are you single?

[VOICE CLIP 6]: Uh no.

PIA: I'm kidding. Thank you so much. What gets in the way of your goal?

[VOICE CLIP 7]: Work… Scheduling issues, and then just being tired from parenting.

[VOICE CLIP 8]: I'm 61. I go to Gold's Gym when I have time and I like to take walks almost every day.

PIA: What have obstacles been that get in the way?

[VOICE CLIP 8]: You know…Sometimes I feel, like, a little depressed that I don't want to do it, but you know, I say to myself, "I need to do this. This is healthy and this is going to help me to go through the day and just do it." And I get ready and then get out of the house.

(MUSIC ENDS)

DR. STERN: From craving mac and cheese, to work, and navigating your feelings, obstacles to your personal goals can vary a lot, and those obstacles can also challenge your values. So let's say, you value getting fit, and one goal to match that value is to go to the gym each day, being a caretaker for a sick family member or pet can definitely be present as an obstacle. It's important to remember that some obstacles are temporary. And some are out of our control. And some are clearly both. So you can always wait them out, but if the obstacles stick around, don't let them get you down. Try to find compassion for yourself when you encounter road bumps that are out of your control. You're just working with the situation you're working in. And goals should stay flexible for moments just like that. Maybe find at-home workouts or go to the gym fewer times a week. On the other hand, some roadblocks are internal. It's pretty easy to get down on yourself when you can't see what you have going right—when you lose sight of your strengths.

(MUSIC BEGINS)

If you're having a hard time thinking about what's working with your goals, the quickest way to find motivation is to get some positive perspective from someone outside of your own head. You may be surprised by how many support opportunities you've got. Ask a trusted person in your life, a friend or an acquaintance, to find the good qualities in your efforts to meet your goals. And even if you live alone—or you don't have a particular person coming to your mind—maybe it's a neighbor, or your regular barista, or that person that lifts weights near you at the gym who's always laughing at your jokes. Maybe they can lend some words of encouragement. Ask them what strengths they see in you. And I guarantee, listening to their perspective can breathe new life into your internal motivation.

PIA: What's your support system?

[VOICE CLIP 9]: My work colleagues, they're just so supportive and caring.

[VOICE CLIP 10]: Yes. Family. Definitely my daughter and my granddaughter.

[VOICE CLIP 11]: So, you know, I have lots of friends who I've meditated with, and so I reach out to them whenever I need any kind of, I guess, emotional support or encouragement. And of course my sweet husband. We do try to encourage and support each other whenever we can.

[VOICE CLIP 12]: I don't know. I guess just myself. I don't really have… I don't know. It's just like a me thing.

[VOICE CLIP 13]: My mom for sure, and also my extended family. Um I'm lucky that I'm married into a family with lots of brothers and sisters and nieces and nephews.

[VOICE CLIP 14]: Uh, my mother, for sure, my family, my sister, my partner.

[VOICE CLIP 13]: My husband, my friends, my work husband. I don't consider that cheating.

DR. STERN: So now for episode two's exercise. Here's another addition to the "what's working and what's not working" line of thinking, and it might help you out if you're feeling stuck: This time, ask yourself, what smaller, concrete steps can I take to get closer to my goals? For instance, if your "why" is, "I'd like to be more present and mindful," and your goals to fit that value are to use your phone less and connect more with your experiences. Try to break those goals down into smaller, more tangible steps. This is the quickest and simplest tool for avoiding overwhelm that might hold you back in your efforts. Here's another example, let's say your intention is, "I'd like to become less overwhelmed with social media," and your goals to fit in with that value are to set boundaries with the content and also to take a step away from it when need be. Instead of being less overwhelmed, why not think of it as unfollowing accounts plus closing the app when your gut tells you to? That way, each goal has manageable steppingstones to keep you going along the way.

(BAGGAGE DROP THEME BEGINS)

I like to check in with overwhelm by asking myself whether I'm trying to climb the mountain, or move the mountain. It helps me be sure I'm not overextending myself. So in my previous example, unfollowing and closing the app would be "climbing the mountain," whereas eliminating overwhelm would be considered attempting to move the mountain. That's just way too much.
In the next couple weeks, you may hear from my colleagues about "habit stacking." Definitely keep these overwhelm exercises in mind for then, too. But you've got me for one more episode! Tune in on Friday for a recap of our week together, and for more voicemails where Baggage Drop listeners share their own stories. It's going to be great. And there's still time for your voice to be heard too! Leave Wondermind a quick message at the link in our show notes, and tell us what new habit you'll be starting this month or share what baggage you hope to drop. Can't wait for the next episode!

(BAGGAGE DROP THEME ENDS)

Credits:
Senior Producer: Marisa Bramwell
Senior Writer: Amy Thompson
Producer: Jennifer Bassett
Producer: Pia Glenn
Audio Engineer: Joel Edinberg
Music: Epidemic Sound
---
Wondermind does not provide medical advice, diagnoses, or treatment. Any information published on this website orby this brand is not intended as a replacement for medical advice or a substitute for the advice of a professional, and you should not rely on it. Always consult a qualified health or mental health professional with any questions or concerns about your mental health