05.05.23
Powered by
Step 3 | Make a Change and Stick to It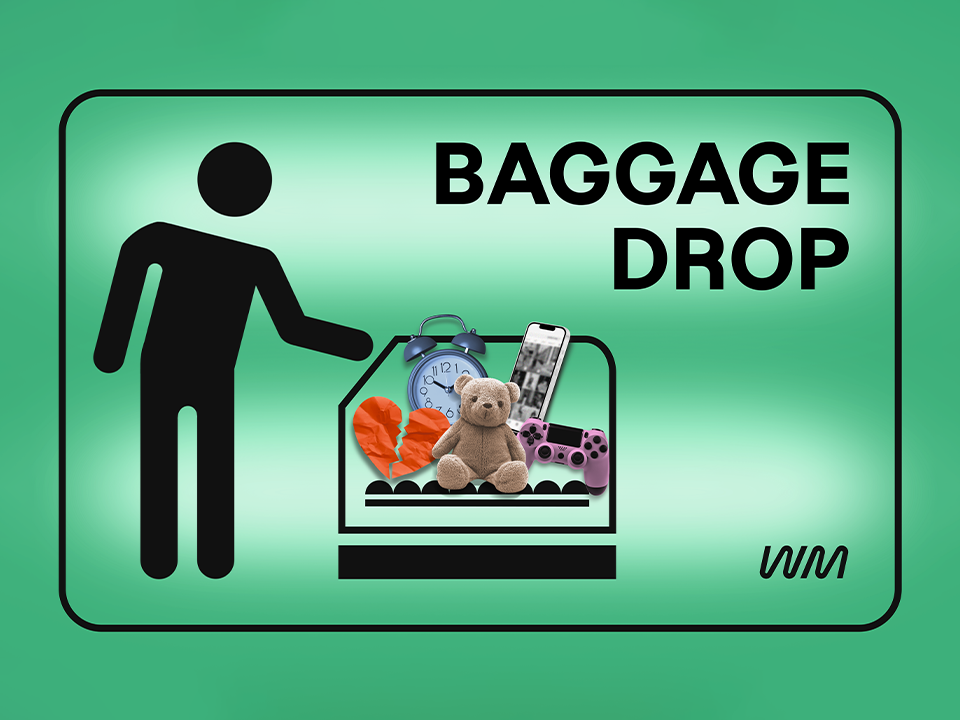 Licensed clinical psychologist, consultant, and clinical assistant professor at NYU Langone Health specializing in trauma, PTSD, anxiety, depression, substance use, and adult ADHD
---
Week one of Wondermind's Baggage Drop concludes with Dr. Stern guiding us to reflect on our week of growth with the help of other Baggage Drop listeners. Oh, and for those who still want to keep practicing over the weekend, don't fear! We've created a helpful worksheet to get you closer to a life led by your values.

Download the How to Make a Change and Actually Stick to It worksheet!

Learn more about Dr. Stern
Try Dr. Stern's "Productivity Powerkit" workbook

As a performance brand for over 70 years, the ASICS philosophy mixes human-centric science with charitable partnerships, and the belief that mind and body are linked…so working on both fuels your power to uplift yourself, and other people. Nothing's more powerful than mental health. So after this podcast's mental boost, learn how ASICS can bring that ethos to your life by heading to asics.com. ASICS—sound mind, sound body.
---
(BAGGAGE DROP THEME BEGINS)

JESSICA STERN, PHD, HOST: Hey again! I'm Dr. Jessica Stern, and you're listening to Baggage Drop—the show designed to help you free your mind of whatever's weighing it down, so you can reach higher heights with your mental health.
This is episode three of week one of Wondermind's Baggage Drop.
To those of you who've been following along, welcome back! And for the people who're just tuning in for the first time, it's great to have you here! Over the last two episodes, Baggage Drop has been exploring what's working and not working in our lives and how to begin new habits. You might get a little bit more out of this by circling back and listening to this week's previous two episodes, but you're also completely welcome to pick up where we are today, that's really up to you!

(MUSIC BEGINS)

So, let's recap: our first two episodes covered exploring your "why"—that's your value or set of values—and then we talked about how to create goals to fit those values. Then we touched on typical obstacles to change, and how to stay prepared to get past things like self doubt by focusing on what's in your control and by breaking down goals into smaller, more achievable, mini goals. And each episode, we returned to the very crucial question, "What's working and what's not working in my daily life?" to make sure that we were still on the right track.

(MUSIC BEGINS)

Meanwhile, the Wondermind team also asked Instagram followers to call in and leave voicemails about another values-focused question. That question is, "If you could wave a magic wand and change your life for the better, what would your ideal life look like?" Here's a taste of what we found out:

[VOICE CLIP 1]: I would like the magic wand to make me so capable that I could help everybody in need and make a smile on their face because nothing more than making people smile could give me more mental peace.

[VOICE CLIP 2]: My ideal life would be to build a community of compassion in which, if someone is struggling, everyone takes notice. And I'm currently sick right now, so life without sickness would be great.

[VOICE CLIP 3]: If I had a wand, a dream of mine would be for mental health to be in education from kindergarten to high school. I would love to be a teacher to help kids navigate their emotions and teach them emotional awareness and intelligence.

[VOICE CLIP 4]: I'll probably keep all my friends happy, healthy and wealthy, as well as me, like, happy, healthy, and wealthy, for sure.

[VOICE CLIP 5]: Just being able to get my work done, keep my room clean, keep things organized, not forget about things every 20 seconds and not overthink everything just because I can't control my brain.

[VOICE CLIP 6]: I would love to be king. I know that sounds very, uh, like a lot to ask for…

DR. STERN: Wow. First of all, those were all amazing. Thank you all for sharing. And, just so you know, I would also love to be king, so I absolutely support that goal and I am there along with you.

(MUSIC BEGINS)

We also asked you—our Baggage Drop listeners—what new healthy habits you wanted to start in May.

[VOICE CLIP 7]: A healthy habit I would like to start would be to stop worrying what other people think about my mental illness and just be happy.

[VOICE CLIP 8]: I hope to drop the baggage I feel from a recent hospitalization. The hospitalization doesn't have to define the next steps of my life.

[VOICE CLIP 9]: So I've always had difficulty with, like, my sleep schedule. So since a young age, waking up, and I would get my nights and days kind of turned around, so to say. So I would sleep during the day and be up at night, which actually the night is I think the most productive time for me…I have been working on waking up at a more reasonable time, going to bed at a more reasonable or normal... I don't like the word "normal" so much, but that has been something I've been working on, and so far successful. But it does take some time to create, you know, a habit, so it does take several weeks for that to happen. So I've been working on that. It's been successful so far.

[VOICE CLIP 10]: I started working out again, and making sure that I'm always hydrated, and also starting to read 10 pages every evening from a book.

[VOICE CLIP 11]: And the baggage I would like to drop is I want to stop using my phone that much, and I want to sleep better.

[VOICE CLIP 12]: Eat healthier foods that nourish my body and continue working out and moving my body.

[VOICE CLIP 13]: Definitely not oversleeping. Not oversleeping my alarms and blaming that on me not being productive in the mornings.

[VOICE CLIP 14]: I decided to start a new gym membership, and I'm looking forward to working three to four times a week just to get out there and become physically active all over again. And it's the start of spring, so start fresh, start new, and I guess start being active today.

DR. STERN: Whoa, thanks to everyone who submitted voice messages, it sounds like we're off to a great start!

(MUSIC ENDS)

There's no exercise to go with this episode, just keep up with the work you've already been doing, But if you want a little bit more for over the weekend, in the show notes we've linked up some worksheets to help you make changes and stick to them. You can always check those worksheets out and follow along!

(MUSIC BEGINS)

But that's it for me hosting Baggage Drop! Thank you so much for starting this journey with me. I'm going to pop back in on a few episodes as you continue your journey, but now I'm passing the hosting baton to my colleague Dr. Ryan Howes. He'll be hosting next week's episodes that will pick up where we concluded today.

RYAN HOWES, PHD: Hey everyone! Looking forward to getting deeper into our "whys" through our support systems next week!

DR. STERN: You will love Ryan. He's amazing. But before I go, if you wanted to hear more about me (I'm so honored, thank you so much) you can find me at my website, drjessicabstern.com, or on Instagram or Twitter @drjessicabstern, or you can listen to the radio show I cohost on SiriusXM's Doctor Radio Show, "The Psychiatry Show."
This has been a super productive first week. And remember, "productive" doesn't mean that you need to have started goals or changed any habits by this point. Just thinking, reflecting, and listening is the "productive" that we aim for here. Go into the weekend proud of the work that you've done, and tune in on Monday for the next installment of Baggage Drop!

(MUSIC ENDS)

Credits:
Senior Producer: Marisa Bramwell
Senior Writer: Amy Thompson
Producer: Jennifer Bassett
Producer: Pia Glenn
Audio Engineer: Joel Edinberg
Music: Epidemic Sound
Wondermind does not provide medical advice, diagnoses, or treatment. Any information published on this website orby this brand is not intended as a replacement for medical advice or a substitute for the advice of a professional, and you should not rely on it. Always consult a qualified health or mental health professional with any questions or concerns about your mental health