Q&A
09.16.22
How Adam Rippon Prioritized His Mental Health After Hitting Rock Bottom
"Life is life, the ice is slippery, and if I made a mistake, I'd learn from it."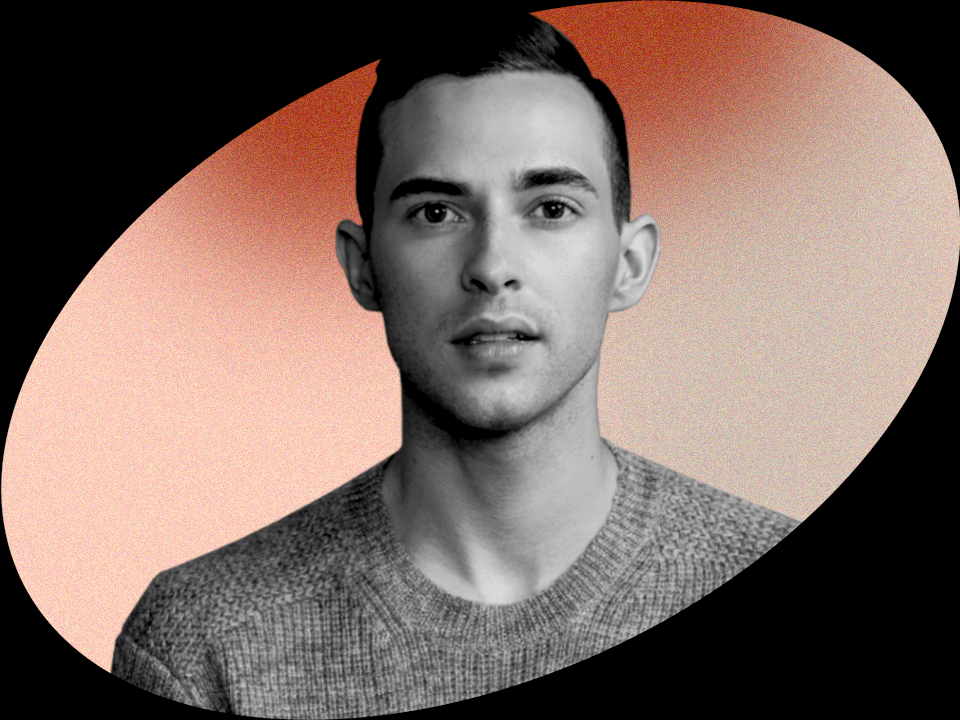 Photo Credit: Aaron Jay Young
Like many high-level athletes, Adam Rippon had to reshape what his everyday routine and his relationship with himself looked like post retirement. He worked for so long to finally compete at the Olympics in 2018 and, aside from his Olympic win (he got a team bronze), that effort also enabled him to begin healing his relationship with his body. Now as a retired skater, he's fostering a future that brings him joy by joining the coaching staff for Team USA's Mariah Bell and getting into the entertainment space. Here, Rippon talks about body image, overcoming negative thoughts, and redefining himself off the ice.
[This interview originally appeared in a June 2022 edition of the Wondermind Newsletter. Sign up here to never miss these candid conversations.]
WM: How are you doing lately?
Adam Rippon: I'm doing good…[as] I start crying [laughs]! Over the last few months, my husband, who's from Finland, was able to finally move to California, so we're finally living together. It was pretty challenging during the pandemic because we weren't married yet, and because we weren't married, he wasn't able to come to the U.S. So when I wasn't working, I would try to go to Finland as often as possible. But we went through periods of not seeing each other for like 10 months at a time. We made the best of it, and we made it through. That's probably one of the biggest things that's been making me feel good.
WM: How has figure skating impacted your mental health?
AR: I've had my highest of highs and my lowest of lows out in the middle of the ice. And in those lowest of lows, I just felt really depressed and felt like I had failed or that I was a failure. But also because of skating, I've taken so many of those lessons specifically into everything that I do with the grand lesson being: Go into every situation like you have nothing to lose 'cause if you have nothing to lose, you're a little bit more fearless.
And some of the negative things are, I think a lot of athletes and people in general sometimes motivate themselves with bad self-talk. I'm completely guilty of that.
WM: How do you switch gears when you're engaging in negative self-talk?
AR: One thing that did help me was the last four years, I had the opportunity to coach a little bit on the ice, and when I'm speaking negatively to myself, sometimes I take a step back and say, "I would never talk to anybody else in this way, so I should stop talking to myself that way because if I don't think that would motivate somebody who's literally paying me to help them be motivated, why would I—for free, pro bono—give myself a beatdown?"
WM: Were you ever able to prioritize your mental health as an athlete?
AR: The reason I was able to prioritize my mental well-being was because I finally had this rock-bottom moment in my career. For me, that was not qualifying for the Olympics in 2014. I was an alternate in 2010, and in 2014, I would've been 24, which in my sport is on the older side. So it was unrealistic to think that in 2018, at 28, I would go for the first time. And so not qualifying for those Games made me really feel like I had wasted my time, I had let everybody down, [and] I had let myself down when, truly, the Olympics is just one event.
But I feel like the reason that I made it to those Games in 2018 was because I let go of those expectations and I just tried. I just gave myself a chance. And I went into everything knowing that I would give 100%. Life is life, the ice is slippery, and if I made a mistake, I'd learn from it.
There were so many different things in regards to my mental health that I put on the shelf and just said that I would deal with later. And I think it was very easy to do that because in sports, even our long-term goals are short-term goals. Our long-term goal would be like, "For this season, I wanna do this." Well, your season is four months. When I stopped competing [after the 2018 Games], it was dealing with more of the reality of different things that I had always dealt with but never really addressed.
WM: How did retiring impact your sense of identity?
AR: I was 28 when I retired, and after the Olympics, I had so many different opportunities. I knew what I was gonna do next: I wanted to pursue this career in entertainment. It was my favorite part of being a figure skater…performing. And I've always loved being in front of people and making people laugh. And so I felt like, I'm not gonna have this let down of not knowing who I am, 'cause I'm being who I've always been.
For the first few months I was so busy, I was doing everything I could, and I was feeling good. But it was almost this changing of identity, of who I was because there were so many things that I enjoyed that I just didn't know how to do anymore. Like I enjoyed going to the gym and moving my body, but I didn't know how to go to the gym and not be training for the Olympics.
It was truly that reframing of like, What does every day look like? And it was also telling myself that if I didn't have anything going on that day, it was OK. It didn't mean that I was lazy or behind. I would say it took maybe two years for me to feel over the hump and to feel like I could address those mental hurdles head-on.
WM: You've been open about body image issues in the past. What did healing your relationship with your body look like?
AR: I was always just trying to be very matter-of-fact about it. I could look around and I could see who was having the most success and what they looked like, and they were thinner than I was. They were leaner than I was. I was just trying to do what I thought would make me better. And the sick and twisted part about it is that when I started to lose weight, I did do better and I was getting better and I was getting praise for it, but I wasn't letting anybody know that I [wasn't eating enough]. The challenging part for me was that I never saw it as a problem. I knew it was bad, but I also knew that I wasn't doing it because I wanted to look a certain way. I was doing it because I thought it would help me function better in my sport.
I got very lean and I was feeling good, but I associated this feeling of being almost starving with working hard and that feeling of full with, Oh, you could be working harder than that. It all came to a breaking point when I broke my foot a year before the [2018] Olympics. That's when I had a moment where I said to myself, I know why this happened. I wasn't nourishing my body. I wasn't eating enough. And I knew that if I wanted to go to the Olympics, I would have to address this or my body wouldn't hold another year.
[I got] information about what's necessary for my body and learned that I wasn't going to get worse [at skating]. I would be able to train better if I gained a few pounds. That really motivated me to make healthier choices. It wasn't until the year before the Olympics that I feel like I was physically the most healthy. I had a better idea of how to be the best version of me as an athlete.
I still deal with that feeling—[that] not eating anything makes me feel like I'm working hard—so it's reconnecting those wires. And it's still dissociating those different feelings of what's good and [that] eating is good for you.
WM: How do you cope with bad mental health days?
AR: ​​Going for a walk with my dog and just moving. When I am not feeling my best, I just want to sit home. I just wanna be on my phone. I don't wanna move. And as an athlete, I learned how important it was for me to just move my body and get going and just take one step forward. I [also] reach out to friends, I can talk to my husband, I can talk to my dog...who's not a great listener. But taking one step at a time, that's always what helps me get through a rough mental health day.
This interview has been edited and condensed for length and clarity.
Wondermind does not provide medical advice, diagnosis, or treatment. Any information published on this website or by this brand is not intended as a replacement for medical advice. Always consult a qualified health or mental health professional with any questions or concerns about your mental health.