Q&A
11.08.23
Ally Brooke Is Ready for Her Return
"I just want to be able to express myself how I [want to] express myself."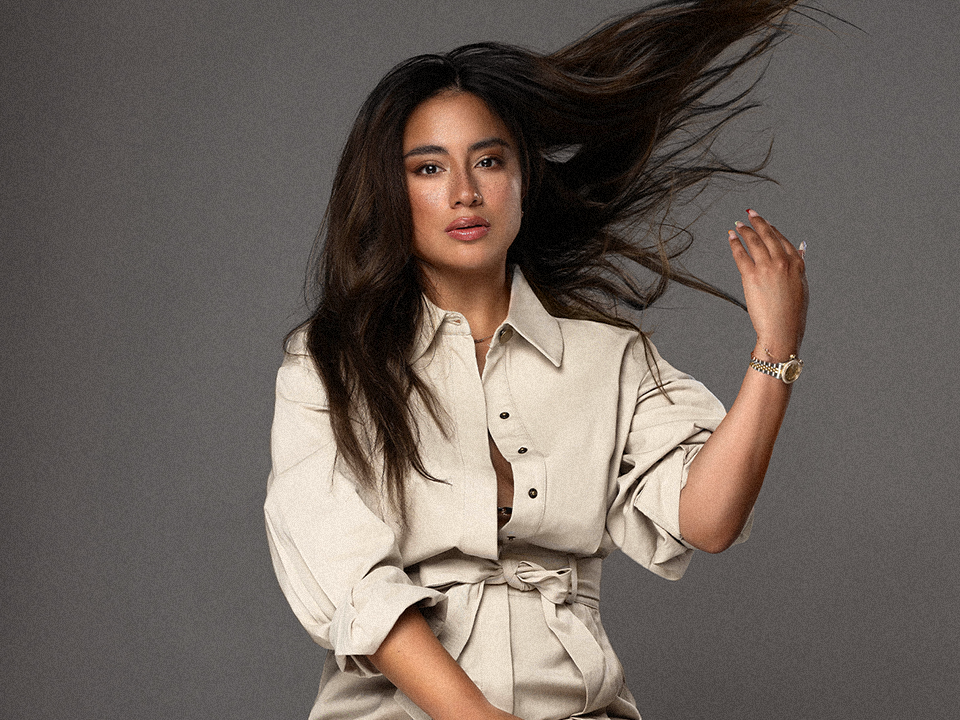 Since she was about 20 years old, Ally Brooke has been hustling, dominating the charts during her Fifth Harmony era and as a solo act, competing on Dancing With the Stars, and writing a memoir. This year, she's tapping into her love of Christmas with a new EP, Under the Tree, featuring three covers and a new original holiday bop. "I'm just happier than ever," she tells Wondermind about her latest project. The release also comes as Brooke returns to music, feeling refreshed after a year-long mental health break.
Here, she sits down for a quick mental health check-in to share what she learned during her time away from the spotlight, why recording music feels healing now, and the mental health message that makes her feel better.
[Sign up here to never miss these candid conversations delivered straight to your inbox.]
WM: How are you doing lately?
Ally Brooke: I'm doing very good. I have a lot of good in my life, a lot of exciting things that I'm working on, so it's very good.
WM: You just came off of a year-long mental health break. What inspired you to take that time off, and what was it like for you?
AB: I felt like I just needed it. I've been go, go, go since I was little, and to be able to have that time for myself was so needed and healing. I was just working on myself. I was in therapy, and it was just such a positive experience for me. I'm still learning and growing.
WM: Did you have any realizations or personal wins during that time?
AB: Not really. I didn't really have too much of an epiphany. I just kind of felt lighter and more energetic and more like, OK, I want to be back. I really missed being in the spotlight.
WM: When you started working again, did you get right back in the flow of it, or did you have to make some adjustments?
AB: Well, actually, I brought someone in to add to my team. His name is Joey Arbagey and he was my A&R [artists and repertoire representative] in Fifth Harmony. He found all the hits, and he is amazing. I mean, he has amazing ears, and he's an amazing creator and creative. I reconnected with him, and that was healing and so good for me and exciting. He just wants me to be free and myself in sessions, and that's what I want. I just want to be able to express myself how I [want to] express myself. And he was there to say, "If there's anything that you want done differently, let me know." So I think having that check-in with my team was essential.
WM: What's one of the best lessons you've learned through therapy?
AB: Just to know that I'm so strong and I can really handle many things. I have the tools to be able to handle life situations and to better manage my emotions.
WM: What's something you're proud of overcoming in your mental health journey?
AB: I would avoid a lot. So being able to confront what I was trying to avoid, I've been able to do that more, and that's liberating me to not be overtaken by my emotions and being able to live and be free [and] experience life and be OK with that.
WM: You've talked about feeling mistreated and helpless in a lot of ways when you were in Fifth Harmony. In the years since, have you found anything that you draw empowerment from or anything that helps you feel secure and confident?
AB: I love my team. I finally found the team that I've been wanting to have, and they've really been my support—my rock. They've been there to lift me up in hard, very dark moments. They've been there to cheer me on in my triumphant moments. I have to credit them for a lot. They've done a lot for me.
And then my family, they were there for me at all times, and they still are. They're like, "We're here for you. If anything, you just call, and we'll be there." That means so much to me. It means the world.
WM: Is asking for help something that typically comes naturally to you or is it something you've had to practice?
AB: I actually struggle asking for help. I kind of want to solve my own problems and want to just be in my head. But I've been told, "No, that's what people are for and your family's for. Don't be worried about reaching out." That's something that I still am working on. I love to just be in my own head and just think [and] feel things out.
WM: What message would you like to leave with readers?
AB: My favorite thing is knowing that I'm not alone. For me, [what] helps tremendously is knowing, Oh, I'm facing battles, but I'm not the only one. … There's help. Don't be embarrassed to get help. Don't let those voices enter your mind. Everyone goes through anxiousness and anxiety, and at some point, I feel like [many people have] a panic attack. You're OK to be who you are and to ask for help if you need it.
This interview has been edited and condensed for length and clarity.
Wondermind does not provide medical advice, diagnosis, or treatment. Any information published on this website or by this brand is not intended as a replacement for medical advice. Always consult a qualified health or mental health professional with any questions or concerns about your mental health.