Q&A
07.12.23
Amna Nawaz Has Important Advice for Young Journalists
"I didn't have space to carry other people's pain and suffering anymore," the news anchor says.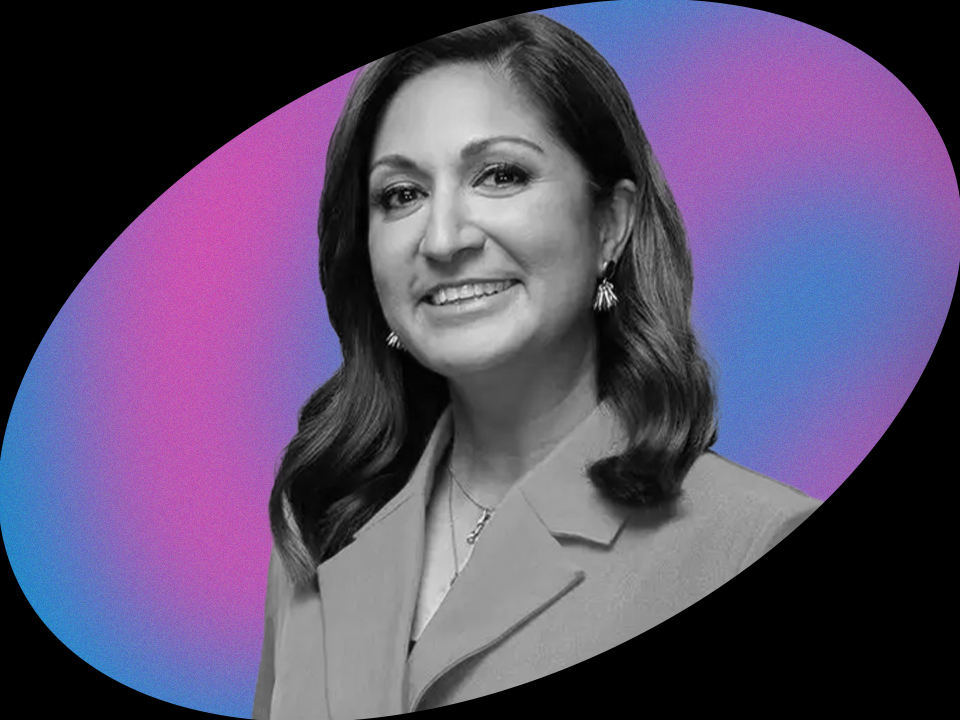 Photo Credit: Mike Morgan
As nice as it would be to keep your work stress from ever seeping into your personal life, that's not always possible—especially when you spend your career covering objectively stressful situations like Amna Nawaz does. As a longtime journalist, the PBS NewsHour anchor has reported on her fair share of traumatic events—from the recent Uvalde school shooting to various stories from war zones around the globe—and is candid about how it has taken a toll on her mind. 
"Particularly when I was young, I was so busy and worried about sprinting every single lap. I wasn't focused on the marathon. I'm more focused on that now," she tells Wondermind, celebrating how these workplace conversations are becoming increasingly common.
A leader in the newsroom who has benefited from talking to a therapist, Nawaz is committed to helping younger journalists prioritize their mental health so they can continue to do this crucial storytelling for years to come. 
Here, Nawaz gets candid about how her job impacts her mental health and how she learned to handle often being surrounded by trauma.
[Sign up here to never miss these candid conversations delivered straight to your inbox.]
WM: How are you doing lately?
Amna Nawaz: I'm doing really well. There are very tough days in this work; there are some days that are easier than others. I'm glad I paused before I answered that because I think previously I would've just said, "Oh, I'm good. Everything's fine. Everything's great," because we're programmed to do that and just make it OK. But I am genuinely OK.
It's been a rough few years to say the least, especially in this industry, but I'm in a place where I'm really happy, and I'm really healthy, and I have gratitude for all the big, important things that I'm blessed with in my life. So I'm good today.
WM: What's something that's invigorating you these days?
AN: The thing that invigorates me every day is my girls. I have two daughters who are 9 and 7, and watching the world through the way that they experience it is inspiring and motivates me to want to do more and be better every day. I'm really, really lucky and privileged to have that in my life.
And my work really invigorates me. It's strange because work can simultaneously be this thing that stresses you out and drains you, but it can also put back into your life. I think what I've always been working towards and what I work towards intentionally is that balance, that knowing you're going to have resources called upon, knowing you will be taxed in these ways. How are you making sure that the work is also feeding you at the same time so the energy isn't just going one way? But it does. It still continues to feed me. I think it's how I know I'm in the right work right now.
WM: You were recently promoted to the role of weekday anchor, and you're the first Asian American and Muslim American to anchor a national broadcast program. What does it feel like to be the first in a position like this?
AN: When I first realized that I was hitting those firsts, I was a little bit overwhelmed I think, just because I know the responsibility and the duty that comes with being the first in any space. And I know that there have been so many other people before me who've made it possible for me to be in this space. But at the same time, I think I was a little upset because it's a little baffling that it's taken this long. I think that balance of emotions is what I felt in the moment.
At the same time, I see this role as part of a continuum, right? Me being here in this space right now, I'm only here because of all the work that generations before me put in. And now, I need to do the work to make sure the generations after me have access at least to the same opportunities, if not more, moving forward. So it's this idea that when you get a chance to be the first to walk in the door, you have to do everything you can to make sure it stays open for everyone coming behind you.
WM: Throughout your career, you've covered major current events, which include a lot of heartbreaking ones too. What do you want more people to know about taking care of your mental health while working in potentially traumatizing fields, like journalism?
AN: I think journalism is just one of a lot of different fields where you're constantly called upon to bear witness and act. And what we do is nothing compared to the work of first responders and people in emergency situations, humanitarian missions that are out there, folks who are on the front lines of a lot of these disasters and battles, and so on.
But in some ways, it can be even more challenging because we show up again and again and again, whether it's there on the front lines with folks or bearing witness by the hours of tape and videos and interviews that we watch and live through and experience.
I think I've been doing this long enough that it's started to take a cumulative toll. Especially when you first start out, you think that you're invincible. You think that it's fine; I'll be fine. You just keep your head down and push through it. At least that's what you're taught to do, especially in this industry. … You did it with as much empathy and caring as you could, but then you found a place to put it, and you moved on. And after a while, you run out of places to put things.
What I really want to impress upon this next generation of journalists is that you have to be OK. You have to deal with this stuff as you do the work because otherwise, you won't be able to sustain the marathon that it takes to stay in this business.
WM: Have you ever been able to bring this up within the workplace? How did you figure out how to deal with all these experiences and emotions?
AN: When I was starting out, you just didn't talk about it. This was 20 years ago now. I had the multiple layers of trauma of being a brown woman, a Muslim American, a first-generation American in a post-9/11 America. And I was trying to launch my journalism career covering a lot of these same issues at the same time.
And I didn't even have language for it. I don't think we had the conversations back then that we are having today—certainly not in journalism. There was a lot of gallows humor and there's a lot of cynicism and there's a lot of sarcasm in this industry. I thought that was the norm and that's how you deal with it. It took a few years before I realized that was just not me and that was not going to work for me.
When I began therapy, it's because I started to realize that [my job impacted] the parts of me that I really loved and that I really treasured, which include being empathetic towards the stories that I'm telling and really showing up and caring. I care about the stories I tell, which takes a toll on you. It's really hard to do at an arm's distance. But after a while, I realized I didn't have space to put any more of these stories. I didn't have space to carry other people's pain and suffering anymore. And if I wanted to do this work, which I knew I wanted to do, I had to be OK.
So I got language for it, and I got help. And I encourage everyone I come into contact with now who I see struggling with the same things to do that too.
WM: What are some of the best lessons that you've learned through therapy for managing your mental health in the workplace?
AN: I think I'm still learning some of the most important ones. I didn't recognize it, [but] I long had anxiety, and the problem was that it served my career. I was really good at what I did because I had a need to control my circumstances. And that's what we do as journalists. We go into chaos, and we make order and sense of it. We try to control it. And I think that was a negative reinforcement because the things that weren't necessarily good for me were really good for my career.
I've come to a place now where I think I'm better at balancing that. I recognize that you come into contact with a lot of trauma, and if you want to do journalism the way that I practice it, you're going to have to carry other people's pain. So what do you do with it at the end of the day?
WM: What do you do?
AN: I've become much more disciplined about separating my work and my home life. And for years and years, the two were very deeply intermingled and there really wasn't any separation, because this isn't the kind of job that you do 9-to-5, right? I work every morning; I work every night; I work every weekend. It's the way it is.
But I've become much more intentional about the things that bring me joy and the things that de-stress me. So I will literally physically put my phone in another room and go spend time with my daughters and my family. I'll do that when I go out to see a friend. I won't have phones on the table … because those lines are very easily blurred.
I had a lot of trouble letting go of people's pain. I cover some of the stories that you just can't imagine yourself ever living through—parents burying their children or bombs exploding in your home or war being wrought upon your family or being forced to flee— unimaginable circumstances.
And I had to develop both the mental fortitude and also the emotional fortitude to be able to say, "It's not OK that this is happening, but it's not happening to me." I had to be able to build in that separation because otherwise, it becomes all-consuming. It's the kind of thing that you just cannot get out of your head—it just plays on a loop all the time.
Coming back from the Uvalde shooting, in particular, was the hardest thing I've had to do in a long time because the kids who were killed were the same age as my kids, and it's very hard to see that separation in real time. I came back, and then within days, it was my husband (a testament to him) who said, "You're not OK." 
And I went back into therapy much more intensively and picked up unpacking why I was feeling the way I was feeling and reminding myself of those tips and the toolkit that I had before, which I think we all need.
WM: What's the best mental health advice you've received?
AN: I think just being given the freedom and allowing myself the space, quite frankly, to be able to say, "I'm not OK, and I need help." Even though we're in an environment where it's more acceptable and there are more resources and we're having these national conversations, I think a lot of people think, I need to be strong. I need to be OK. I need to pretend like everything's alright when it's not. … There are peaks and valleys on this journey, and understanding that, I think, is what's going to get all of us through it.
This interview has been edited and condensed for length and clarity.
Wondermind does not provide medical advice, diagnosis, or treatment. Any information published on this website or by this brand is not intended as a replacement for medical advice. Always consult a qualified health or mental health professional with any questions or concerns about your mental health.