Pro Tips
01.06.23
8 Ways to Take Care of Your Mental Health When You're on a Budget
Turns out, boundaries are free.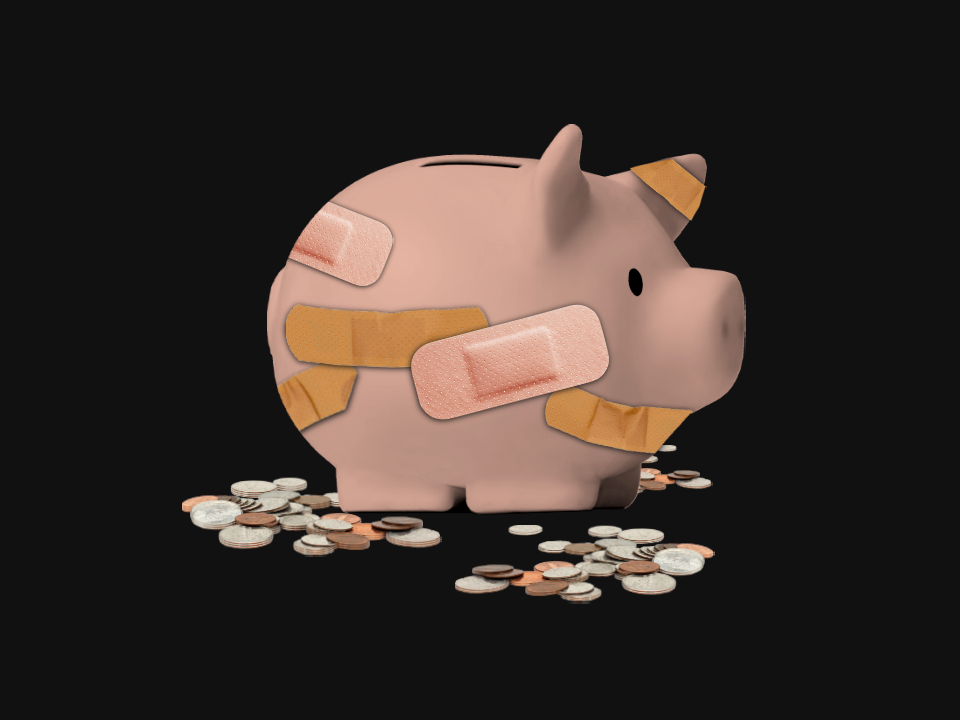 Shutterstock / Wondermind
Taking care of your mental health can feel like a very expensive, very inaccessible thing to do. And while, yes, a big part of that is the price tag associated with not-cheap therapy (a single session in the U.S. costs $182 on average, per data collected from Zencare last February), all the other ways you take care of your needs and your well-being (read: self-care) to support your mental health also typically cost money. Meds, doctor's visits, the latte that gets you feeling human at 1 p.m. on a Tuesday, or that weighted blanket that somehow coaxes your stress away—none of this is free. 
So you're not alone if you feel like you have to open your wallet just to "improve your self-care game," says clinical psychologist at NYU Langone Health Jessica Stern, PhD. That said, even if you're not out here making bank, you can still prioritize your mental health. That's because there's no rule mandating that self-care has to be expensive, assures financial therapist Aja Evans, LMHC.
Actually, there are a ton of ways you can take care of your mind without digging into your savings: Boundary-setting (it's free!), sliding-scale options for therapy, expert-approved self-help books, and just making the time to do the little things that make you feel happy all count. Here's how to get started.
1. Look into less expensive therapy and medication options.
True, calling your insurance company and scrolling the internet to find a mental health pro who's covered by your insurance isn't fun, but if it can knock your $200 session down to a $30 co-pay, that could be worth it.
Of course, shit happens and sometimes you have to see someone outside your plan's coverage. If that's the case, some insurance companies will reimburse you for a portion of what you paid out of pocket for a session. Though you likely won't save as much as you would with a therapist who's in-network, every little bit helps! So check in with your insurance company to get the lowdown on your options.
Plus, some psychiatrists and therapists offer discounted rates for people who can't afford what they normally charge, aka "sliding-scale options." So check if whomever you're seeing (or want to see) is on board with that, says Evans. And because fewer sessions means spending less every month, you can ask mental health pros about spacing out your appointments, Dr. Stern suggests. Just be sure to ask them for homework or exercises you can do to keep the mental health benefits flowing between sessions.
Another option? Group therapy, where you and a few others see the same therapist together, is usually cheaper than individual therapy, Evans notes. But, even though you're paying less, groups led by a therapist are super helpful since you're able to share your experiences and also learn how other people in similar situations handle their struggles, she notes.
Psst: You can also get coupons for mental health medications on sites like GoodRx, Dr. Stern points out. If you've got some financial limitations, ask your psychiatrist whether generic prescriptions can work for you, she says.
2. Don't rule out helping yourself.
Though you've definitely heard of self-help books, self-help is bigger than that. In general, self-help means learning ways to support your mental health and working those skills into your everyday life without an assist from a professional, says Dr. Stern. That can come in the form of reading books about anxiety, joining groups like Alcoholics Anonymous, or using resources (like worksheets) created by a mental health professional, according to the American Psychological Association.
TBH, there are a ton of self-help resources out there, but Dr. Stern recommends self-guided books and workbooks signed off by the Association for Behavioral and Cognitive Therapies. Those offer tools similar to the ones you'd learn in different types of therapy like cognitive behavioral therapy (CBT) and acceptance and commitment therapy (ACT), she says. So even though a therapist isn't sitting in front of you explaining how to practice those techniques, you can still reap the benefits.
Also, journaling totally counts as self-help. If you're into that, look for workbooks that focus on specific struggles like depression or trauma and provide space for some reflection. For example, Therapy Notebooks, a tool Dr. Stern likes, utilizes CBT, ACT, dialectical behavioral therapy, and other therapies for prompts and has tons of room to write about what you're going through. Pretty cool, right?
Self-help can also look like using an app, says Dr. Stern. Meditation apps, emotion trackers, and CBT-inspired "thought diaries" can all help you prioritize your mental well-being, but be cautious of ones that make "sweeping promises to cure or substantially decrease your mental health struggles," Dr. Stern warns.
3. Zoom in on what makes you feel good.
With all of the pressures and noise of (*sigh*) life, it tracks if you feel like you're forever focusing on a to-do list without creating space for things that just make you happy. That can take a toll on you and maybe even lead to a serious case of burnout.
So doing what you enjoy can be a very affordable way to take care of your mental health. If art makes your heart happy, channel that creativity! As art therapist Marygrace Berberian, PhD, LCAT, LCSW, told Wondermind in a previous interview, creating lets you connect to emotions and figure out what you're feeling, which is an added bonus for sure.
If you like being outside, go to a park or take a stroll around the block. Getting out of your house can switch up your energy and mindset, says Evans. Plus, chilling in nature is associated with happiness and "decreases in mental distress," according to a review of research published in Science Advances. It's also a good way to take a timeout from sadness.
Whether you can get outside or not, schedule some movement into your to-do list: Go on a walk or dance around your apartment (seated dancing counts)! Exercise can actually help you get out of your head and take a break from anxious thoughts, Evans says. And, for what it's worth, a systematic review suggests that exercise can, yes, improve happiness. (More bonus benefits!)
Finding like-minded people who share your interests in starting a new hobby or keeping a passion going strong can add an awesome layer of joy too. Ask around or browse through meetup.com for different events and groups to join. (That site is another one of Dr. Stern's faves.)
4. Set boundaries.
Boundaries sound intense, but they're basically just telling the people in your life what you need to feel safe and comfortable around them, therapist Jeff Guenther, LPC, previously explained to Wondermind. Setting boundaries—like not staying out past 9 on weeknights or not answering questions about your love life unless you bring it up—is one of the best and cheapest ways to prioritize your mental health. "[It] allows you to protect your peace, gives you space to process how you feel, make changes that suit you, and attend to your needs that might otherwise get shafted—all of which can support your mental health," says Dr. Stern.
If you're hesitant to put your foot down, ask yourself why that is, says Dr. Stern. Are you stuck in your people-pleasing ways? Are you worried about getting rejected? Giving yourself freedom to change the boundaries as you need—easing up on them or cracking down on them depending on the situation—can also make it a little less scary to set them in the first place, Dr. Stern notes. "As you set those boundaries, you'll gauge: Does that feel right to you? Do you need more or do you need less?" she says. Yep, addressing your fear of boundaries is yet another free way to take care of your mental health without spending any money. Love to see it.
5. Get grounded.
Grounding techniques allow you to step away from stress spirals and sink into a calmer mindset. Sounds nice, right? Here's how it works: When you try a technique like the 5-4-3-2-1 method (where you name five things you can see, four things you can touch, three things you can hear, two things you can smell, and one thing that you can taste) you're refocusing your attention on your physical body in this exact moment.
When you're overwhelmed by your thoughts, you can feel detached from how you're feeling physically, says Evans. But getting grounded can help you focus on what your body's telling you. Are you super fatigued? Are you breathing really fast? How can you address those things right now?
There are about a bajillion ways to get grounded, like meditation, deep breathing (nothing fancy!), and tightening and releasing your muscles to let tension go (progressive muscle relaxation), Evans says. Pick one that works for you and practice it before you're in a moment of panic.
6. Lean on your people.
A lot of times, people think that they're the only ones experiencing hard feelings, which can be pretty isolating, says Evans. So talking with someone who you trust about job stress or getting ghosted can leave you feeling less alone.
Plus, just being around someone who is in a calmer place enables you to borrow some of their chill, aka co-regulation. "[Co-regulation] is when you use someone's nervous system to heal your own," Minaa B., LMSW, a licensed therapist, social worker, and writer, previously told Wondermind. This could look like being on the receiving end of a hug or just chatting with someone who has a soothing tone of voice, she added.
That said, it's always a good idea to ask whomever you're talking to at the beginning of your conversation if they have the capacity to chat about whatever is going on with you, notes Evans. A simple, "Hey, can I vent to you for a sec?" can help you avoid a trauma dumping situation.
But, just a heads up, if it seems like turning to your friends or relatives for emotional support is taking over your relationship, that might mean it's worth seeking a professional who's more equipped to help you unpack what you're experiencing, says Dr. Stern. Ditto if their support doesn't feel helpful to you or if you feel drained at the end of those convos, she adds.
7. Do a spending audit.
Pause, take a breath, and rethink how you can fit certain things for your mental health into your monthly budget, says Evans. Start by writing down your expenses from memory and then cross-referencing with your bank statements, she suggests. Compare what you think you're spending with what you really are. (Of course, if you don't have time for that, you can just go straight to your bank statements.)
From there, pinpoint how you might cut back on certain things to make room for mental health care or swap a few activities for others. Maybe you realize that you spend tons of money on cute workout sets you see all over TikTok and decide to cut back so you can save up for a meditation app subscription you've been wanting to try or just a relaxing massage.
8. Follow therapists on social media.
Following licensed mental health pros is an easy way to get helpful info right in your feed. You could learn how to feel more calm during spirals, get a gentle nudge to put your mental health first today, or come across inspiration for your next journal entry. Sure, their posts are not the same thing as therapy, but, honestly, who couldn't use a mid-scroll mental health moment?
Wondermind does not provide medical advice, diagnosis, or treatment. Any information published on this website or by this brand is not intended as a replacement for medical advice. Always consult a qualified health or mental health professional with any questions or concerns about your mental health.