Q&A
09.14.22
Brandee Evans Refuses to Get In Her Own Way
The 'P-Valley' star talks caregiving and reframing how she thinks about therapy.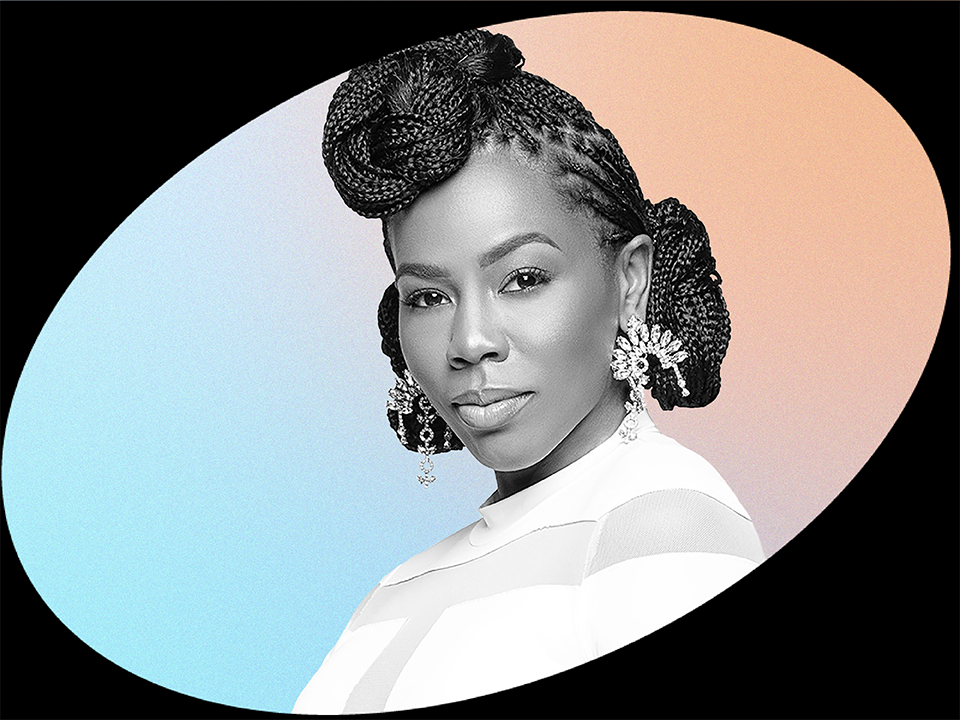 Photo Credit: Courtesy of Brandee Evans
As Mercedes on P-Valley, Brandee Evans is focused on starting her own business, caring for her loved ones, and navigating life with a scheming mother. Offscreen though, the professional choreographer, dancer, and actor is devoted to being the best caregiver she can be to her mother, who lives with multiple sclerosis and Alzheimer's. Amid Season 2 of the hit Starz series, Evans sat down to talk about sacrifice, refusing to self-sabotage, and finally taking her first vacation.
[This interview originally appeared in an August 2022 edition of the Wondermind Newsletter. Sign up here to never miss these candid conversations.]
WM: How are you doing lately?
Brandee Evans: It can be real. I am overwhelmed. I am exhausted. I'm happy living my dream, but I'm tired. [The P-Valley press tour] feels like it's still going. I'm very grateful for that, but yeah, between that and still caregiving for my mom. Ooh, it's a lot.
WM: Your mom has multiple sclerosis and Alzheimer's. What has being a caregiver taught you about mental health?
BE: It is so important to care for yourself so you can be able to care for someone else. Literally, I'm just sitting here taking this interview in the bed right now, breathing, because I know when I get done, I have to start training another caregiver. So just trying to take this time for myself. I don't think I really knew how important self-care was until I started caring for someone else.
WM: How do you prioritize self-care, and what are your favorite ways to take care of yourself?
BE: I'm still trying to figure out the best way because I think that I still take on more than I should when I have people that can help me. But that's just that daughter in me that's like, I gotta do it. I know my mom the best, you know? So just telling myself I gotta get up and go to the gym or, You're gonna leave the house today. Your caregivers have it. You do not need to sit in this house and micromanage them. You've hired them for a reason. Let them do their job, Brandee.
WM: What advice do you have for caregivers who are trying to let go of control?
BE: You have to live. And I heard this from Yvette Nicole Brown. She was like, "You know, it's OK to live, right?" Because I told her I felt a little guilty for being at Essence [Fest] and not being there with my mom. And she was like, "Your mom does not want you to just sit around and care for her. That wouldn't feel good to her either. She wants you to live. And if she was able to be here with you, she would." So just remember to live.
And I do believe that it's not healthy for our loved ones to see us showing that sacrifice. We know we sacrifice, but they don't feel good feeling like, Oh, well, dang. They're giving up all of this for me. So you gotta show that happy medium too. Of course, you're there with them, but also like, I'm enjoying this! It might look like it's not enjoyable if you don't live your life as well. No one wants to feel like a burden, and that might make them feel like they're burdening you.
WM: When you're away at work, how do you make sure you're able to be present and not distracted by what's going on at home?
BE: That definitely comes from having the right people in the home. I know when I have Miss Edith here, I can safely work. And then I have to tell myself, You gotta lock in and focus on this job because if they notice that you're not locked in and focused, there are many, many other amazing actors in this world. You can be replaced, Brandee. So I have this saying: No one gets to ruin this for me, not even myself.
WM: What aspects of your mental health would you describe as a work in progress?
BE: I [say] I have mini vacations, but I never really have one. I've never had one, like I always find something that's work-related. So I'm looking to actually take time for myself where it's just truly a vacation. It's not, oh, you've got this event to do, and then you'll stay one extra day. Like that's not a vacation, Brandee. So before December, I am going to take a vacation for the first time in my life. I don't know where, but I feel like my heart of hearts is gonna [take] me somewhere in Africa.
WM: What mental health advice do you wish you could give your younger self?
BE: Therapy is necessary, Brandee. Therapy does not mean something is wrong with you. I wish I would've been in therapy years and years ago because those things just pile up, and you compartmentalize but it's still there. And then it's those moments where that trauma can break loose, where I haven't talked about certain things or worked through it. And I also know it's a work in progress, so I wish my younger self would've been working on my mental health early.
WM: How long have you been in therapy?
BE: Honestly, just after Season 1 of P-Valley. So a little over two years, which is crazy when I say it out loud. 'Cause it's like, girl, you've been through so much more. Like, why were you just now starting?
WM: It's tough to get in there. What helped you take that step?
BE: My friends are all in therapy, so I would see them talking about it and it was just like a part of life. Like, "OK, I've got therapy today at 3." And for me, I'm like, "Oh, I'm going to the gym." I think I was making the gym my therapy, but you gotta talk it out too. So I started like, let me try this, let me see what happens if I get a therapist. Mental health is so important, and I hope that everyone realizes that it's OK to not be OK. Have your moment and work on your well-being as well. You cannot pour from an empty cup and cannot care for someone else without caring for yourself.
This interview has been edited and condensed for length and clarity.
Wondermind does not provide medical advice, diagnosis, or treatment. Any information published on this website or by this brand is not intended as a replacement for medical advice. Always consult a qualified health or mental health professional with any questions or concerns about your mental health.