Q&A
02.15.23
Bretman Rock's Book Is a Love Letter to Himself
The content creator opens up about mental health and his new memoir.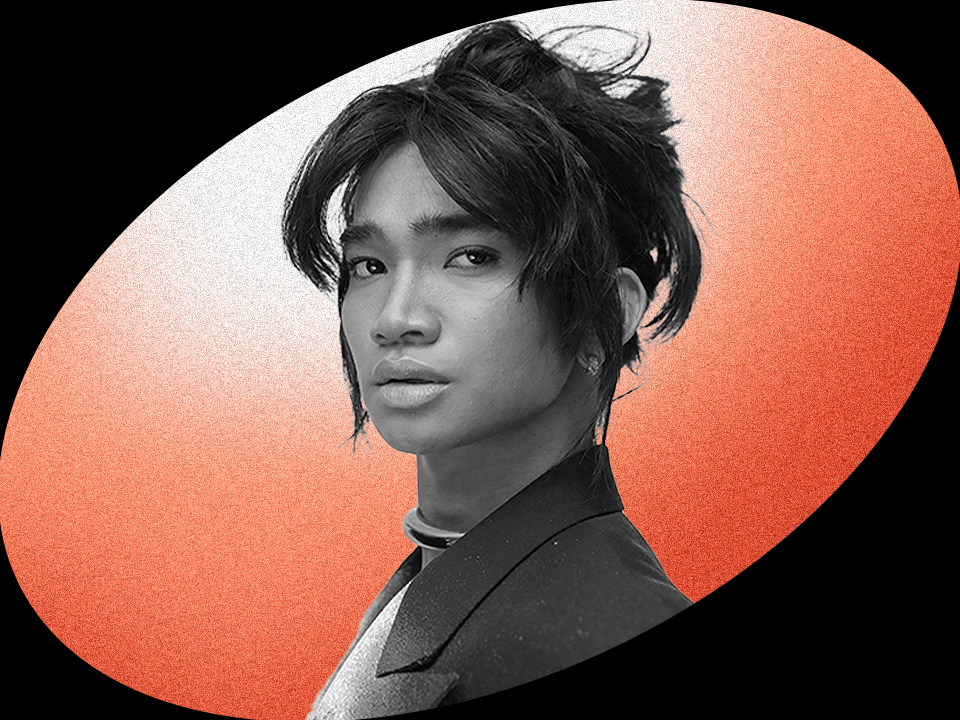 Photo Credit: Emman Montalvan
Bretman Rock has been giving his followers an inside look at his life since he was running track in high school. From landing brand deals, a reality show, and his dream house in Hawaii, Bretman has gone from being a very-online teen to a beauty influencer and social media star with over 50 million followers across his favorite platforms. And he just added another accomplishment to the list: On Feb. 14, he published his first memoir, You're That Bitch: & Other Cute Lessons About Being Unapologetically Yourself. 
With this new book, even Bretman's most devoted followers will learn something new about the spirited content creator. In it, Bretman takes readers through his childhood in the Philippines, how he learned to take care of his mental health, and life as an "international sex symbol" who values his privacy. ("If being cute is a sickness, then pray for my recovery," he writes.) The goal? To introduce the world to Bretman Rock Sacayanan, the genuine human behind his much-loved persona, he tells Wondermind.
Here, Bretman opens up about how his thoughts on therapy have changed over time, the importance of giving his mom grace, and what he hopes will come from sharing his story.
[Sign up here to never miss these candid conversations delivered straight to your inbox.]
WM: How are you doing lately?
Bretman Rock: I am doing so good. I am in LA, and I've been locked in my apartment and have never been better because I'm such a homebody and have been loving sitting on the couch. I'm doing amazing.
WM: Your book dives into so much that you haven't shared with your followers before. What helped give you the courage or motivation to talk about topics like your family history and relationships?
BR: When my dad passed and I was journaling and sharing it with my cousins, my cousin Keiffer told me, "You need to write a fucking book because the way you talk about your problems is just..." She thinks I write about my problems in a really funny way because I don't like to write about traumatizing things; I like to add my humor in there. My cousin pushed me on writing the book, and I also started growing out my hair, and I felt like I was stepping into my next form in life. I felt like I was shedding my childhood skin in a way and was walking into the adult version of Bretman Rock, and I think I wanted to write a love letter to my first 24 years of life.
WM: In the book, you talk about your first experience with a therapist during your parents' custody battle and how it put you off from therapy even after later receiving an ADHD diagnosis. What are your thoughts on therapy these days?
BR: I can't believe I filmed my very first time in therapy [for my show on MTV], which was a different trauma in itself. But since doing that therapy with my sister and then doing some by myself, I feel like it's not only important to go to therapy but also important to acknowledge that it's OK to take your time with it and not rush to go to therapy just because everyone's going to therapy. I think there's divine timing in everything.
I would also say that your very first therapist [might not be] the best one right away. You should date around when you're seeing a therapist.
But overall, I'm glad my generation is aware of [therapy] because I know my mom and the older generations didn't really have access to therapy. I think that's why, in a way, I was blaming a lot of my mental health issues on my mom when I was really young. I could be having a full-blown anxiety attack, and she thought I was just being naughty and being an extra ass bitch. Which, I very much am, but I could have been having an anxiety attack, and she thought I was just being drama llama. But that's because she didn't have access to therapy.
Therapy is very important, but it's also very important to acknowledge that it isn't for everybody. Take your time, and don't blame your parents.
WM: I think some people might also be hesitant about therapy because they might worry about therapists blaming their parents and feeling protective over their family, especially if they're not to blame for something in particular.
BR: I think culturally, too, Asians are seen as we're not supposed to talk about our feelings, and we're supposed just be smart and not creative people. There are definitely cultural reasons why a lot of our generation doesn't see a therapist.
WM: I like when you tell readers they don't have to deal with family trauma on their own because, in some of our communities, talking about it is seen as telling family business. How did opening up to other people about your family help you process your emotions?
BR: For me, I do it because I don't like feeling alone or feeling like I'm the only one going through stuff. That's also a reason why I wrote the book because speaking about my problem can help people or help people feel seen. My ultimate goal with my book was for people to read my experience and feel like I was telling them about my issue, and [know] that they're not crazy if they're also dealing with divorced parents or being an immigrant child and learning how to speak English just by what they're consuming.
WM: What are some things you do for your mental health on a regular basis?
BR: Your environment definitely helps a lot with your mental health, and [it's] not only who you surround yourself with but what you surround yourself with. I'm very fortunate to live in an abundance of nature. I live up in the boonies back home in Hawaii, and being surrounded by so much nature and always being barefoot and shirtless definitely helps a lot with my mental health. … I really believe in being conscious of where you put your energy and the energy around you as well.
Taking care of things other than yourself also helps. I take care of so many plants and animals, and it makes my heart so happy when I know these bitches couldn't live without me. Definitely get yourself five dogs, three cats, four turtles, and 44 chickens if you want to feel centered.
WM: Have you noticed anything in particular that helps you manage your ADHD?
BR: My ADHD might be different from the next person's ADHD, but for me, what helped out a lot is honestly using my energy elsewhere. Most of the time, it's [going to] the gym. … I work out a lot, and I'm never really inside my house a lot. I'm always in my garden and keeping my mind entertained. I think people can see that a lot in my Stories because I'm always entertaining myself. I'm never bored; I'm the type of bitch that believes being bored is a choice. I will die on that hill. My [motto] that being bored is a choice and [not allowing] myself to be bored really helps a lot with my ADHD.
WM: If you were to talk to yourself like the bad bitch you are, what would you say?
BR: I would say: Bitch, whatever you feel like you're going through, just read your own damn book because you already went through the ringer, bitch. You already went through everything, babe. So stop being dramatic.
This interview has been edited and condensed for length and clarity.
Wondermind does not provide medical advice, diagnosis, or treatment. Any information published on this website or by this brand is not intended as a replacement for medical advice. Always consult a qualified health or mental health professional with any questions or concerns about your mental health.