Q&A
03.27.23
Clint Smith Is Embracing the Tough Parts of Parenting
The author of 'Above Ground' wants to make space to talk about difficult feelings.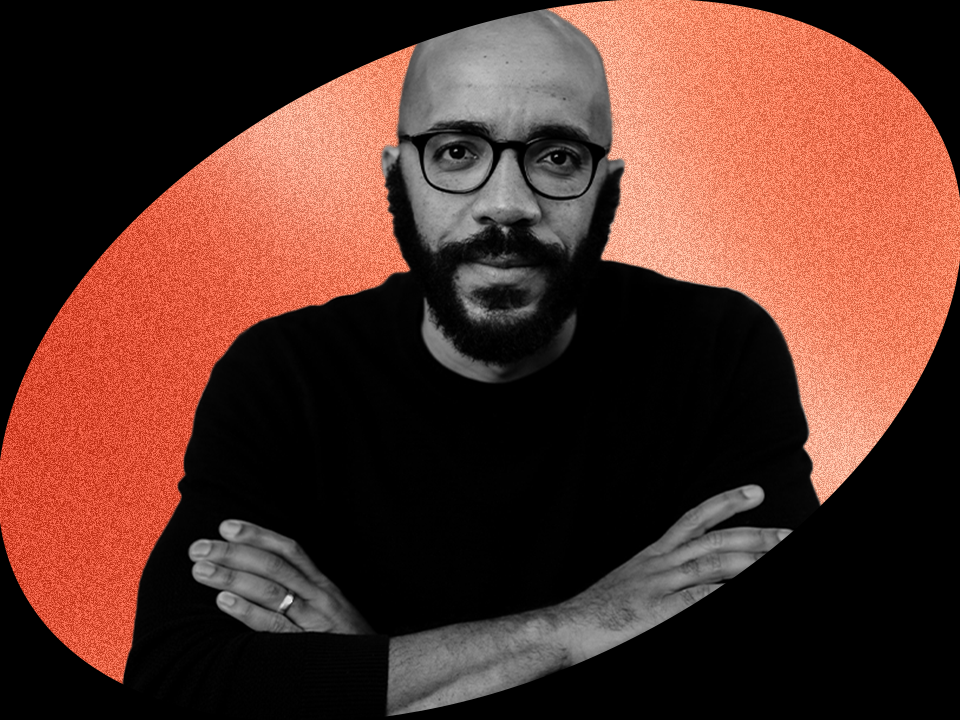 Photo Credit: Carletta Girma
Clint Smith has had an eventful few years ever since publishing his 2021 book, How the Word Is Passed. In case you missed it, the book became a New York Times best seller and was even name-dropped by Barack Obama as one his favorite works. It's no surprise then that Smith's next release is already on just about every "most anticipated books" list. The Above Ground poetry collection comes out on March 28 and takes readers through his parenting journey—from his wife first getting pregnant to raising their 5-year-old boy and 4-year-old girl in this tricky world. 
"Part of what I'm trying to do in Above Ground is both celebrate and lift up the moments of parenthood that are filled with so much joy and levity and laughter and wonder. But I also don't try to run away from the parts of it that are tough because I think it's both," he tells Wondermind. "Sometimes when we talk about parenting, people don't feel as if there is space to talk about both of them."
Here, Smith talks all about keeping up with his mental health as a parent, embracing more vulnerable male friendships, and using poetry to stay present.
[Sign up here to never miss these candid conversations delivered straight to your inbox.]
WM: How are you doing lately?
Clint Smith: I'm doing well. I just had a weekend of solo parenting. I have a 5-year-old and a 4-year-old, so they are full of fun but also completely exhausting. So it turns Monday morning into the new Friday night. So I'm a little tired, but feeling good. 
WM: How does poetry help you reflect on your emotions and mental health?
CS: For me, poetry is the creation of art, but it is also the mechanism through which I do my best thinking. It is the thing that allows me to be present and pay attention to the world. I can walk past the tree in front of my house every single day and see the tree, but I never pay attention to it. But if I were to write a poem about the tree, it pushes me to look at the tree with a different level of intention. So instead of just seeing this tree I walk by, I might see a particular leaf on the tree and how it's actually a few different shades of green and how the edges are turning yellow as the seasons begin to change and how there's a hole in it from where a caterpillar took a bite and how it allows me to pay attention.
In the context of this poetry collection, what it has done is allowed me to pay more attention to these small moments with my kids, these time capsules, these poetic archives of moments with my children that I want to hold onto because it's the most cliché thing in the world, but it truly happens so fast. … It is my effort to latch onto and create memories of these moments, both the good and the difficult that I want to hold onto.
WM: You also write about our political and social climate. Aside from poetry, what tools help you cope with difficult events?
CS: I do my best to navigate it in a way that is healthy and sustainable. For me, running is a huge thing that I do. … Only relatively recently have I come back to running because when I was a kid, running was tied to punishment, like when they make you run for a sport. It was not until my late 20s that I started running for my own joy and my own sense of health, and it became a central part of my life during the pandemic when so many of us were looking for things to keep us grounded, to keep our minds and bodies healthy. I [also] try to go on walks—not with any particular destination in mind, just to mosey around.
I'm a big fan of the Arsenal football club in London, so I consume all the Arsenal content, all the Arsenal podcasts, all the behind-the-scenes YouTube videos. That is the thing that allows me to step out of my work because it's not tied to work. It's not tied to parenting. It's just a thing that brings me joy and has brought me joy since I was a 10-year-old kid who became a fan of the team.
I'm always trying to find ways to be still and get myself out of this perpetual feeling of needing to always be "productive" or to use one's time productively in the narrowest conception of what that word looks like and means. And then I sit down and binge Netflix shows like everybody else and just mellow out.
WM: How has being a father changed how you approach your mental health?
CS: You have to be so much more proactive and intentional about it. … [I'm intentional about] making sure I regularly see my therapist, our couples therapist—and ensuring we're not doing those things just when there's a crisis, but that we are doing them as regular consistent parts of our practice as a couple, as an individual.
I've also been trying to ensure that I'm creating spaces in my friendships, specifically with other men, for us to offer space to one another. It hasn't always been the case, and I think this is something that many male friendships still struggle with: There are certain limitations of how much emotional vulnerability people are allowed to or feel comfortable extending. I feel very grateful to be friends with many men who are also at different stages of becoming fathers and partners.
Ensuring that we are creating space for one another, whether it be a 10-minute FaceTime or a phone call when we're in the car or a retreat (we try to get together once a year for a weekend), and ensuring those conversations are full of jokes and laughter and levity and sports and "How are you feeling? How are you doing? What have you been struggling with?" The more we normalize that in the context of our friendships and relationships, the better it is for all of us because we all feel as if we have that space with which to process what's going on in our lives.
WM: How did you first start having those conversations with your friends?
CS: We all have different groups of friends from different parts of our lives, and they all have different textures to them. … [In] some of those friendships, the way that they formed was a way that allowed for those sorts of conversations from the beginning. Others have necessitated a more proactive effort to insert those sorts of conversations into a space that maybe for years wasn't there. Part of it is just naming that—and you don't have to do it in an overly heavy way— but sometimes being like, "Hey, I know you haven't always talked about your relationship with you and your dad. I just want to see what that's like," [for example].
Or sometimes you touch on things on a surface level with folks but don't dig deeper. Sometimes it's not always because you don't want to, but sometimes it's because there just hasn't been the groundwork that's been laid for either party to expect that that would be a place for the conversation to go. … It takes some people longer to step into that space, and then some people move very quickly into that space and start sharing all these things about themselves that you maybe never knew about them.
So many of us are in these group chats or we're parts of groups of friends—I know this has been the case for me—and it can distort our sense of what our relationships are with individuals in the group chat, so to speak. There might be five of you in a group chat and you're talking all day, but that's a very different thing than what your individual relationship with the person in the group chat is. Part of what I am trying to be more intentional about is ensuring not only that I'm talking to people in the proverbial group chat, whether it's a text or when we're out, but also making those individual connections.
WM: What's the best lesson you've learned in couples therapy?
CS: Years ago, one of the things our couples therapist said was, "You have to make sure you extend gratitude to one another, even for the smallest, most granular thing—the things that you do all the time."
It's not to say that we didn't say thank you to one another before, but I didn't realize how important it was for me to hear that to feel seen. So much of parenting young kids is like, your baby's not going to thank you. Your toddler's not going to thank you, maybe. But it's so important for a parent or a partner to feel as if someone sees how hard they're working, and the person who is going to see that is most likely going to be your co-parent, right? … For someone to just pass and touch your shoulder, and say, "Thank you so much for doing that," goes a long way.
This interview has been edited and condensed for length and clarity.
Wondermind does not provide medical advice, diagnosis, or treatment. Any information published on this website or by this brand is not intended as a replacement for medical advice. Always consult a qualified health or mental health professional with any questions or concerns about your mental health.