Stories
02.09.23
11 People Who Went to Couples Therapy Share What Went Down
"She wanted to start talking about marriage, a house, and kids, and I wanted to read comic books."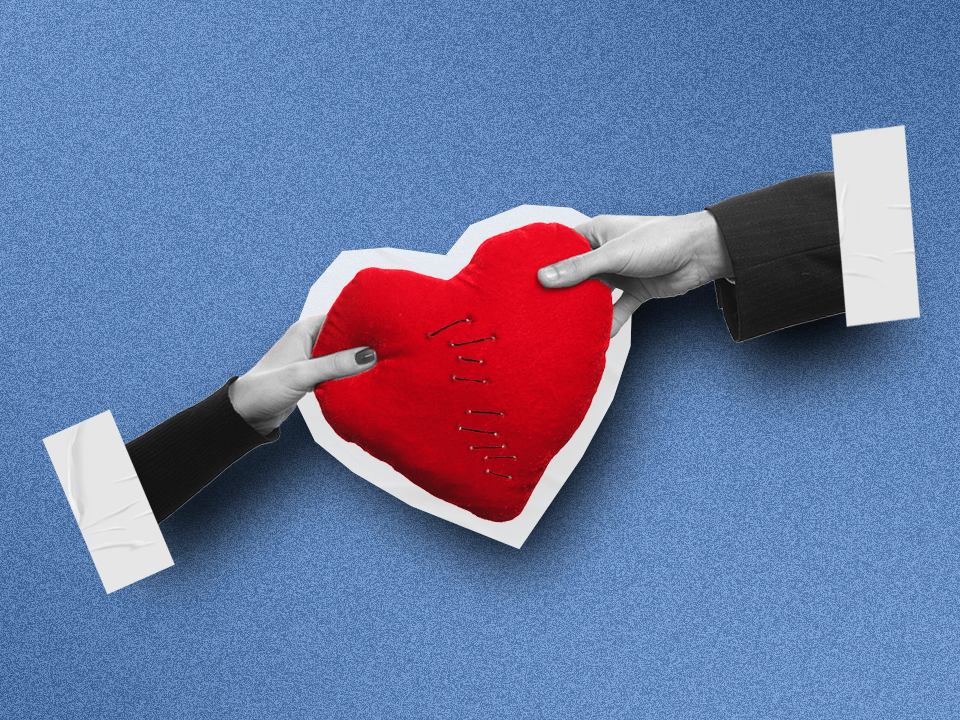 Shutterstock / Wondermind
Whether you've been in a relationship for two, 20, or 50 years, you know that when you and your partner(s) aren't clicking, it can be hard to know how to get back to that blissful feeling you used to share with them. And turning to your family and friends isn't the most helpful, especially if their relationship advice leans toward the "dump them" or trash-talking variety. Luckily, couples therapy is a thing.
It can be terrifying to accept that your relationship needs help, and jumping into couples therapy can feel like sounding the death knell on your love, exposing your utter incompatibility. But the truth is, couples therapy (which should just be called relationship therapy since not all relationships are between couples) is said to have a positive impact on 70% of people who give it a shot, according to a 2011 review of couples therapy studies.
Couples therapy can come in clutch when you struggle to broach difficult conversations in a non-soul-crushing way. Like, if your partner's mess drives you up a wall or their annual Valentine's Day chicken parm is getting tired, couples therapy can slide in and help you communicate in a more effective and nonjudgmental way. Or if you want to talk about why your S.O. hasn't popped the question already, couples therapy may be the move. Sitting down with a therapist can also teach you and your loved one(s) problem-solving skills and how to deal with any behavior issues, like if your partner is being possessive. But couples therapy isn't just for when your partnership is going through it; you can also get ahead of issues by learning the tools to work through them early in the relationship.
My wife and I first went to couples therapy a few years into our relationship when she wanted to start talking about marriage, a house, and kids, and I wanted to read comic books. Our first couples therapist prompted us to take turns sharing our needs and fears so we both felt heard. After I learned to express myself better, my then-girlfriend started to understand my anxiety and how I tended to think about worst-case scenarios where I built a future with her and it shattered. Through these sessions, I learned to trust her faith in me and our future. Then, our therapist helped us map out a timeline for marriage; knowing what to expect helped ease some of my anxiety and build trust with my soon-to-be-wife.
After we married, we switched therapists because of typical insurance complications that come with job changes. And about seven years ago, we met our therapy bashert (Yiddish for soulmate) who completely gets us and helps us through our low points.
I've been with my wife for 13 years, and these days, we tend to go long periods without attending therapy but go back for check-ins whenever communication gets wonky, when we find ourselves stuck in a disagreement, or when life gets overwhelming. Today, we have a bunch of babies who have two loving parents that are committed to maintaining a loving household for everyone.
But you don't just have to take my word for how great couples therapy can be. If you're thinking about diving in, here are 10 more folks who shared why they went to couples therapy and what they gained from it.
1. Our fights were getting repetitive.
"My husband and I entered couples therapy when we were seven years into our relationship and having the same arguments all the time. At that point, we weren't sure if it was healthy for us to stay together. I felt like I needed him to be more serious about things, and he felt like I was taking him for granted. We were at an impasse.
I am a therapist myself, so I felt shame about going to couples therapy, thinking I should be the one who had it together. The stigma lessened because friends and others in my field started opening up to me about their experience with or interest in couples therapy; I realized everyone was going through something.
My husband and I learned a lot in therapy, like how if things are heated and a fight isn't going anywhere, we can take a break and revisit the issue later when we can communicate our feelings, something we didn't do before." —Rachel B., 32
2. I wanted to learn how to support my partner.
"My boyfriend was struggling with mental health issues and was really depressed and trying to figure out the right medication. I wanted to go to couples counseling to learn how to support him. We had both been in individual therapy for years before this, so we knew a lot about the process already.
One thing the therapist pointed out that stuck with me is not walking on eggshells with your partner just because you believe he's trying to cope with his own issues. You have to be able to tell him what's bothering you without worrying about hurting his feelings. It was great talking through difficult issues and the good things with a moderator. Today, my boyfriend and I make sure everyone's feeling fulfilled and has space to be themselves and have issues." —David G.*, 35
3. I was flooded with jealousy.
"My girlfriend, who I'd been with for a couple of years, and I were fighting a lot about me feeling jealous when she talked to other guys. We thought we could use some direction because we didn't know how to stop constantly fighting, and going to therapy made us feel brave because we were facing our problems.
As we got deeper into couples therapy, I realized I needed to do a lot of work on myself. I started taking medication for my depression, and I went to individual therapy to process childhood trauma.
It was tough, but couples counseling helped me accept that my ex and I weren't the ones to fill each other's needs; we were just in different places at the time. The therapist helped me realize that I'm worthy of having my needs met, even if my partner wasn't capable of being the one to meet them." —Jeff A., 46
4. We wanted to get ahead of any marital issues.
"Before my wife and I got married 10 years ago, our wedding officiant, who was also a licensed social worker, suggested we go to couples counseling to set the foundation for our future together.
What was most beneficial was that we took the time to figure out exactly what we expected from each other and our marriage, and these conversations went beyond finances and kids. We talked about what we wanted for our future together and long-term plans, and it ended up being very therapeutic. I think it saved us from needing more therapy post-wedding.
Today, our marriage is like a house, and sometimes there's a crack in our pipes or a hole in our wall, but we stop, talk about it, and figure it out." —Joseph N., 43
5. I wanted to feel united before raising kids.
"When I got pregnant, I wanted to go into the family dynamic with both of us on the same team. I wanted us to learn healthy communication skills so that when our baby arrived, we would be somewhat prepared. In couples therapy, we found out that we have different fighting styles shaped by our upbringings and generational trauma, but we both wanted to heal from our pasts.
When our baby arrived, we learned that when we were upset, we should take space to self-soothe so we could come back in a calm, regulated state. Now, we're able to address our issues calmly and rationally without subjecting our baby to hearing mom and dad arguing." —Daphne T., 34
6. We were caught in a predictable cycle.
"My wife and I love hard, and we fight hard. … We went to therapy because we didn't want to have the same fights over and over again.
I was leery of couples therapy because I'm a 44-year-old Black man married to a white woman, and we went to a therapist who was an older white man who didn't share my lived experience. That therapy experience wasn't stellar; I felt like he didn't see me and that my experiences weren't given equal weight as my wife's.
Even though our first experience with couples therapy was not great, some progress was made. We learned to clarify what we were saying to each other, take turns talking, and respect each other's triggers. Just the simple act of scheduling time to work on your relationship together can have a huge effect on a couple. After each session, we would continue bonding when we hit up a local bar to play trivia. I would give therapy another shot with a different therapist." —Lenny G., 44
7. We needed help listening to each other.
"Trying to navigate communication challenges with one partner is difficult enough, but when you are balancing multiple relationships, like my polyamorous group, it's best to have an outside person help work through complications so everyone can understand what everyone else is saying.
Finding a therapist can be tough for a polymorphous group; we have to pay attention to whether that person has biases because our relationships may not look like theirs. In those first sessions, we asked, 'Are you comfortable working with queer people? Do you know enough about asexuality? Are you comfortable working with polyamorous relationships?' We lucked out because we've encountered therapists who are not only empathetic but also have experience as polyamorous people themselves.
My relationship includes people who have all had difficult experiences with queerness in our youth. Therapy has also been a helpful place to process our own stuff so everyone in the constellation can create a more empathetic space for the respective baggage we all carry so we can work it out." —Cody D., 46
8. I had pretty much given up on our relationship.
"Charlie was commitment phobic, afraid to get married. After being off and on for six years, I gave up. I told him, 'If you don't do therapy, I'm moving on,' and so we broke up. Then one day, he called me to say he'd been attending therapy. He asked, 'Will you come with me next Wednesday? My therapist wants to meet you.'
Wildly intrigued, I went with him, expecting to hear Charlie explain why he couldn't get married yet. I basically told the therapist that if he didn't want to get married, I wasn't doing this. 'But he does want to get married,' the therapist said before helping Charlie and I make a plan to move forward, which included a November engagement. We celebrated our 26th wedding anniversary this year." —Sue S.
9. I thought the extra help could smooth out bumps in the road.
"I had been doing something that was irritating my boyfriend, but he didn't feel like he could tell me without upsetting me. When he finally told me, it felt catastrophic because this had been festering within our relationship. Despite this, we weren't a couple who was on the brink of breaking up. I just felt therapy was going to make whatever issues we dealt with easier.
We went to a therapist I used to go to for individual therapy, whom we both trusted. With this therapist, we practiced being transparent about our feelings instead of getting so annoyed with each other and blurting out hurtful words. We've been in couples counseling for about two years, and it's interesting to see how well we deal with our issues now. It's like, 'Oh, this is what therapy is for.'" —Toni S.*, 43
10. We weren't willing to give up on us.
"It took several months to convince my boyfriend that [couples therapy] would be a good idea [because] he wasn't used to digging into emotions. I think he finally realized we weren't able to solve our relationship issues on our own, but he wasn't willing to give up on us either.
In therapy, we learned communication techniques like active listening and recognizing the different ways we viewed intimacy. He saw intimacy as a physical need, and I saw intimacy as emotional vulnerability. It was great to have a therapist [affirm] our issues were normal, and [we realized] that we really loved and cared about each other.
We ultimately decided our lives were moving in different directions, but therapy enabled us to maintain a strong relationship past that breakup. We're still close and important to each other. Our relationship just evolved, and it was able to evolve because we did the work." —Emily B., 41
*Name has been changed.
Quotes have been edited and condensed for length and clarity.
Wondermind does not provide medical advice, diagnosis, or treatment. Any information published on this website or by this brand is not intended as a replacement for medical advice. Always consult a qualified health or mental health professional with any questions or concerns about your mental health.