Q&A
10.13.22
How Craig Melvin Prioritizes His Mental Health as a News Anchor
"I've learned how important it is to protect your peace."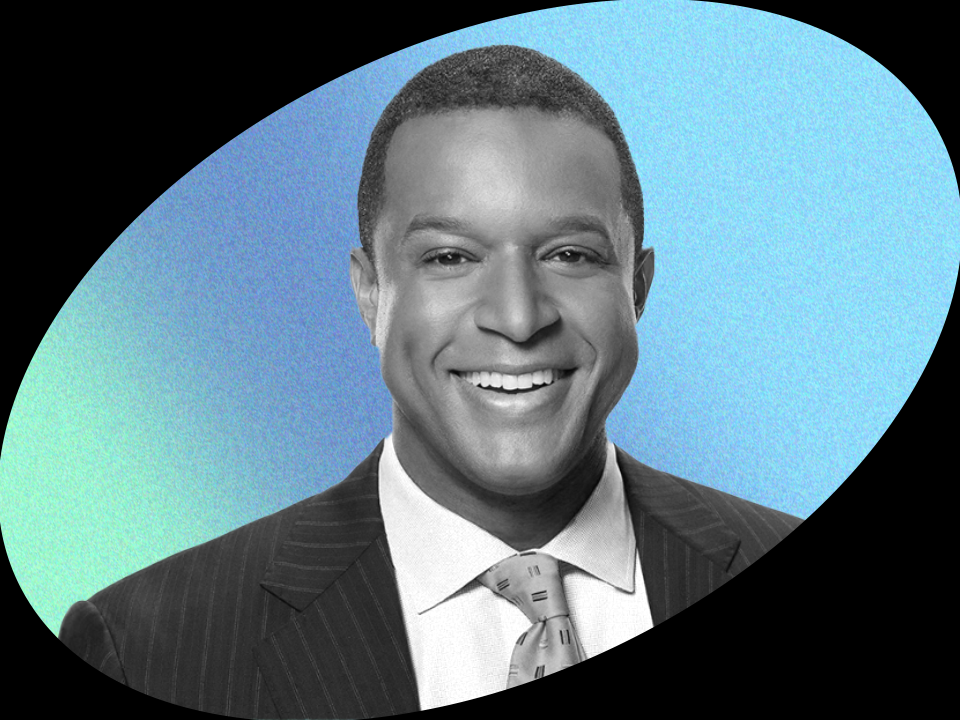 Photo Credit: Courtesy of NBC
With decades as a news anchor and host under his belt, TODAY show mainstay Craig Melvin knows what it takes to succeed and keep his peace. Hint: It involves being careful with his energy and what his kids call "daddy alone time." Here, the mental health advocate opens up about being a work in progress and how experiencing loss and grief has shaped him.
[This interview originally appeared in a September 2022 edition of the Wondermind Newsletter. Sign up here to never miss these candid conversations.]
WM: How are you doing lately? 
Craig Melvin: I am doing better than I probably was a year or two ago, like most people. For me, I have the benefit of usually being so busy with two small children and a demanding job that I don't take as much time to sit alone with my thoughts and feelings as I should. There are obviously some benefits to that, but there are also a lot of cons. But lately, I've just been so busy that I haven't really had to think about how I am.
WM: As a news anchor, I imagine it's hard to disconnect or process your emotions on your own when you need to. 
CM: For a long time, I didn't, and that was problematic. I covered a lot of consecutive mass shootings before the pandemic. I probably did eight or nine in the span of a year and a half. I found it was really bothering me, especially after having small children. I learned early on that in our line of work, you have to leave it at the office. You really do, because if you bring it home, it seeps into everything.
It was either after the Charleston church shooting or—it's sad that they run together this way—I think it was after Charleston, and because I am from South Carolina, I had a close connection to that story. I was pretty down for a couple of weeks, but I couldn't figure out why. Then I was talking to my therapist, and we sort of got to the bottom of it. When you cover death, doom, and destruction on a regular basis, it takes a toll on your spirit. It takes a toll on your soul, and you don't realize it, oftentimes until you're a couple years into it.
And oh, by the way, after all of that, there's a global pandemic. And every day, the news was grimmer and grimmer. … This went on for years, and I didn't address it. I'm a firm believer in therapy, so I started talking a little bit more to my therapist. Then I wrote a book, which also helped tremendously.
WM: What else have you learned about your mental health working as a news anchor?
CM: I've learned how important it is to protect your peace. For a long time, I would allow people to occupy my emotional space. People who were not necessarily well-intentioned, people who didn't always bring out the best in me, people who were oftentimes negative people. You know, people who wake up every morning and get out of bed just pissed off or annoyed for no reason. I have found that when I limit my exposure to those kinds of people, I am a happier person. I spend a lot more time now doing small things that make me happy. … Every week, I carve out 30, 45 minutes for either a massage or a stretch or a manicure or pedicure—something where I'm by myself [and] I'm pampering myself. My kids call it "daddy alone time." But you have to have that. I also find that I do a lot better when I'm journaling. … [And] I meditate every other morning.
WM: What has your journaling experience been like?
CM: I found that when I started, I would write as if someone was going to read this when I died. So I found myself writing how I wish to be perceived. And I stopped doing that because I discovered that wasn't helping me. So when my kids or grandkids go back and read some of the stuff I've written now, they're gonna be like, "Oh, dad (or granddad), he was whacked out. I'm amazed that they let him have that TODAY show job as long as they did—he was disturbed." No, but I'm very honest about how I feel versus how I feel like I'm supposed to feel.
I interviewed a guy who went on to become a great Olympian, and we're gonna see him in Paris again. His name's Caeleb Dressel, the fastest swimmer in the world. He told me this little trick, and I don't have the guts to do it: He writes down how he feels, tears it up, throws it away, or sometimes burns it. [He] destroys it every day. … It forces him to not think about the past; it forces him to focus on moving forward.
I don't do it. I need to wallow in my self-loathing and self-pity and sometimes go back and read [it]. Like, "Oh yeah, today sucked, but boy, you look at June 2013—that was a terrible month." I need that. Do you journal?
WM: No, what if I die and somebody reads it? 
CM: You know what my therapist says about that? And this is what helped me get over the fear: When you die, it won't matter. You're dead.
WM: I'll be wondering what they're thinking.
CM: Here's the other reality: Unless you're pure evil, typically when you die, people romanticize your life anyway. It won't matter, the darkness that you've written down on paper. Unless you're confessing to crimes, that could be a little tricky.
WM: What stands out to you in your mental health journey? 
CM: I think the pandemic for everyone was really hard, and it was really hard on me as well. But my older brother died about a year and a half ago from colorectal cancer. That was a really hard period in terms of my mental health journey. And probably the hardest period was almost a decade ago now, which is hard to believe [it's been] nine years. My younger brother lost his 3-year-old daughter to a rare form of Ewing sarcoma, which is a soft tissue cancer.
As odd as this may sound, I think that I have had the benefit of loss and grief perhaps more than a lot of folks. [I] have been able to see a lot of things up close. Fortunately, most people don't have to. I've talked to a lot of people who've lost loved ones in war or in a mass shooting or to a terrible illness. So I think when you do that a lot, it shapes and molds you in ways that you don't necessarily fully appreciate until months, years later.
I've had people say, "Oh, Craig, you just seem so unflappable sometimes" or "so cool" or "collected." I think when you have experienced and seen a lot, you start to realize that you can take a lot.
WM: What aspect of your mental health would you describe as a work in progress right now? 
CM: I still struggle mightily with imposter syndrome. You know, wondering whether I actually belong, wondering if I'm as good as some in the audience might say that I am. I struggle with feeling like I'm inadequate in some ways. I struggle with guilt—I think when you lose people who are close to you, you struggle with that. I struggle with a lot. Some days I'm on top of the world, and then some days I'm like, Ah, maybe I should have gone to law school. Maybe I should have gone into another field.
But here's the thing: You start talking to other people, [and] you realize, Wow, everybody's going through something.
This interview has been edited and condensed for length and clarity.
Wondermind does not provide medical advice, diagnosis, or treatment. Any information published on this website or by this brand is not intended as a replacement for medical advice. Always consult a qualified health or mental health professional with any questions or concerns about your mental health.