Stories
12.09.22
QQ: Are Dating Apps Destroying My Mental Health?
Raise your hand if the endless swiping leaves you feeling overwhelmed and depleted.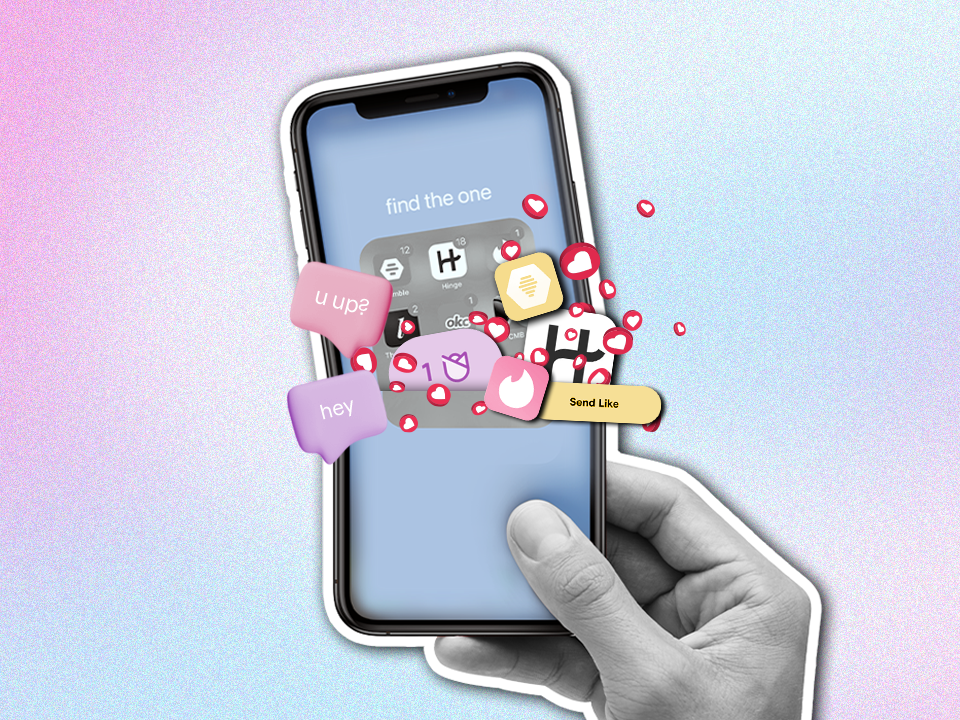 Once upon a time, going on a date with a stranger you met online was a wild idea. (If you're seasoned like me, your first attempt at online dating probably involved an AOL chat room.) But times and the dating game have changed: There are dating apps that cater to every niche personality trait (Farmer's Only? Veggly? OK!), helping people find love or casual hookups faster and easier than ever. At least, that's what they're supposed to do.
As a sex and relationships writer who has heard (and experienced) a fair share of nightmare dating app stories, it sometimes feels like dating tech's sole purpose is to make you consider throwing your phone into a lake for the sake of your emotional health.
So maybe it's not surprising that only 28% of people surveyed in the U.S. who used a dating site or app reported feeling hopeful between 2018 and 2019, according to a Pew Research Center survey.  Meanwhile 45% reported feeling frustrated. And if you want to know what people are saying about the digital dating world in real-time, the #Ihateddatingapps TikTok hashtag currently has nearly 1.2 million likes.
One big reason behind this frustration could be that many users aren't crystal clear about why they're using the apps, says licensed therapist Alo Johnston, LMFT. So it's normal to feel like you're getting rejected over and over when, in reality, the dating pool for people with similar intentions to you is smaller than you might've thought. Which, yeah, can make you feel incredibly discouraged about finding a person who gets you. 
Velvet, 41, says using the apps made her feel like she was on the verge of losing hope in the opposite sex. "I got tired of ghosting, blocking, carrying convos, and, most of all, starting the talking stage over a million times," she says. "For a long time, it negatively impacted my self-esteem and reinforced the idea that finding a relationship isn't in the cards for me," she adds. Which, yup, anything that makes you feel worse about yourself and pushes you to engage in negative self-talk is not great for your mental health.
Similarly, Rashelle, 41, says encountering people on the apps who didn't match her efforts forced her to put herself out there over and over…and over again, which was a huge emotional drain. "It was a buildup of frustration over time. I was constantly making an effort to be vulnerable, personable, and engaging, only to find that most guys I matched with had little or no conversation skills," she says. "Or they had great conversation initially and fell off the face of the earth after our first exchange."
The mental health dating app connection.
This kind of repetitive rejection can also hurt your mental health by making you feel hopeless, stuck, lonely, or less than, Johnson says. For a lot of people, especially those who identify outside of the thin Eurocentric beauty standard in the U.S., a lack of matches can feel like even more of a personal slight, Johnston adds.
All of those mental health side effects of dating app culture are things licensed therapist Jet Setting Jasmine, LCSW, has noticed her clients talking about too. "It seems that this disappointment can turn into a sort of reflection about how the user may feel about themselves and their hopes for the future."
Some research even suggests that using swipe-based dating apps is associated with higher levels of anxiety, depression, and emotional distress than what we see in people who don't use them, according to a 2020 Australian study (which, FWIW, didn't factor in things like race, religion, economic status, or political ideals). That correlation could be caused by all the rejection, comparison, validation-seeking, and overwhelming amount of options and messages you might receive, Johnston says. 
That said, there's also the possibility that people who gravitate toward these apps might already have a tendency to be anxious, depressed, or distressed, per that 2020 study. That seems plausible since, if you don't like approaching people IRL, you might find it easier to do so online (#mood), Johnston adds.
Finally, swiping through people's bio's can hurt your feelings, even if you don't even want to connect with them, he continues. The "no fats, no femmes, no Asians" kind of messaging you see a lot on gay male dating apps, for example, can impact you even if you immediately block those profiles.
Yep, dating apps can be rough on your mental health—but that's not true for everyone. It's very possible some get a self-esteem boost after hopping on the apps real quick for someone to tell them they're attractive without ever having to commit, Johnston says. This kind of validation can be short-lived though, he adds.
But because everyone has their own unique experience on the apps, there's no one-size-fits-all way to figure out if dumping the apps is the best thing for your mental health.
Should you quit dating apps forever?
If you're on the fence about saying goodbye to dating app culture, think about whether swiping feels more like a chore or something you "should be doing" than something that actually makes you excited or happy. And if you're consistently feeling depleted after listening to questionable voice prompts or feel worse about yourself, anxious, or straight-up depressed, then go ahead and delete, delete, delete, Johnston says.
Velvet says she deleted the apps when she checked in with herself and realized that the swipe game was tanking her energy and how she views people. "It was draining, [and] I also didn't want to become bitter. ... More importantly, I didn't want to lose hope," she says. "I didn't want to be closed off to finding my person, and I wanted to keep my mental health and peace intact."
Over time, I gradually weaned myself off the habit of opening dating apps whenever I had a second by turning off my notifications. Without all those pings, that overwhelming feeling drifted away, and I felt more present and ready to engage with others when I thoughtfully chose to open the apps. Another trick that worked for me: Move all the apps to a folder at the end of your phone's menu so you don't mindlessly click on them when your home screen pops up.
Therapy can also help you work through all your complicated feelings about dating, dating apps, and even start to rebuild your confidence. "I try to help my clients focus on the fact that apps are one tool for meeting new people, and everyone on the app does not have the same intention of a long-term relationship or friendship," Jasmine says. "I also remind them that the app does not give a full picture of who they are as a human, and we work not to allow the activity on the app to define their worth."
The bottom line: Dating apps probably aren't going away anytime soon—the convenience and endless suitors are (obviously) attractive features! But if using these apps wears on your mental health, try to figure out a way to engage more mindfully with them. And if you're noticing those red flags Johnston mentioned, see if you can handle taking a step back from the apps altogether. Do whatever's best for you.
Wondermind does not provide medical advice, diagnosis, or treatment. Any information published on this website or by this brand is not intended as a replacement for medical advice. Always consult a qualified health or mental health professional with any questions or concerns about your mental health.