Q&A
05.16.23
There's No Better Time for Gigi Gorgeous and Gottmik to Write a Book About Transitioning
The YouTube and 'Drag Race' stars open up about their mental health and new book, 'The T Guide.'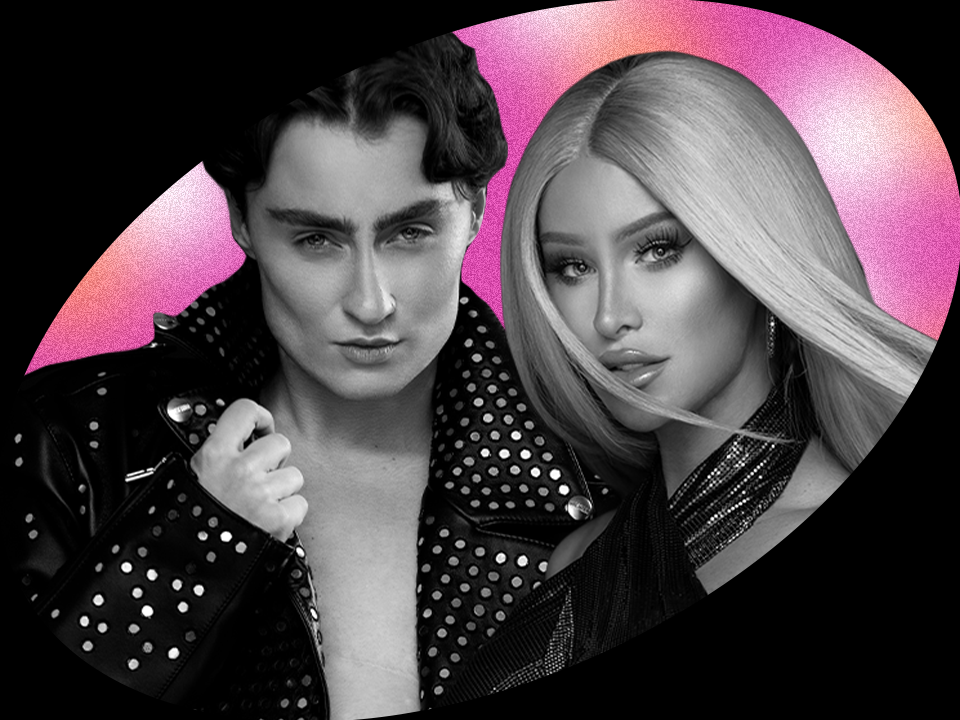 Photo Credit: Courtesy of Gigi Gorgeous and Gottmik
A much-needed addition to the self-help book aisle just dropped today: The T Guide. Written by content creator Gigi Gorgeous Getty and Kade Gottlieb (aka Gottmik as millions of RuPaul's Drag Race fans know him), the new release is packed with information to help the transgender community find resources, information, and validating personal stories no matter where they are in their journey.
For the uninitiated, Gigi is considered somewhat of a YouTube veteran, starting with makeup tutorials and vlogs in 2008 before diving into more lifestyle content. Ever since 2013, Gigi's also been using her platform to talk about her transition journey, connect with people who could relate, and become a prominent advocate for the LGBTQ+ community. As for Gottmik, if you don't know him for being the first openly trans man to compete (and secure third place) on RuPaul's hit show, you might be familiar with his work as a makeup artist (clients include Lil Nas X and some of the celebs in Taylor Swift's 2019 "You Need To Calm Down" video) or from spotting him in Sam Smith's and Kim Petras's "Unholy" video. In case it wasn't clear, Gigi and Gottmik are booked and busy and ready to finally release this joint project.
Bringing together these different backgrounds and perspectives from a trans woman and a trans man, the book is an unfiltered look at what the journey was really like for Gigi and Gottmik and what helped them along the way—from candid conversations about hormones and dysphoria to making friends in the LGBTQ+ community.
"It's giving table of contents. There's so much information, so much stuff that we have kept to ourselves over the years, and we're finally ready to share the stories we've never told," Gigi says, assuring there's no gatekeeping going on here. Plus, it's a hardcover edition filled with stunning images of the authors, making it feel more like a collectible coffee table book than your typical self-help read.
Here, the two share what they're looking forward to most with the book release, their experiences with dysphoria, and their message for young LGBTQ+ people.
[Sign up here to never miss these candid conversations delivered straight to your inbox.]
WM: With trans rights increasingly under threat and the ridiculous banning of books that help us all learn about identity and history, what has your mental health been like lately and what does this book release mean to you?
Gottmik: All the bills and crazy stuff that's been going on honestly affected my mental health at the beginning more than I thought it would just because, as a drag queen too, I was like, Oh my god, it's literally me as a person and my career [that] is under attack, and these people don't even know anything about us or as people or artists or anything.
That almost made me more excited for our book, though, because that's literally what we're trying to talk about in our book: humanizing the trans experience and showing everyone that we're here, we're not going anywhere, and we're amazing artists with lives and opinions and it's not just some weird thing that you're seeing in Hollywood, Middle America. It's real, and we're real people.
Gigi: We could be really negative about it and be really sad and discouraged about everything that's going on right now, but he and I have always had this aspect where we look on the positive and try to disrupt the system. So I think there's no better time than right now for this book to come out.
Our book tour is being worked on right now, and we are working on cities that are quite controversial to what our book is all about and what it stands for. I am most excited for those cities because I want to show that we are not going to be silenced, and we are going to show that we are here. We're going to get a group of people from those cities to come together and just show that we are not invisible and we are very strong in numbers and there are a lot of us.
WM: You both had pretty different transition journeys. Gigi, you were so open on YouTube, and Gottmik, you were more reserved and didn't tell people when you were thinking about starting hormones. Can you talk about how you decided which approach was right for you?
Gigi: I started in beauty and fashion, just literally recording myself learning how to do makeup. Then the more I shared about my personal life and my personal choices and my sexual preferences, it just really snowballed. Then sooner rather than later, I was like, Oh my god, I'm transgender. I've got to share this with everybody online. I never really was put into therapy; I never had a therapist, so YouTube really was that for me, and doing my makeup.
All that was just a form of self-care, and filming and editing myself and communicating with people online was self-care as well in a way. So it just really snowballed, and then before I knew it, I was out. And everyone was like, "Oh my god, how are you doing this?" I was like, "I don't know. It just feels good. It feels right."
Gottmik: Growing up, I was from such a religious background, and my family wanted to look the part of a perfect family all the time. So when I discovered I was trans, I really wanted to make sure that I was on the right path and doing the right thing for myself before I was telling anyone.
Even to this day, I'm very open with my journey, but I still like to do my important things silently before I announce it to the world. I just was like, this is really personal, and I didn't really have a lot of trans friends at the time. I had just really started getting close with Gigi, and she inspired me so much to start talking about it. But it took me so long to even tell her my new name. I was like, "No, I can't." It was almost like she was trying to make me do an acting challenge. I was like, "No, it's so embarrassing." It was crazy, and I just wanted to make sure everything was so set in stone in my heart and spirit before I was out there.
It's almost crazy to look back at now because I'm so open about everything that if I have something like that on the same level, I'd be like, "Guess what, everyone!?" So it's so weird to look back at it.
Gigi: It snowballs. Little things become not a big deal and big things become not a big deal. Then you're sharing more and more and it's like, "Oh my god, looking back two years ago, I was gagged about sharing that? That was not even a big deal." [That] gives more people more power to share those things because it's like, If they can do it… It's all about the first thing that you share or the second thing that you share. It all becomes easier in the long run.
WM: One chapter talks about gender dysphoria and how it connects to mental health. What have your experiences with dysphoria been like?
Gottmik: Dysphoria is a huge part of my trans journey. In the book we [write about how it's] not part of everyone's journey, but it really is for me personally. I still battle with it every day. And obviously, we're both so open online that the DMs are full of people just fueling that dysphoria at all times. So I really had to learn to check in with myself, realize that no one's opinion matters except for my own, and [remember] no one knows what's best for me better than literally me.
I know I'm a man—you can't tell me otherwise. I just have to remind myself that every day and just keep doing me no matter how hard it gets. Sometimes I wake up and I'm the happiest ever and no one can tell me anything, and sometimes it's just hard. I think that's just the way life is for most people.
Gigi: People often think that there's a start when you start to transition and then there's an end. But being trans for over 10 years myself, I can still say that I deal with a lot of dysphoria, and it is an ongoing thing. I feel like I honestly am still transitioning.
Me and my husband, for example, we're going down the fertility journey of doing IVF, and I had to stop hormones. I don't even remember how long I've been off them now, but it's probably six months, and I don't feel the most feminine sometimes. My dysphoria is through the roof.
Somebody looking in from the outside of my life might think, She's got it together. She's been trans for so long. And with Kade as well, [they might think], Oh yeah, he shared his story. He's done. He's fine. He's good. But it's not like that at all, and I think that's just something we want to push. There's no start, there's no end. It's ongoing, and you have good days and bad days just like everybody else, but we're the trans representation of that.
WM: What are some of your favorite ways to pick yourselves up when you're having a bad day?
Gottmik: I'm a pretty social person, and lately if I'm super down or depressed, I just want to hide away and be in bed. But it's so important for me to get up and go see my friends even if I really don't want to. It's so nice to have Gigi's energy if we're hanging out or just having other energy besides the sulking depression energy.
Gigi: Sometimes going outside when you're feeling like that is the scariest thing because you're like, What if I see somebody? And people do pick up on energy, so if you're feeling weak or you're feeling small or insignificant, people do pick up on that and people [can] say things that will hurt you. So it's hard to go outside. But after going on a walk, getting out there, or hanging out with a friend that's not in the same headspace as you at the time so they can snap you out of it is great.
I think also aesthetics are really beneficial. If I feel bad about myself, I know that if I do a full beat, I feel really feminine in how I want to present, and I know I'll feel better about myself. Staying in bed and not doing anything is obviously the easier choice, [but] it's really just getting up and being like, No, I'm going to make myself feel good today, even if it's just by putting on makeup. It might seem so superficial, but it really does make a big difference.
WM: What advice would you give to young people who might be struggling with their identity or mental health?
Gottmik: At the end of the day, when I catch myself overstressed and can't handle what's going on around me, I just have to step back. I always come to the same conclusion that nothing is ever that deep. It's always going to work out. It's always going to be fine. You are exactly where you're supposed to be in this world, and you just have to trust the process of life. It gets crazy, but no one knows you better than you, so just trust who you are, and push on.
Gigi: I know it's not healthy to compare yourself to other people, but in situations like that, I honestly feel like knowing that everyone else is going through the same thing [can help]. You never know by looking at someone, no matter how perfect their life may seem or how happy they may be in a room. You don't know. … Everyone else is going through the same mental stuff that you are. Maybe not at the same minute, but people do go through it, and that gives me peace because it makes me feel not alone. 
This interview has been edited and condensed for length and clarity.
Wondermind does not provide medical advice, diagnosis, or treatment. Any information published on this website or by this brand is not intended as a replacement for medical advice. Always consult a qualified health or mental health professional with any questions or concerns about your mental health.